Ask most seasoned golfers and they'll tell you: flat-as-a-pancake courses are boring. Most golfers crave some drama. Some elevation. Terrain that doesn't just lull you to sleep. Playing golf in the mountains certainly ups the ante. The ball goes further and the scenic views — especially when autumn colours are in full effect — are like medicine, in that they certainly dull the pain when you've just shanked four in a row and missed a three-footer for nine. There are dozens of awesome mountainous golf courses that you can drive to from Calgary, so why not round up a few good friends and make a proper trip of it? Of course, if you're going to drive all that way, you want an epic course waiting for you at the end of the line. Here are three in B.C. that are well worth the time and effort it takes to get there.
Panorama, B.C.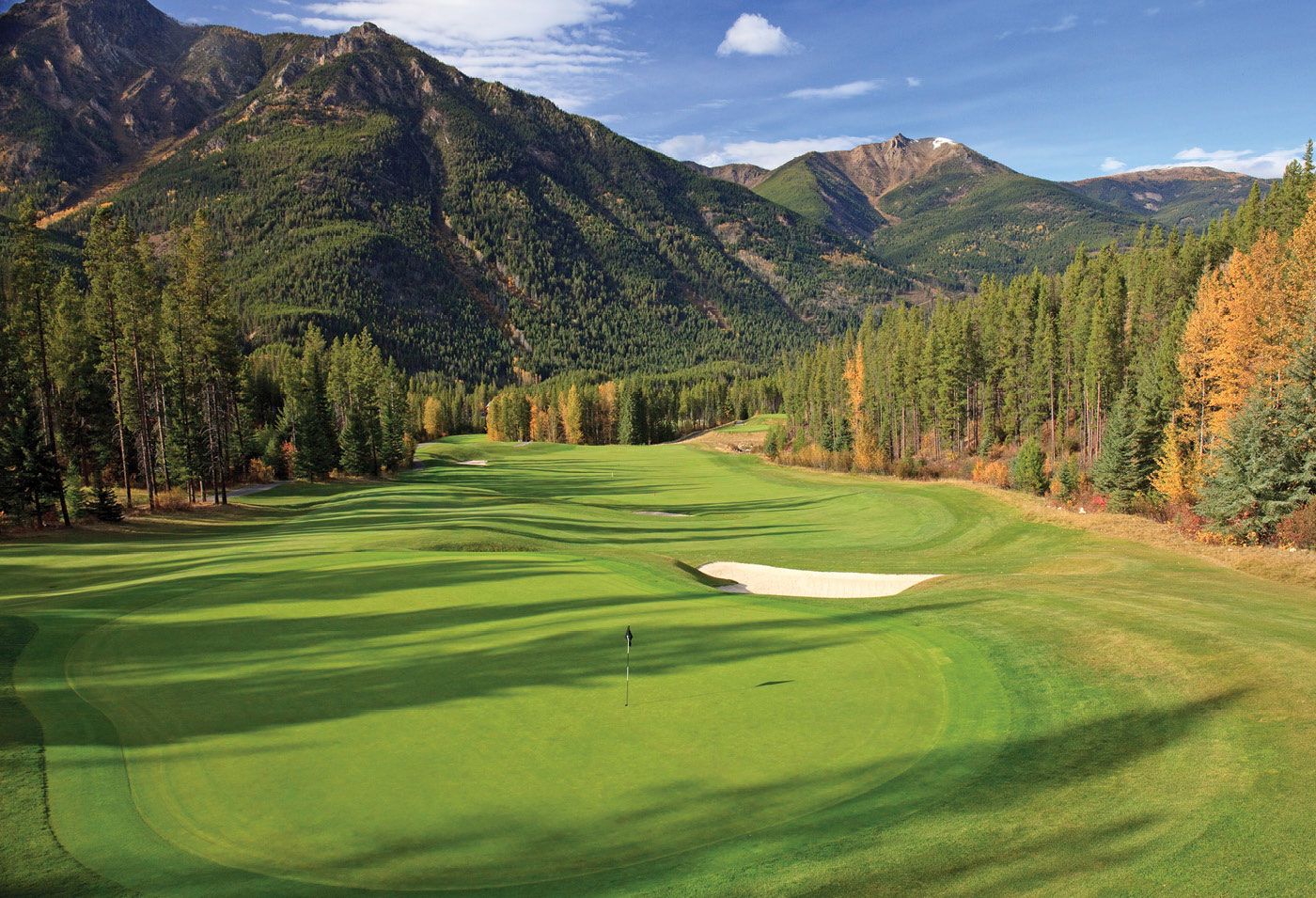 The town of Invermere on the Lake, located three hours west of Calgary in the Kootenay Rockies, has long been a second home for Calgary hackers. If you include nearby Radium Hot Springs, there are over half a dozen great courses in this area. But the cream of the crop? That's easy. It's Greywolf.
Parading through the pines and curling alongside the creeks at Panorama Mountain Village, Greywolf is (in my humble opinion, anyway) one of the top mountain golf courses in the country, if not the world. Designed by architect Douglas Carrick, Greywolf is famous for its cliffside greens, daring drops and numerous go-for-broke shot options. It's one great hole after another. The beautiful collection of par-threes (including, of course, the one and only "Cliffhanger" hole) are worth the green fee alone.
Another Round?
In Invermere "proper," a second round at Copper Point makes an ideal curtain call. The original course at the resort, The Point, is by far the tougher, but The Ridge course is arguably more fun. Wide fairways and generous greens mean that even so-so players will have a few birdie chances on the par-62 layout. And, because there are no par-fives and only a handful of par-fours, the round goes extra fast, allowing for more time at the 19th hole: with its view of the snow-dipped Purcell Mountains, the patio overlooking the ninth green on The Point is one of the best in the Kootenay Rockies. —Andrew Penner
All the Fall Colours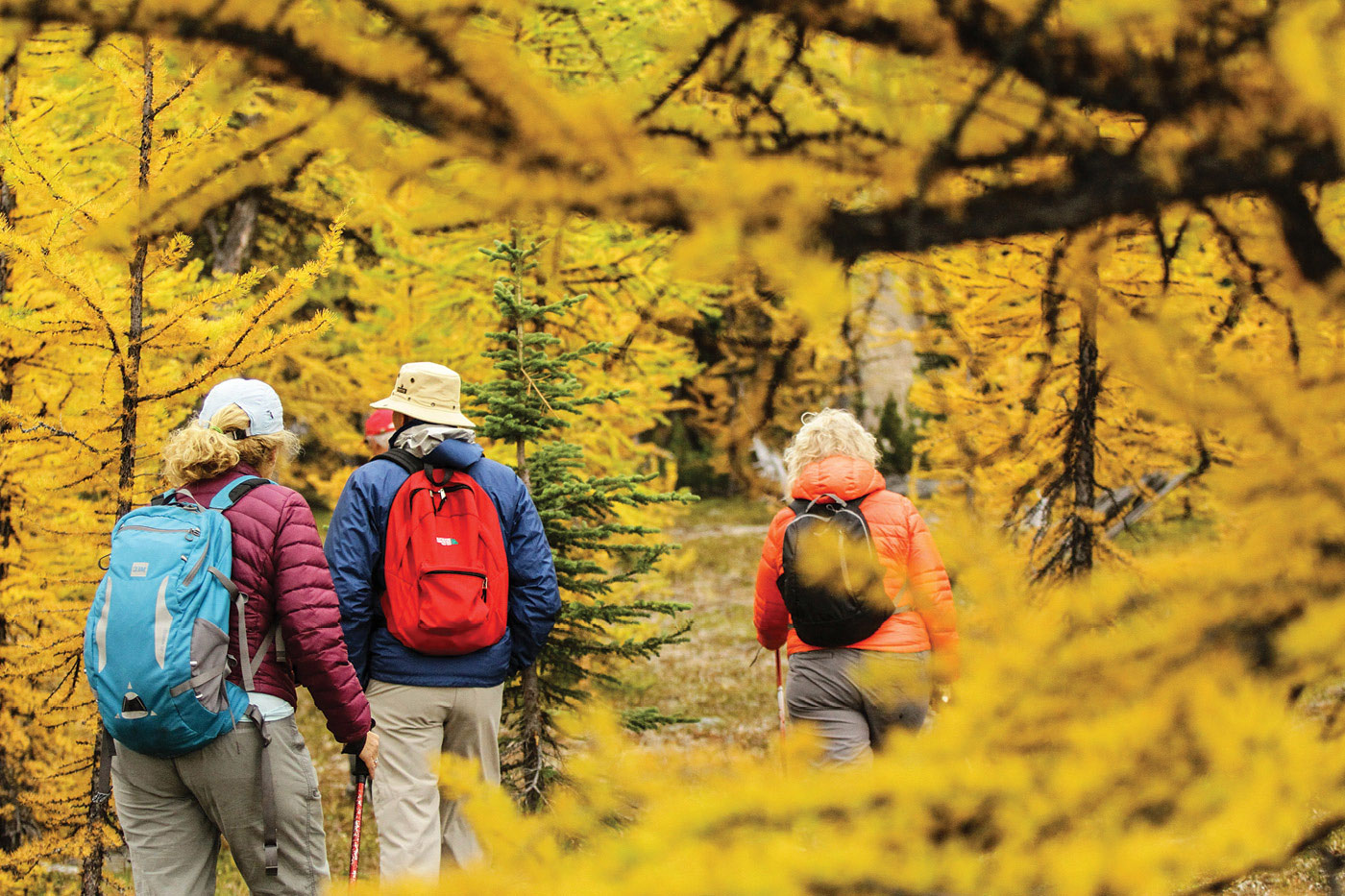 If you're heading to Panorama during the fall, time your trip to coincide with one of the colourful Summit Ridge Walks. The all-day excursion starts with chairlift access up into the alpine zone. From there, participants choose one of three guided hikes (based on difficulty factor), then ride the chairlift back down to the resort base. This year's walks are scheduled for Saturday, Sept. 14 and Saturday, Sept. 21. Tickets ($109 for ages 13 and up, $79 for six-to-12) include a packed lunch with snacks and an après-hike drink. Kids younger than six can join the walk, but their lift tickets do not include snacks, lunch or après. —Shelley Arnusch
[Note: The Summit Ridge Walks have been canceled for 2019 due to chairlift maintenance issues]
Kamloops, B.C.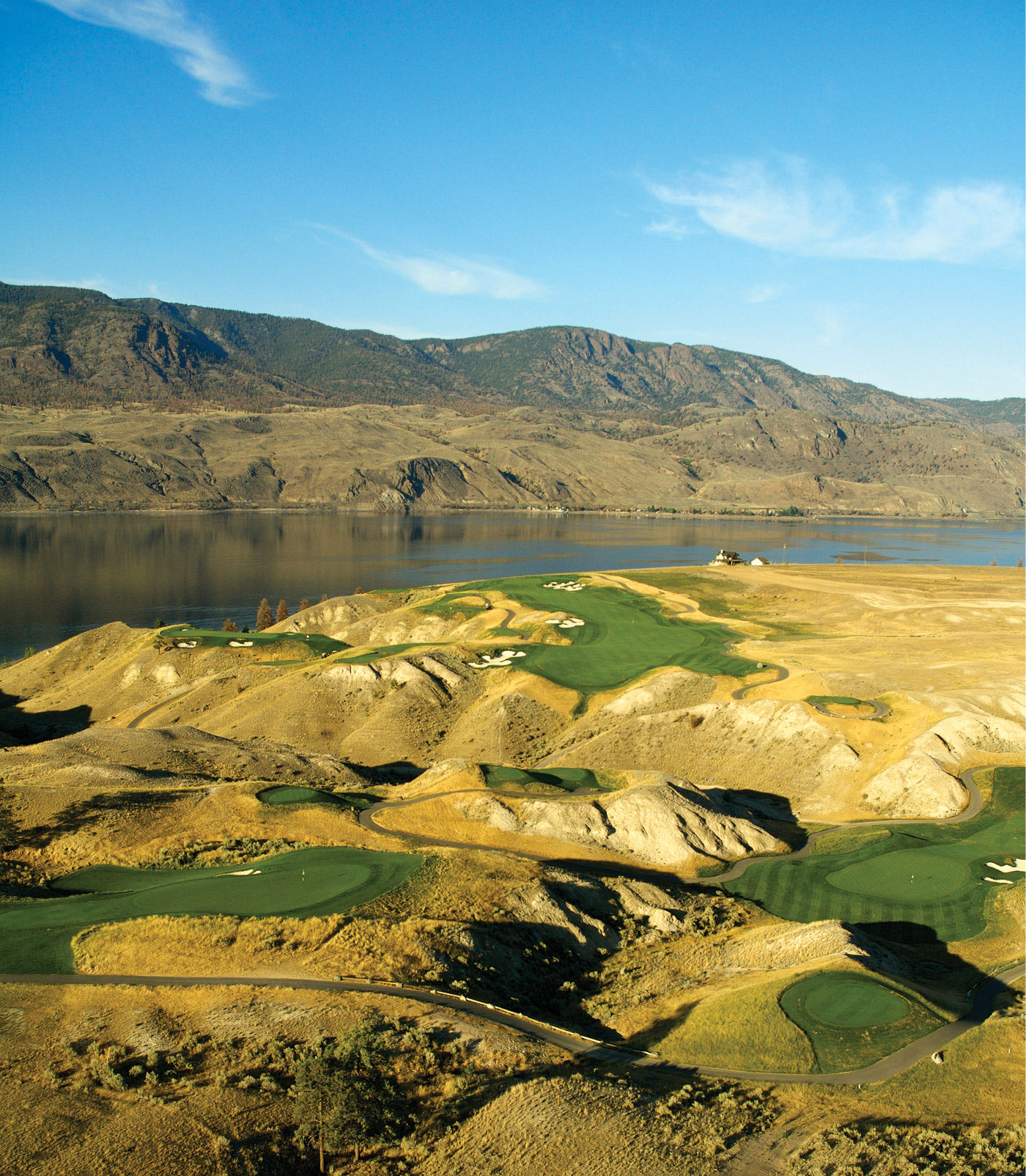 True, it's a bit of a drive to Kamloops (approximately seven hours from Calgary under ideal highway conditions). However, the golf feast awaiting you there is delish. Besides boasting one of the longest playing seasons in the country, the region offers a variety of courses that all have something special — you could play a new one every day for a week if you were so inclined.
Of course, from a visual standpoint, there is no course in Canada (except perhaps Cabot Cliffs in Nova Scotia) as stunning as Tobiano. The Thomas McBroom-designed masterpiece features glorious green corridors that snake along bluffs high above Kamloops Lake and serve up panoramic views, while the many ravines and infinity greens that hang above the shimmering waters are more candy for the eyes. It's definitely difficult, especially if there is wind, but even so, Tobiano is a bucket-list course that every avid golfer in Canada should experience.
Another Round?
Approximately an hour east of Kamloops along the Trans-Canada, near Chase, B.C., Talking Rock Golf Resort is mountain golf, lakeside golf and parkland golf all rolled into one. The layout sprawls through pristine land owned by the Little Shuswap Lake Indian Band. It's a mature, beautifully flowing course that ends with a riveting run along the lake. If it's a hot day, you can putt out on the 18th green, stumble 10 steps to the beach and do a swan dive off the dock. —A.P.
All the Fall Colours
You'll see shades of gold, amber and yellow as you drive eastward from B.C. into Alberta during the fall months, but if you want to see reds, detour off the highway into downtown Revelstoke, where each year, a row of maple trees along Mackenzie Avenue (Revelstoke's main street) turn a stunning shade of crimson. Set against the enveloping mountain scenery, it's all so darn lovely you just might spontaneously break into Oh Canada. —S.A.
Kimberley, B.C.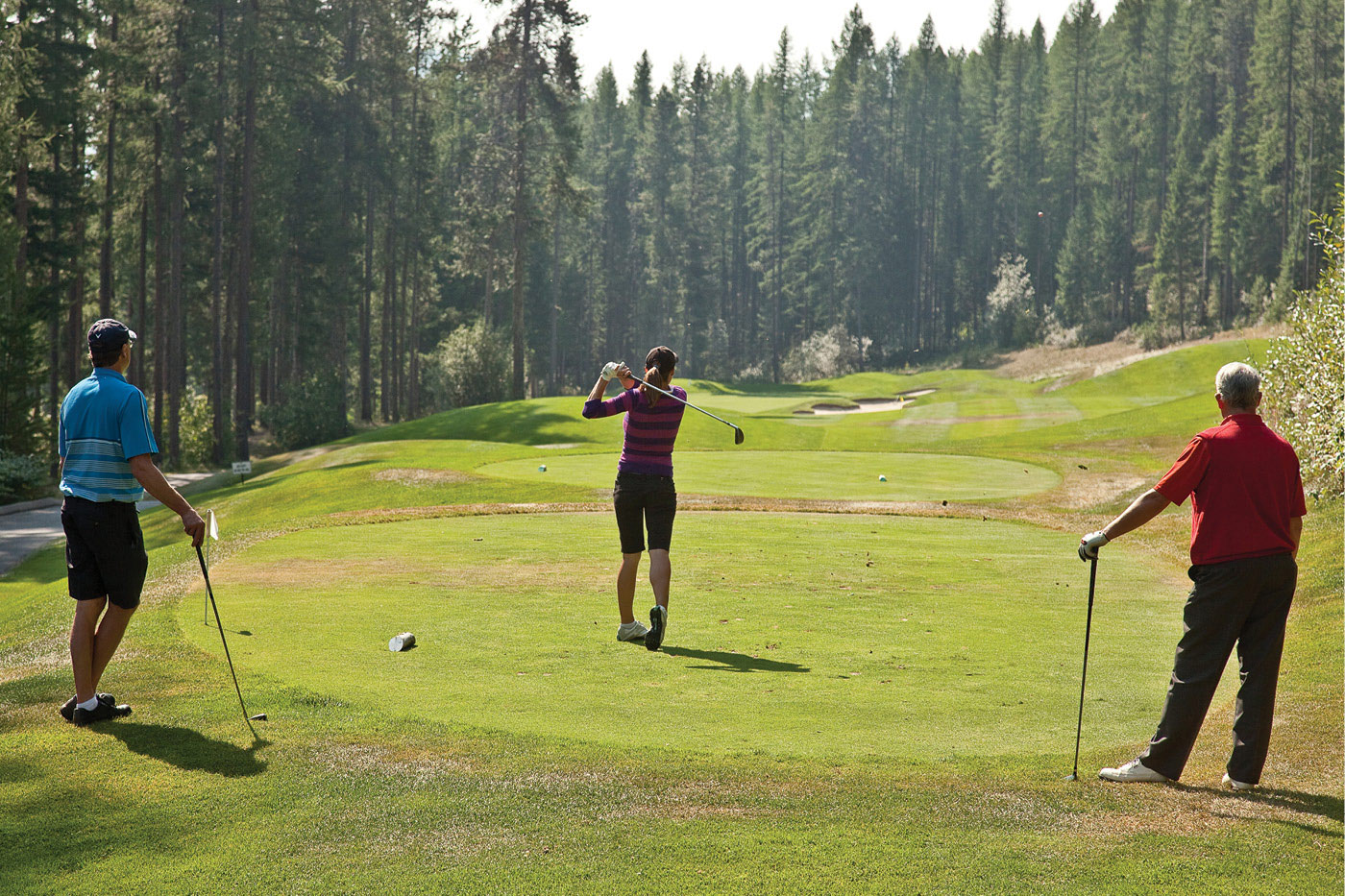 The kitschy Bavarian-themed marketing schtick that Kimberley, B.C., used to put forward is a thing of the past now, which is a good thing. These days, you'll find Kimberley playing to its strengths as a mountain-adventure hub. The hiking and mountain-biking trails there are stellar and the golf options, Trickle Creek in particular, are about as sweet as it gets.
Trickle Creek is a spirited mountain track on the slopes of Northstar Mountain. After you get through the rather ho-hum start, it's an edge-of-your-seat ride that hits hard and fast. The awesome back nine section dips and dives, giving you all the drama you can handle. The beautiful par-three 11th hole, with its perched tee and a green protected by steep slopes and mean bunkers, is certainly a highlight, but Trickle's true character is found in its many swooping doglegs and pine-framed holes that careen through the forested terrain.
Another Round?
If Trickle Creek leaves you wanting an encore, take a spin around Bootleg Gap, a brawny Les Furber-designed course that rambles along the St. Mary River. With no development on the course, Bootleg offers an in-nature experience with an out-there aura that typifies what the best courses in the Kootenay Rockies are all about. If you only have time for nine, or you want an easier test, the saucy little Rec 9 — a par-34 course with just one par-five — is the ticket. —A.P.
All the Fall Colours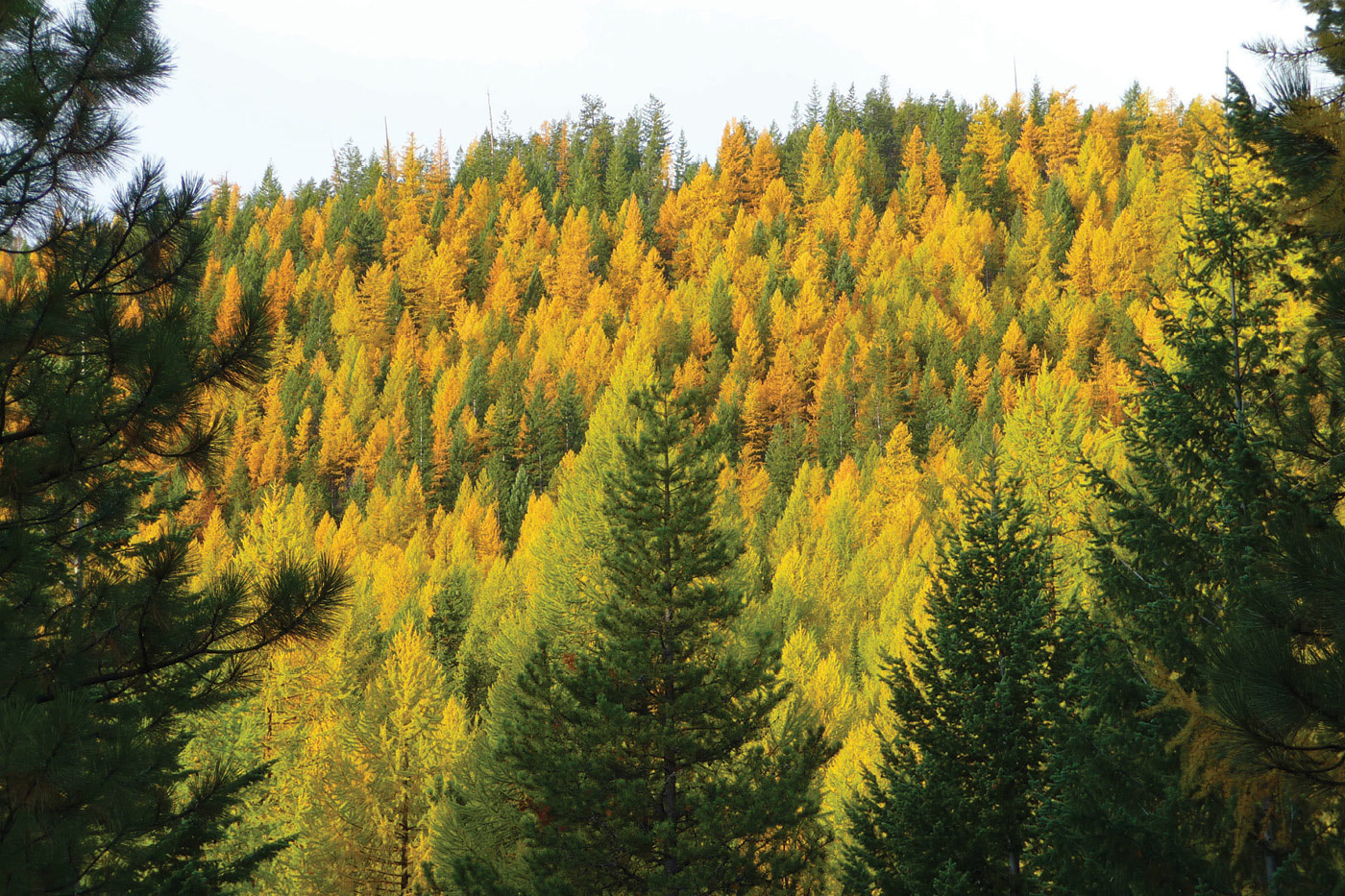 To see larch trees in all their golden glory and learn more about the natural area around Kimberley while you're at it, join up with one of the guided hikes at the Kimberley Nature Park, a community nature preserve and trail area managed by the Kimberley Nature Park Society. There are organized hikes happening this year on Sunday, Oct. 13 and Sunday, Oct. 20 for optimum larch viewing. You can always just hike the park trails independently, too. —S.A.