Bow Cycle rents mountain bikes and road bikes. And, it also rents e-bikes so you can get around Calgary on a bike without expending a lot of effort. Renting an e-bike for a full day starts at $85. During the snowy, winter months, Bow Cycle also rents out fat bikes. As well as bikes, the store rents wheels, travel cases and car racks.
6501 Bowness Rd. N.W., 403-288-5422, bowcycle.com
If you're looking to mountain bike the West Bragg Creek trails or up the Moose Mountain trails, stop here to rent your mountain bike. All of the bikes from this store are one- or two-day rentals. The rentals range from $60 to $100 per day for regular bikes and $150 per day for a Trek or Santa Cruz mountain bike.
14, 20 White Ave., Bragg Creek, 403-949-2054, calgarycycle.com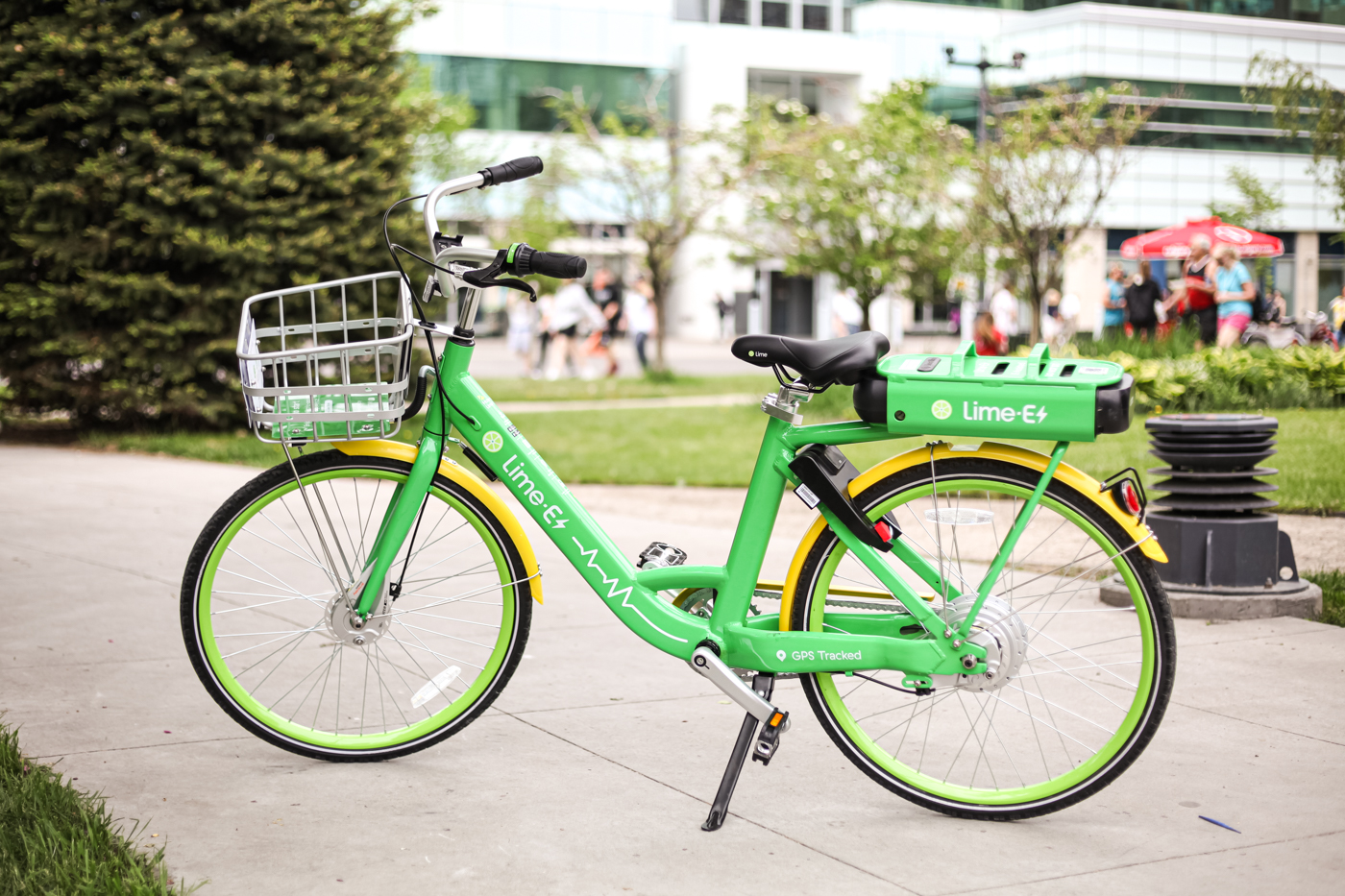 Lime has infiltrated Calgary's inner core with rentable e-bikes that cost $1 to unlock and $0.30 per minute to ride. If you're staying within the city to cycle, these are the perfect solution for an afternoon of urban exploration in the inner city. These bikes are dockless, which means that you have the freedom to drop your bike off anywhere within their "home" zone. You'll need to download the Lime app to locate and rent the bikes.
If you're looking for a bike with speed, visit Rapid Rent/Outlaw Sports to rent a road bike or a hybrid (that's a bike that is something between a road bike and a mountain bike). This location also rents bike accessories. Rent a helmet in your size for $5 per day or a child bike trailer for $25 per day.
The hybrid bike costs $15 per hour or $30 for an entire day, and $110 for one week. Road bike rental costs $20 per hour or $40 for one day, and $145 for a week.
903 Heritage Dr. S.W., 403-253-2975, outlawsports.ca
Rath Bicycle is a family business that started restoring vintage bikes out of a garage. Rath is renting vintage bicycles by the hour or day. A one-hour rental is $15. It's $25 for two hours and $35 for four hours. Or, rent for the entire day for $40. Rath also rents helmets for $5. If you already have a bike and need it restored or tuned-up, those services are also available.
RiverWalk, Bow River, 403-617-5627, rathbicycle.com
Decide ahead of time whether your weekend adventure is taking you on the roads or the trails, because Sports Rent has a variety of bikes available for rent. Choose between cruisers, regular mountain bikes, high performance mountain bikes, full suspension mountain bikes, road bikes or tandem bikes. Sports Rent has high-quality brands available for rent, including Specialized and Norco. Rentals begin at $30 per day and go up to $70 per day, depending on the kind of bike you choose.
4424 16 Ave. N.W., 403-292-0077, sportsrent.ca
The University of Calgary's Outdoor Centre rents just about every kind of outdoor equipment you could possibly need, including all types of bikes. The centre rents two kinds of mountain bike, road bikes, e-bikes and hybrid bikes. Rentals cost anywhere from $30 to $50 per day. You'll probably need to plan ahead and make a reservation. Renting bike locks, helmets, racks and trailers costs extra.
2500 University Dr. N.W., 403-220-5038, ucalgary.ca
WinSport is all about the mountain bikes. If you don't have your own bike — or maybe you want to rent one with superior suspension — rent one here before heading to WinSport's mountain bike trails. Packages containing the bike and helmet cost anywhere from $59.99 to $89.99 per day for adults.
Mountain bike lessons are also offered here. There is a range of programs for kids under 18 years of age, as well as lessons for adults ages 18 and up, women ages 18 and up, and private lessons.
88 Canada Olympic Rd. S.W., 403-247-5452, winsport.ca
---
In the mountains
A lot of people want to bike in the mountain trails or along the Legacy Trail. But not everyone has a bike rack on their car to get their equipment to the trail. Luckily, there are ways around that.
Banff
Rent a mountain bike and explore the numerous trails in Banff National Park or opt for a cruiser and stick to the city paths. All bike rentals here include a helmet, a bike lock and a trail map. Hourly rates begin at $12 and daily rates begin at $38.
211 Bear St., 1-800-644-8888, banffadventures.com
This outdoor shop rents a variety of different bikes, including town bikes, trail bikes, road bikes and tandem bikes. Adult bike rental start at $10 per hour or $35 per day. While you're here, you could also rent the camping or backpacking gear you need for a longer cycling adventure.
225 Bear St., 403-762-8177, snowtips-bactrax.com
Canmore
GearUp rents Giant hybrid, mountain and full suspension bikes. If you're planning on tackling the almost-27-kilometre (one way) Legacy Trail, opt for the Giant Seek 2. This option at GearUp is extremely popular though, so plan ahead and book in advance. It's possible to reserve online and rental begins at $50 per day. All rentals include helmets.
1302 Bow Valley Tr., 403-678-1636, gearupsport.com
The staff at Rebound know that summer is the time for riding the Legacy Trail. This store rents Legacy Trail-specific bikes for $65 per day as well as mountain bikes (from $65 to $85 per day) and summer fat bikes ($65 per day) for the trails. If you prefer speed and big distances, opt for the carbon road bike, which costs $85 per day. Legacy bikes are rented on a first come, first serve basis, so it's a good idea to reserve your equipment in advance.
902 8 St., 403-678-3668, reboundcycle.com
Located at the Canmore Nordic Centre, Trail Sports is the ideal place to rent a mountain bike if you're planning on exploring the centre's many trails. Choose full-suspension high-performance mountain bikes if you're going to try the green, blue or black trails, or a road bike if you're sticking to the highway shoulders and paved paths. Rental rates begin at $60 for the full day for adults.
Canmore Nordic Centre, 2003 Olympic Way, 403-678-6764, trailsports.ab.ca