The CPO story
his year, the Calgary Philharmonic Orchestra celebrates its 60th season and will perform more than 85 concerts, so it's hard to imagine that at one point in its history the CPO had filed for bankruptcy, owing creditors more than a million dollars. Now, at a time when other orchestras are in dire straits, the CPO is flourishing, playing to more than 120,000 patrons a season.
Though the musicians certainly have their parts to play, it takes more than a few notes to make a symphony. Many of the people who stand behind the limelight help the CPO shine.
If you've seen a CPO production in the last nine seasons, odds are you've seen Frank Gallant's handiwork. As associate director of production, Gallant handles a variety of details pertaining to lighting and staging you may not have known were needed. "The bulk of my job is ensuring every musician has what they need to perform a show, and that the audience has everything they need to see and hear it," he says.
One of the things Gallant does is ensure every musician has his or her own chair, as different players prefer different heights and styles. For instance, bassists prefer a taller stool, whereas cellists use a chair with a square base and a slight forward lean. All these seats are brought on the road when the orchestra performs outside the Jack Singer Concert Hall, and many musicians have been with the company long enough that seats are marked with their initials.
Gallant also handles lighting installation and positioning for every show so both the audience and the musicians can see. "Mostly it is top down, white light, because [the musicians] are looking at that little piece of paper with all the little black dots and there's a lot of light in their eyes when they look up to see the conductor," he says. "They'll get those flashy, light dots in their eyes and they can't see the little black dots on the page, so they're quite specific on where and what angles we can use for lighting."
Not everyone has the opportunity to see the CPO perform in a well-lit concert hall, and so it falls to Rosabel Choi, manager of education and community outreach, to bridge the gap between the performers and the public. As part of her outreach mandate, Choi brings the orchestra – sometimes all 66 members, other times a small ensemble – out into the community to reach audiences that might not come to a concert hall, widening its patron base.
"A lot of people think that orchestras are only for people who have a background or training in classical music," says Choi. "But my role is to bring it to people who might be supportive of the arts and not necessarily have had 20 years of training."
The CPO plays around 100 outreach shows a year at places like libraries and homeless shelters. It also organizes educational outreach presentations at schools as well as an educational concert series where kids study music before attending a performance, a program that has seen more than 11,000 students pass through its halls. These programs aim to allow untapped demographics to connect with the music, and hopefully, return as fans.
---
The different chairs used by CPO musicians
Bass
Bassists prefer a tall stool.
Cello
Cellists use a chair with a square base and a slight lean forward.
---
Meet the Experts
Rob

Grewock

Librarian
Did you know the CPO has its own library? How about its own librarian? Rob Grewcock has been tending to the orchestra's sheet music needs for more than 30 years, keeping tabs on its collection of more than 1,500 compositions and renting or buying new pieces every season. He also pencils in the bowing (an indication of whether a stringed instrument's bow should go up or down on a note) on most of the compositions.
Jack Jamieson
Head Sound Technician
As head sound technician of the Jack Singer Concert Hall, Jack Jamieson makes sure the sounds the audience hears are the right ones by performing sound checks and sound stage adjustments. "The trickiest part is doing a fully mic'ed orchestra with a rock band in front of it," he says. "Because there's so much natural bleed and crosstalk between the microphones, trying to find a blend that works well for everyone is a big challenge."
---
Inside the Jack Singer Concert Hall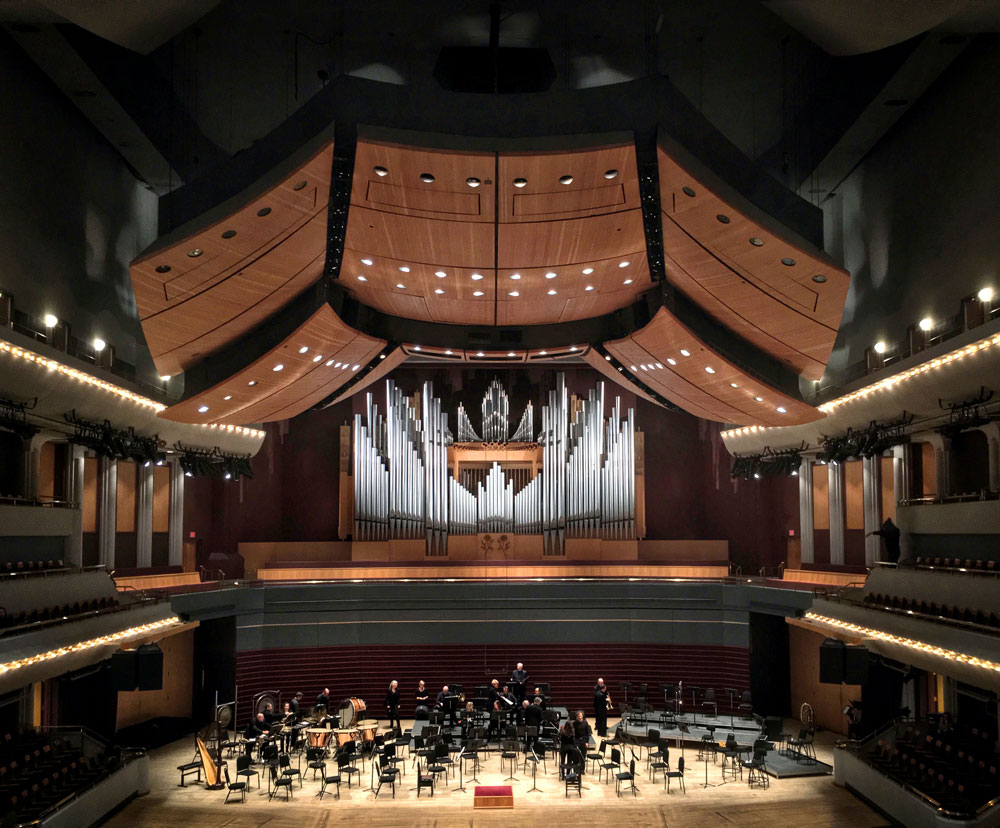 The Jack Singer Concert Hall, the CPO's permanent home, was designed by Russell Johnson of Artech Consultants in New York. Johnson has designed a number of halls in North America including the Kimmel Centre in Philadelphia and the Myerson in Dallas.
"The thing that's interesting about the room is it's got a really nice sonic signature that sounds amazing with an acoustic symphony orchestra," says Jack Jamieson, head sound technician for the hall. "It works quite well for anything except really loud rock and roll, and that's relatively rare, for a room to do both those jobs well."
The huge, 41-ton spruce wood canopy above the stage is adjustable and can be raised or lowered to change the way the orchestra sounds.
"You're basically squashing [the sound] down, and as a result, what projects out is more powerful, but over a smaller area," says Jamieson.
The seats will be filled come showtime, thanks in part to the efforts of Marion Garden, director of sales and marketing, and her team. Through marketing campaigns like the Rush Hour Series, geared toward young professionals coming out of the office after work, and "cpossibilities," a program with discounted tickets for 14- to 29-year-olds that counts close to 8,000 members, the CPO has widened its reach.
Certain sections in the room are designated "tweet seats," where patrons can follow along on their phones with live updates from CPO staff informing them about the music.
For many shows, the orchestra and guest instruments each have one or two mics installed. An orchestra can often have more than 60 mics installed, and a fully mic'ed rock show will take four people between four and five hours to set up.