Here's the Deal With Those Riverside Rock Castles
If you've walked, ran or biked along the Bow River pathway between Edworthy Park and Crowchild Trail, you've probably noticed rock towers and castle-like sculptures. They look natural, but they're not made by the weather or by animals. They're art installations by Calgary-based, part-time artist Luke Materi. Luke Materi is a plumber by day and a one-of-a-kind artist building fantasy-based sculptures outside of work hours.
We spoke with Materi to learn more about how these projects started, how he created them and how he fell into this art form.
It all began on Canada Day last year
This isn't an art form that Materi has been mastering for years. In fact, he's still pretty new at it. He has less than one year of creating rock sculptures under his belt. It all began on Canada Day in 2015. Materi was hiking near Bragg Creek with a friend. The hike was cut short because of all the mosquitos on the trail.
"We ended up going by the creek and I wanted to try balancing rocks," says Materi. "I'd seen it on social media and I thought it looked interesting." This wasn't a one-time thing. Materi kept returning to the site and expanding the project. Materi named the project Winterfell, after the fictitious Game of Thrones city.
There are five rock masterpieces
Winterfell in Bragg Creek was Materi's first ever rock sculpture piece. And he is still working on expanding it. Currently, the piece is roughly 250 feet in length and 70 feet wide. The highest structures are just under 10 feet. To get to this point, Materi spent close to 600 hours building it while the weather was nice and maintaining it during the winter.
Materi currently has four other projects that are in Calgary. Shadow Fort, Beach Water and I Love Design are all located under the Crowchild Trail bridge. Solitude is located on an island down the river from Edworthy Park. These pieces took a minimum of 30 hours to complete and now Materi is working to maintain them.
Materi learned from trial and error
Unlike other artists, Materi never relied on instructors to teach him the fundamentals of this art form. "It was just about creative expression and imagination," says Materi. "But I do have experience doing model building, oil painting, painting miniatures and drawing. This art form brings together a variety of different art forms that I like – there's not just one facet."
Even over the last year, Materi's artistic style has changed from when he first began. It was first oriented around rock balancing. (He doesn't use any glue or putty, and doesn't alter the rocks to aid balancing.) Now, it's about building structures that will withstand the elements and be as long lasting as possible.
Finding the materials
All the rocks and other natural materials Materi uses for his pieces are found within 500 feet of the project site. He will carry rocks, usually just one or two at a time, back to his project site. And if he's building a tower, Materi will always have double the amount of rocks close by that he'll need to build the tower.
"It feels more organic and natural when you're using materials from close to the site," says Materi. "It's like the materials already belong there. It feels natural."
The art isn't without its challenges
Materi says that he hasn't had any challenges when it comes to the artistic side of creating his pieces. The sculptures' growth is organic and he has the patience to build, balance and let the piece take on its own shape. The main challenge has been vandalism. The piece in Bragg Creek has been vandalized three times now and Materi is currently working on rebuilding Shadow Fort.
It will inspire creativity
Materi says that, at first, the project was about getting himself outside and expressing himself creatively. But it has also become a way to give back to the community by adding art installations to little pockets of the city.
"I think it's a positive contribution to Calgary. Hopefully, the art will inspire Calgarians and help demonstrate what one person is capable of if they put their mind to it," says Materi. "I hope that when they see random art installations in the middle of nowhere, they'll smile."
For more information on Materi's work, visit facebook.com.
---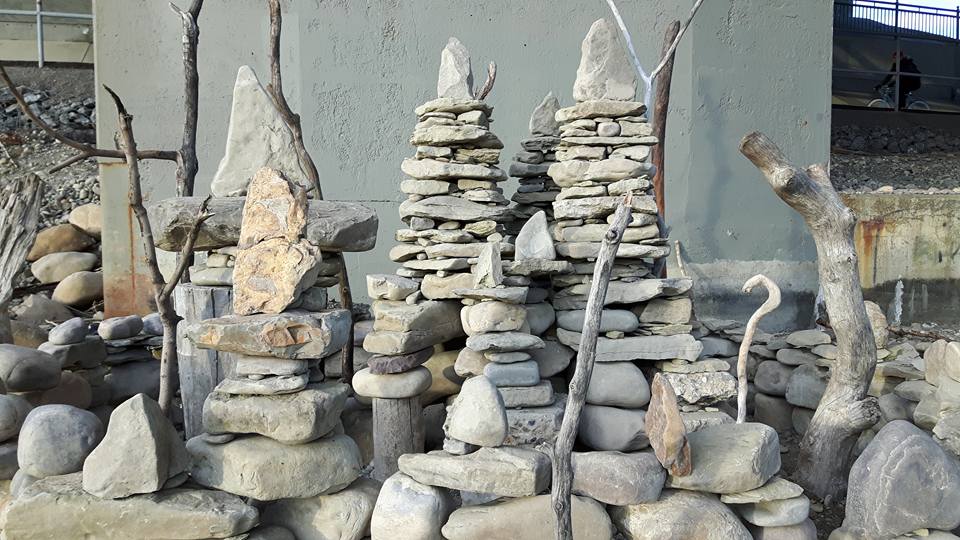 photograph courtesy of luke materi
A closer look at the rock towers that make up Materi's piece Beach Fort.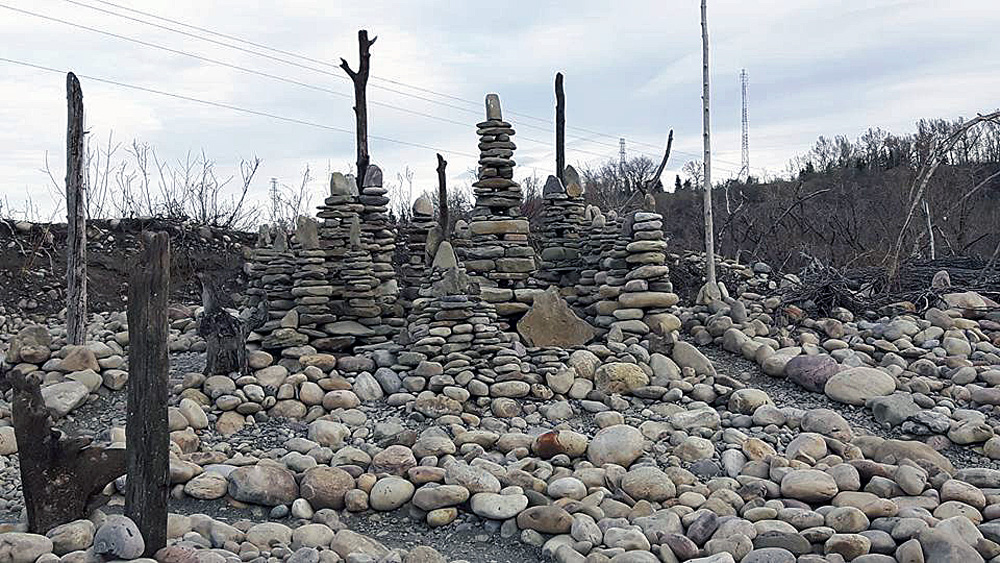 photograph courtesy of luke materi
Solitude is located on an island downstream from Edworthy Park.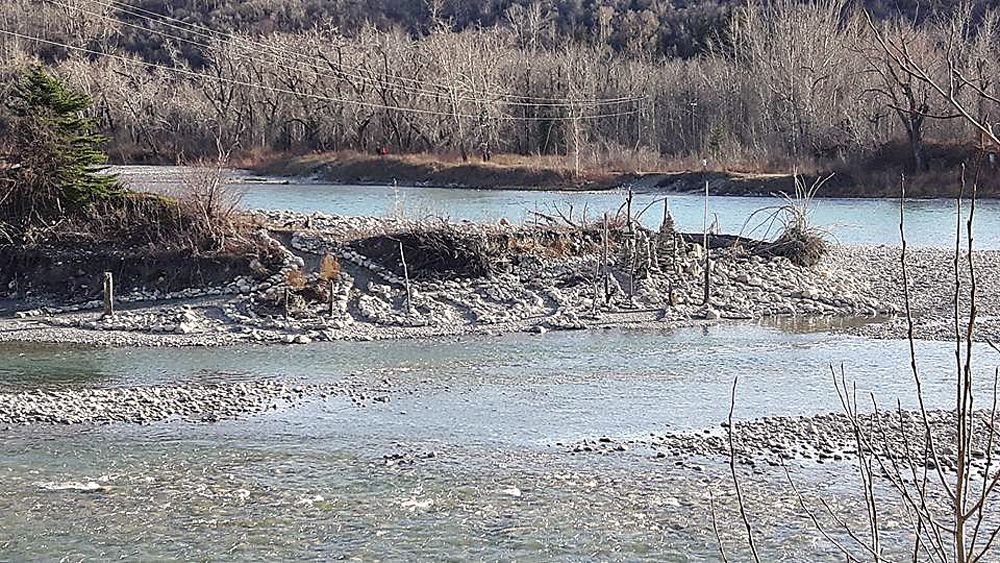 photograph courtesy of luke materi
The view passersby get of Solitude while walking along the river pathway.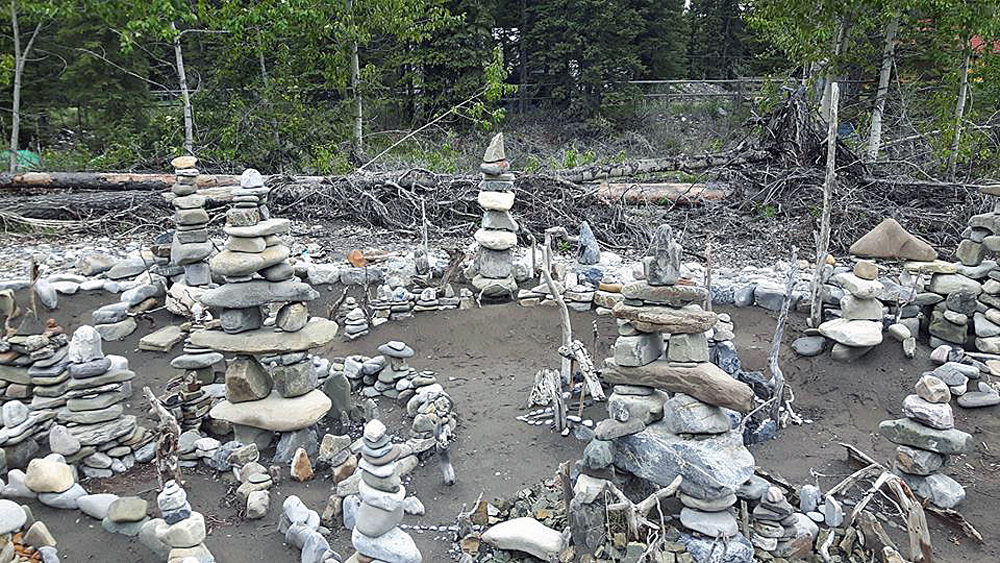 photograph courtesy of luke materi
Winterfell, located in Bragg Creek. This is just a small look at the huge project, which is roughly 250 feet in length.