Nature's Playground, 2016, Vinyl on aluminium and MDF, enamel on aluminium, glass, sensors, robotics. Three island landscapes, each approximately 36 feet tall and 14 feet in diameter.
The artwork
Visitors to Calgary often request a trip to the mountains. At the new YYC Calgary International Airport terminal, artist Jeff de Boer cleverly turns the tables: he brings the mountains to the airport as a giant tin-toy forest. Airports are great for people-watching; here, the wildlife watches people. Its vintage styling and interactive mechanisms make a compelling combination.
Three towering evergreens accentuate the openness of the architectural space within the international departures hall, while the rock bases are home to familiar Alberta creatures – beaver is hard at work along a riverside, a vigilant owl watches over a prairie and foothills ecosystem and a shy marmot finds shelter in an alpine meadow. Like early tin toys assembled with sheet metal and decorated with printing, the trees of Nature's Playground are made of aluminium sheets and ornamented with vinyl graphics. The three wildlife characters are hand painted with old-school stencils and spray paint. Like their predecessors, these figures also move, but they are animated with high-tech robotics. As you approach, they sense your presence and respond.
You'll find the piece on the International Departures Level of the International Terminal at the YYC Calgary International Airport. It was commissioned by the Calgary Airport Authority as part of the thematic art program Rhythms of the Landscape. It was produced in collaboration with graphic designer Deborah Puffer; Cameron Farn of F&D Scene Changes (Calgary); Grant McKee of Fringe Robotics (Red Deer); and Dave Sangra of CIMtech Mfg. (Calgary).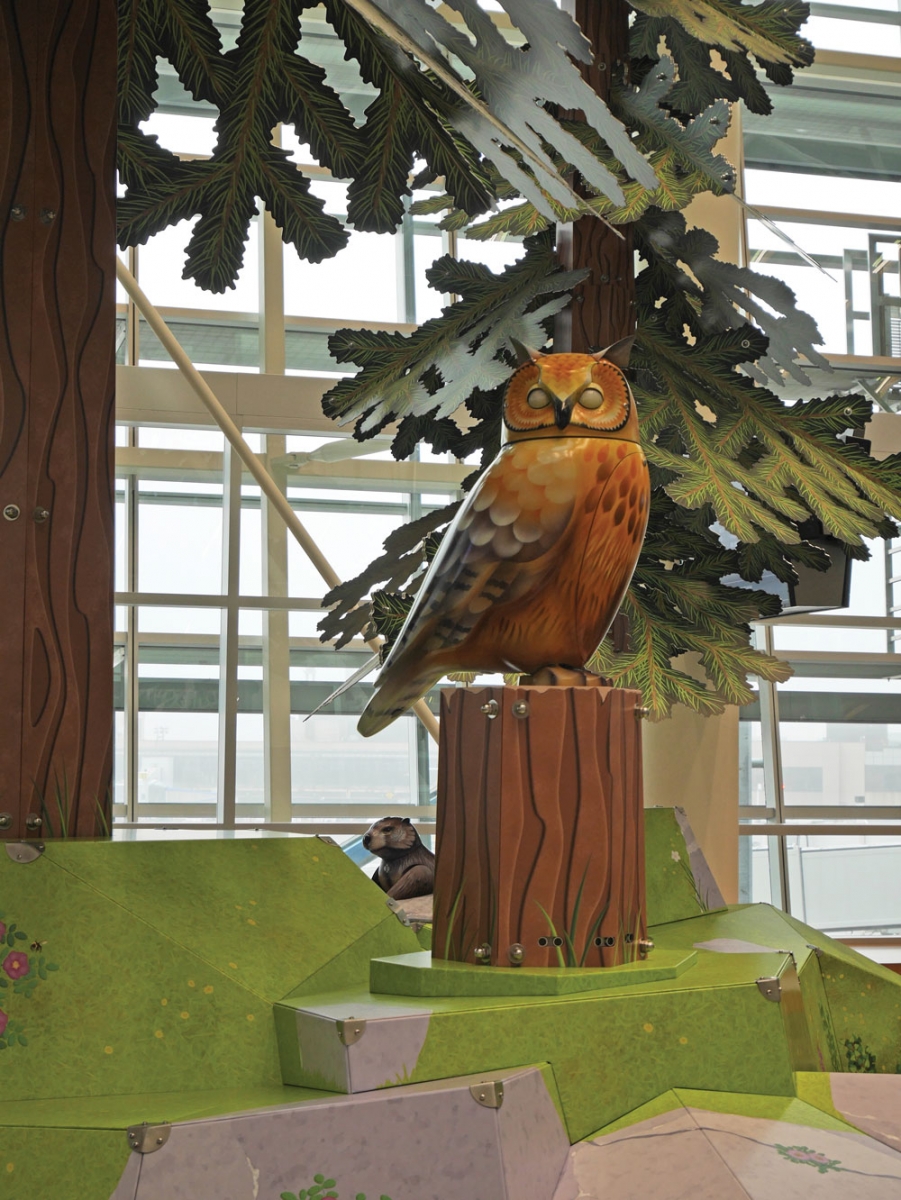 The artist
Jeff de Boer started his artistic training as a metalsmith. Since graduating from the Alberta College of Art + Design in 1988, he continues to expand his range, from articulated suits of armour for duelling cats and mice to intricate jewellery and public-art pieces. Nature's Playground incorporates new processes and sophisticated technology, thanks to collaborations with other artists and technicians, to create a responsive, sculptural environment.