My son's favourite book right now is Goodnight Hockey, written by Michael Dahl and illustrated by Christina Forshay. It's a simple story about a little boy's experience visiting an arena to watch his favourite hockey team play. My son is still too young to watch the Flames or scrimmage on a backyard rink, but he has been surrounded by ardent hockey fans since birth. You could say he knows instinctually that the game of hockey is about more than just the game.
In Calgary, hockey is a metaphor for community. It brings people together in honour of a friend who passed away too soon, serves as a way to mentor underprivileged youth and helps new Calgarians feel welcome by including them in this quintessentially Canadian activity. Whether it's raising money for charity, raising kids' confidence or raising the morale of refugees, here are some of the ways Calgarians are using hockey to give back.
Hockey to Remember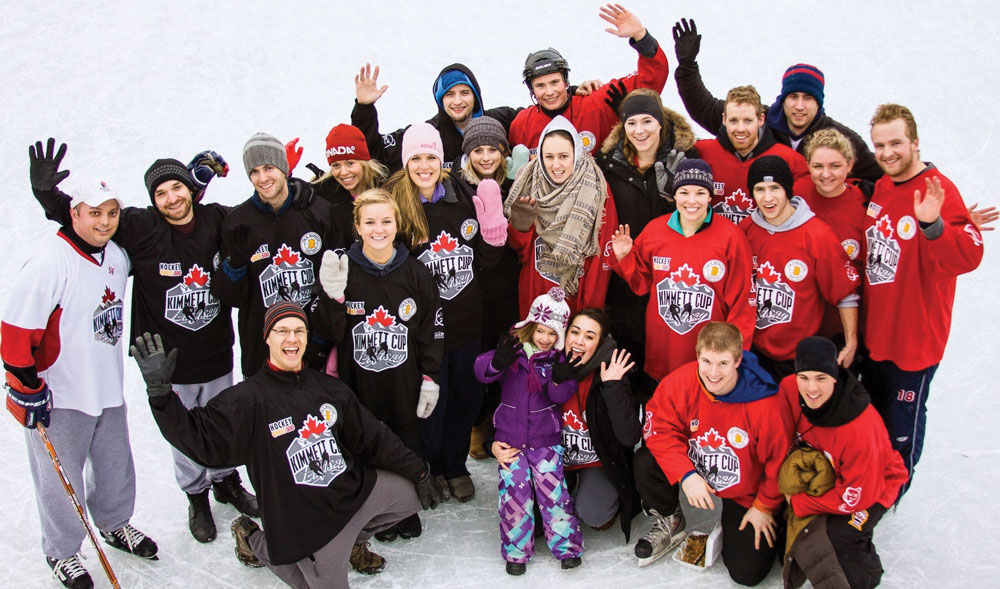 A group shot from the 2016 Kimmett Cup.
For Dr. Jason Baserman and Dr. Joe MacLellan, hockey is how they remember and celebrate the life of their friend Lindsay Kimmett, who died suddenly in a single vehicle rollover accident on a sunny winter morning in February 2008. Kimmett was 26 years old and one year away from becoming a doctor. On the morning of her death, she was coming home from an early morning hockey game.
Kimmett was a Flames fan and loved winter sports, especially hockey. As a teammate she was skilled and competitive, the kind of player you always want on your team. She was also inclusive, encouraging and happy to teach newer players. MacLellan and Baserman played on Kimmett's informal university hockey team made up of fellow medical students and faculty at the University of Calgary. Both can tell you exactly where they were when they got the news of their friend's death.
"It was a beautiful Sunday morning when I got the call. I was sitting at my desk at my computer. I was shocked. It didn't make sense," Baserman says.
"It was definitely one of those life-changing events," MacLellan says. "Her death shifted the course of my life."
Kimmett's parents would go on to create the non-profit Lindsay Leigh Kimmett Memorial Foundation as a way to honour their daughter's legacy through charitable acts. MacLellan and Baserman wanted to contribute to the foundation in a way they knew Kimmet would love – by organizing a pond-hockey tournament.
With the blessing of the family, on Jan. 10, 2009, 11 months after Lindsay's death, the inaugural Kimmett Cup pond hockey tournament was held at Mitford Ponds in Cochrane. It was cold and windy that day – MacLellan remembers wearing two jackets to keep warm. Twenty teams played round-robin games of three-on-three from 8 a.m. to 7:30 p.m. That first year, the tournament raised $8,000 for the Kimmett Foundation.
Now in its ninth year, the Kimmett Cup has grown to 500 players, playing on nine rinks over three ice surfaces. The tournament has raised thousands of dollars for charity in Kimmett's name – almost $400,000 for the Children's Wish Foundation and another $400,000 for the Right to Play Foundation, providing sponsorship for more than 8,000 children in West Africa in the areas of sports, health care and education. Kimmett's family is still a big part of the event with Kimmett's younger brother Reid serving as one of the tournament's co-chairs.
The Kimmet Cup is co-ed (every team must have a female player) with three divisions: fun, recreational and competitive. The format is something MacLellan says Kimmett would have appreciated. "It's the right mix of competitiveness and inclusion, which Lindsay was all about," he says. The tournament fees are also designed to be affordable with a team of 10 paying about $30 per player, but no one is barred from playing if they can't afford it.
MacLellan and Baserman say the appeal of the tournament goes beyond the experience of playing outdoor pond hockey under a bright blue Alberta sky. "Hockey is what gets people through the door. What gets people staying and coming back is Lindsay's legacy, Lindsay's family, and the children who benefit from each stride you take on the ice and each goal you score and the money you raise," Baserman says. "That's the magic of the tournament; it's so much more than just the game. It shows you what a community can do."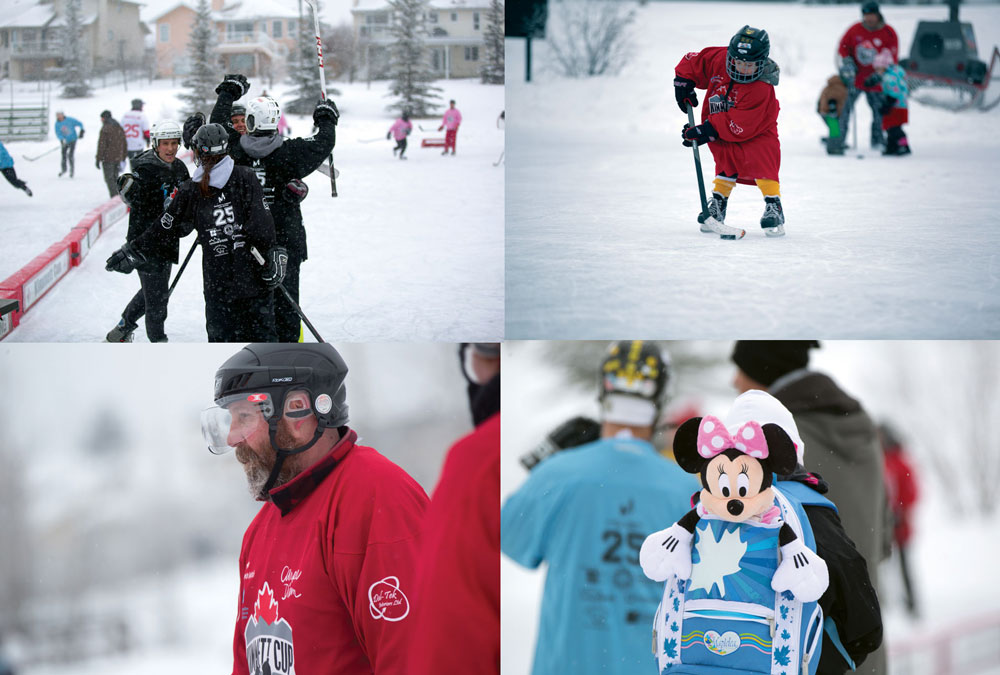 Scenes from the 2016 Kimmett Cup.
The 2017 Kimmet Cup will take place Feb. 10 to 12, presented in conjunction with Rogers Hometown Hockey. To learn more, visit lindsaykimmett.net.
---
Hockey for Life Skills

(Left) On-ice coaching is part of the HEROS program. (Right Older HEROS kids help younger kids suit up for the game.
HEROS stands for the Hockey Education Reaching Out Society, a national volunteer-driven charitable program that uses hockey as a way to provide life skills to kids from low-income neighbourhoods. In this way, for many participants in the HEROS program, hockey is more than just a game; it's a stepping-stone to success.
With two programs in Forest Lawn and one in Bowness serving almost 100 kids in total, the Calgary branch of HEROS is one of the largest in Canada. The program is divided into two age groups – future stars (grades four to eight) and all stars (grades eight to 12).
Once a week, HEROS volunteers teach hockey to kids who wouldn't have been able to afford it otherwise. The program provides transportation to the rink, equipment, ice time, coaches and snacks. All the kids have to do is show up. "We want to make sure that we're providing access to sport and mentors and positive activity. In some cases it's as simple as providing access to food and safety," says HEROS program director Kevin Hodgson.
HEROS partners with neighbourhood schools and accepts participants based on the school's recommendation. "We let the schools pick the kids who need the program the most, regardless of gender, cultural or religious background," Hodgson says. "It just happens organically."
As a result, HEROS participants are a diverse group. Almost half of the Bowness program's future stars are girls, a significantly higher percentage than you'll find in traditional organized hockey.
The program operates in what's referred to as the "critical hours," the chunk of time immediately after school when many children are without parental supervision or support. HEROS kids learn to skate, stick handle and score, but the program also includes off-ice programming in a variety of life-skills such as conflict resolution and resum writing. Participants also learn about volunteer opportunities and hear talks on subjects such as the value of teamwork.
But perhaps the most important aspect of HEROS is mentorship. There is roughly one volunteer for every six kids which means every participant has an enthusiastic cheerleader in their corner who will support them on and off the ice. "Everybody in the helping professions understands that the single greatest way to impact any young person's life is through the introduction of a mentor," says Hodgson. "Hockey is the thing that brings us together, but it's the mentoring relationship between the kids and our volunteers that keeps them coming back week after week. At HEROS every kid has someone who believes in them no matter what."
Most HEROS participants won't go on to play in the NHL, but many do go on to excel at the game. "The highest-level hockey player to come out of the Calgary HEROS program played at the AAA level, and he spent the first eight or nine years of his life in a refugee camp in Tanzania" Hodgson says. "You'd never have predicted that young person would have had success in this frozen sport having grown up in a dusty, sandy camp in Tanzania."
The HEROS ice times always include a scrimmage and, while scoring is fun, it's not the only thing that matters. HEROS participants are part of a team, but unlike traditional organized hockey, they're not in competition with each other. The older kids help the younger kids get dressed for ice time and support each other off the ice as well. It's not unusual for an older HEROS kid to stand at the door on the first day of Junior High to welcome a younger HEROS kid to their new school.
But perhaps the biggest sign of the program's success is that many former HEROS kids continue to come out and play. "Many of our kids are in university now and we figured they might want to come back as full-fledged adult mentor volunteers, but they actually sat us down and said we can be a better role model if we still put on the gear and go out and sweat with the younger kids. They still lace up their skates every week," Hodgson says. "We joke that HEROS is like Hotel California, once you're in, you're in for good."
To learn more, visit heroshockey.com.
---
Hockey for Newcomers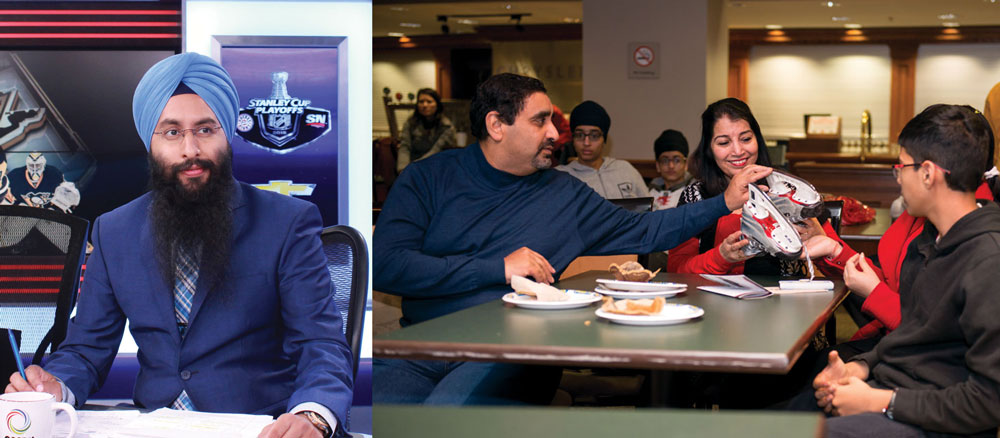 (Left) Harnarayan Singh on Hockey Night in Canada. (Right) A family learning the intricacies of a hockey skate at the Calgary Flames Foundation Hockey Is For Everyone event held this past February at the Scotiabank Saddledome.
Harnarayan Singh knows firsthand that hockey is for everyone. The host and play-by-play commentator of Rogers Hockey Night in Canada in Punjabi spent his childhood in Brooks, Alberta, during the 1980s. Singh's parents immigrated from India to the small Albertan city in the 1960s. Singh is Sikh, so growing up he didn't look like many of his fellow classmates, but he remembers using his love for hockey as an icebreaker to make friends (he later learned from his colleagues on HNIC: Punjabi that they had similar experiences).
Singh played ball hockey, "mini sticks" and shinny, but even as a youngster he was more interested in talking about hockey than playing it, offering his own colourful play-by-play commentary. It's something he has made a career of as an adult, hosting regularly for Calgary Flames TV as well as HNIC: Punjabi, which has earned him a loyal fan base of Sikh Canadian hockey fans in its nine seasons on the air.
The show represents what Singh loves about hockey – that it is quintessentially Canadian but also universally appealing. "Sport has this special universal force that brings people together," he says. "I always think of the 2010 Vancouver Olympics when Crosby scored that golden goal during the men's gold medal hockey game. It didn't matter where you were from, what your background was, what language you spoke or how you looked, everyone in Canada was cheering together."
Last February, Singh joined forces with his friend Rob Kerr, a host on Sportsnet 960 The Fan, to co-host a hockey event for more than 100 newcomers called Hockey Is For Everyone. Put on by the Calgary Flames Foundation, the event was in support of the National Hockey League's Hockey is for Everyone youth development program that champions diversity in the sport.
"The idea was Rob's, and I thought it was great. Instead of waiting for newcomers to take the initiative, let's invite them to our game, let's invite them to Canadian culture and have them participate and learn more about it," Singh says.
Held at the Scotiabank Saddledome, the free day-long event was like a crash course in hockey geared towards who Singh deems "new Canadians and new fans." Participants watched a Flames practice and heard from guest speakers Willie O'Ree, the NHL's ambassador for diversity and the league's first black hockey player and Cassie Campbell, Olympic gold medalist and former captain of the women's national team.
"Having O'Ree and Campbell was really important and significant for a lot of the newcomers, to see the history of the game and where it was back then and where it's come to today," Singh says. "The game is becoming more welcoming and inclusive."
While the day was hockey-focused, the attendees Singh spoke with took away more than a new appreciation for the game. "I received feedback about my own personal story, of being told television wasn't possible for me because of how I looked," he says. "If you have hopes and dreams and goals they're achievable here no matter who you are. That was the message that was really resonating with the audience."
He's looking forward to the 2017 event as another opportunity to share all the reasons why he loves hockey – how fast and entertaining it is and the exceptional skill level of the players – but mostly to celebrate hockey's ability to bring people together.
"Canada is a place where different people from different backgrounds live together harmoniously and hockey is such a big part of that Canadian culture," Singh says. "The Hockey Is For Everyone program is what that's all about."
Learn more at hockeycalgary.ca and icesingh.com.