Local improv theatre company Loose Moose marked its 40th anniversary milestone at the start of this season. Just as it did in the early years, the company continues to offer improv training and present shows (co-founder Keith Johnstone is credited with creating the now-ubiquitous Theatresports format), these days out of a space within the Crossroads Market building southeast of Stampede Park. While the venues have changed over the past decades, much about the company has remained constant, including founding member Dennis Cahill, currently in the role of artistic director. Here, one of the company's best-known alumni ruminates on the role Loose Moose played in launching his own comedy career and how the company's intrinsic generosity is a big part of why it has lasted so long. 
---
That logo hasn't really changed all that much in 40 years, even if much else has. You know the logo? That wry cartoon moose grinning out at you, more drinking buddy than animal. Like a funny couch-surfing fixture of Calgary, Loose Moose has just kept hanging around, somehow, a true institution, but one that doesn't demand attention, like the people who have made it and kept it great.
I first stumbled into one of Loose Moose's Theatresports shows almost 35 years ago. Even back then it seemed like they'd been around forever, or maybe that's what it felt like to me. I was a student at the time at Mount Royal College (not University yet) and I was both curious and cynical, still in the grips of my punk stage, student by day, forklift driver by night and this was my night off. I'd heard that improvisers "just made things up" and that it was competitive. Worth a shot. If I hadn't gone, I still may be loading trucks at Canada Dry. (Well, I would have hurt my back by now, so I presume I'd have moved into sales).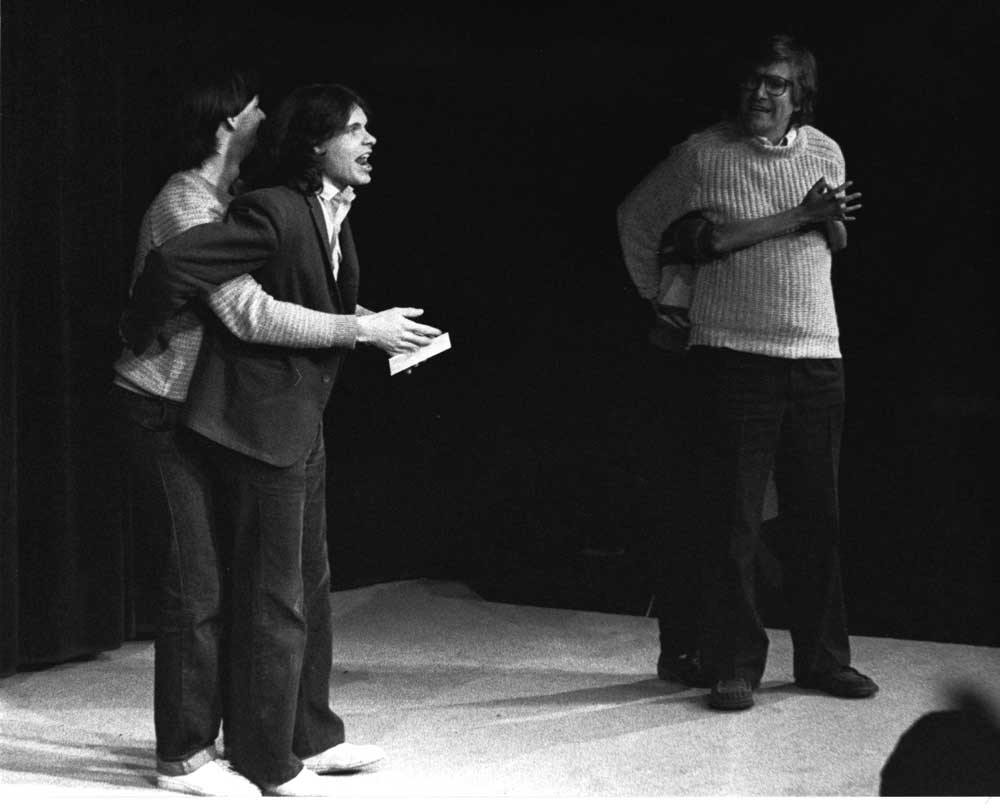 Co-founder and former artistic director Keith Johnstone (right) and Cahill performing an "arms scene," with Tony Totino visible as Cahill's arms.
Back then the venue was out near the airport beside the Port O' Call hotel in a converted cattle-auction facility. Not a lot of theatres can boast that. I paid my three bucks or so and settled in, enthralled, even if I didn't want to show it, being a punk and all.
The improvisers bounded out on stage, rock stars in unflattering pants. They were the first group of cool nerds I'd ever seen: Dennis Cahill, Dave Duncan, Jim Curry, Kathleen Foreman and the Totino brothers, Frank and Tony, who seemed to float in slow motion. Three judges eyed them like prey, ready to score their scenes or sound a horn mid-scene if they found it boring. Wow. The sheer indignity of being told to stop what you're doing and leave the stage! Some rejections are private. This one certainly was not. This was the knife's edge that I found immediately exhilarating and which has been the source of Loose Moose's decades-long staying power.
The performers took suggestions from the audience and made stuff up on the spot. (How could they do that!?) Given a line of dialogue, a scene emerged. Even when it wasn't perfect, it was alive and real. Watching, I felt in some way I had found my tribe. My religion. As if I'd stumbled into a church and finally it all made sense.
After the show, I waited. Like much of the audience, I was secretly wondering if I could do this. When Dennis came out, I sidled up to him, stared down at my purple shoes and asked, "um, how do you get to do this?" He explained that they let anyone do it. He explained that I would just have to volunteer at the shows and come to their improv classes and if I did okay there they would start me out with a 10-minute Theatresports game. That is the key to the Loose Moose philosophy, the great democracy that anyone can get on stage. They let people on stage before they were ready, and, well, you are never really ready for the for first time, until maybe after the first time and perhaps not even then.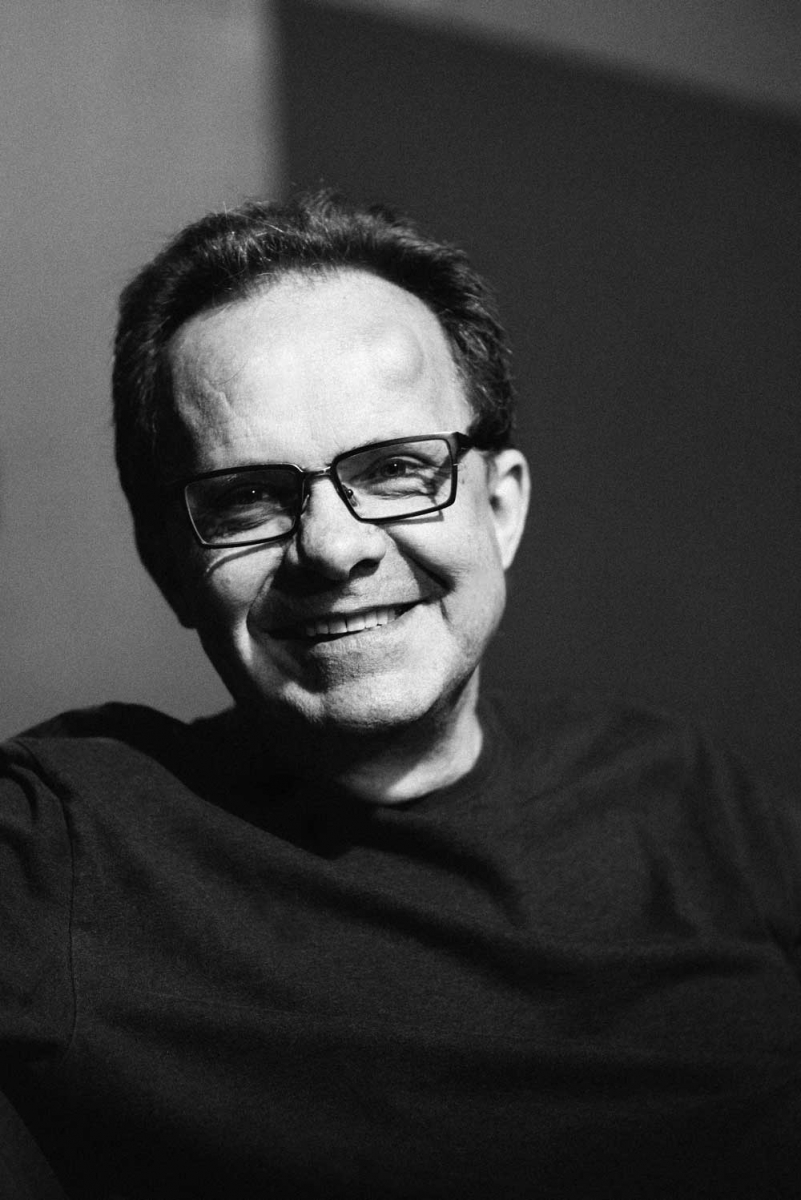 Loose Moose founding member and current artistic director Dennis Cahill, photographed on location at the company's current space in the Crossroads Market building.
The classes were held once a week in an upstairs space just off of 8th Avenue. I leapt up those stairs scared out of my mind. It was a grimy little studio, even by punk-kid standards, out of which Kathleen Foreman warmly taught us the tenets of improv: don't try to be too interesting (no problem there); don't try too hard (a rule I have broken constantly, though, at least considering that rule has led to me making a living in the arts); and, of course, don't say no. This one is tougher. It creates good scene work but, in life, could land you in rehab.
Keith Johnstone was a genius from England who wore Ski-Doo boots well into spring. He had everyone's attention by never demanding it. He taught me to not be attached to my ideas, despite my inclinations to believe that my ideas were all I had and all that separated me from the others. I learned that in improv the true pleasure is in making your partner look good; that is when it works. No one knew this more than my cohort Mark McKinney, who would walk on stage, watch what you were doing and then just fold in. He'd never panic – unlike me, who looked like a flopping fish trying to jump out of your boat. I watched him and cynically thought (remember I was half cynical) that I needed him to be my friend. More importantly, I needed him to be my creative partner.
We did Theatresports for a while but were driven to write our own ideas. And Keith let us. His whole enterprise was based on the purity of improv, and yet, he let a group of ungrateful upstarts do written sketches. No one ever read them or came to a rehearsal, they just let us. Dennis Cahill and his wife Deb Iozzi, in particular, could have shut us down, but they only encouraged us. They gave us their most valuable commodities: their stage, their audience. As young men, we never fully realized how generous this was.
We did our sketches after Theatresports for free. It went well (oh, the luck of the young) and soon we were charging admission for "Late Nite Comedy." Then people started coming just for our show. Some nights we even outdrew Theatresports. Being young and dumb in equal measures, we never understood how this could have rankled the old guard. Unbelievably, no one ever complained.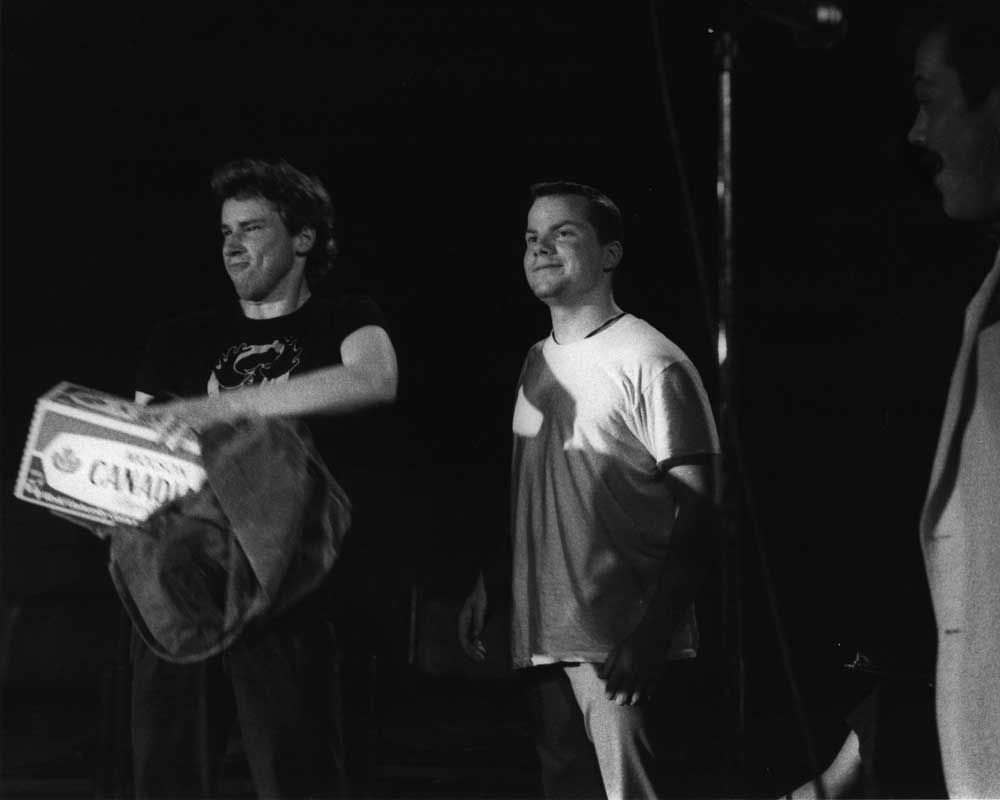 McCulloch (right) during his Loose Moose years with Theatresports teammate Graeme Davies.
As the months went by, we packed that theatre doing sketches that one day would become part of the Kids in The Hall oeuvre. Eventually, we decided we had to move to Toronto to "make it," walking away from the home we had been given without pause. Loose Moose even housed our "important" last shows with a true sense of pride.
After the last show, John Gilchrist (the company's general manager back then, who would go on to become a prolific local restaurant critic) pulled us aside. We thought we were in trouble for the mess we'd left the green room in, but no, we weren't. Instead, he pulled out an envelope. Inside was a cheque for $4,000. They had been saving up all the money we had made without telling us. They thought we might need it to make the move to Toronto (wow, were they right). It was the most generous gift from an organization that had already given us so much.
And they keep giving to the thirsty audiences and performers of Calgary, welcoming them the way they welcomed us. The company has nurtured so many talented people. Many have gone on to other things and some, like Dennis Cahill, have stayed and kept it great. Somehow, after all these years the moose keeps smiling, ready to share a drink and make us laugh.