Starting last winter, journalist Jen Gerson seemed to be everywhere. She had abruptly left a National Post correspondent position at the end of January. By mid-February, three weeks into her freelance career, Gerson had already amassed an impressive number of stories. People noticed. Edmonton journalist Omar Mouallem posted on Twitter that he had read four great articles that day, all penned by Gerson. Her former National Post colleague Tristin Hopper tweeted that Gerson was "in the midst of the most explosively successful post-@NationalPost 100 days in the history of National Posting. If you haven't noticed, her byline is more ubiquitous than Benedict Cumberbatch."
Gerson replied: "S—, I'm only on day 33, f—ers."
By the end of April, at the actual 100-day mark, Gerson had written about Canada's obsession with the sex lives of ice dancers, gotten into a Twitter fight with Conrad Black about journalistic standards, tackled the "hippie vs. rig pig" pipeline battle between B.C. and Alberta, addressed sexual harassment in Canadian politics and written about the chaotic Ontario provincial election – including breaking the story about the Ontario Progressive Conservative party conference call that put an end to Patrick Brown's run for Premier. Gerson also started a gig as the journalist-in-residence at the University of Calgary's Faculty of Law, appeared regularly on CBC's Power & Politics panel and began a biweekly politics podcast with journalist Justin Ling called Oppo.
Gerson's omnipresence appeared sudden and explosive, but I wanted to know how and when her journalistic fuse was lit. She agreed to meet with me last spring even though she was coming off a rough week. Gerson was recovering from strep throat, and her 18-month-old son had also been sick and spent the previous few nights in Gerson's bed kicking her in the face. She had just recorded an episode of Oppo from inside her closet because it is the most soundproof place in her house. "You have to picture me in my closet still, in my pyjamas, shaking back and forth because I haven't slept," Gerson said. "And I'm on antibiotics. I am so exhausted." Still, she sat down with me to run through what has gotten her to this point.
Gerson's first press conference, in 2002, was about the notorious Robert Pickton pig farm, where police eventually identified the remains of 26 murdered women. Gerson was 16 years old. She was volunteering for course credit with the student newspaper at her high school, Gleneagle Secondary in Coquitlam, and was shadowing a reporter from the local newspaper who took her in "like a little duckling," Gerson said. She recalls questioning one of the other reporters in the scrum about a bit of journalism jargon he used. "I was trying to feel tough," Gerson said. "I was really – how should I describe it? – intense as a 16-year-old."
The reporter ride-along to the Pickton press conference, along with the September 11 attacks which occurred around the same time, abruptly expanded Gerson's view of the world outside her little town. These two tragedies – one global, one local – combined with Gerson's long-held fascination with language and story. "I don't know if that is a grim thing to say, but it was an interesting and exciting time to be trained as a journalist," Gerson said. "The world became a very different place after that."
After graduating from high school, Gerson enrolled in journalism at Ryerson University in Toronto. She quickly realized her future job prospects didn't rely on her GPA. "I took the lay of the land and I realized nobody is going to give a shit if I have an A or a D," Gerson said. "Nobody is going to care about my grades." Instead, she focused on gaining newsroom experience. Gerson joined the Ryerson student newspaper, The Eyeopener. "I knew from high school the student newspaper was where all the cool kids hung out," she said. She started off as circulation manager, a sort of rite-of-passage job that involved pushing a massive cart loaded with papers throughout campus and making early morning deliveries. The job earned her goodwill among the higher-ups at The Eyeopener. "All of the editors went for breakfast with me afterwards. It was a social thing."
Social things were hardly Gerson's speciality. "I was an only kid. I never got along with other people," she said. "I was a weirdo." Gerson was also a year younger than all her peers, and couldn't join them for post-class drinks. More than this, though, Gerson's ruthless pursuit of her career goals did not always endear her to her J-school classmates. "Right from the beginning, I had my eye on the prize to a creepy degree, and that was extremely off-putting to my peers," she admitted. "I definitely didn't win Miss Congeniality or Miss Popularity in university. That's for sure."
Gerson landed plum internships at The Globe and Mail, the Toronto Star and the Calgary Herald. Then, in 2007, she got a job as a tourism reporter at The National, a new government-owned newspaper based in the United Arab Emirates. She enjoyed the travel opportunities the job offered, but found the expat vibe in Abu Dhabi a sort of frat-house version of a foreign news desk. "Everybody is away from home and they drink a lot. You wind up going on these boozy brunches every Friday and getting into trouble," Gerson said. "It is literally like grown-up university." Despite that, she enjoyed the scene for about two years before The National's credibility began to disintegrate under the weight of increased government censorship.
At the time, Gerson figured that Yemen might be an interesting place for her to work next. She arranged to spend a month in Sana'a studying Arabic. She did the math on how many freelance articles she would have to publish every month to pay her rent and how much she would need to spend on "kidnapping and ransom insurance." But then, on the day she had planned to send her deposit to the language school, the Calgary Herald sent her an email offering her a general-assignment reporter position. The timing seemed like a sign. "I decided to come home," she said.
Gerson worked at the Herald for nearly two years before getting promoted to covering Alberta for The National Post. Premier Alison Redford dropped the writ on the provincial election on Gerson's second day on the job. Within a few months, Redford was out, Jim Prentice stepped in, and then Rachel Notley's NDP wave washed away 44 years of Conservative rule. Alberta politics – long considered the most boring beat in Canadian journalism – suddenly became the most interesting and relevant political topic in the country. "I just lucked out," Gerson said. "I ended up on the back tail of a star and rode it in."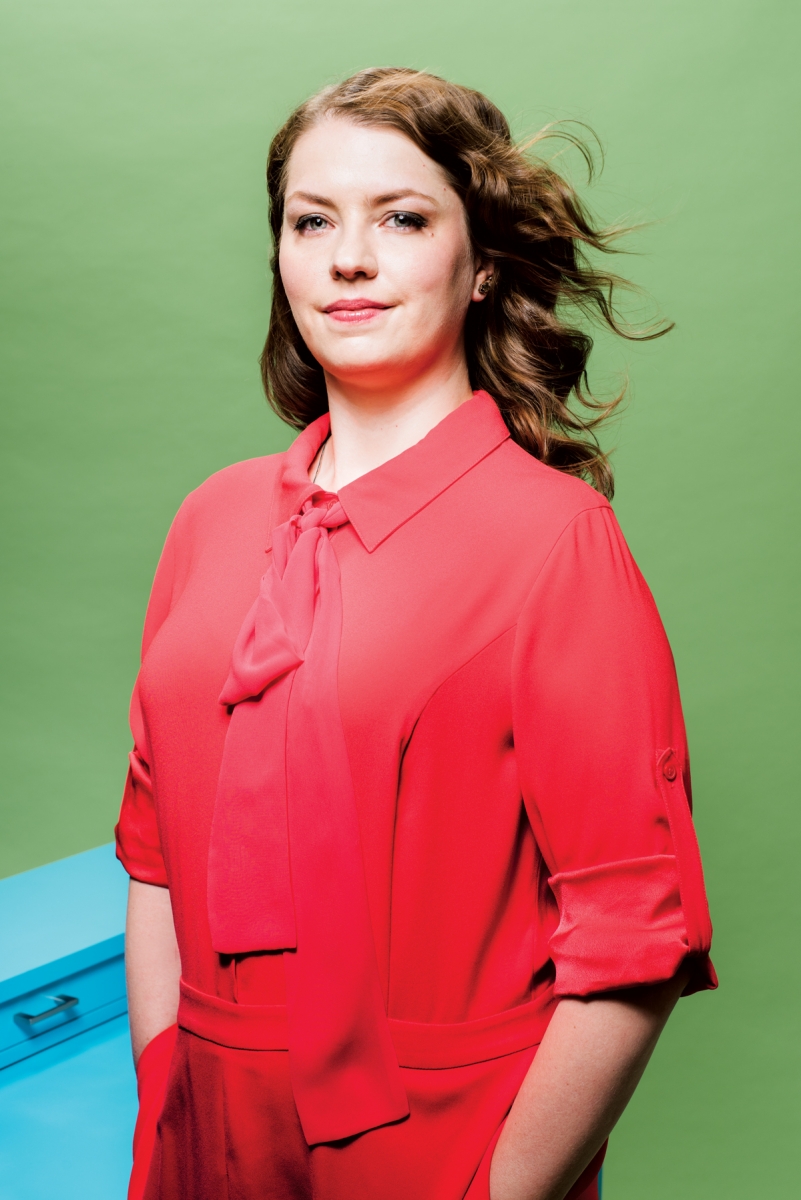 Retired journalist Catherine Ford poured me a glass of wine, then fetched half of a limoncello martini she had leftover in the fridge from the night before. When she returned to her living room, she said, "If I had a daughter, I'd want her to be Jen Gerson."
I was there because I had been told Ford was, along with Don Braid and Colby Cosh, something of a mentor for Gerson. This made perfect sense. The two journalists share much in common. Ford describes Gerson as a funny and mouthy woman who "doesn't take s— from anyone," an accurate description of Ford herself.  Ford said, too, that "Jen has a tendency to be – what's the word I am looking for? – confirmed in her opinion. Like I was." Both women are admired for their fierce and entertaining columns, even by readers who may disagree with them.
It is tempting to suggest Gerson is following in Ford's footsteps. Instead, Ford imagines following Gerson. "In Jen, I see the possibilities that might have been if I started out now," she said. When Ford first joined the London Free Press in 1966, she was the only female news reporter at the entire paper, and women journalists have long felt pressure to be "one of the boys." "Jen is quite feminine," Ford said. "You can be that [now] and still be a great journalist. That's a huge difference."
However, Ford doesn't envy Gerson for the current precarious state of the business and the paucity of journalism jobs available to young reporters. Nor does she have any interest in the online world today's journalists must navigate. "If I was starting out in the business today and I didn't have a thick skin, with all the trolling on social media, I am not sure I wouldn't have drunk more than I used to," Ford said.
For her part, Gerson endures less online abuse than many other female pundits she knows. Gerson's writing rarely delves into the sort of topics like feminism and race that tend to rile the web's most vicious hate nerds. Most of all, though, Gerson thinks her refusal to align herself with one political tribe or another makes her a less of a target. She considers herself to be generally centre-right-leaning in her politics, and harbours "a fundamental skepticism about the competence of any government to do anything useful," but she is neither a party flag-waver nor an ideologue. It is hard to wage war on someone who hovers outside the fray.
Gerson also believes that her fierce online character dissuades many attackers. "I think people realize that if you want to f— with me on Twitter, I'll f— with you right back," she said. "And I'll probably win." The Jen Gerson on the page, though, is not the same as flesh-and-bones Jen Gerson. "Every pundit has a persona, to some degree," she said. While Gerson The Person considers herself shy, Pundit Gerson describes herself as bossy and aggressive. "I've got a funny, bulls—, sort of take-no-prisoners persona," Gerson said. She wouldn't consider her persona false, but it is certainly crafted. This "puppet of Jen Gerson" allows her to separate herself from the sort of online backlash that punditry breeds, especially for outspoken women like her. "Most of the time I can disconnect from the emotional consequences of being out there," she said.
All of Gerson's work presents her particular stance on an issue – she is an opinion writer more than a reporter, although her work is based in research – but she does not care if readers come over to her side. "I'm not invested in people's growth. That's just useless to me," she said.
Gerson would rather guide readers through her thought process than necessarily change their views. In her critique of the 2018 federal budget, for example, she ran the numbers on the Liberals' much-ballyhooed overhaul of the Universal Child Care Benefit and revealed that households making $30,000 per year are still spending between half and two-thirds of their net income on childcare. "We women are very good at this kind of math," she wrote.
Math has driven Gerson's career from the very beginning. Every career move she has made as a journalist emerged from unsentimental arithmetic. Her focus on experience instead of grades at Ryerson, for example, or her calculation that penning short opinion columns is a more financially fruitful use of her freelance hours than investigative reporting. Gerson has written a couple of book proposals, too, but has reasoned that even a successful book about Alberta politics won't earn enough money to be worth her time writing it. "I'm not interested in making $20,000 a year," she said. "Money is how we keep score."
Mercenary mathematics may fuel her career choices, but it is her long-held desire to tell good stories that drives the work itself. This hasn't changed since she was a precocious high-schooler. "I want to be good at doing the craft," she said.
Gerson has never harboured any hope to change the world and rejects the J-school aphorism that the purpose of journalism is to comfort the afflicted and afflict the comfortable. "That is an activist model," she said. "If you've accepted that, then you've accepted your role in journalism as an activist, and as a left-leaning activist whose job it is to shit on the rich." Gerson said she worries that too many journalists consider challenging power to be a more important goal than simply telling truthful stories. "That being said, I'm perfectly happy to take out the powerful when I think they deserve it. I'm thrilled. I'll take your head and I'll put it on a wall if you deserve it," then she added, "I'm really nice. I'm just very disagreeable."
This story has been corrected to include the correct spelling of Don Braid's name.