How does a retired hockey star keep fit when his specialty used to be blocking pucks, night after night, in front of tens of thousands of fans? For Kelly Hrudey, you do something about as contrary to NHL goaltending as you can find.
Hrudey, who famously spent 15 years minding nets for the New York Islanders, Los Angeles Kings and San Jose Sharks, and now mans the broadcast booth as an analyst for CBC's Hockey Night in Canada and the Calgary Flames, is an accomplished mountain biker and hiker who knows the trails of the Canadian Rockies almost as thoroughly as Parks Canada staff. (That's no exaggeration: he collects and studies old trail maps of Western Canada and his home office is filled with books on the early explorers of the region.)
"I'm definitely an outdoors kind of guy," he says over coffee on a rare day off. "I like the solitude of going out in really remote places where the likelihood of running into somebody else is pretty slim. I don't know why, but there's something that really attracts me to that kind of trail."
Hrudey started biking and hiking seriously in 1989 after he was traded to the Kings. On a family vacation to Jasper that summer, he and his brother, Ken, tried mountain bikes for the first time. "Mountain bikes were just starting to become a thing and we took these crappy rented bikes on some pretty remote trails and that was it. We got the bug," he says.
Nearly every year since, the pair has taken a summer trip, riding and hiking through the mountains for up to two weeks. Together, they've explored more than 100 remote trails in the Canadian Rockies. "At the end of the year, it's a good, soulful thing to go off to the mountains. To get out hiking and biking, it's like a brain scrub to me. I turn the world off," Hrudey says.
Days in the mountains are precious few right now on account of his schedule. After he retired from hockey in 1998, Hrudey signed a broadcasting contract that keeps him as busy as he was in his hockey-playing days. He's currently based in Calgary, having bought a house in the city in 1994 on the advice of his old friend and rival, former Calgary Flames goaltender Mike Vernon. But most of his workdays are spent in hotels and airplanes.
Out of the 200-plus days of an NHL season, Hrudey calculates he spends 175 days on the road, on average. During the week, he travels to wherever the Flames are playing. On weekends, he flies to Toronto to do the "Coast to Coast" segment for HNIC. During the two months of playoffs, he moves into a hotel in Toronto and stays there until the new Stanley Cup champions are drinking Champagne on the ice.
"My life today is busier than it has ever been. I spend more time on the road than I ever expected," Hrudey says.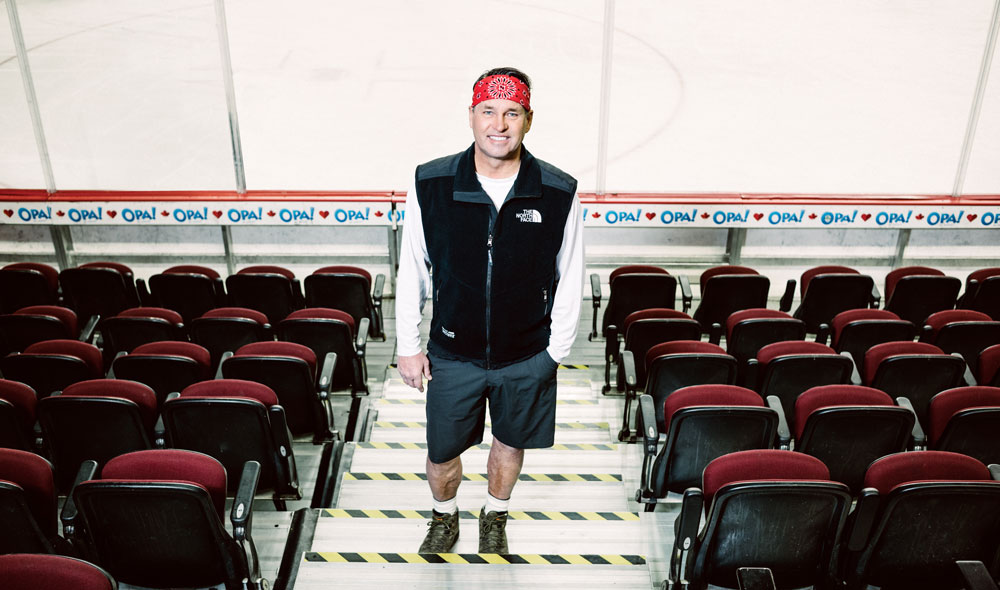 When he can, he rents a bike and explores the local trails. Otherwise, his training regimen is built on long walks – assiduously tracked on his Apple watch. "I routinely try to get over 20,000 steps every walk," Hrudey says. "Most of my co-workers can't stand to go walking with me because I walk at a pace that they don't like and I go for far too long."
Like any professional athlete, a goaltender's body goes through dramatic changes after retirement. Hrudey, who used to stretch eight to 10 times a day, can no longer touch his toes (he tries it at the caf to confirm). In his playing years, he weighed in at a "pretty lean" 180 pounds; today, his weight is above 200.
Old injuries are making themselves more present in his back and shoulder, and a catastrophic ankle injury that dates back to 1995 still holds him back. A few years ago, he gave up playing squash, a game he loves, due to ankle pain. "It's the game that I was most addicted to, more so even than hockey," Hrudey says.
Hrudey doesn't skate at all anymore, preferring not to tarnish the memories of playing in his prime. "I miss being good at skating, and I can't stand that feeling. That's why I don't play hockey anymore," he says. "I was never good at squash, I was never good at golf, so I still like playing them."
And the trademark blue bandana he wore throughout his playing days? It's retired, though continuously replaced by newer headbands. "I wear a headband, for sure [when I work out], even when I go biking," Hrudey says. "Sweat and contacts don't mix."