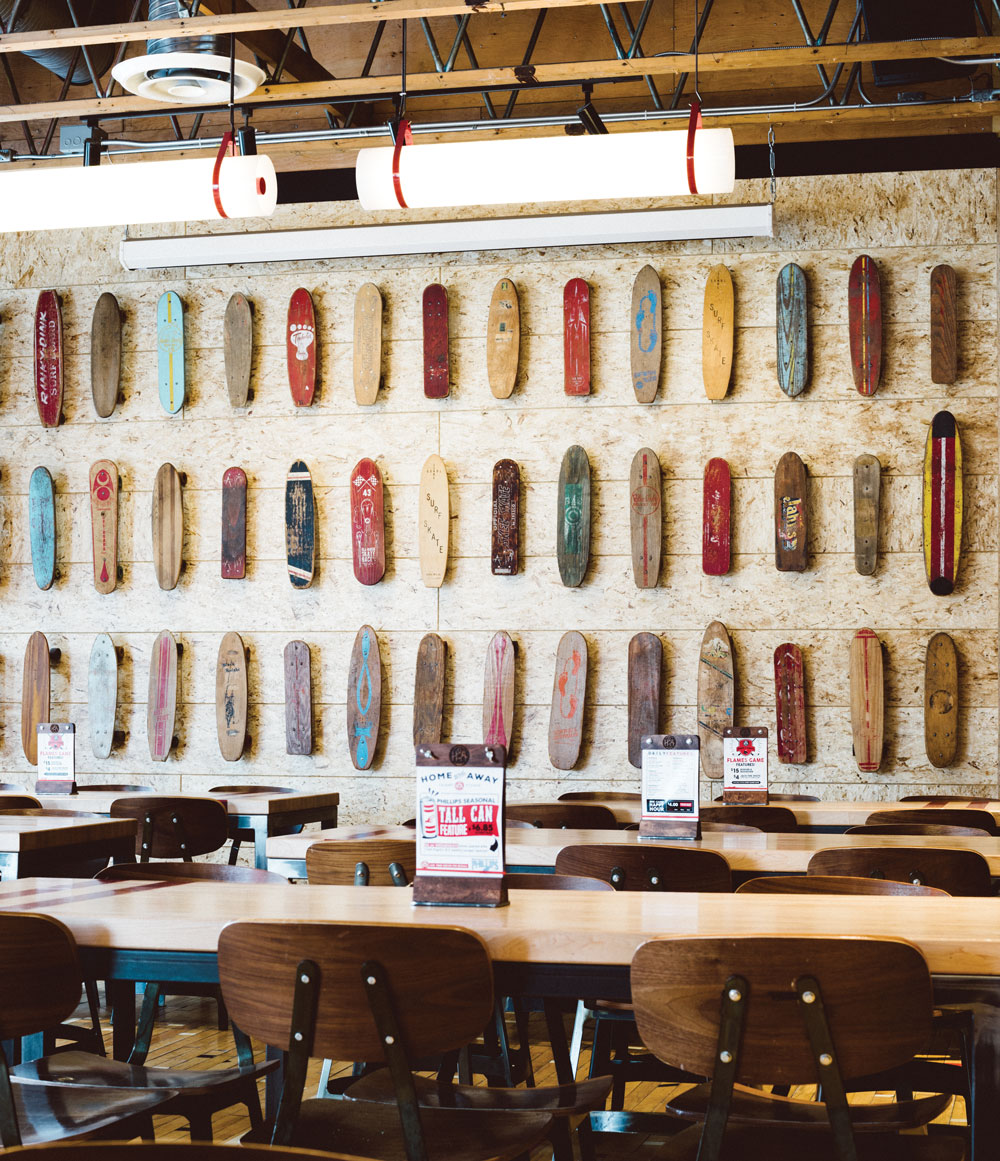 photograph by jared sych
Home and Away has an all-day happy hour on Sundays.
Everyone loves getting a deal on food and drinks at restaurants. But sometimes, it can be difficult to make it out to your favourite eatery in time for happy hour, which often runs for two or three hours during the late afternoon. Thankfully, these five Calgary restaurants offer happy hour deals that last the entire day and evening once a week.
To take advantage of Craft Beer Market's happy hour deal, stop by between 3 to 6 p.m. from Monday to Friday or anytime on Sundays. During those times, you can choose from 40 different drinks options that are $4. Those options include various wines, beers and spirits.
345 10 Ave. S.W., 403-514-2337, craftbeermarket.ca, @craftbeermarket
Goro + Gun is the latest Calgary restaurant to offer an all day happy hour. Now available all day on Saturdays (it's also available between 3 p.m. to 6 p.m. on weekdays), the happy hour food menu includes items like ramen burgers, nori shio chips, edamame, tuna poke, sashimi and more that range from $3 to $5. Drinkwise, you can choose from Sapporo beer and select wine and cocktails.
245, 225 7 Ave. S.W., 403-237-5596, goroandgun.ca, @goroandgun
One of the best spots in the city to watch a sports game, Home and Away's pre-grame happy hour runs all day on Sundays (and 3 p.m. to 6 p.m. on weekdays). Certain beers, six-ounce pours of the house red and white wine and highballs are available for only $4. Plus, the restaurant's skee-ball and pop-a-shot arcade games can be played for free on Sundays.
1331 17 Ave. S.W., 403-455-9789, homeandawayyyc.com, @homeandawayyyc
Start your week off right by popping in for Happy Mondays at any of National's four locations. That's when National's huge selection of draft beers, ciders and more are available for only 25 cents per ounce. Basically, if it's on tap, you get the deal. This deal is also available Tuesday through Sunday from 3 p.m. to 6 p.m.
Various locations, ntnl.ca
During Wurst's all day Halfy Hour on Mondays, you can get half litres of draft domestic and import beers for $5 or half litres of draft wine for $12. Appetizers are also half price throughout the entire day, so try dishes like pretzels with mustards, wings, flatbread, pork tacos, Maultaschen dumplings and more.
2437 4 St. S.W., 403-245-2345, wurst.ca, @wurstcalgary