Steak
Marbled steaks with rich, beefy flavour, aged well and cooked perfectly every time. Who needs side dishes?
320 11 Ave. S.W., 403-262-7262, vintagechophouse.com, @vintagechop
Locally raised, naturally and sustainably, this cut is leaner than beef with more protein and plenty of flavour.
2100 4 St. S.W., 403-245-6662, secondtononemeats.com, @second2nonemeat
Porterhouse Steak at Open Range
One cow, two porterhouses. A limited number of this cut is available from every animal, so don't pass up the opportunity to order one at an iconic steak house.
1114 Edmonton Tr. N.E., 403-277-3408, open-range.ca
Bone-In Beef Tenderloin at Le Villa
The big bone attached to the signature beef tenderloin at Le Villa adds nuttiness and a Fred Flintstone zip to the beef – 12 ounces of pure decadence.
1851 Sirocco Dr. S.W., 403-217-9699, 1800 4 St. S.W., 403-453-3670, levilla.ca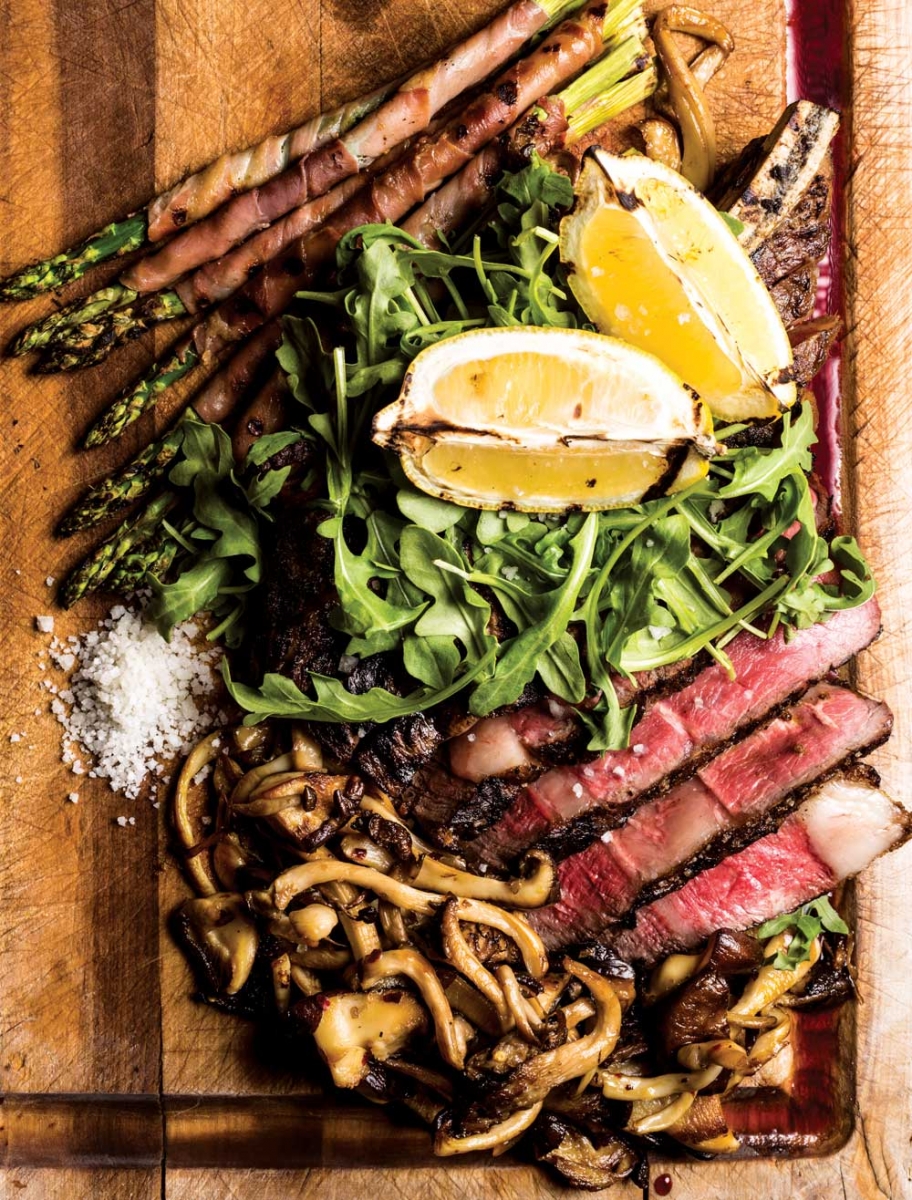 Bistecca at Mercato shown with mushrooms and prosciutto-wrapped asparagus.
A substantial steak in the style of Fiorentina, traditionally topped with arugula, lemon and olive oil, this one has to be shared
2224 4 St. S.W., 403-263-5535; and 873 85 St. S.W., 403-263-6996; mercatogourmet.com
Chateaubriand at Hy's
Hy's chateaubriand for two is old-school done right, with the perfectly grilled, tender filet mignon carved tableside and served with Barnaise sauce and red wine jus.
751 3 St. S.W., 403-663-3363, hyssteakhouse.com, @hys_steakhouse
Steak Frites at
A timeless combination executed well.
2505 17 Ave. S.W., 403-262-0036, thecassisbistro.ca, @cassisbistro
---
Chicken
Schnitzel Sandwich at Margarita's Dishes
Lightly crusted and fried, slathered with mustard and topped with Margarita's own sauerkraut on a baguette, the chicken breast schnitzel sandwich is a must-try for a quick and satisfying lunch.
Calgary Farmers' Market, 403-244-4548
Fried Chicken and Waffles at
This dish keeps evolving, but the base remains the same: crisp and juicy fried chicken, with a side of waffles (or, in one iteration, waffle-like doughnuts) for soaking up gravy and syrup.
308 17 Ave. S.W., 403-265-7343, modelmilk.ca, @modelmilkbistro
Fresh Chicken at
The naturally raised chicken from Bowden actually tastes like chicken. Available fresh at Spragg's Meat Shop outlets in farmers' markets, it's perfect for the rotisserie, the oven or the frying pan.
Fried Chicken at
In Korea, fried chicken and beer restaurants dot the landscape – it's a perfect pairing of crispy and refreshing.
1324 10 Ave. S.W., 403-457-0649; 2807 17 Ave. S.W., 587-351-1111; olivechicken.ca
Chicken and Cashews at
Known for its ginger beef, Silver Inn also does a killer chicken and cashews in yellow bean sauce – lightly sweet, savoury, loads of cashews and tender chicken.
2702 Centre St. N., 403-276-6711, silverinnrestaurant.com
Smoked Chicken Wings at Symons Roadhouse
14555 Symons Valley Rd. N.W., 587-296-4986, symonsroadhouse.com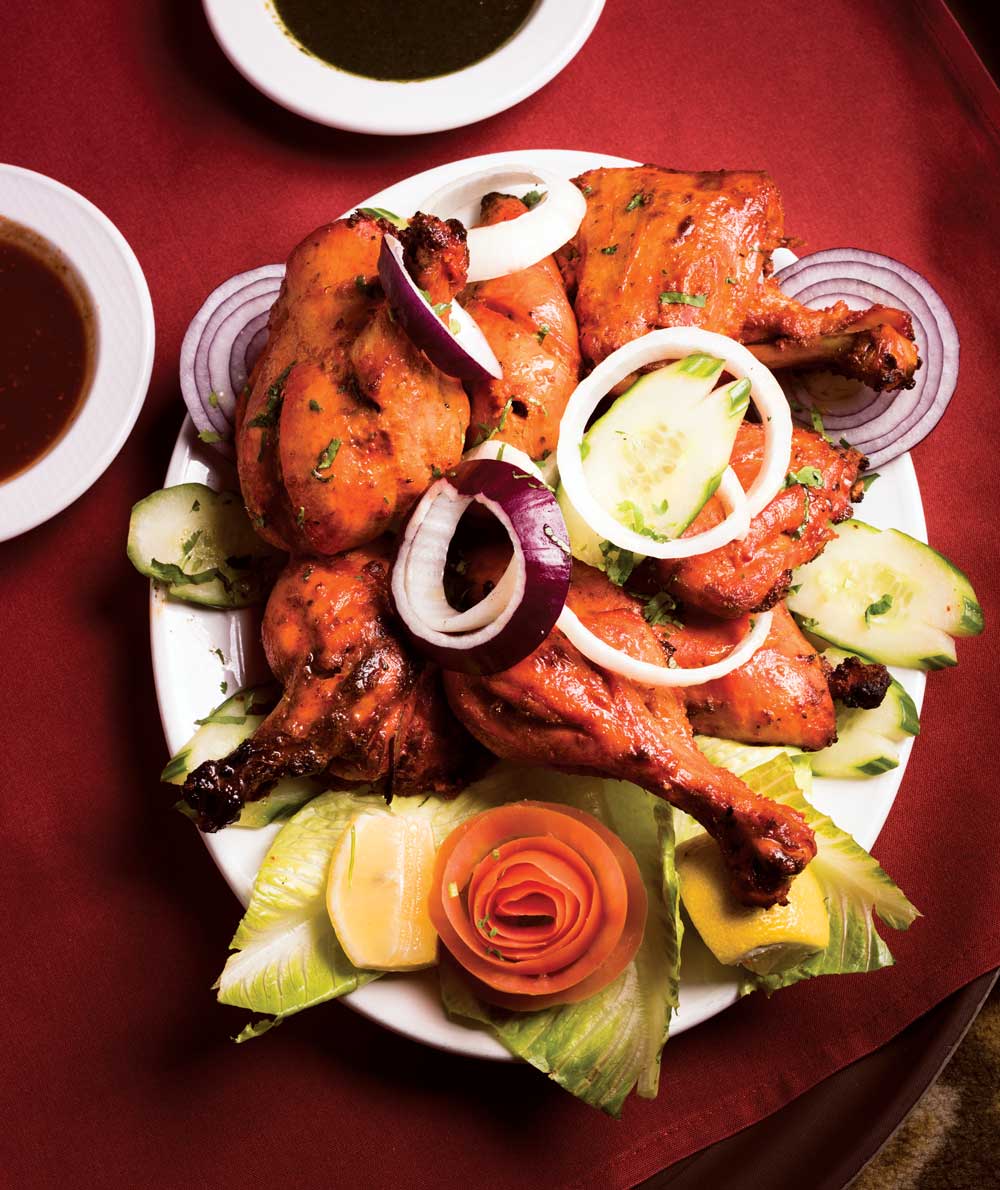 Tandoori Chicken at
Rolled in yogurt and spices and roasted in the tandoor oven, Namskar's tandoori chicken is succulent and deeply spiced. If you like a saucier version, the butter chicken is worthy.
202 16 Ave. N.E., 403-230-4447, namskar.com
Jerk Chicken at
Buy it hot for a snack at the market or frozen to prepare at home.
Market on Macleod, 403-714-0305, thespicyjamakin.ca
Crispy Chicken at
The mild version of Szechuan Restaurant's crispy chicken consists of half chicken and half chilis. Bracingly hot, the chicken is tender and outstandingly flavourful, if you can handle the burn.
320 16 Ave. N.W., 403-276-8876, szechuanrestaurant.ca
Bavarian Chicken Wings at
Wings are the ultimate bar food and sausage is a natural pairing for beer. Imagine the magic when these two are combined in this sausage-stuffed wing.
2437 4 St. S.W., 403-245-2345, wurst.ca, @wurstcalgary
Rotisserie Chickens to Go at Boxwood
The trick when ordering one of these juicy chickens is to make it home before tearing into it.
340 13 Ave. S.W., 403-265-4006, boxwoodcafe.ca, @boxwoodcalgary
---
Burgers
Burger at
The grass-fed, dry-aged beef makes for a juicy patty. Adding some local bacon makes us feel like the 100-mile diet never tasted so good.
319 19 St. N.W., 403-283-2497, dairylanecafe.ca, @dairylane
Stuffed Burgers at
Alone, the patties that make up the burgers at this hidden gem would be enough of a draw, but when owner Erin Mueller stuffs them with anything from macaroni and cheese to poutine, the burgers become everything a burger dreams it could be.
2808 Ogden Rd. S.E., 403-263-6355, nainaskitchen.com, @nainaskitchen
House Burger at
Juicy, well-spiced and topped with a tangy relish, marbled cheese, fried onions and mushrooms, the quaint barn-shaped caf's burgers are well worth the drive to Turner Valley.
105 Sunset Blvd., Turner Valley, 403-933-0003, chuckwagoncafe.ca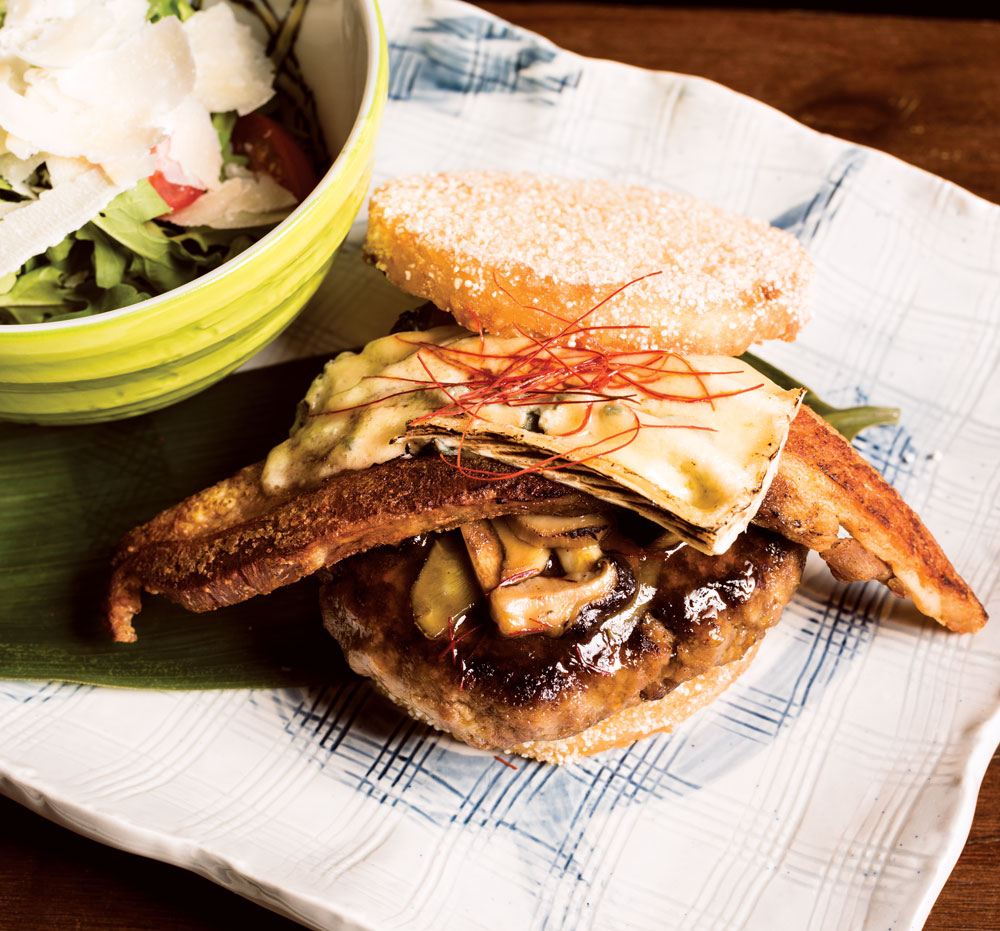 Teriyaki Burger With Rice at Carino
The house-ground Wagyu beef patty makes this burger extra special, served with rice shaped into patties, forming a slightly crisp and chewy "bun."
709 Edmonton Tr. N.E., 403-984-7534, carinobistro.ca, @carinobistro
Burger at
Two beefy patties with classic toppings and a secret aioli for the sauce, this is what happens when a classic French chef takes on a classic American dish.
317 10 Ave. S.W., 587-350-5015, briggskandb.com, @briggskandb
Burger at
A proper, freshly ground burger at Buchanan's should be ordered at medium temperature. To ask for it warmer could be classified as meat abuse.
738 3 Ave. S.W., 403-261-4646, buchanans.ca
The Wickens at
A classic, big, messy burger. A house-ground brisket patty topped with thick slices of bacon, cheddar, rhubarb and onion chutney, aioli and arugula, sandwiched between a fluffy, house-made bun.
814 1 Ave. N.E., 403-515-0035, newfoodorder.com, @burger320
Burger at
Parked outside Crossroads Market is an old Calgary Transit bus, where the staff at Rocky's grill thick, juicy burgers. Warning to first-timers: Order a "single." You need to work up to a double here.
1235 26 Ave. S.E., 403-336-0405, rockysburgers.com
---
Everything Else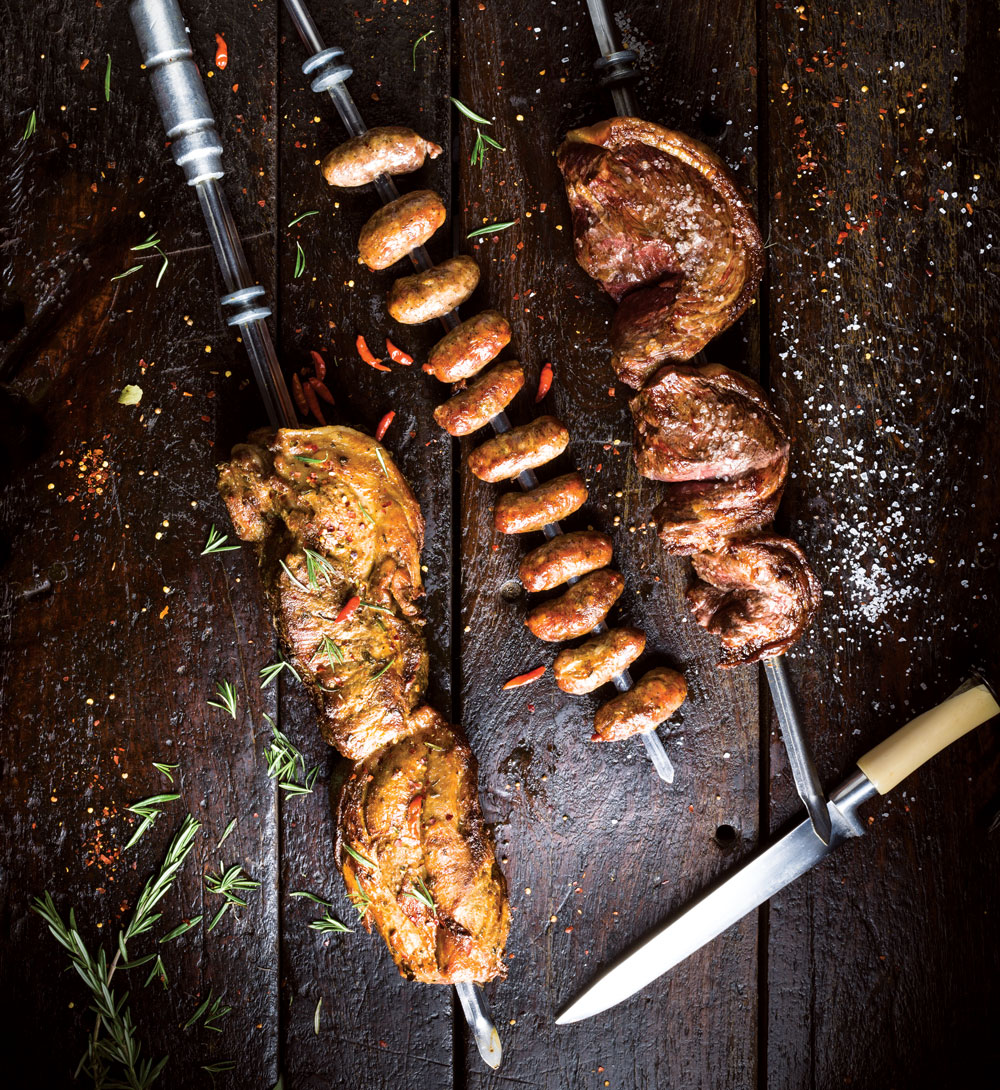 Everything on one plate at
Huge skewers of sizzling meat – variations of pork, beef and chicken – are brought to your table and sliced onto your plate. Seasoned simply, they keep coming until you toss in the towel.
5920 Macleod Tr. S. 403-454-9119, 629 Main St., Canmore, 403-678-9886, brazilianbbq.ca
Beef Wellington at
Trust that a restaurant named after a dish knows how to do that dish well. The classic Beef Wellington is a filet assembled with pt and duxelles and then wrapped in puff pastry and baked until golden.
10325 Bonaventure Dr. S.E., 403-278-5250, wellingtonsofcalgary.com
Ginger Beef at
A Calgary culinary claim to fame, this sweet and spicy dish is a piece of the city's edible history.
2702 Centre St. N., 403-276-6711, silverinnrestaurant.com
Beef Carpaccio at
An otherwise traditional dish of paper-thin slices of beef gets a Vietnamese makeover with the addition of herbs, red onion and spicy peanuts drizzled with a citrus-based nouc cham.
119 12 Ave. S.W., 403-206-9565, rawbaryyc.ca, @rawbaryyc
Char Siu Tacos at
Yes, yes, get the ramen too. But don't overlook this little spot's pork tacos with pineapple salsa.
827 1 Ave. N.E., 403-454-2722, shikimenya.ca, @shikimenya
Bo Ssm at
Pork shoulder so tender it falls apart just by looking at it. The only downside is waiting the 48 hours that are required notice to order it.
344 17 Ave. S.W., 403-460-3341, anju.ca, @anjurestaurant
Beef Rendang at
Bits of beef simmered until tender in coconut milk with fragrant galangal and cinnamon and a little hint of spice, you can almost imagine you're eating in a far more exotic locale than a farmers' market food court.
Market on Macleod, kaffirlimeindonesiagrill.com
Pan-Fried, Thick-Cut Pork Chop at
Thick, succulent pork paired with seasonal sauces. Need we say more? Okay, the pickled fennel and green apple slaw on top is a perfect match for the meaty chop.
1600 Railway Ave., Canmore, 403-609-2530, crazyweed.ca
Beef Bulgalbi at Bow Bulgogi House
Two words: meat butter.
3515 17 Ave. S.W., 403-686-6826
Duck Wings at Corbeaux Bakehouse
Meatier and duck-ier – unexpected lunchtime wing delight.
730 17 Ave. S.W., 403-474-9214, corbeaux.com, @corbeauxbake
Sherm's Ultimate Gripper at
A deep-fried, bacon-wrapped dog topped with ham, chili, cheese, more bacon and a fried egg.
1022 17 Ave. S.W., 403-244-0694, tubbydog.com, @tubbydoghotdogs
Jamon Iberico at Black Pig Bistro
Special black pigs fed only grain and acorns and aged for at least 24 months produce the world's best cured ham.
825 1 Ave. N.E., 403-460-0350, blackpigbistro.com, @blackpigbistro
Linguica at
It's Portuguese smoked pork sausage with garlic and paprika.
Symons Valley Ranch Farmer's Market, 14555 Symons Valley Rd. N.W., 403-378-3800, spraggsmeatshop.blogspot.com
Jger Schnitzel at
German food is often derided, but this dish is a perception-changer.
4703 Bowness Rd. N.W., 403-288-2230, wienerschnitzel.ca
Beef at The Better Butcher
A good cook needs a great butcher and Randy Hnatuk, owner of The Better Butcher fits the bill with his well-raised, perfectly aged and precisely cut meats.
377 Heritage Dr. S.E., 403-252-7171
Rosemary Port-Braised Lamb Shank at
1712 Bow Valley Tr., Canmore, 403-678-4878, sagebistro.ca
Old-Fashioned Montreal Smoked Meat Sandwich at
230 11 Ave. S.E., 403-261-9003, grumans.ca
Beef and Veal Meatballs at Bocce
Like mama would make, if your mama was Italian. And liked things a little bit spicy.
2207 4 St. S.W., 403-516-6162, eatbocce.ca, @eatbocce
Elk Osso Bucco at
Braised in red wine, The Nash's elk osso bucco is rich, flavourful and fall-off-the-bone tender. That's not all – the elk is served with fatty marrow bones, meaty grilled king oyster mushrooms and a creamy risotto infused with the perfume of kalamata olives.
925 11 St. S.E., 403-984-3365, thenashyyc.com, @thenashyyc
Roast Duck on Rice at Vic's Hong Kong Style BBQ & Cafe
100 3 Ave. S.E., 403-237-7321
Veal Cheeks at
Pure decadence is plated up as chef Jenny braises supple veal cheeks in rich Barolo wine.
209 10 St. N.W., 403-283-8988, verobistro.ca, @verobistro
St. Louis Ribs at
316 3 St. S.E., 403-264-6419, bookersbbq.com, @bookersbbq
Boerewors Sausage at
Located just outside Carstairs, PaSu Farm hosts a South African barbecue (braai) every Saturday evening during the short Alberta summer. The standout dish in the plentiful, meaty spread is the boerewors sausage – house-made with a mixture of pork, elk and lamb.
403-337-2800, pasu.com
Lamb Kleftiko at
A generous portion of moist, fall-off-the-bone braised leg of lamb with those lemony Greek potatoes that seem impossible to make at home.
2101 Centre St. N.W., 403-250-5533, calypsostaverna.com
Perfect Meats at
Eating local doesn't have to be pricey or pretentious. Co-op offers locally raised beef, chicken, pork and even goat at all of its locations.
Multiple locations, calgarycoop.com, @calgarycoop
Larb Nua at
For a blast of flavour-filled heat, the larb nua at Thai Sa-On can toast the tonsils. It's sliced, spiced (as in heavy chilis) beef served room temperature with roasted rice and a mouth-puckering lime dressing.
351 10 Ave. S.W., 403-264-3526, thai-sa-on.com
Beef Seekh Kabab at Faisal Kabab Hut
Ground beef is mixed with onion, coriander and spices before being moulded onto a skewer and grilled until just tender. Served on a sizzling platter with a scatter of onions and a lemon wedge to squeeze on top.
5120 47 St. N.E., 403-590-7101
Biltong at
It's South Africa's preferred snack: dried cured meat sliced into strips or thinly shaved.
2120 Kensington Rd. N.W., 403-270-0739, sameatshops.ca
Chinese Barbeque Pork at Feng Kee Bbq House
30 Country Hills Landing N.W., 403-730-8333
Whole Roast Pig at
Gather up 20 of your closest friends for the whole roast pig at Libertine. Choose from fatty belly, crispy cracklin' or lean loin, served with fresh slaw, warm buns and sauces.
223 8 Ave. S.W., 403-265-3665, thelibertine.ca, @libertinepublic
Meatball Sandwich at
Among the many meaty delights of Spolumbo's, the meatball sandwich stands large – both physically and metaphorically. Huge meatballs, tangy tomato sauce, crusty roll … drippy, messy and gorgeous.
1308 9 Ave. S.E., 403-264-6452, spolumbos.com
Grilled Pork Belly at
The grilled pork belly at Ogam Chicken is moist and tender, simmering in a flavourful, sweet and savoury sauce. Always served with a rotating selection of kimchi and other pickled Korean goodies.
6008 Macleod Tr. S., 403-454-6101, ogamchicken.com
Ham at
Specializing in pork, Spragg's Meat Shop has a tantalizing range of chops, roasts and sausages. But it's the ham that calls out as a premium product – dense and smoky and not overly salty.
Calgary Farmers' Market, Kingsland Farmers' Market and Symons Valley Ranch, spraggsmeatshop.blogspot.ca
Kebabs at
Chunks of beef or chicken are skewered on long metal rods and flame-broiled at Atlas (ground beef is pressed onto the skewers and cooked the same way) and served over saffron rice with fine Persian flavours.
1000 9 Ave. S.W., 403-230-0990, atlascalgary.com
Teriyaki Pork Ribs at
Japanese cuisine is not just sushi and ramen. The sweet and sticky teriyaki pork ribs at Daruma will definitely stick to your ribs.
630 1 Ave. N.E., 587-352-7568, darumacalgary.com
Turducken at
Whether celebrating Thanksgiving, Christmas, or just trying to re-enact the latest episode of Epic Meal Time on YouTube, serving a turducken will definitely be a conversation starter.
2100 4 St. S.W., 403-245-6662, plus two other locations; secondtononemeats.com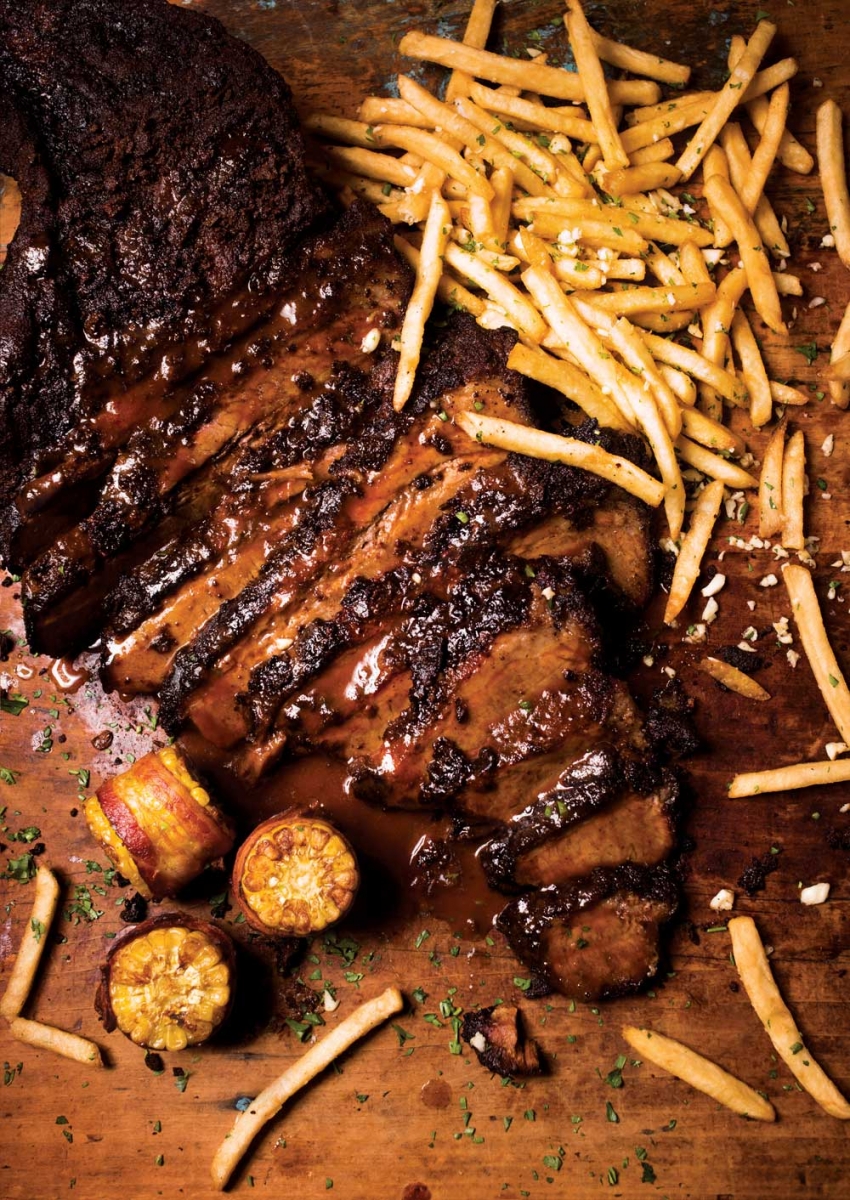 Beef Brisket at
109 7 Ave. S.W., 403-532-1911, thepalomino.ca
Cassoulet at
Few places do the French classics like Fleur de Sel. The deeply baked cassoulet of white beans with smoked ham, sausage and duck confit is a trifecta of great French meats.
2015 4 St. S.W., 403-228-9764, fleurdeselbrasserie.com
Lamb Leg Roast at Lambtastic Farms via
Rub this bad boy with a mixture of garlic and rosemary, then brown it before sticking it in the slow cooker for the day. Before you know it, dinner is ready.
Order at spud.ca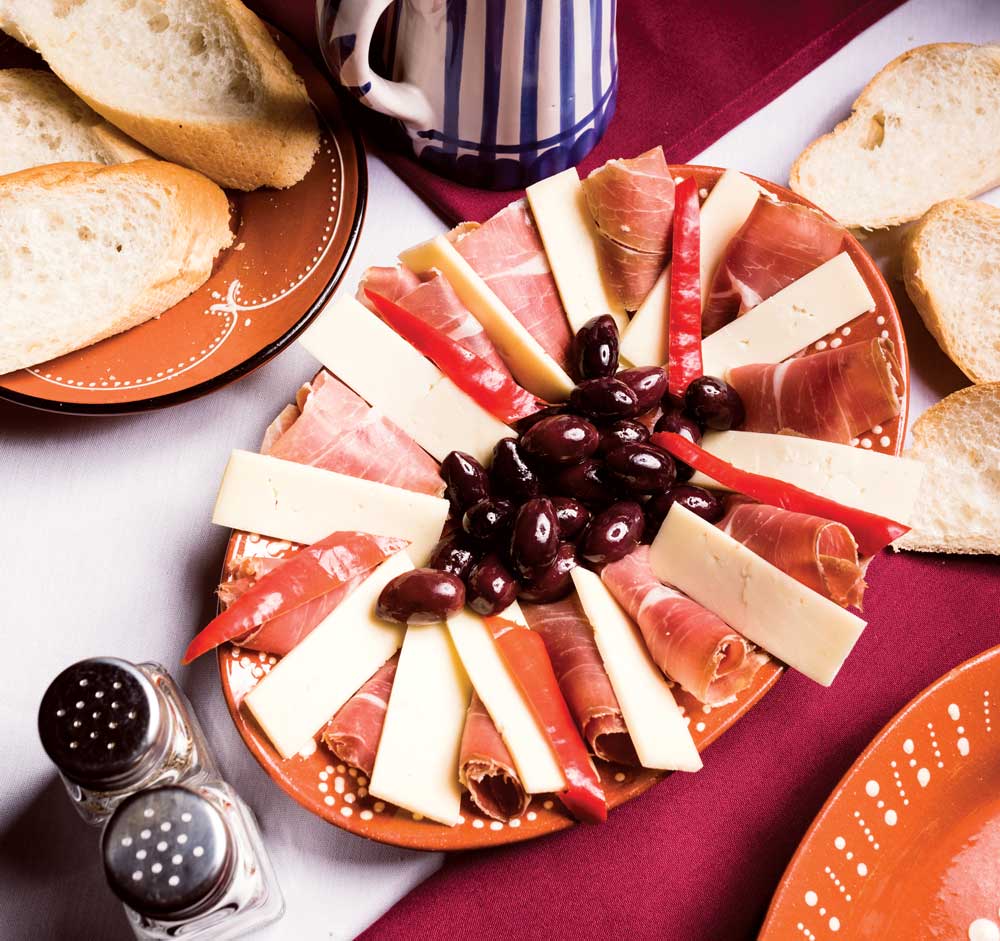 Presunto at Mimo
Many are the meaty treats at Mimo, Calgary's only Portuguese restaurant. But the house-cured presunto, similar to prosciutto, is a salty-savoury delight.
4909 17 Ave. S.E., 403-235-3377
Yebeg Wat at
Lamb marinated in Ethiopian spices and cooked in a buttery, chili-infused berbere sauce scooped up by hand in the soft, crepey injera bread is a staple at every visit to Marathon.
130 10 St. N.W., 403-283-6796, marathonethiopian.com
Lamb Shoulder at
Lushly pastured lamb is raised near Champion and is available in many shops around Calgary. Braise a shoulder or grill some chops and enjoy sublime Alberta lamb.
403-897-3737, eweniquefarms.com
Arni Kleftiko at
Slow-roasted lamb shoulder, a simple spritz of lemon, some roasted potatoes, and you have a sublime Greek dish that hasn't changed for centuries. Santorini's is the best in town.
1502 Centre St. N., 403-276-8363, santorinirestaurant.com
Prime Rib Sandwich at
It's all meat, all the time at Charcut – house-made sausages, pig-head mortadella and boards of fresh-cured charcuterie. But the prime rib sandwich is definitive of the genre. Period.
899 Centre St. S., 403-984-2180, charcut.com
Pho at Pho Binh Minh
There's pho and then there's pho at Pho Binh Minh – rich beef broth, fresh greens and herbs, slices of rare cooked beef, lime, chilis, vermicelli in 16 versions. This is pho at its best.
4710 17 Ave. S.E., 403-235-2521
Honey Garlic Pepperoni at
Come for the jerky, stay for the pepperoni. Longview's honey garlic pepperoni is a perfect mix of sweet and savoury.
148 Morrison Rd., Longview, 403-558-3960, longviewjerkyshop.com
Wild Rose Beef Pie at
Inside the flaky pastry of these beefy pies is a rich stew of cubed sirloin, highlighted with the flavour of Wild Rose Brown Ale. But don't be tempted to microwave them – they're much better cooked in the oven.
Available at several farmers' markets, at all Calgary Co-op stores or online for delivery at simplesimonpies.com