7. Proof
Proof earns seventh place in the Best New category in the 13th Annual Best Restaurants Awards. It focuses on cocktails, but also has a well-curated food menu that pairs well with the drinks.
By Gwendolyn Richards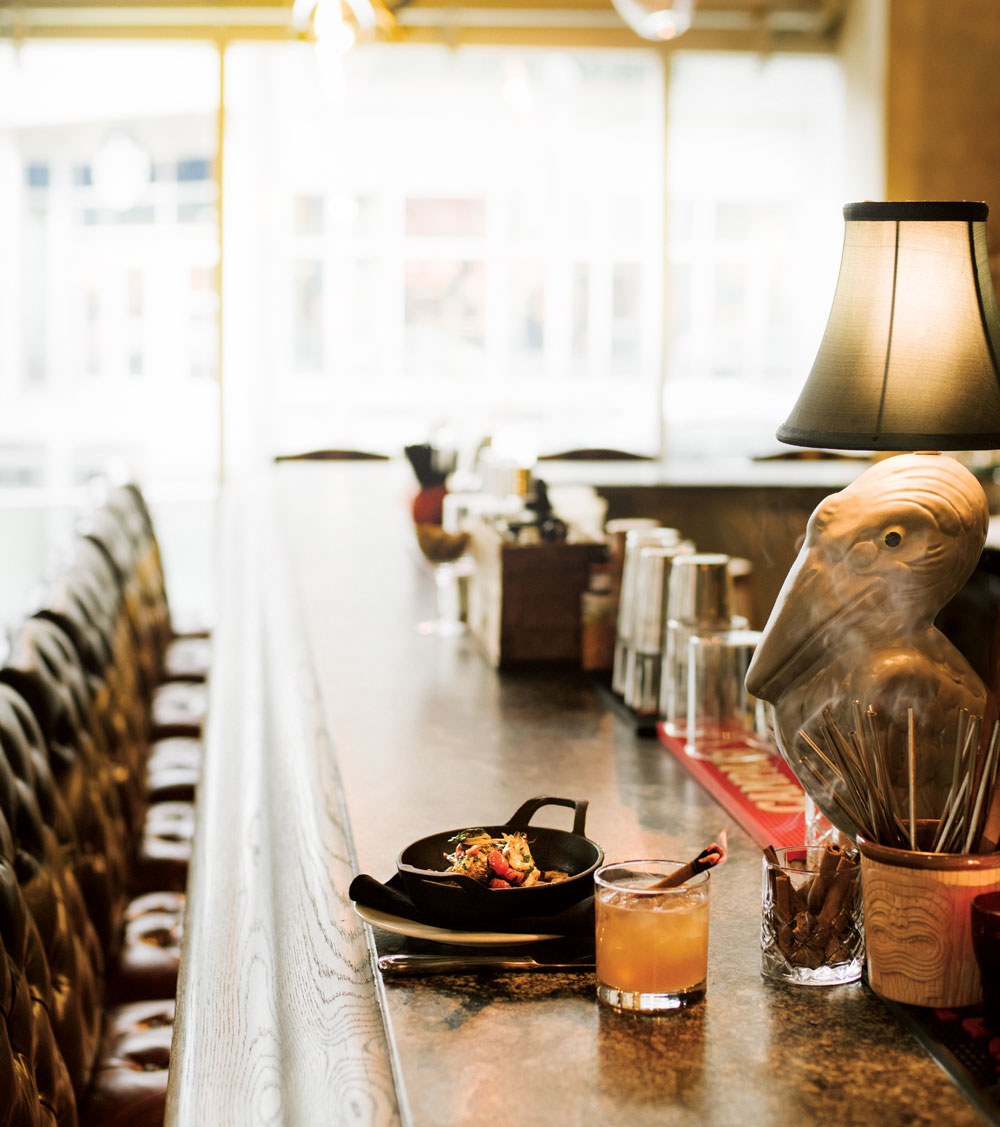 photograph by jared sych
On the bar: Pan-braised smelt fish with sofrito and clam vinaigrette. The Wallace cocktail, with Dillion's Pear Eau-de-Vie, Writer's Tears Irish whiskey, Cocchi Americano vermouth, lemon juice, cinnamon simple syrup
and Angostura Bitters.
The array of liquor dominating the back wall behind the bar, with bottle after bottle of spirits – from the expected to the arcane – lined up like jewels in a display case, is a good illustration of how seriously Proof takes its cocktails. But the extensive cocktail list, organized by spirit and featuring eclectic concoctions and well-made takes on classics, shows the proprietors, Vine Arts' Jesse Willis and Jeff Jamieson, also want to push the boundaries, share their love of the unusual and passion for good drinks that have been influenced by their travels.
Don't think for a moment, though, that the extensive liquor library means the only focus at Proof is on the drinks. The food menu is small but well curated and well executed, pairing perfectly with the cosy and welcoming – if slightly strange in its details – decor and the cocktails themselves. Do-it-yourself assembly pork belly buns with all the fixings, an ever-changing and expertly arranged charcuterie plate and cloud-like cheesy gougres are perfect complements to the inventive drink list.
1302 1 St. S.W., 403-246-2414, proofyyc.com, @proofyyc
---
Restaurants in the Best New Restaurants category opened by the end of summer 2015. It gave each restaurant time to find its groove and our judges time to eat there before the deadlines for our March issue. Other restaurants have opened since and they are on our radar for next year.
---