Behind the scenes, in the kitchens of restaurants around the city, it can sometimes seem like a game of musical chairs is happening. Chefs make moves to new restaurants for a chance to hone their skills, expand their repertoire, find new ways to challenge themselves or because – so they say – a change can be as good as a rest. For some, it's about changing priorities, for others, a return to a familiar place.
No matter the reason, each time one chef moves, an opening in a kitchen follows that is quickly filled by another who is also looking for a fresh opportunity and a chance to bring their talent, their tastes and their skills to a new space and menu. With each shift, chefs put their own stamp on the menus and dishes being set down in their dining rooms, though some are quick to learn that not everything can be revamped just because there's someone new at the helm.
Jan Hansen
Executive Chef for the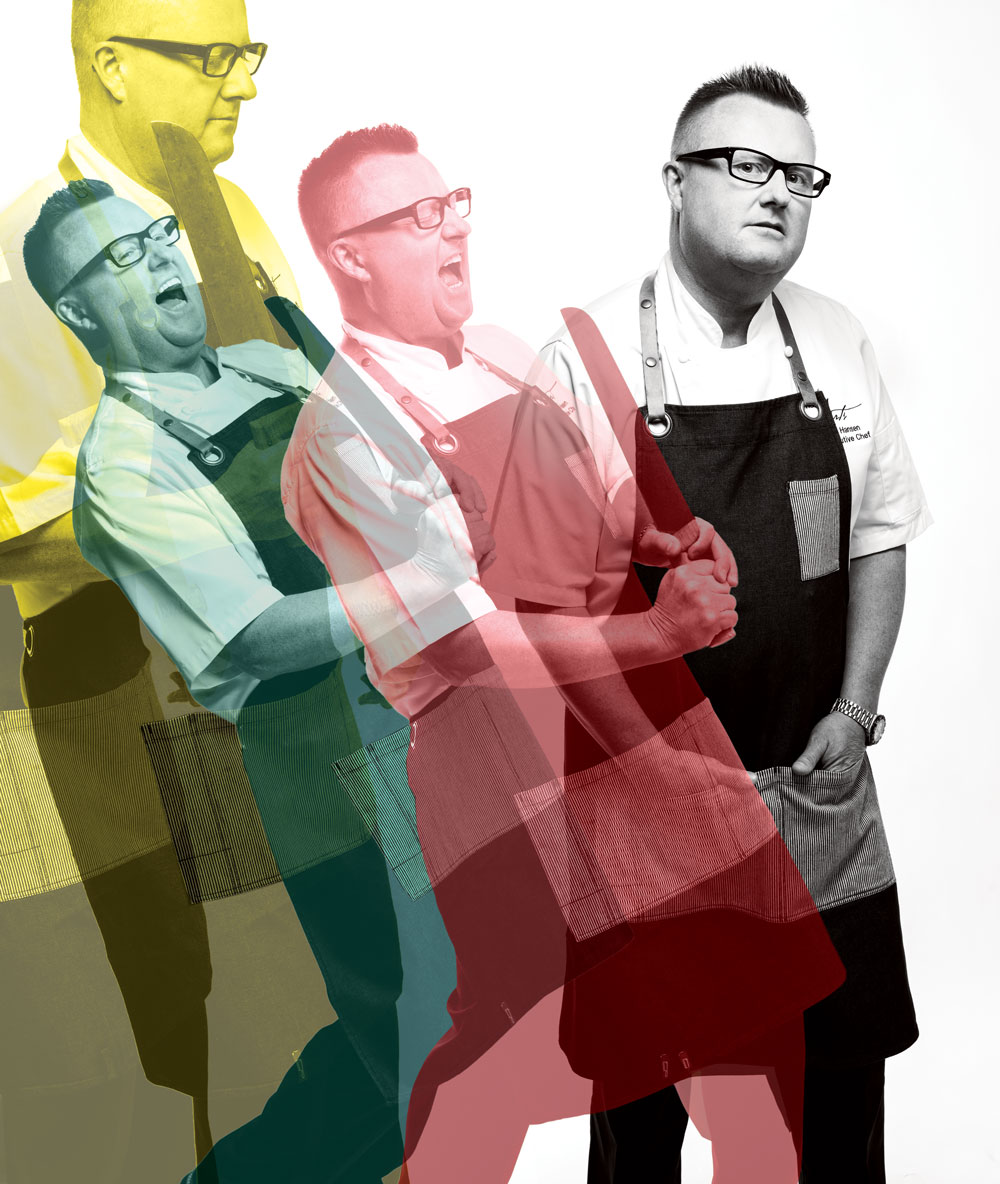 all photograph by jared sych
Overseeing all the culinary aspects at Hotel Arts and its sister establishment, the Kensington Riverside Inn, is no small task, but 10 years at Heritage Park trained Jan Hansen well for the job. At the park, the executive chef managed the entire food program from the bakery in the village to special events at the Selkirk Grille. Now supervising the menus at Yellow Door, Raw Bar and Chef's Table – along with hotel events and catering – Hansen has more room to be innovative with the dishes being served. There have been some major changes since Hansen moved into the role, including the departure of Raw Bar chef de cuisine Jinhee Lee, which has allowed Hansen to turn his sights on that restaurant, working alongside new chef de cuisine Peter Paiva to expand on its excellent reputation.
Why did you make the move?
"I'd been at the park for 10 years. It's not that I didn't love every minute of it. I got to design the kitchen and move it from $3 million in food and beverage [sales] to $9 million. I wasn't thinking of moving, but after Duncan Ly left, I was approached. It's an opportunity to do something totally different, be a little more creative."
What do you like about the new  position?
"The two clientele bases [Heritage Park and Hotel Arts] are very different. [Hotel Arts] is a little more detailed; it's a little more funky. Creatively, we get to step out of the box more and have some more fun with food."
What have you made your own?
"We had to make a change at Chef's Table. Fine dining is pretty expensive and that had taken a bit of a nosedive. I moved Sean Cutler into the position [of chef de cuisine] and changed the menu drastically. It's way more approachable, more local. Raw Bar is 'Viet-modern' and we don't want to lose that, but we want to be more open to [other] Asian influences. We want to broaden the scope and flavours – Korean, Japanese and Chinese."
What won't you change?
"Duncan Ly did an amazing job of getting [the hotel] to where it is. I want to maintain that reputation."
---
Jamie Harling
Executive Chef at 
In moving to The Deane House Restaurant, Jamie Harling will only be a couple blocks away from his former kitchen at Rouge, the Inglewood fine-dining spot where he was able to grow his passion for fresh ingredients – literally – tending and harvesting from the garden mere steps from the kitchen. That love for growing his own vegetables and herbs will continue at the newly revamped and renovated Deane House, now run by proprietor Sal Howell and the River Caf Group, as will his drive to perfect his sourdough bread baking and to create dishes that embrace fresh flavours and seasonal ingredients. Name aside, The Deane House is essentially a brand-new restaurant, providing Harling with the rare opportunity to start with a clean slate and build something completely his own.
Why did you make the move?
"I was ready to try something new to keep growing as a chef. I'm always learning and growing and getting better and it was time for me to move on and do something different. I am fortunate the opportunity arose with Sal and I could get out of my comfort zone."
What do you like about the new position?
"Getting to build a brand new kitchen from the ground up and all the new equipment and toys to play with, new ovens, a wood-burning grill, plus, the focus on local and sustainable food. Everything Sal does is so hyper-local and I'm looking forward to expanding on that."
What do you hope to achieve in this kitchen?
"I hope to build a contemporary Canadian menu."
What have you made your own?
"I'll change the menu from nothing to something.
What won't you change?
"I'm not going to change the way I do things. My cooking is very much a celebration of ingredients and what's in season. I will expand on that, try to become a little more local and seasonal."
---
Justin Labossiere
Culinary Director for the
For Justin Labossiere, a return to Concorde is a chance to circle back, while also pushing ahead. Six years ago, he left a role with the company that had been created for him for the chance to work with one of the industry's finest chefs, Michael Noble, as he opened Notable. Now, the chef who left Concorde to get back into the kitchen on a day-to-day basis is back to his roots because he wants the chance to do more than work on the line. In this new role, Labossiere is responsible for the food program at all four National locations.
Why did you make the move?
"The biggest thing was about growth and opportunity. I was looking to push myself."
What do you like about the new position?
"There are so many amazing people in that company. It has grown so much since I left."
What do you hope to achieve in this kitchen?
"I'm passionate about the National brand. The biggest thing is to strengthen that.
"I love food and I love making things from scratch. That's the direction we're going to be moving toward."
What have you made your own?
"What we're doing now is downsizing our offerings and rather than focusing on the menu, we're going to be training and developing our cooks. We're going to teach them how to be better cooks and give them the tools they need to take the food program to the next level. We need to build that foundation and then do cool things."
What won't you change?
"One item that will never leave that menu is the Clive burger. People come to the restaurant and eat hundreds and hundreds of those burgers. So that will not change. It's an amazing burger."
---
Duncan Ly
Culinary Director for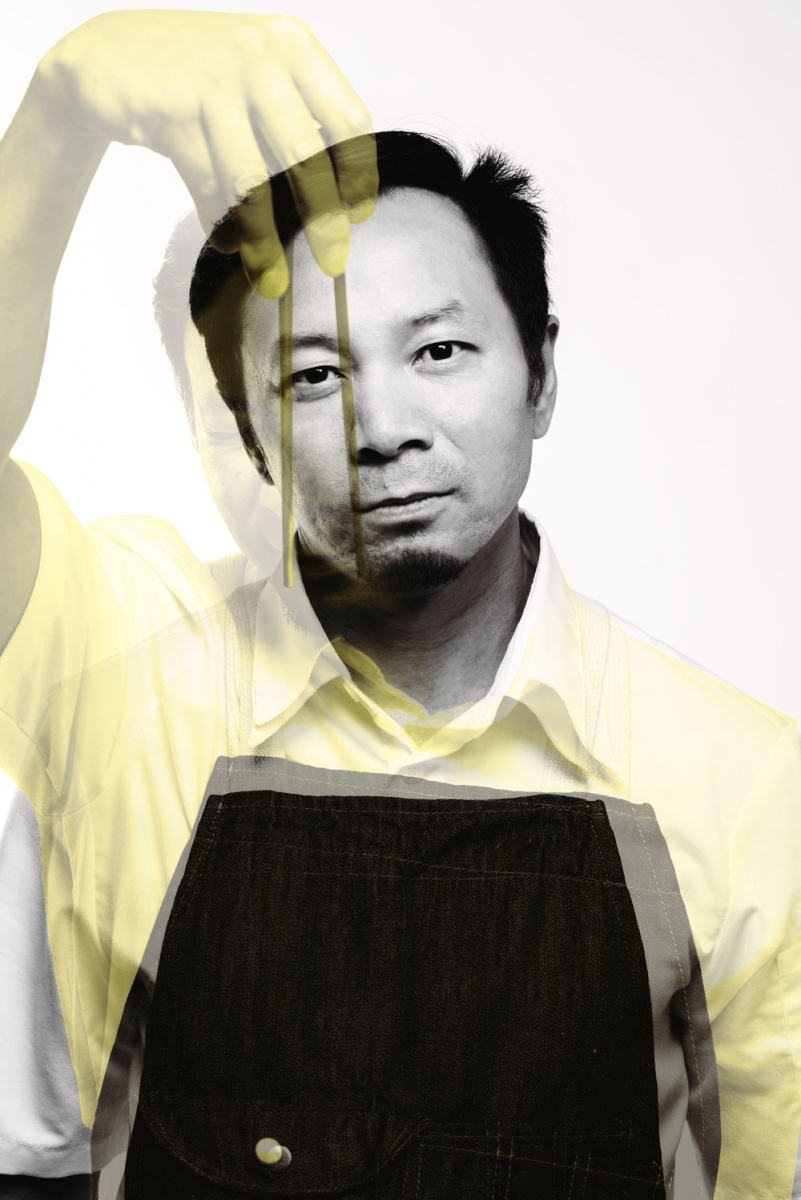 His name was literally on the wall at Raw Bar in Hotel Arts, but Duncan Ly was looking for change and new challenges when he resigned as the executive chef for the Hotel Arts Group, a role which included overseeing the Yellow Door Bistro and Chef's Table restaurants, as well as catering and banquet functions. Instead of seeking something with fewer responsibilities, Ly has taken on the role of corporate chef for the Vintage Group, overseeing all things culinary for the Vintage Chophouse, Township Bar & Grill, Redwater Rustic Grille, Bookers BBQ and Crab Shack, and Butcher and the Baker. The new position has also offered Ly the chance to transition to the next stage of his career, with the opening of Foreign Concept, a restaurant he can call his very own.
Why did you make the move?
"I spent 10 years with Hotel Arts – all of my 30s. It was great and I learned so much and I was super proud to be the first chef there. For me, it was time for a change. I was thinking about the next phase of my career. The ultimate goal is to have my own place, which I am working on."
What do you like about the new position?
"It's a great transition from what I was doing at Hotel Arts to what I'm doing here. A hotel is rooms first and then food and beverage supports that. With Vintage Group, it feels a bit more independent in that every restaurant needs to survive on its own and is responsible for its own financials. It's good for understanding what it takes to survive as a restaurant."
What do you hope to achieve  in your new position?
"I want to be able to build a team and leave a legacy behind. That legacy is the team and the culture."
What have you made your own?
"The biggest change was getting the right people in [the Vintage Group] kitchens. I've always believed you need the right attitude. It's bringing that passion into the food, that love and care.
"Food is about cooking with feeling. Since that started to develop, now we can dive into creating new items and developing a new menu."
What won't you change?
"I won't change the concept and the base foundation of what Vintage Group has built. It has been around for many years and has many loyal followers.
"I learned a hard lesson at the beginning. There are those [menu] items that are signature to those places; I will not touch them."
---
John Michael MacNeil
Executive Chef at
After a five-month stint at Park in Montreal where John Michael MacNeil and his wife Alison MacNeil worked as chefs de cuisine alongside owner and chef Antonio Park, this chef finds himself back in a familiar place – not just because of the return to Calgary, but because MacNeil is back in the kitchen of The Belvedere, a mainstay among the restaurants lining Stephen Avenue and a place where he worked when he first moved to this city.
Seeking a clean break from their time at Black Pig Bistro, the couple jumped at the chance to work at Park, but the plan was always to come back. Now leading the kitchen where he once handled only salads, soups and cold terrines, MacNeil says he has revamped the menu to reflect a modern, contemporary and global cuisine, taking local ingredients and transforming them using French techniques.
Why make the move?
"I came back to Calgary and this is where I used to work. [The Belvedere] was the first cooking job I had when I came to Calgary when I was 18 years old. It was an important step in my career."
What do you like about the new position?
"I get to do my own thing; I'm doing a lot of the cooking myself, compared to when I was at Teatro or at Black Pig and Park. It feels good to be back with the food.
"Every dish I put out is the best I can do and I'm not relying on someone else to do it."
What do you hope to achieve in this kitchen?
"You always dream of doing something amazing and winning awards, but right now I just want to cook good food."
What have you made your own?
"I get to write my own menu; it's all my own dishes."
What won't you change?
"The only thing I kept was the sticky toffee pudding. It's solid."
---
Dominique Moussu
Co-operative Executive Chef for
In the eight years since Dominique Moussu traded the Teatro kitchen to open a little French deli, he has worked tirelessly to bring true casual French dining to Calgary. First, there was L'Epicerie, where he served up outstanding sandwiches and charcuterie. Next was Cassis, a small slice of southern France in this city's southwest, and then, the most recent addition, Suzette, a galette-focused caf in Mission that draws the crowds. With Cassis and Suzette still on his plate, Moussu somehow has found time to make a return to Teatro Group – which also expanded its horizons since Moussu left in 2008 – to lead its culinary programs and, ultimately, open Royale, a French brasserie.
Why make the move?
"I have always kept a close friendship with Dario [Berloni, owner of Teatro Group], and it's a good challenge for me to do this now. I'm going to open a French brasserie, Royale [in the former Corbeaux Bakehouse location on 17th Avenue S.W.], and I've been working with him on that and he asked if I could help [with other Teatro Group restaurants] for a year or two."
What do you like about the new position?
"Every lunch I go to a different location to try the food. It's a well-run organization. They have the money necessary to make the right decisions. It's interesting for me to have a team.
"Coming back to Teatro, it's a different vision for me."
What do you hope to achieve in your new role?
"I really want to bring a new vision to Teatro. Breathe new life into it as a trattoria.
"[Regarding Royale], I always wanted to open a brasserie. It will be classical French cooking made really well. I have carte blanche to open the business; I'm really excited."
What have you made your own?
"I've changed the menu at Cucina; I would like it to be a simple Italian bistro with quick pastas, nice salads, grilled fish and meat – only Italian dishes."
Moussu has also has made changes to the pastry offerings at Teatro Group's Alforno, bringing in a menu more similar to what would be found in Paris, with items such as chausson aux pommes and pain au chocolat.