If you want to know one thing about Nicole Gomes, know that she likes fried chicken. Actually, she loves it to the depths of her soul. For 10 years Nicole and her little sister Francine have been planning a chicken-centric eatery, and this past Sunday, their dream came to fruition with the official opening of Cluck N Cleaver on 14th Street .W., just south of 15th Avenue S.W.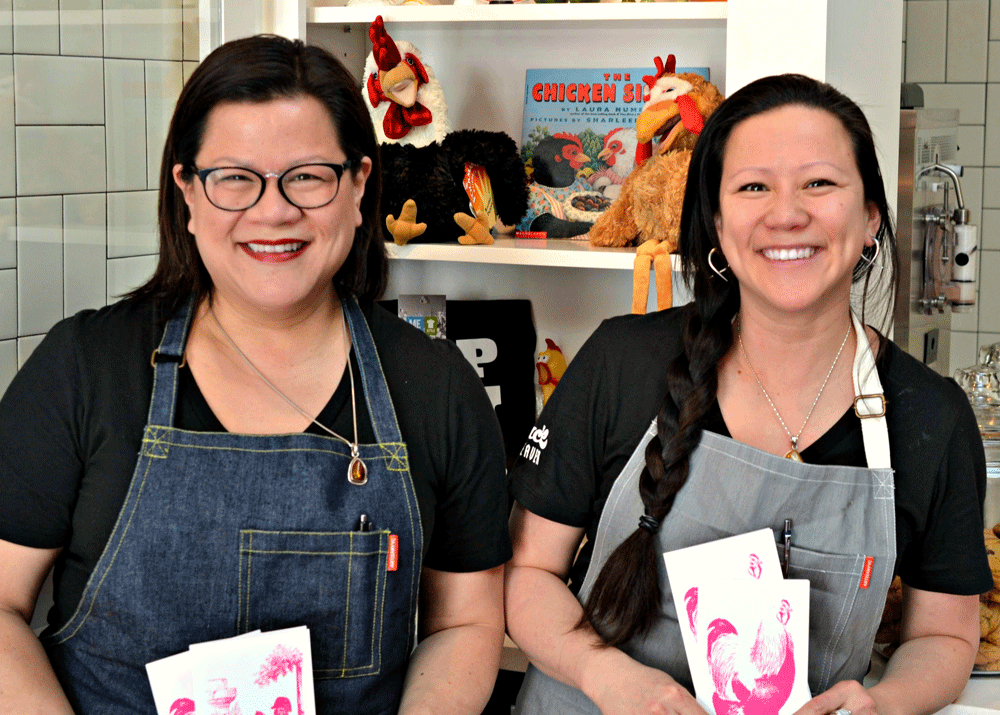 Sisters Nicole and Francine Gomes.
"We actually came up with the idea for Cluck N Cleaver over a few pints of beer at a pub 10 years ago," says Francine Gomes. From there, the two simply had to wait for the right timing and the right space. A decade later, here we are and let me tell you- as the fryer bubbles away full of legs and thighs and the rotisserie spins – it certainly smells good in here.
Nicole Gomes is no stranger to the spotlight in the Western Canadian food scene. Before she started up her boutique catering company, Nicole Gourmet, she was an integral part of the kitchen team at Catch Restaurant and Oyster Bar when it opened back in the early 2000s. As she honed her craft over the years and the catering company became a go-to for high-end clients like Holt Renfrew and Harry Rosen, Gomes decided to throw down the gauntlet, competing on Top Chef Canada, where she finished a respectable 5th place in the show's third season. The national exposure made her a household name and her induction into Avenue's Top 40 Under 40 class of 2015 recognized many dedicated years as an involved member of our city's food community.
To accomplish all of that without ever owning a bricks and mortar restaurant of her own is a feat in and of itself, so it was only natural that the buzz behind Cluck N Cleaver grew steadily since she first leaked the news just over a year ago that she'd be opening a chicken joint.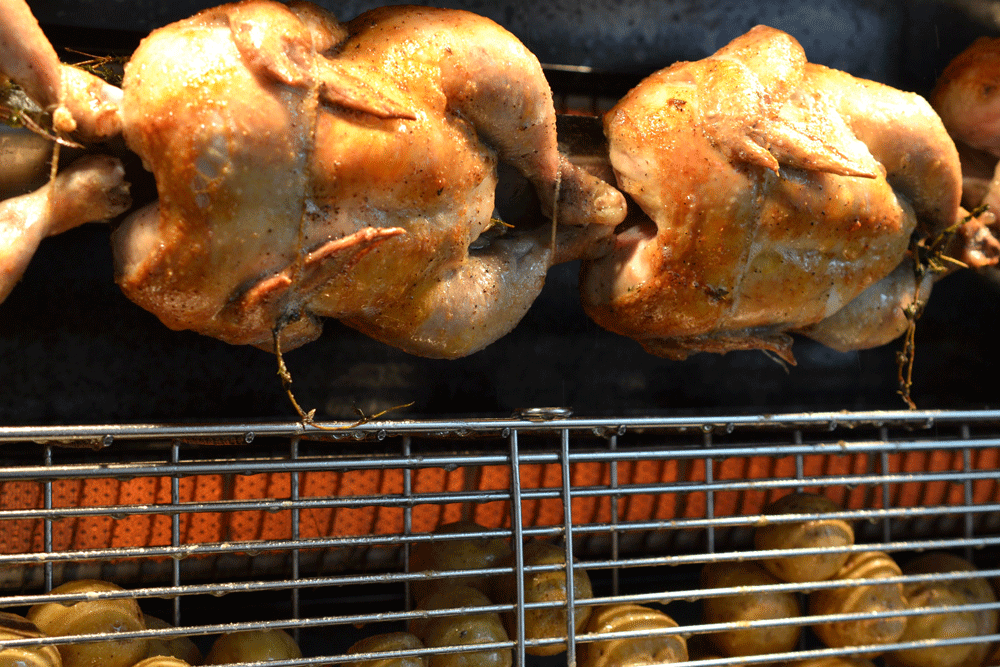 Baby potatoes tumble in a rack below the rotisserie, catching the delicious drippings.
In a space that's no bigger than 1,000 square feet, the duo have managed to fit in a lot of fantastic things. The small kitchen boasts a state-of-the-art fryer that fries chicken in a rack system. No metal fry baskets to be found here. The giant rotisserie behind the main counter sees plump, succulent whole chickens slowly spinning and browning while their juices drip down onto trays of baby potatoes that tumble and soak up the goodness.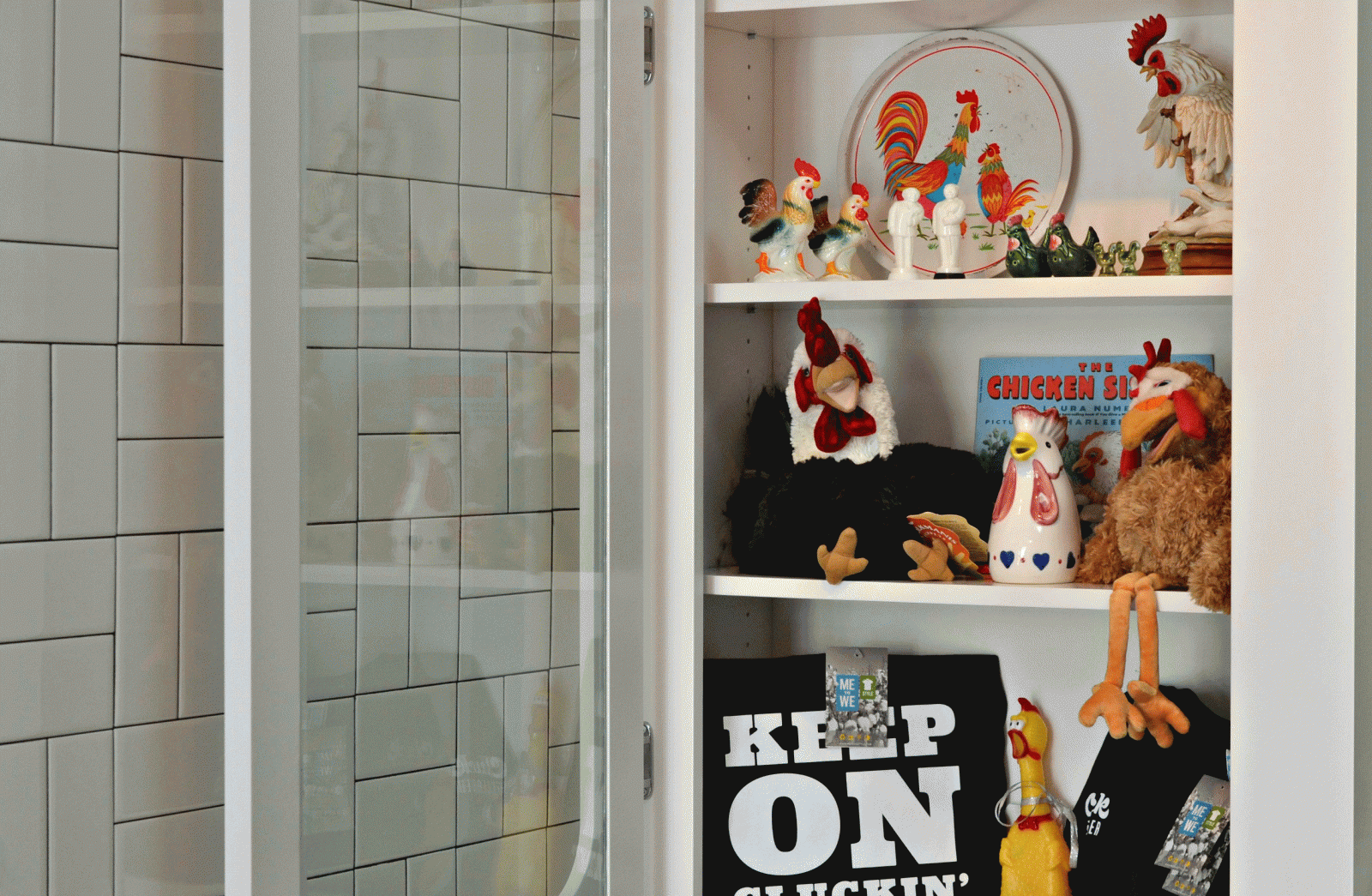 Admire the chicken paraphernalia in the chicken cabinet while you wait for your order.
From the take-out menu to the wall graphics, every single detail of Cluck N Cleaver has been thought out with care and has a charming playfulness about it. There are white tiled walls and bright pink-and-white floors. There's also a variety of chicken paraphernalia including vintage KFC items, porcelain rooster salt and pepper shakers and a rubber chicken – all gifts from friends and admirers. Gaze up and down in the chicken cabinet to see what else you can spot while you wait in line to place your order.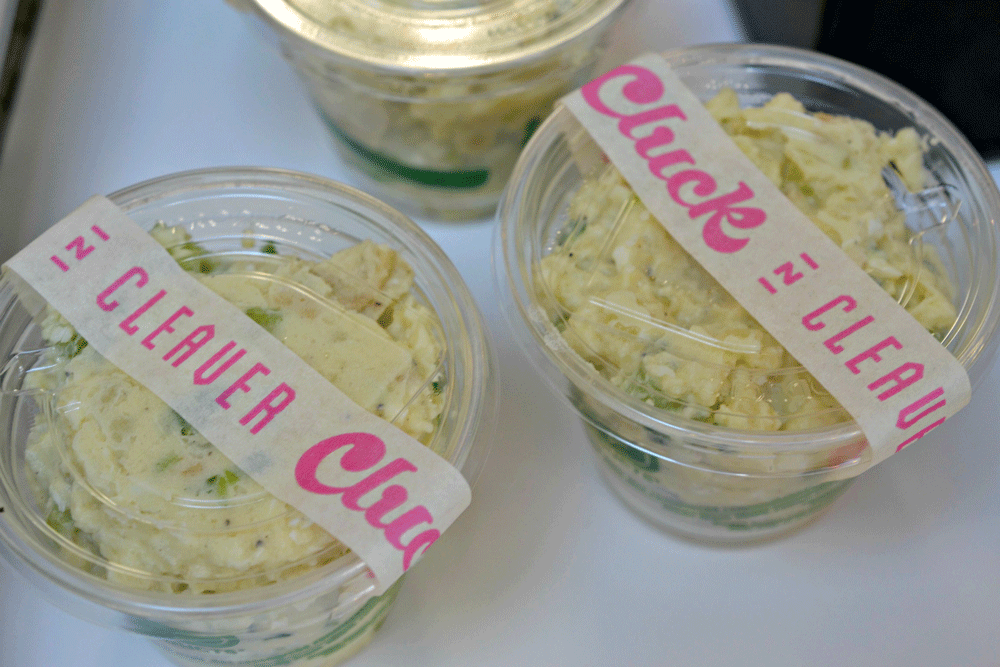 You simply can't have fried chicken without potato salad.
The menu is what you may expect from a fast-casual chicken joint, but with a little finesse from the chef. Quarter, half and full rotisserie chickens to-go, fried chicken platters with sides like the chipotle lime corn and black bean salad, potato salad, freshly baked buttermilk biscuits … you get the point. End on a sweet note with one of Nicole's cookies from the big glass jars to the left of the till and then wash it all down with a classic milkshake or a glass bottle of vintage pop from the cooler. A no-frills meal has never been so rewarding.
The Gomes sisters do not take their secret chicken spice rub lightly. In fact, it's not even made on-site. After developing the perfect rub recipe, Nicole Gomes enlisted the help of a Vancouver-based spice company who is contracted to make the blend and ship it over to Calgary. Of course, they are sworn to secrecy.
So, what's in a name? With the graphics plastered on the wall and take-out menus (roosters dressed up in early 20th century attire and strangling each other), one can only imagine it's an ode to the demise of the locally raised quality chickens that eventually become the plates of food that eager Calgarians are already lining up for out the door.
"You can read whatever you want into the name," says Nicole Gomes with a little smirk on her face."All I care about is that people really enjoy the food we are serving up here. Francine and I are so happy to finally be open!"
If you're craving a quick meal this week, head down to Cluck N Cleaver, but be warned: With such a teeny space and only a small stand-up counter by the window, you should walk in here expecting to order, grab your food and – pardon my language – get the cluck out!
1511 14 St. S.W., 403-266-2067, cluckncleaver.com, @cluckncleaver