Since it's billed as a 1960s-style lounge, it would be easy to assume that the new Wednesday Room on Stephen Avenue (in the space that used to be the Trib Steakhouse) values style over substance. And while the style is certainly there, there's more to this pretty downtown lounge than meets the eye.
The dcor does indeed deserve a fair bit of fanfare – designed by McKinley Burkart, the firm also responsible for Alloy, The National, the Simmons Building, and many other local spaces, it really is a mid-century lover's dream. The Wednesday Room hits that sweet spot where it is unmistakably '60s without being kitschy. The main floor features chic retro-style furniture and comfy booths (plus a requisite turntable and vinyl collection), as well as a sleek bar surrounded by vintage typewriters. The basement level goes for a more swingin' rumpus room meets The Shining kind of feel, with an iconic geometric carpet, plush banquettes, and luxurious wood paneling. It's all delightfully tasteful, and makes for a swellegant place to hangout.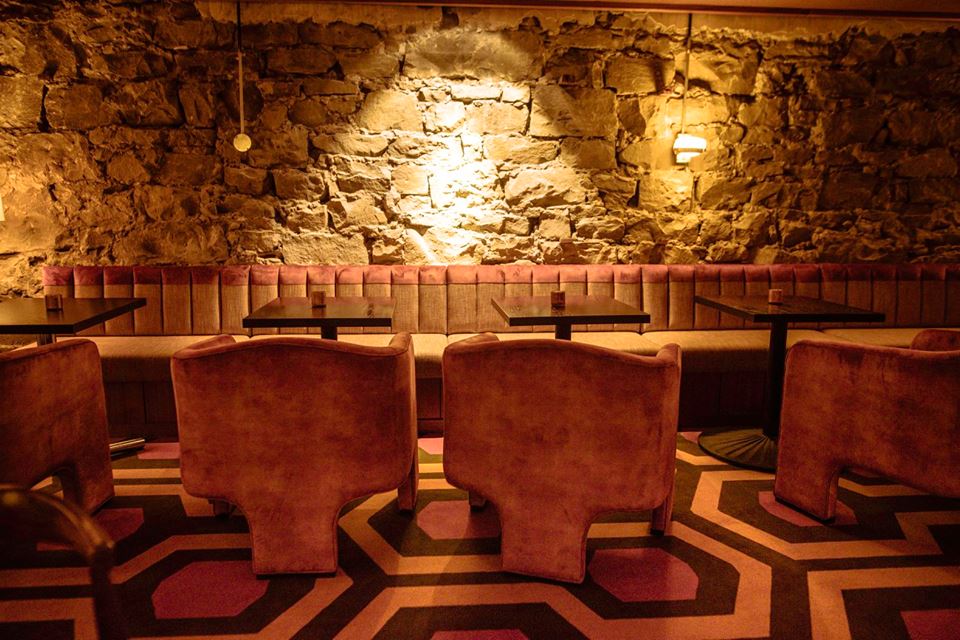 The basement level of The Wednesday Room with plush seating and 1960s-style carpet.
Hanging out requires food and drink and The Wednesday Room's fare lives up to its look. Chef Derek Wilkins has worked in the kitchens at Rouge and Workshop and has created a menu designed for lingering with friends over cocktails. The dinner menu offers a wide array of share plates both big and small. Those looking for a snack to go with their drinks can choose crunchy rice cakes with tuna tartar and sliced jalapenos, whipped guacamole with plantain chips, or surprisingly addictive fried lima beans with rosemary and grilled lemon. For something more substantial, Wilkins offers a couple of pasta dishes and a risotto, plus "big share" items like a smoked pork loin with chimichurri or a 45-day aged tomahawk steak. The lunch menu is similar, with sandwiches and ultra-flavourful salads in place of the bigger ticket share items.
But, of course, this is a lounge and, ultimately, it comes down to the drinks. The Wednesday Room's cocktail list has a good mix of classics (Vesper martinis, an old fashioned) and creative concoctions that often employ savoury elements or bright citrusy flavours. The lounge also features an intriguing list of beer and wine to round out The Wednesday Room experience. Whatever you sip on, The Wednesday Room is already becoming a place to see and be seen – and the kitchen and bar have the chops to back up the hype.