It was The European Deli for a long time and then briefly Cured Delicatessen. Now, Empire Provisions is bringing its own flavour to this Haysboro space.
Empire Provisions is an artisanal butchery and charcuterie shop where you can pop in to buy ingredients and prepared dishes to take home. It's also a cafe where you can grab a seat and enjoy a coffee and sandwich. It is run by Karen Kho and Dave Sturies, whose combined restaurant cred in Calgary includes experience with the Teatro Group and Second to None Meats. Before they opened this storefront, Empire Provisions was working out of the basement kitchen of UNA Takeaway, perfecting its meat blends and making charcuterie for Frenchie Wine Bar.
Now, Empire Provisions is out of the basement and into its own light-filled space. Its meats lean toward French and Italian flavours with some international flair. You'll find sausages with ingredients like gochuchang and sichuan peppercorns alongside classics like chorizo and merguez. There is also plenty of cured meats in the case, including pancetta and coppa.
Chef Blake Anderson is leading the kitchen. You can taste his influence for weekday breakfast, which is served until 11 a.m. on weekdays, and weekend brunch, which is served until 1 p.m. on Saturdays and Sundays. Or come for a sandwich at lunch. There is also a "Meat of the Moment" that changes daily and has been cassoulet and burgers.
Here are a few other suggestions for what to buy at Empire Provisions.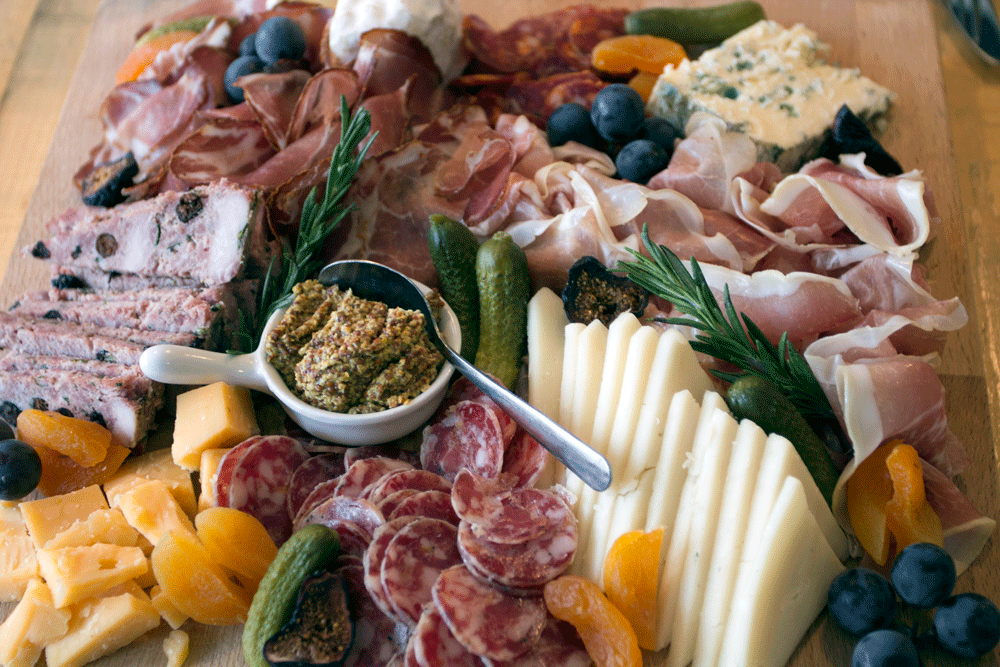 The charcuterie is the standout offering at Empire Provisions. You can peruse the deli case to choose your own meats with the help of staff, or you can pre-order a board. Get charcuterie or cheese (or both) with prices ranging from $30 to $120, including crostini and condiments.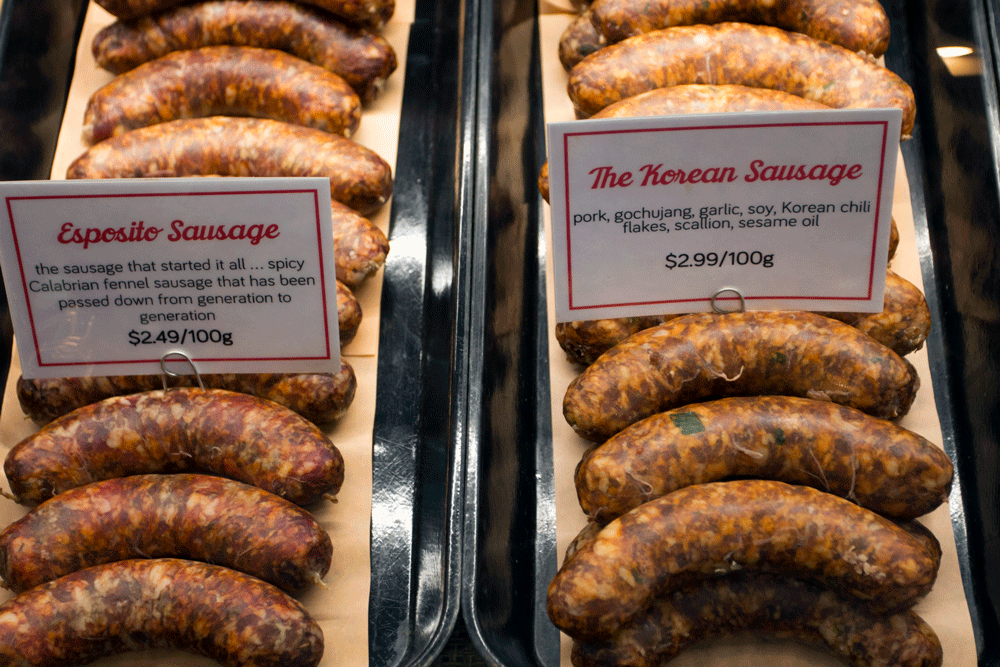 The sausages are handmade. The Esposito and Korean sausages show the range of classic and creative flavours. Empire Provisions also has cured meats like bresaola and nduja.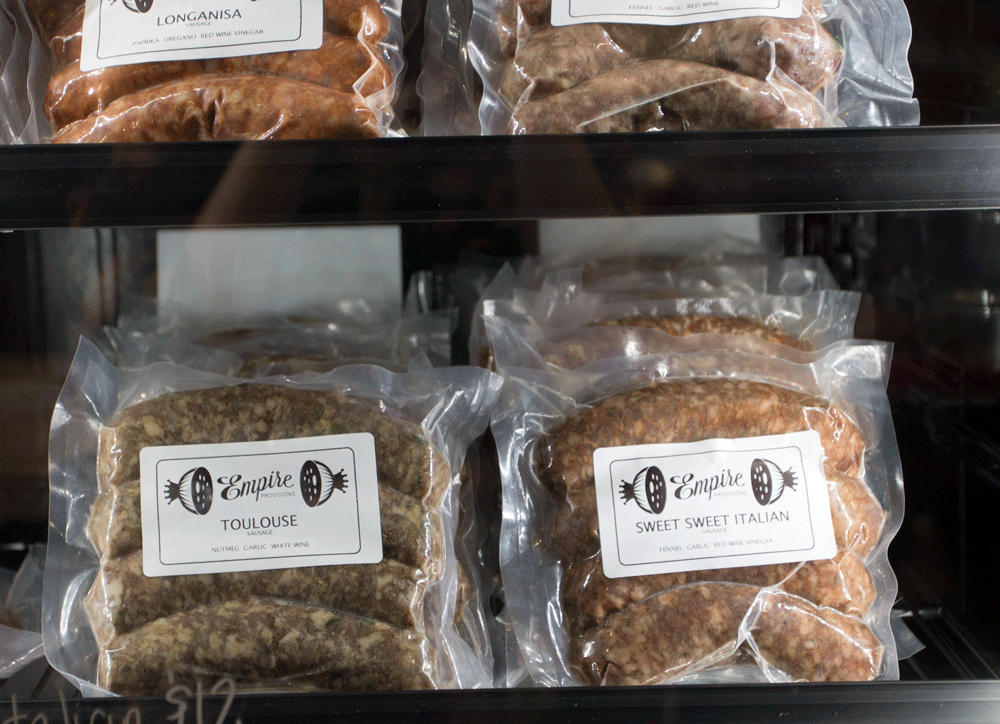 The sausages, and a few other items like meatballs, are also available frozen.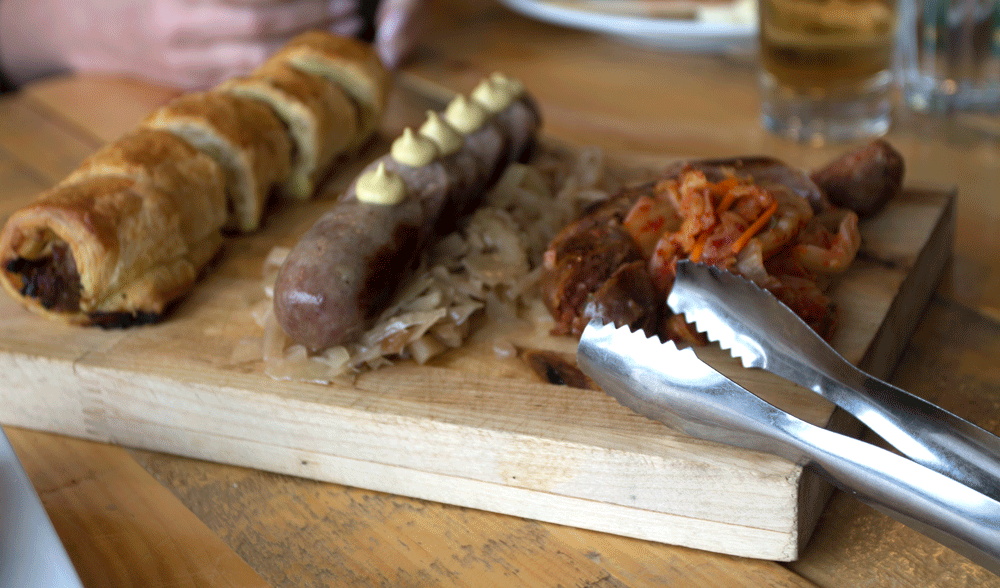 This sausage tray is an example of how you could serve them at home. On the left is the Burmese sausage roll sliced into bite sized pieces. In the middle, the bratwrst is sliced over sauerkraut and has dollops of mustard. On the left, the Korean sausage is served over kimchi.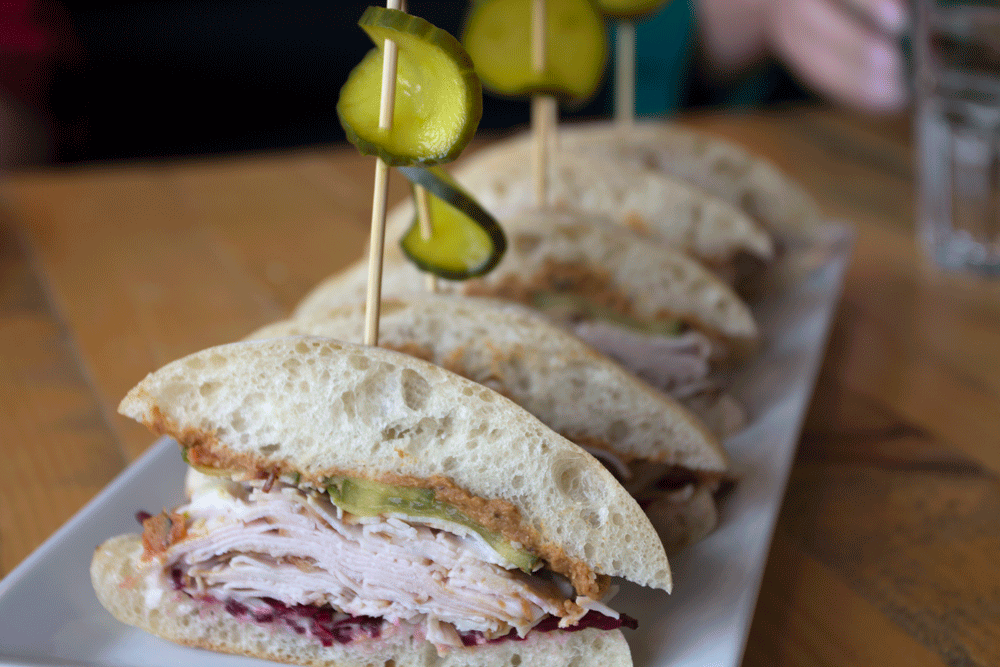 On the cafe side of the shop, order a sandwich and stay for lunch. This one is The Jive Talker, which comes with smoked turkey, roasted red pepper hummus, shredded bet, sweet and sour pickles and lemon aioli on bread from Alforno Bakery. The beef brisket, muffalata and schnitzel sandwiches are also good. For those who don't eat meat, there is a Vegetarians Are People Too sandwich with grilled carrot, avocado, pickled mushroom, carrot, daikon, cucumber, aioli and Korean sesame soy dressing.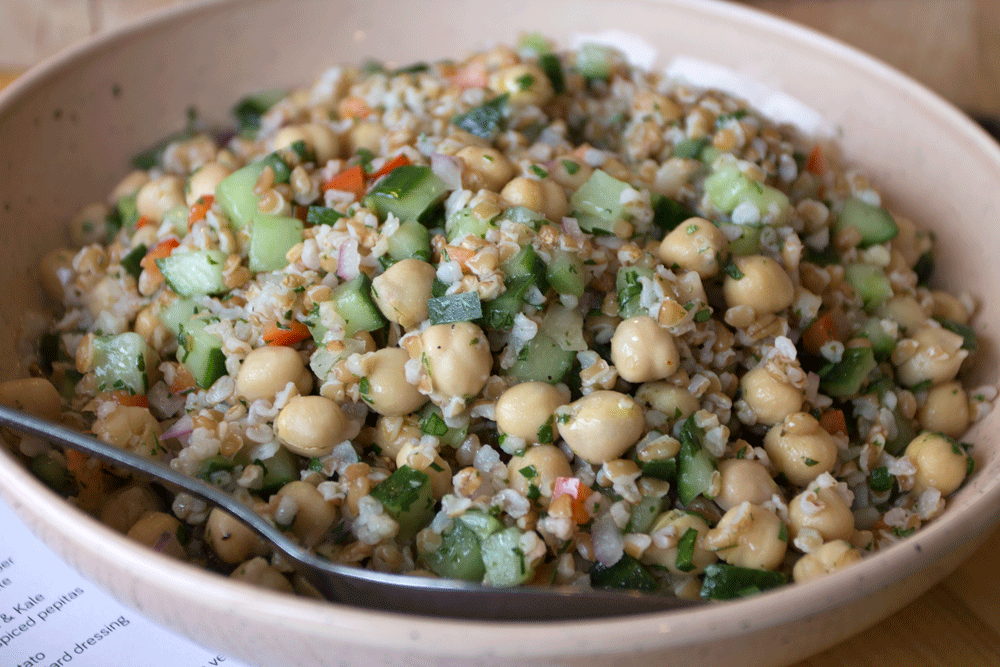 Pair your sandwich with a deli salad. The selection rotates with the season. This one is bulgur, chickpea and cucumber salad with lemon and mint vinaigrette.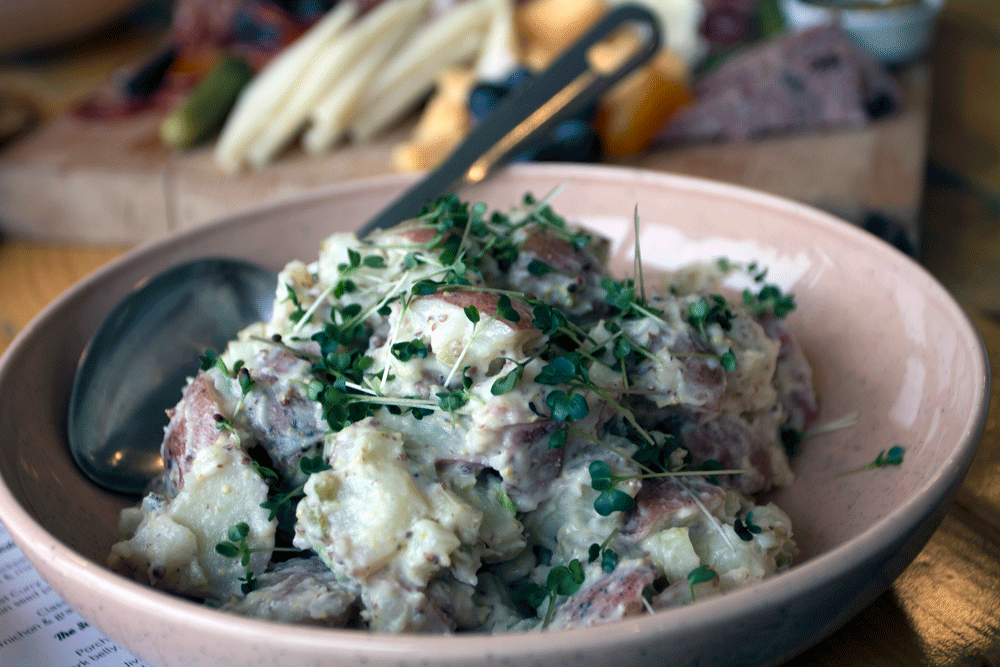 The classic potato salad with cornichon and grainy mustard dressing.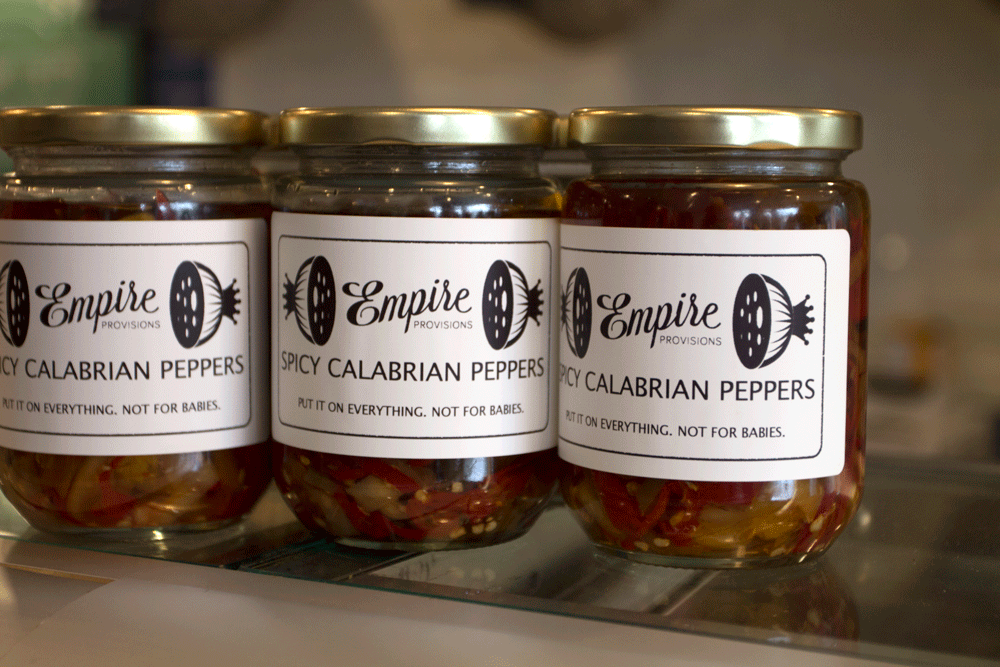 The provisions at Empire Provisions include a handful of housemade jarred items that finish off a dish or plate, like these spicy Calabrian peppers.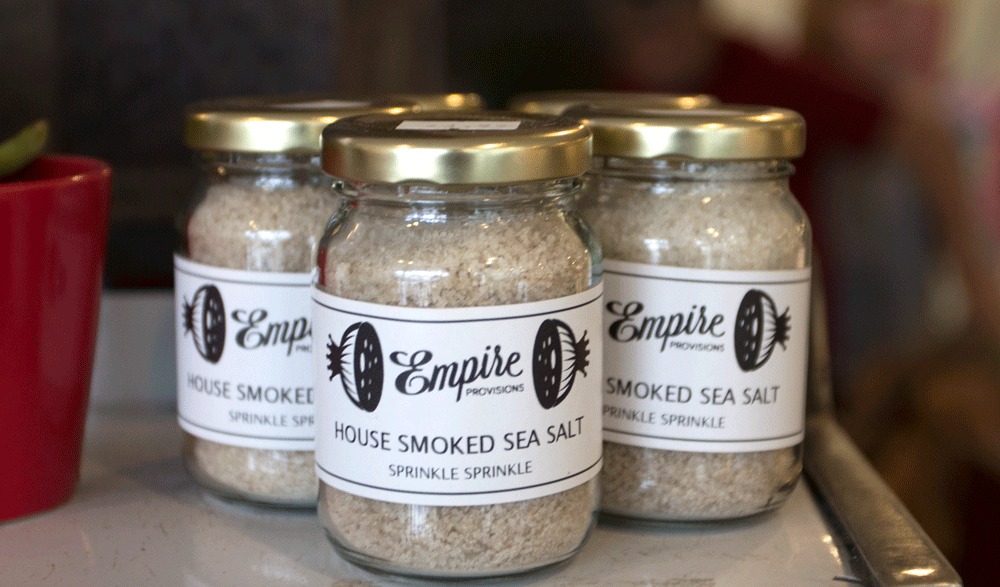 A commercial smoker is used on the meats, as well as a few other things like this smoked sea salt.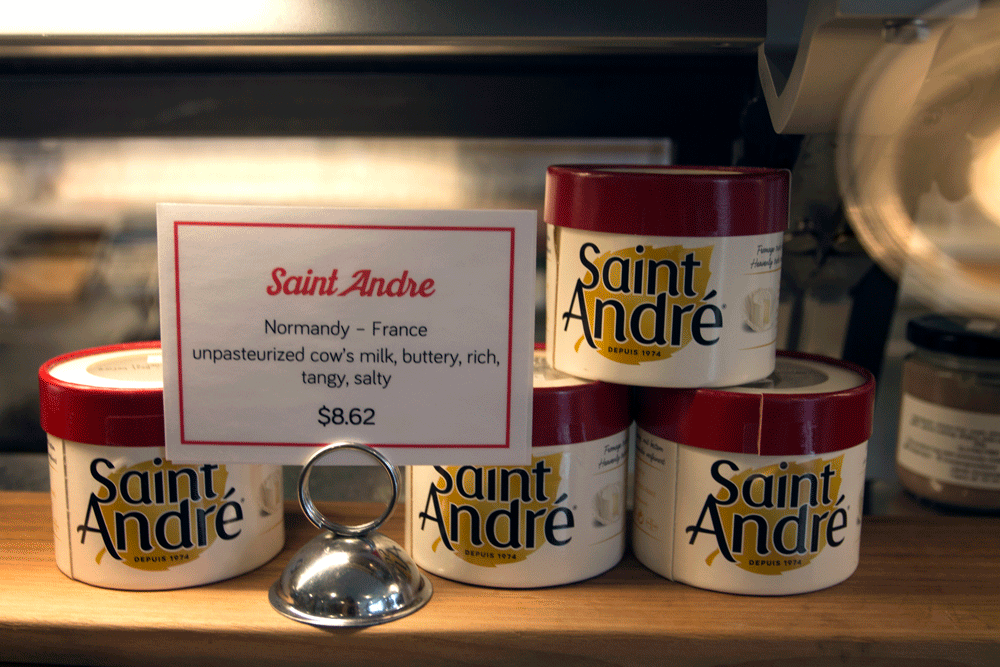 Not everything is made in-house. The cheese is brought in from producers who do it best. This soft-ripened cheese is made in northern France. You'll find it next to Sylvan Star gouda and Avonlea cheddar.
Empire Provisions, 8409 Elbow Dr. S.W., 403-244-0570, empireprovisions.com