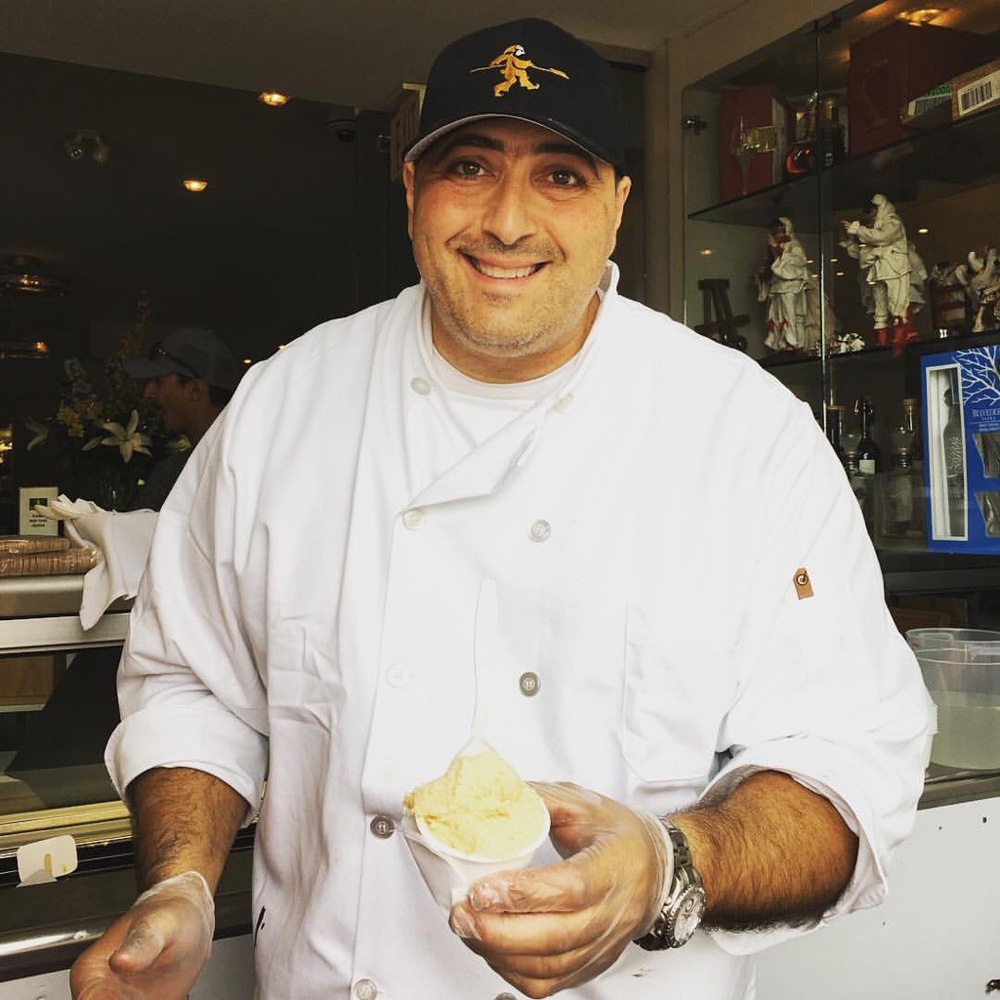 photograph courtesy of pulcinella
Domenic Tudda.
Domenic Tudda knows good Italian food. Now the owner of Pulcinella in Kensington, Tudda says he "pretty much" grew up in the restaurant industry – his parents started Stromboli Inn in 1971. After his parents sold Stromboli Inn in the late 1990s, Tudda decided to do something different. He went to Italy and spent a little over two years studying there. He learned to make pizza in Naples and did a culinary program in Piemonte. Tudda returned to Calgary and opened Pulcinella, an Associazione Pizzaiuoli Napoletani certified pizzeria, in 2006. Of course, the restaurant's specialty is Neapolitan pizza.
Obviously Tudda loves the Italian dishes served at Pulcinella, but we wanted to know where the owner of this Italian restaurant goes to eat when he wants a break from the kitchen. Domenic Tudda shared some of his favourite spots to eat out with us.
Pulcinella, 1147 Kensington Cres. N.W., 403-283-1166, pulcinella.ca
---
Even the owner of a restaurant that specializes in Neapolitan pizza will get urges to go out to eat pizza from time to time. Tudda's first choice is admittedly biased: it's PZA Parlour. "That restaurant is in my family, but I have to pick PZA Parlour. I love the pizza there," says Tudda.
One of the reasons that it's Tudda's favourite is because of the crust. "The pizza is actually a cross between our Pulcinella pizza and our old Stromboli pizza. The crust is a little thicker [than Pulcinella's crust] and it's not heavy, which is what I like – I'm not into the Greek-style pizza.
"Pizza should have a lot of air bubbles in it and it should be light. Most importantly, it should be easy to digest," says Tudda. "You should never eat pizza and then feel like you've got a gut bomb."
9737 Macleod Tr. S.E., 403-455-2033, pzaparlour.com
PZA Parlour isn't the only pizza that Tudda craves when he goes out for a slice. He says that when he's craving a pizza for its toppings, he picks Il Centro. "Il Centro does a pizza I really like – it has prosciutto, tomato and bocconcini." If you want to try Tudda's pick the next time you're at Il Centro, this pizza is called the Stuzzichina and it costs $18.50 for the small pizza.
6036 3 St. S.W., 403-258-2294, ilcentropizzeria.ca
Tudda's favourite Italian restaurant for its ambience is Mercato. "The food here is good, the energy is good and you feel comfortable no matter how you're dressed," says Tudda.
2224 4 St. S.W., 403-263-5535, mercatogourmet.com
When you come from an Italian family that is behind many of the Italian restaurants in the city, of course there going to be some things that your family members do better than anyone else. Tudda thinks his family members make the best pizza, of course. And he says nobody makes sausage as well as his mother, Teresa Tudda.
The best focaccia is also made by a member of Tudda's family. "Nobody makes focaccia bread like my sister and brother-in-law, Joe Nicastro, at Villa Firenze. It's like a bubble of air, or a beautiful cloud of bread."
610 1 Ave. N.E., 403-264-4297, villafirenze.ca
Nawab and Sushi Hiro
These are obviously not Italian restaurants, but Italian chefs don't only go out to eat at Italian restaurants, right? Tudda's favourite non-Italian places are Nawab for Indian food and Sushi Hiro for Japanese. "If you love Indian food, you will absolutely like this place," says Tudda. "When I'm there, I let the staff pick the dishes from the menu for me."
As for Sushi Hiro, Tudda loves that the restaurant serves real wasabi and real Japanese dishes.
Nawab, 3126 288 St. Moritz Dr. S.W., 403-282-1002, nawabrestaurant.ca; Sushi Hiro Japanese Restaurant, 727 5 Ave. S.W., 403-233-0605
Honourable mention
If Tudda could eat only one Italian dish for the rest of time, it would be a dish from Milan called Ossobuco alla Milanese. It's a shank of veal that's braised slowly and is served on top of risotto Milanese. It's garnished with parsley, lemon zest and a bit of garlic. According to Tudda, the dish is the perfect choice for a meat-lover.
Wondering where you can find it here in the city? It turns out, you'll have a hard time finding it. "Nowhere that I know of serves this dish in Calgary," says Tudda. "Any time that I go out for Italian food, I never find it on the menu. When I want to have it, I usually end up having to make it."