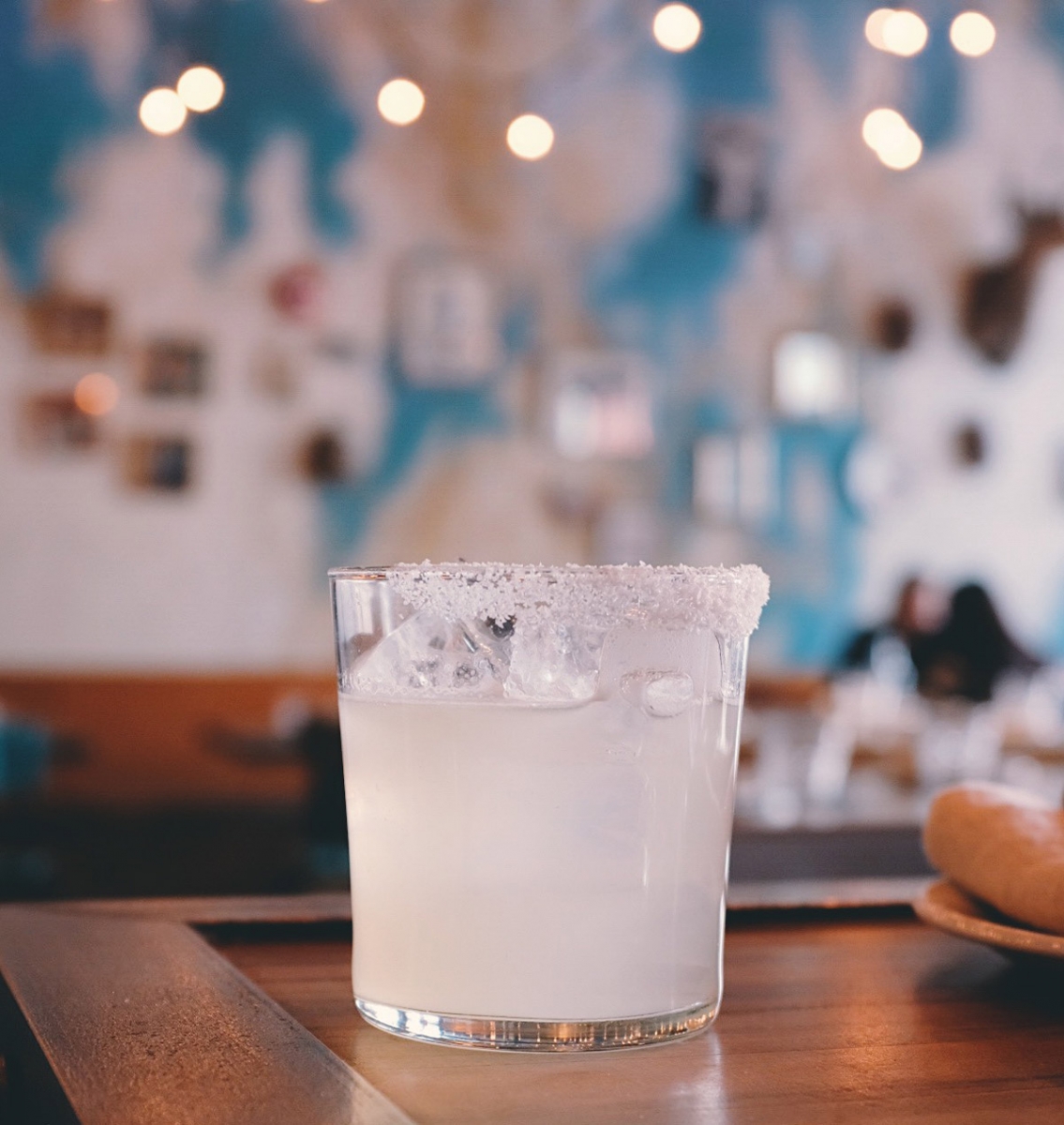 The most impressive thing about Añejo is its list of more than 100 kinds of tequila, which is the largest selection in Canada. So, it's not surprising that there are 13 margaritas on the menu, including Blood Orange and Strawberry Rhubarb. Each one is available in 1.5 ounces, three ounces and nine ounces. During Aejo's daily "halfy hour" from 3 to 6 p.m., you can get a margarita for just $6. The regular 1.5-ounce price is between $9 and $15 and all but the two that are made with Patron are included in the deal.
2-2116 4 St. S.W., 587-353-2656, anejo.ca
Aejo's sister restaurant on 17 Avenue S.W. has nine on-the-rocks margaritas on the menu (try the watermelon) plus a Bulldog and a classic lemon-lime or strawberry slush margarita. There's also the Poodle Margarita, which is like a Bulldog except that it's topped with prosecco. Blanco also does six of its margaritas for $6 during halfy-hour everyday from 3 to 5 p.m.
723 17 Ave. S.W., 403-228-1854, blancocantina.ca
Drinking Bulldogs at Julio's Barrio has basically become a right of passage in Calgary. The slushy margarita topped with an upside-down beer comes in nine flavours such as The "Dog"tor Pepper made with root beer schnapps and a Bud Light Lime, and The Bichon Frise made with Absolut Raspberri, Malibu Tropical Banana rum, pia colada slush and a Corona Light. On Fridays and Saturdays you can get The Original Bulldog for $12.50 (regular prices are between $13 and $17). There are also 14 more margaritas on the menu and on Mondays they're $2 off (or $4 off jugs). You can also get a flight of three margaritas for $14.50 (the flavours are orange ginger, jalapeo honey, and hibiscus).
1110 Memorial Dr. N.W., 403-203-3066, juliosbarrio.com
Get a spot on the streetfront patio at Los Chilitos and sip one of its eight margaritas on a hot day. Some of these can be served in fish bowls and pitchers for sharing. There's also a Beergarita on the menu (Los Chilitos's version of a Bulldog) and you can get it in lime, strawberry, mango, pomegranate or guava slush. Beergaritas are $13 on Saturdays (regular $14) and classic slushy margaritas are just $5 during happy hour on weekdays from 3 to 9 p.m. and from 9 p.m. until close.
1309 17 Ave. S.W., 403-228-5528, loschilitos.ca
Native Tongues has two delicious margaritas on its menu that are served on the rocks with a salted rim. The classic margarita is a sure bet or, for something different, go for the smoky Mezcalgarita made with Oaxacan mezcal, Cointreau, lime and herbs. Both are $13 but you can get the classic margarita for just $5 during happy hour on weekdays from 3 to 6 p.m. Pair it with a $9 happy-hour Hamburguesa al Carbon (one of Calgary's best burgers).
235 12 Ave. S.W., 403-263-9444, nativetongues.ca
Margaritas at this Mexican restaurant on 17th Avenue S.W. are all just $10. There are eight flavours, including pineapple rosemary, chili mango and coconut. Bulldogs are $15 and come in blackberry, passion fruit, lime, mango and guava. If there are at least three people in your party, you can order the giant margarita for $35. It has six ounces of tequila and two ounces of Triple Sec in it and you can choose any margarita flavour. During Tropical's daily happy hour from 4 to 6 p.m. and from 9 p.m. until close on Tuesdays to Thursdays, regular margaritas are only $6.
1424 17 Ave. S.W., 403-909-5225, tropicalon17.com
This is arguably one of the most authentic Mexican restaurants in Calgary and it also has margaritas for just $7.50. You can get each of its five flavours either on the rocks or slushy and flavours include classics like lime and strawberry and more unique flavors like green apple and cranberry. You can upgrade to premium-grade tequila, bringing your marg to $10.25, which in Calgary is still a great price.
8995 Bonaventure Dr. S.E., 403-252-5566, tutierra.ca