Women of Calgary Cuisine: Her Sweet Skills Came Second
Karine Moulin, the pastry chef at Hotel Arts, chose to focus on sweets after training in savoury cooking.
By Elizabeth Chorney-Booth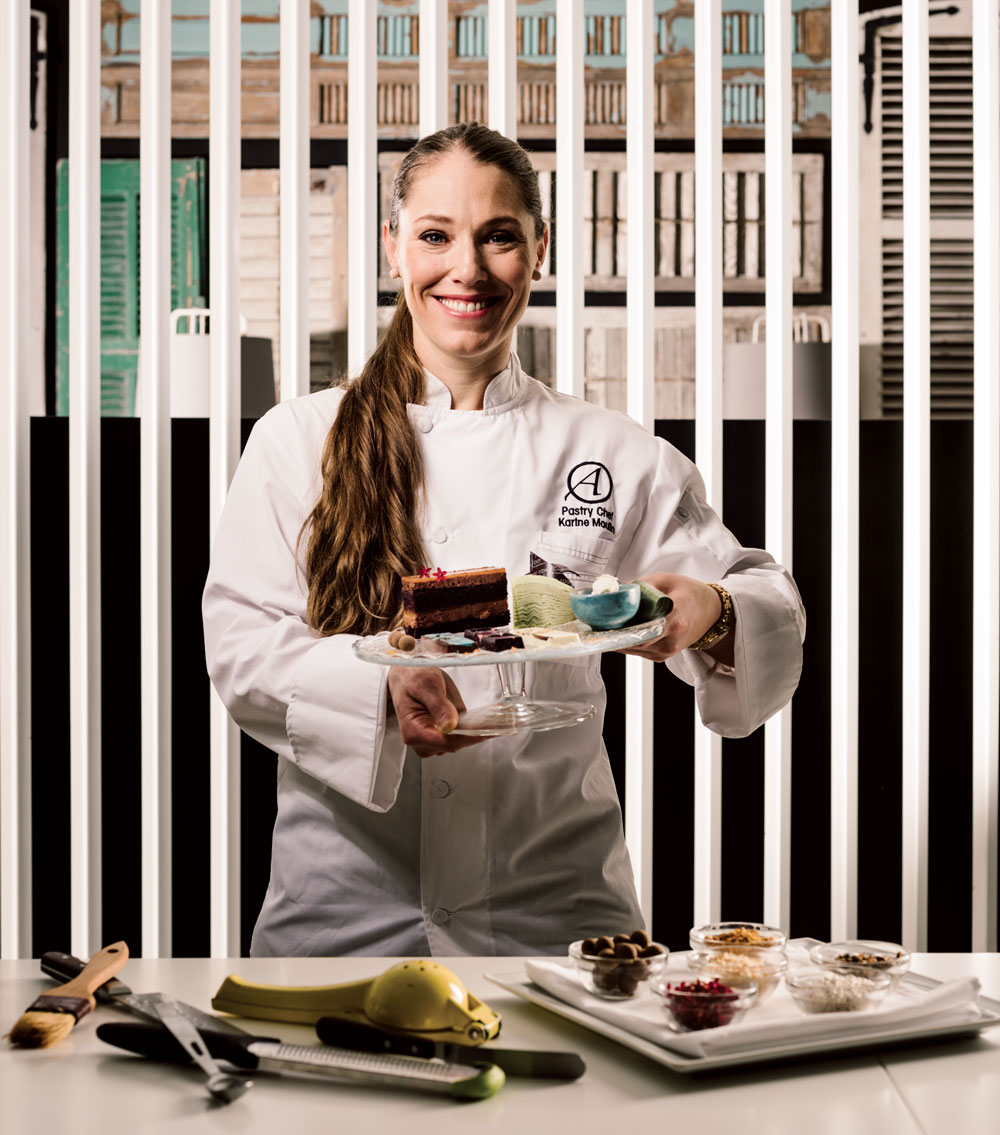 photograph by jared sych
Hotel Arts pastry chef Karine Moulin had a certain advantage when she competed on Top Chef Canada last year, in that she'd trained in the art of cooking savoury food before becoming a master in the world of desserts. In culinary circles, the two are often seen as drastically different disciplines, but for Moulin, being well-versed in both empowers her to be more creative with her craft.
"Learning to do cooking first has been a huge benefit," she says. "Just in adapting cooking methods into pastry. Braising fruit and smoking fruit – techniques that I used on the savoury side, I now incorporate into the sweet side. I think I would have come to the same conclusions in the end and it would have just taken longer, but having that savoury foundation made it an easy transition."
After training in professional cooking at SAIT Polytechnic, Moulin found her way to pastry after a careful journey that involved her interviewing countless chefs about their experiences and working in catering, restaurants and other kitchens (often for free), just to figure out what she really wanted to do.
Eventually, after spending some time in the kitchen of a Novatel in Ottawa, where she witnessed what she laughingly calls a sense of "organized chaos," Moulin decided that life in a hotel kitchen, focusing on pastry, was the right path for her. Landing at Hotel Arts has given her all she could dream of as a pastry chef, with the hotel's food-forward philosophy giving her room to play with different concepts and ingredients, pretty much to her heart's content.
"I'm so fortunate that I work for a hotel that has a huge investment on the food and beverage side. A lot of hotels make so much money from the rooms, and the food is an amenity that they offer to the guests," Moulin says. "But here they value the two equally. For me, if there's something that will be best for the customer, I'm empowered to go ahead and make it happen. I have the creativity, as well as the support."
Hotel Arts, 119 12 Ave. S.W., 403-266-4611, hotelarts.ca
---
Karine Moulin's favourites
Comfort food: French onion soup
Kitchen utensil: Spatula
Ingredient: I'm going through a phase where I'm really liking beet powder
Least favourite food: Liver
Drink: A classic martini
Way to relax: I have two dogs and I run with one of them
Local restaurant that is not your own: I love The Coup
Food as a kid: My mom's made-from-scratch grilled cheese and tomato soup