Women of Calgary Cuisine: Pretty In Pink at the Petroleum Club
Liana Robberecht, the executive chef at Calgary Petroleum Club, brings creativity to care to each of her dishes.
By Elizabeth Chorney-Booth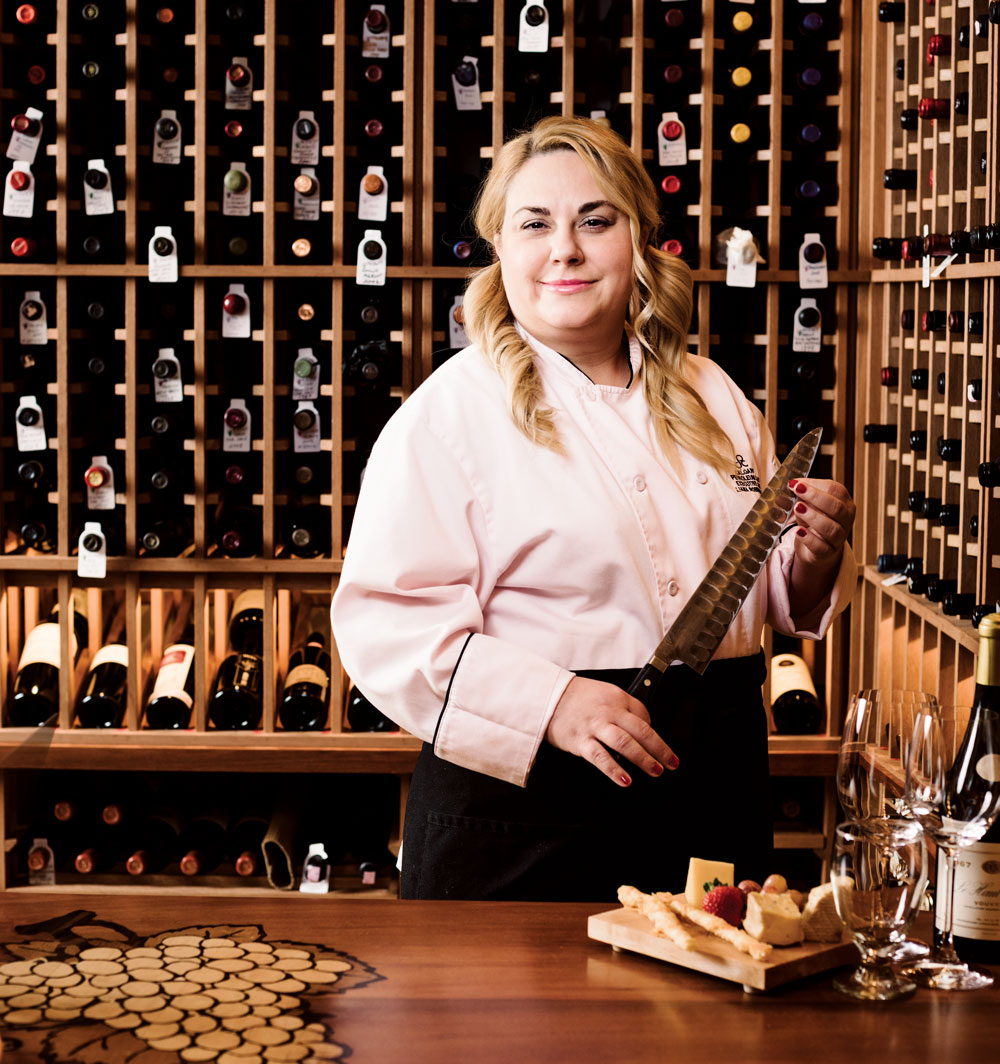 photograph by jared sych
With her pink chef's uniform and fondness for pigtails, chef Liana Robberecht may not be what outsiders would expect when they think of the Petroleum Club. But Robberecht could not feel more at home at the private club that she's worked at for 17 years (she's been executive chef since 2002).
With her lively personality and creativity, Robberecht singlehandedly debunks the notion that the Petroleum Club has a stodgy kitchen churning out an endless parade of steak sandwiches.
"When you're in a private club, you have to make your members happy. You have to encourage them to come back and show them the value and worth of being a member here," Robberecht says. "That's why we shop ethically and we make most of our ingredients in-house. We make our own mayonnaise. We make our own mustard. We have a full-time butcher. Because we want to be nurturing to our members."
Robberecht has won numerous awards for her work and is known not only for her dedication to playing with and layering a number of interesting flavours but also for her love of creative plating techniques (she is a painter in her spare time and also took some courses at Alberta College of Art + Design to better understand the sculptural and design elements of food presentation).
A large part of what has kept her at the Petroleum Club for all these years is that the management of the club encourages her to explore that creativity, while also allowing her to explore the world outside of the club through her involvement in Slow Food Calgary, Women Chefs and Restaurateurs, as well as a number of other organizations, and her regular appearances on CBC Radio.
"Our members are people who travel all over the world," Robberecht says. "We have to keep up with the times. When you're in a private club, it's easy to get stuck in these four walls. And if you don't go out and see what's there and advance, you're going to get outdated. That's why I continue to push myself."
The Petroleum Club, 319 5 Ave. S.W., 403-269-7981, calpeteclub.com
---
Liana Robberecht's favourites
Comfort food: Spaghetti and meatballs. And burgers
Kitchen utensil: My hands – my brain and my hands
Ingredient: Yuzu!
Least favourite ingredient: Garlic – I use very minimal garlic
Drink: Vodka. On the rocks
Way to relax: Painting
Music: John Legend – I am a total sappy-music listener
Local restaurant that is not your own: Anju
Movie: The Princess Bride