Stampede week isn't just hard on the cowboy competitors. If 10 solid days of pancake breakfasts, whisky-soaked nights at Nashville North and general wild west debauchery have you feeling like you've been tossed off a bucking bull, here are seven treatments that will help you detox and recover.
Aktiv Peeling and Body Cocoon at Babor Beauty Spa
This European boutique spa has an array of options for Stampede-ravaged skin. This 60-minute body treatment starts with a mineral-salt exfoliation to get rid of all the rough spots and finishes with a warm, creamy wrap, from which you'll emerge soft, smooth and super hydrated. $130.
2500 4 St. S.W., 403-474-7213, baborbeautyspacalgary.com, @baborbeautyspa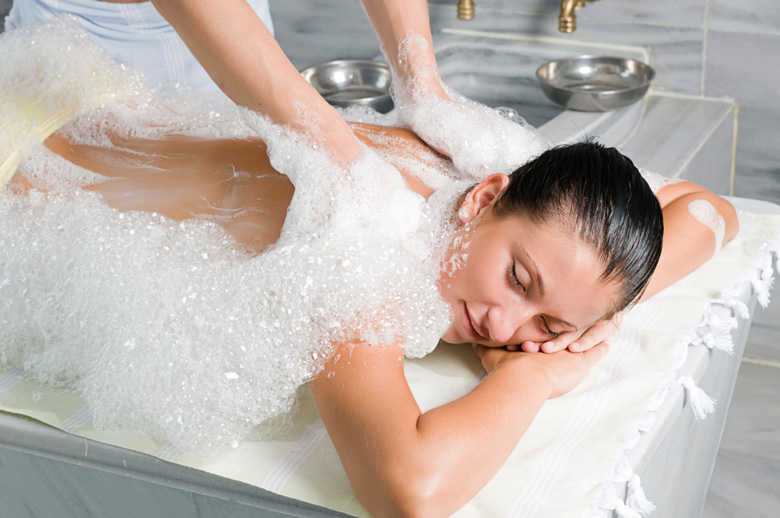 IMage Courtesy SOma Hammam & Spa
If you're in search of an old-world spa experience out here in the heart of the new west, set your course for the far southeast. Located in the community of Seton, Soma offers traditional Turkish hammam bathing, which uses a heated stone slab to increase the body's temperature. The basic 60-minute hammam is recommended for first-timers and starts with a self-administered sea salt scrub, followed by a rinse and a finishing back and shoulder massage. $100.
3750 Market St. S.E., 587-471-2496, somacalgary.com, @somacalgary
If it's a spiritual detox you need, try walking the labyrinth at historic Knox United Church downtown. Different from a maze labyrinth, this version is a single pathway laid out in a circular design, that leads walkers into the heart of the circle and back out again as a meditative practice of self-discovery and transformation. The 24-foot diameter Knox Labyrinth is a modified version of the labyrinth at Chartres Cathedral in France, which dates back to the year 1201. The Knox Labyrinth is open to the public for self-guided experiences Monday to Fridays from 9 a.m. to 7 p.m. (closed on stat holidays). You can also book a guided labyrinth session through the church office if you need help getting on the right path. Free.
506 4 St. S.W., 403-269-8382, knoxunited.ab.ca, @knoxcalgary
Floating is a meditative therapy that can help with everything from muscle recovery to stress relief. The recently opened Clear Float Spa (located across 18 Avenue from Lululemon in Mission), offers salt-water floats in individual rooms equipped with special float pods with adjustable lighting and sound settings. If you're a water baby who spends as much time as possible in the ocean when you go on vacation, you'll feel right at home. Afterwards, enjoy a complementary tea from the Tea Factory in Clear Float's womb-like zen lounge where you can read one of the books on hand, add to the inspirational graffiti on the walls and ceiling or just zone out, content in the knowledge that your parking is validated. $59 for a single float.
1800 4 St. S.W., 403-454-4502, clearfloat.ca, @clearfloatspa
Stampede Recovery Facial at Skoah
It's right there in the name – this treatment includes a customized 45-minute facial to get your haggard Stampede visage dewy fresh again, plus a foot exfoliation and massage for tootsies that are tender from all the two-stepping. $75; book until July 24.
Four Calgary locations (Chinook Centre, Kensington, Westhills and Willow Park), skoah.com, @skoah
Thai Inspired Herbal Massage at The Spa Ritual
If you can't jet off to a beautiful beachside resort in Thailand to recover from Stampede, do the next best thing and get a Thai massage. The Spa Ritual's 90-minute Thai Inspired Herbal Massage treatment invokes traditional healing methods, in which warm cotton compresses containing herbal mixtures are placed on key spots on the body, then massaged into the muscles to soothe and release tension. $225.
106 Crowfoot Terrace N.W., 403-547-9558, thesparitual.com, @thesparitual
Hot yoga takes some getting used to – the first few attempts, you will likely feel pretty light-headed and may even need to take a time out in a resting posture. But if you stay the course, you'll discover what all the hype is about, namely the feeling that every part of you has been rinsed and wrung out so that only the good stuff is left. There are lots of options if you're looking for classes in the city, some of which are simply regular yoga classes in a mildly heated room so you get a bit of a sweat going. But if you want the real deal, try the Traditional Hot Yoga class at Hot Yoga on 17th, a series of 26 postures performed in a precise order in a room heated to 42C. Start with the 65-minute class and work your way up to the 90-minute class. And don't forget to bring a towel! Drop-in $20 ($16 for students and seniors).
2749 17 Ave. S.W., 403-686-9642, hotyogaon17th.com, @hotyogaspin