Pucci dress was purchased in Las Vegas; handmade earrings were purchased in Florence, Italy; David Yurman rings worn throughout from Holt Renfrew.
Tara Anand perfected her craft as a makeup artist in Europe's high-fashion world. The founder and director of Artists Within Makeup Academy spent time in front of the camera as a model before deciding she really thrived in the creative and fast-paced world behind the scenes.
Drawing on her own life experience, she teaches her students the importance of trusting in their abilities and making things work. Whether it's attempting to do makeup at a fashion show during a power outage or welcoming a new baby 21 years after the birth of her first son, Anand has handled life's curveballs with style and grace. This woman is on the move, (almost exclusively in high heels) and no one has ever made "busy" look so fabulous.
How did you first get involved in the fashion industry?
I grew up in Europe – in London, mainly – and the creativity of fashion always really intrigued me. From when I was a little girl, I would make my own clothes and play with different makeup looks. I used to draw stars on my face and get really creative with colours. My sisters have lots of blackmail photos of me.
What was your first professional job in fashion?
I did some modelling when I was younger, but I liked the behind-the-scenes aspect of the industry the most. I loved the energy and the excitement of it. I went into hairdressing first and then I moved toward makeup.
You tried a few things to learn what you didn't want to do?
Yes, exactly. It was about finding my niche. I went to school in London for makeup and started travelling around Europe doing makeup for fashion shows and shoots. It was such a great experience.
How did Artists Within come to be?
I had my first son, who is 21 now, when I was in England. I moved to Calgary when his father and I split up because my family was here. I was like, "Okay, what do I do now?" I loved what I did and I didn't want to stop, so I had to find a way to work it into my new life in Calgary. I realized that there wasn't an accredited makeup school in Alberta; the closest was in Toronto or Vancouver. That's why I decided to start Artists Within. It was a lot of work and definitely a challenge, but that's something I love.
You're not the kind of person who sits around in her pyjamas.
No, I could never do that. I actually love being busy and social. I like the chaos in my life.
You recently launched your own Artists Within makeup line, AW03 MAQUILLAGE. What was that like?
Artists Within has been developing a professional line for a number of years for our students, and we launched it about a year ago. I really wanted to do something I was proud of and would wear every day and would want to work with. It took a lot of tweaking, but, when we were happy with it, we launched it as a retail line. We have staple pieces that we offer all the time, and then we offer seasonal colours in the spring and fall.
How would you describe your personal style?
At this point in my life, it's more about what works for me. It's about dressing for my body shape and type. I really enjoy Italian fashion like Emilio Pucci and Roberto Cavalli – sexy, but classy and very feminine.
Do you usually go for classic essentials?
I like having a base that's classic and then I add an edge, whether it's with jewellery or makeup. I'm not afraid to wear blue eyeliner or an orange lipstick. I'll wear my classic, fitted knee-length slip dress with amazing booties and big earrings.
Not many people would wear orange lipstick.
You'd be surprised. It's just about finding the right shade. Everyone says that; they'll say, "No, I could never do that." Well, let me help you! I personally gravitate toward certain pieces, and it doesn't matter to me if they're on trend. If it excites me, I'll wear it.
What do you gravitate toward?
I may wear a leather top or a leather dress with classic heels or purse. I know fitted knee-length dresses work well on me. I wear a lot of black in the winter and colour in the summer. I love big jewellery. [I have earrings that are] braille and say, "Touch my butt and buy me pizza." So fun! I love that they're different and big and chunky. I always wear heels. I actually don't own a pair of flats.
Not even sneakers?
Well, I may own a pair of sneakers, but I'll only wear them at the gym.
Do you wear heels every day?
I am so comfortable in heels. Even my slippers are Jimmy Choo wedges.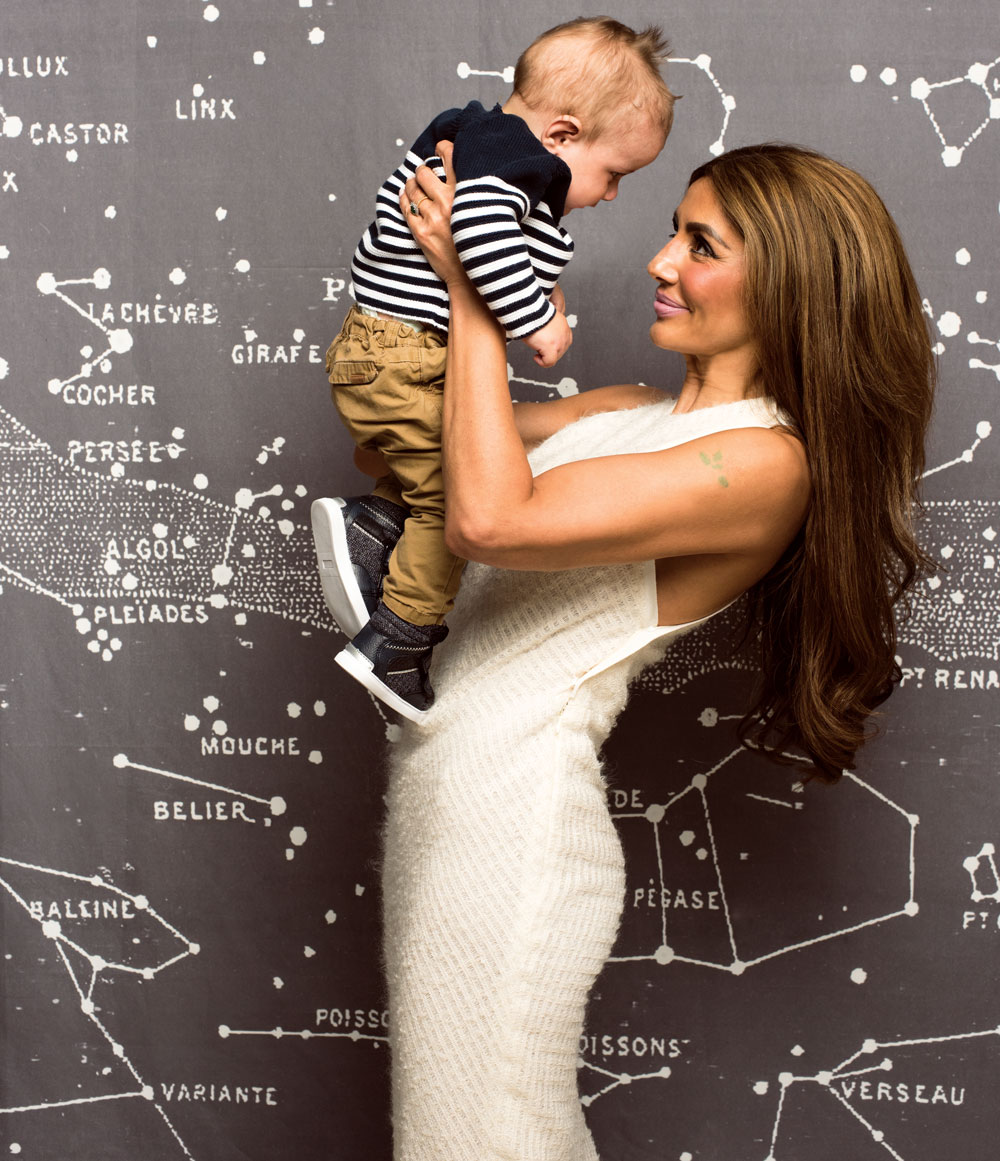 Paul Hardy dress; Anson's outfit is from Next.
You've had a new addition to your family, right?
Yes! I had a little boy. So I have two boys now.
That must be a new layer of chaos in your life.
I know! I had my first son when I was younger and my second son more than 20 years later. I must be crazy. My husband and I juggle our schedules. I work from home a lot now. I'll work a lot in the evening. But having a baby at this time in my life has been amazing.
Has it changed your style?
My biggest change is that my purse has turned into a diaper bag. All that's mine is lipstick and a credit card, everything else is Anson's.
Do you have a mom uniform?
In terms of my style, I bounce from mom to work to mom several times during the day. I always put myself together in the morning, no matter what. It's important for me to dress well and feel good about myself. If I'm hanging out with Anson at home I may wear a pair of leather leggings or a jumpsuit.
How long is your morning routine?
It's about 30 minutes in total. Putting my makeup on is only about 10 minutes. At this point, I'm pretty efficient at it. One of my indulgences is that I get my hair blown dry twice a week. I feel like my time is better spent if I go to Butter [Beauty Parlour] and get it done and I can work on my laptop.
Do you plan your outfits?
No, I just wear what I feel like that morning. My wardrobe is pretty ridiculous.
Why is it "ridiculous?"
I find it really hard to get rid of things. Years ago, when I was working in London, a stylist told me, "Don't buy three cheap things you like; put your money together and buy one good piece you love." I've really carried that with me. Most of the pieces I have are good quality.
A lot of them are timeless. I have pieces that I bought 10 years ago that I'll still wear all the time.
Do you have a favourite pair of shoes?
I have a pair of Louis Vuitton booties that I've had for a few years now, which I love. I have some long, leather, over-the-knee boots [that] again, I've had for years, and are actually back in style this season – I thought, "Oh, I have those!" I should probably stop buying more shoes, but it really is my weakness.
Obviously your job influences what you wear.
Oh, for sure. What we do is fashion. I need to know what's on trend and what's happening around the world. As the owner of this business, it's important that I look the part. I also enjoy it. It's creative for me. Putting on my makeup and looking fashionable is a huge part of the job.
Is it still fun for you?
I love it. I really do. The business changes and evolves all the time and so does my fashion and style. I love dressing up. I love experimenting with new things. I'm not afraid to try something new. Sometimes it works really well and sometimes it doesn't. It's so much fun to try.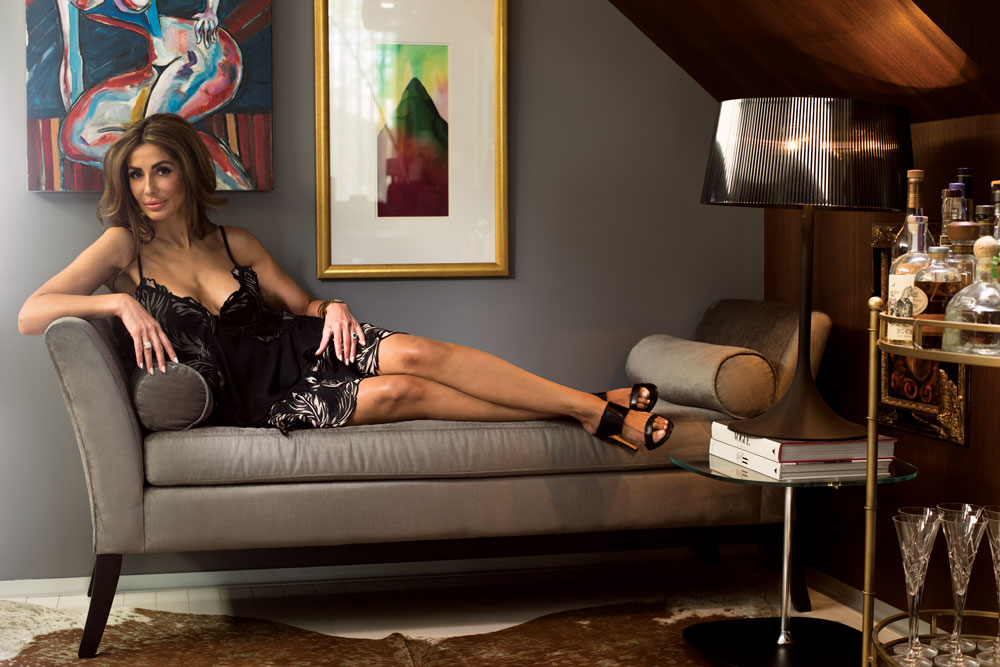 Roberto Cavalli dress and Etro cuff, both from Net-A-Porter; earrings and Gianvito Rossi shoes, both from Holt Renfrew.
---
Lightning round with Tara Anand
Where are you from?
The UK, originally. I spent much of my childhood there and then started my makeup career in Europe.
What do you do?
I'm a mom, a makeup artist and a business owner.
What did you think you'd do when you were growing up?
I knew something creative – either fashion, interior design or makeup.
What would you do if you didn't have to make a living at it?
Travel. My husband and I travel as much as we can.
What would currently be playing if we were to turn on your iPod?
The Empire soundtrack.
Favourite childhood book?
It's one I read to my oldest son – Owl Babies.
Red or white wine?
Always white.
Denim or leather?
Leather.
Favourite breakfast food?
Isagenix shakes or eggs Benedict as an extravagance.
Dream vacation?
Somewhere hot, with the ocean, cocktails on tap and no Wi-Fi. I think I'd love to try Bora Bora.
Favourite local shops?
Primitive Culture and Ooh La La Womenswear, but more often Holt Renfrew or Net-a-Porter and lots of online shopping.
What is your greatest extravagance?
Shoes.