This month, shop for outdoor gear, skincare products and cheap home decor- or, just go for a pedicure. Here's what you need to know about the latest shopping and lifestyle openings, news and sales.

Previously, Calgarians had to shop for Arc'teryx products at other retailers in the city or online. But now, they can get their hands on colourful outdoor gear, shoes and apparel at Arc'teryx's first standalone Calgary store. The 2,395-square-foot store celebrated its grand opening on June 9 and has everything you need for your next outdoor adventure this summer. The store also has cool features like a community board, a giant map of trails in the Rocky Mountains and a rope hanging from the ceiling to try with harnesses. Keep your eyes peeled for store events as well, which could range from talks on the in-store tiered seating to group trail runs.
150, 815 17 Ave. S.W., 587-392-3139, arcteryx.com
Bouncing back from a fire and break-in earlier this year, this healthy beauty bar re-opened its doors in May. Beach offers nail services, waxing and facials in an upper-level space with a bright, beachy vibe – guests even sit on Adirondack chairs while getting pedicures. You can also get your brows and lashes done at its sister company Doe Brow Studio in the back. Beach has a small paleo cafe in this space too, which you don't need a beauty appointment to visit. Stop by or pre-order one of the made-in-house treats like smoothie bowls, kale blueberry salads, blueberry lemon muffins, chocolate coconut granola or snack boxes filled with items like honeycomb, nuts, beef jerky or berries. You can also pop in for a tea or a coffee (try it regular or add butter or coconut oil).
232, 2312 4 St. S.W., 587-617-9139, beachbeauty.ca
If you're looking for something to do during the evening this summer, there are two local night markets you can check out. The Calgary Night Market will be set up outdoors at the Bridgeland Riverside Community Association on July 20, August 31 and September 2. Then there's the Inglewood Night Market, which takes over Inglewood on June 8, July 13, August 10 and September 14 and 15. Both feature plenty of local vendors, food trucks and entertainment.
facebook.com; inglewoodnightmarket.ca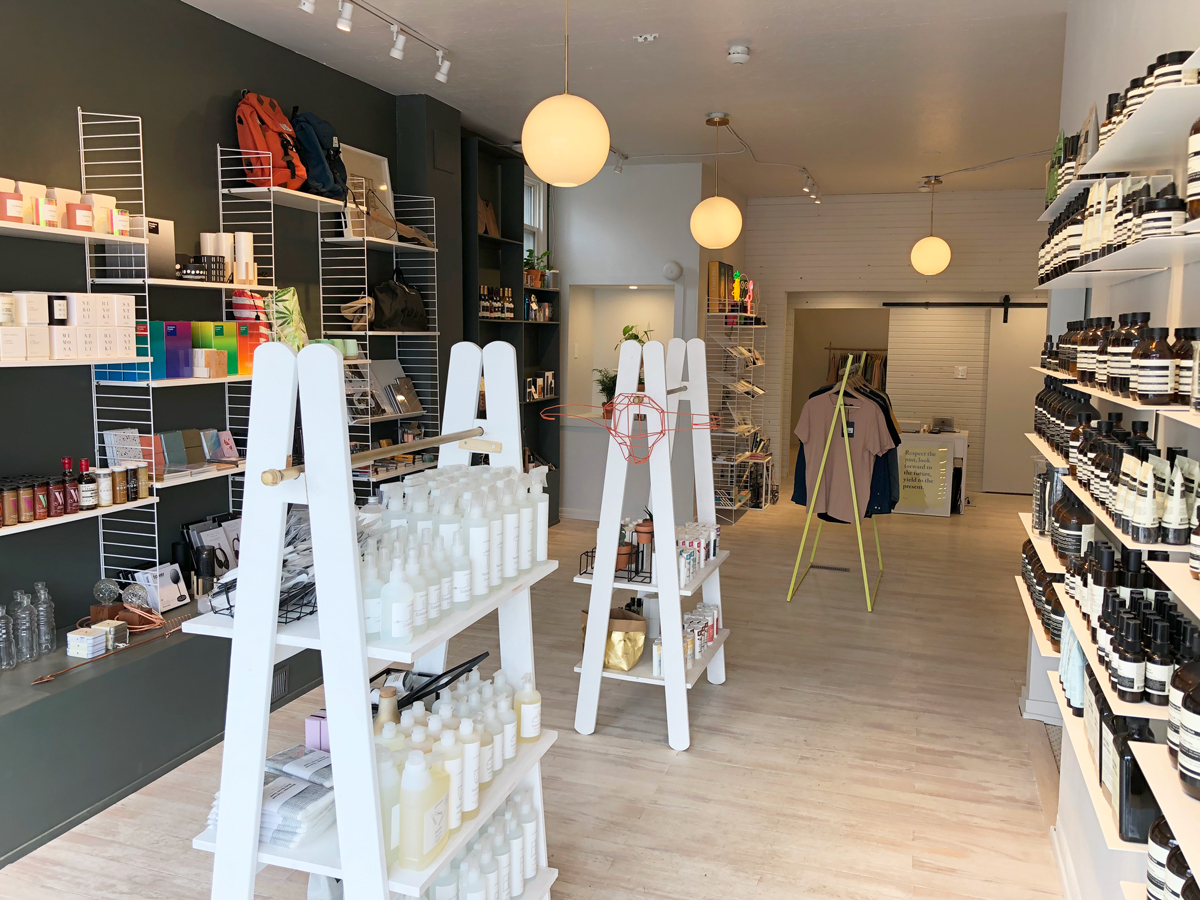 Two popular Inglewood shops have officially moved in together. Fresh Laundry recently closed its storefront and moved into the same space as The Uncommons. The store as a whole is now called Dept., and according to co-owner Ian Davies, it's like a "micro department store" that both Fresh Laundry and The Uncommons will live within. The store underwent some renovations in preparation for the merge; walls were knocked out, a new colour palate and a small skincare product tester room was added, which features a small plant wall like Fresh Laundry used to have. In terms of the products, Davies says around 60 percent of the store features items from The Uncommons and around 40 percent features items from Fresh Laundry, though that may eventually even out. Shoppers will still find plenty of their favourite products from both stores though, including Aesop Skincare, Herbivore Botanicals and apparel from Danish brand Suit and Swedish brand Nikben.
1325A 9 Ave. S.E., @dept.yyc
Minimalist table lamps, electronic power banks, makeup, stuffed animals, kitchen utensils – you'll find all this and more at Miniso. Soon, the Asian retail brand will have opened its first two Calgary locations within the span of just over a month. The first one opened in Beacon Hills Centre in mid-May and a second one will be opening at CrossIron Mills on June 16. Inside, shoppers will find items ranging from home decor to electronics to stationery for extremely low prices. Trust us when we say to grab a basket upon arrival- once you start picking out items, you won't be able to stop.
11420 Sarcee Tr. N.W., 587-619-4244, and CrossIron Mills, 261055 Crossiron Blvd., Rocky View, miniso.ca
This year is the 10th anniversary of local fashion and culture organization Park. To mark the occasion, Park is holding a special fashion-filled weekend in East Village. On June 23 and 24, guests can shop from more than 50 vendors like Adesso, Bark YYC, Lennard Taylor, Suka Clothing and more at the ParkSale market along the RiverWalk. And on June 23, East Village's George C. King Bridge will act as the runway for this year's ParkShow fashion show.
George C. King Bridge and East Village RiverWalk, ourparkonline.com