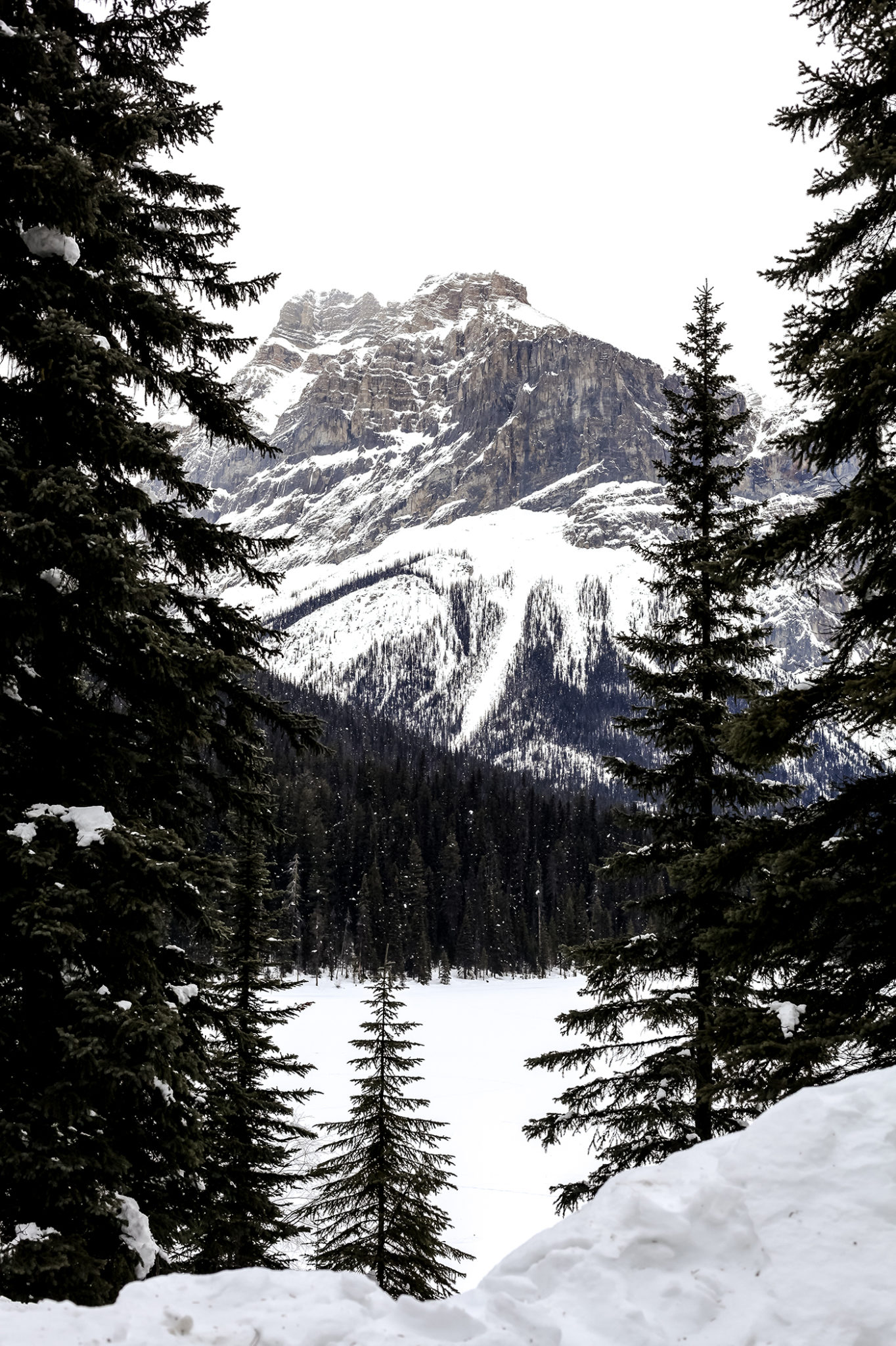 You're giving the gift recipient a choice with this gift certificate. And the choice isn't easy. The recipient can choose to redeem the CRMR certificate at any of the three CRMR lodges (Buffalo Mountain Lodge, Deer Lodge or Emerald Lake Lodge) or at The Lake House restaurant in Calgary.
Cost: Available in denominations between $25 and $5,000
Who you should buy it for: Anyone who likes luxury mountain getaways or divine dinners at local restaurants.
Something extra: If you know what the recipient likes and when they will be available, get specific. CRMR offers special packages such as the Gourmet Getaway, the Apres Ski Package and the New Year's Eve Package.
Canadian Rocky Mountains Resort head office, 2nd floor, 332 17 Ave. S.W., 403-410-7417, crmr.com
The Apothecary In Inglewood offers a range of classes catered to Calgarians interested in natural wellness, essential oils and how to apply those oils. To give you an idea of its offerings, a few of the classes here throughout December include facial care, aromatherapy, canine aromatherapy and body care.
Cost: From $75
Who you should buy it for: Anyone interested in aromatherapy, natural remedies and really nice smells.
Something extra: Add a few essential oils or accessories, too.
The Apothecary in Inglewood, 921 9 Ave. S.E., 403-453-0313, the-apothecary.ca
Vertigo Theatre has three different mystery shows running in 2020 that are sure to stump and delight the self-proclaimed detective on your gift list. Whispers in the Dark is a paranormal story that has Miss Elizabeth Le Peyt questioning her own sanity, Cipher follows a toxicologist as she tries to crack a cold case in B.C. and Clue brings the whodunit game to life.
Cost: From $29
Who you should buy it for: Anyone who's a mystery buff that enjoys intricate set design and live theatre.
Something extra: There are numerous restaurants nearby along Stephen Avenue. Consider treating the recipient to a pre-show dinner with a gift card for the Cactus Club, Modern Steak, among many others.
Vertigo Theatre, 161, 115 9 Ave. S.E, 403-221-3708, vertigotheatre.com
It can be hard to find a lasting and memorable gift for a whole family — especially for the family that seems to have it all. Gifting a portrait session might be the perfect option. JM Photography offers several packages to choose from including 15-minute mini sessions and hour-long full sessions. Each session includes high resolution digital files that have been edited.
Cost: From $195
Who you should buy it for: For the family that has it all and likes documenting both big and small moments, and everything in between.
Something extra: Pair a portrait session gift certificate with a box of chocolates from Epiphane Chocolate. At Epiphane, you can get custom-made chocolates in flavours like blueberry matcha with a picture of your choice printed on top.
JM Photography head office, 105 Erin Meadows Bay S.E., 403-650-3137, jmportraits.ca
The creative souls on your gift list will rejoice when you gift them an opportunity to create a one-of-a-kind handblown glass piece at Bee Kingdom Glass. Participants can choose from a list of projects to make like paperweights, scotch tumblers and vases, among others. During their session, they'll receive one-on-one instruction that covers everything from handling and shaping to colour.
Cost: $145 per student
Who you should buy it for: Anyone who is artistic and is interested in learning new hands-on skills.
Something extra: The busy bees at Bee Kingdom Glass have loads of unique glasswork available for purchase in their showroom. Most notably, they have handblown glass Christmas ornaments that will dazzle on any Christmas tree.
Bee Kingdom Glass, 427 22 Ave. N.W., beekingdomglass.com
In the heart of the Rocky Mountains, you'll be able to soar 9,000 feet above Abraham Lake, Cline Pass, the Wilson Icefield and the Columbia Icefield in this epic helicopter tour. Participants will have the opportunity to see and appreciate the natural beauty of glaciers, waterfalls and various vistas from a new aerial perspective. Helicopter tours range from 20 to 55 minutes in duration.
Cost: From $199
Who you should buy it for: An outdoor enthusiast who has a penchant for getting out to the mountains on the weekends.
Something extra: If your gift receiver wants something closer to home or is more of an urban enthusiast, Mountain View Helicopters offers helicopter tours of Calgary with views of the downtown skyline and the Rocky Mountains.
Rockies Heli Canada, 11 20 Cline River Heliport Highway, Clearwater County, 403-721-2100, rockiesheli.com
Level 1 has more than escape rooms. It also has a virtual reality arcade. The venue has two gaming stations, and uses the HTC Vive and SteamVR games. Currently, Level 1 has over 20 VR games to choose from like Rick and Morty: Virtual Rick-ality, Cloudlands VR mini golf and Surgeon Simulator.
Cost: $34.95 per person
Who you should buy it for: Someone who's up-to-date with the latest gaming trends.
Something extra: Make it a day for the recipient of this gift. As well as a virtual reality experience, buy them a gift certificate for an escape room. There are seven different escape room themes here.
Level 1 Escape Room and VR Arcade, 517 16 Ave. N.E., 403-879-4617, level1vr.com
For those who want the thrill of skydiving but aren't necessarily sold on jumping out of plane, iFly poses the perfect controlled environment for them to live out their wildest dreams. iFly offers several first time flyer packages that are equivalent to the freefalls you would experience from traditional skydiving. Afterwards, participants receive a Flight Certificate as well as a digital photo and video (with the Ultimate Experience).
Cost: From $89.95
Who you should buy it for: Anyone who is a thrill seeker wanting to cross skydiving off of their bucket list.
Something extra: You can make a whole day of it by purchasing an e-gift card for the Rec Room, which is located next to iFly's headquarters. After your recipient works up an appetite from their multiple freefalls, they can scarf down a hearty meal and play some arcade games.
iFly Calgary, 811 64 Ave. N.E., 403-365-4288, calgary.iflyworld.com
Rumble Boxing has a boxing ring, a heavy-bag studio with 40 punching bags and a training studio. (There's also a shop selling fitness clothes and other sporty essentials.) There are 50-minute group classes here, but gift the fitness junkie you know with a 60-minute private session with one of the studio's trainers.
Cost: $120 for a single private training session
Who you should buy it for: The athlete you know who wants an intense, personalized workout experience.
Something extra: If the person you're buying for is committed to improving their fitness, consider a 10-pack of private training sessions for $1,000.
Rumble 17, 720 17 Ave. S.W.; Rumble N.W., 310 5149 Country Hills Blvd. N.W.; 587-352-7625, rumbleboxing.com
Participants will get a look at Phil and Sebastian's roasting process. From their green coffee buying strategies to a coffee tasting, everyone will get live a day (or really an hour) in the life of a coffee roaster. At the end of the tour, participants get a bag of coffee to take home with them.
Cost: $42 per person
Who you should buy it for: For the coffee aficionado who is curious about the process and art of coffee roasting.
Something extra: Phil and Sebastian offers a plethora of classes that would make a great addition to their Roasterie tour. The classes cover coffee brewing, home espresso essentials as well as steaming and latte art.
Simmons Building and Roasterie, 618 Confluence Way S.E., 587-353-2268, philsebastian.com
The holiday season can be stressful. For that person in your life who needs a gift that will help that unwind, but wants something a little different from an ordinary spa treatment, opt for a float session. Individuals will float in a sensory deprivation tank — also known as a flotation chamber — for 60 minutes. Floating is said to be therapeutic, helping reduce pain and stress. The gift cards for Clear Float Spa don't expire. And, if you spend over $200 on a gift card between now and December 31, you'll get a complimentary float for yourself.
Cost: $59 for a single 60-minute float
Who you should buy it for: The stressed professional who needs to spend some time relaxing and unwinding.
Something extra: Treat the recipient to more than one session. A five-pack float session costs $245.
Clear Float Spa, 105, 1800 4 St. S.W., 403-454-4502, clearfloat.ca
The Race Room is pretty much a motorsport enthusiast's dream venue. It's the first simulator racing location in Calgary, with four professional-grade simulators that make it feel like you're actually driving a race car. You'll sit in a real race car seat, there are screens providing the driver with panoramic vision and there's even force feedback. Choose a real racetrack you want to test ride and take it from there. There are more than 70 real-world tracks to choose from at this venue.
Cost: $110.25 for a two-hour session
Who you should buy it for: An adrenaline junkie looking for a thrilling (but still simulated) experience.
Something extra: To make it a really special Christmas gift, consider renting out the space for a group of up to 12 to race together. Renting the space for 12 costs $1,510 for four hours of racing.
The Race Room, Unit 13, 2355 52 Ave. S.E., 587-880-1580, raceroom.ca
While it may seem strange to plunge yourself into an ice cold pool in the middle of the winter — it's an essential step to the hydrotherapy circuit at the Kananaskis Nordic Spa (hot, warm, cold, rest, repeat). As your recipient gets to truly relax in one of the outdoor pools after spending a hot minute in the eucalyptus sauna, they'll be thanking you for this little mountain getaway. The vista views of the surrounding mountains and the no phone policy make the stay even more invigorating.
Cost: $85 for day access
Who you should buy it for: Anyone who needs a mountain getaway to relax, recharge and rejuvenate.
Something extra: The Kananaskis Nordic Spa is on the same grounds as the Pomeroy Kananaskis Mountain Lodge. For $350 per night, you can treat your recipient and their partner to a stay at the Lodge as well as complimentary access to the spa with the Nordic Spa Package.
Kananaskis Nordic Spa, 1 Centennial Dr., Kananaskis, 403-591-6800, knordicspa.com