7 Boutique Fitness Studios To Try
With a new crop of specialty fitness studios in town, Calgarians have more ways than ever to get sweaty.
By Christina Frangou
The biggest thing right now in Calgary's fitness scene? It's small. That is, what's big is small boutique fitness studios.
Over the last three years, specialty studios have been popping up around the city, offering everything from ballet-inspired workouts to yoga performed on wobbly indoor surfboards.
Boutique studios typically charge more than traditional fitness clubs, with most monthly memberships running around $150, or about twice that charged by conventional clubs. But the trade-offs are smaller class sizes, zero waits for equipment, personalized instruction and some downright wacky classes you'd never see in an old-school gym (see: AntiGravity barre, a kind of aerial ballet that has participants pirouetting whilst dangling in a fabric hammock hung from the ceiling). Plus, there's the added motivation that comes with having an enthusiastic instructor on hand to boss you around. As would be expected, boutique fitness studios are often found alongside other boutique businesses in the inner city 'hoods.
Now, here's how to get sweaty in Calgary, boutique-style.
---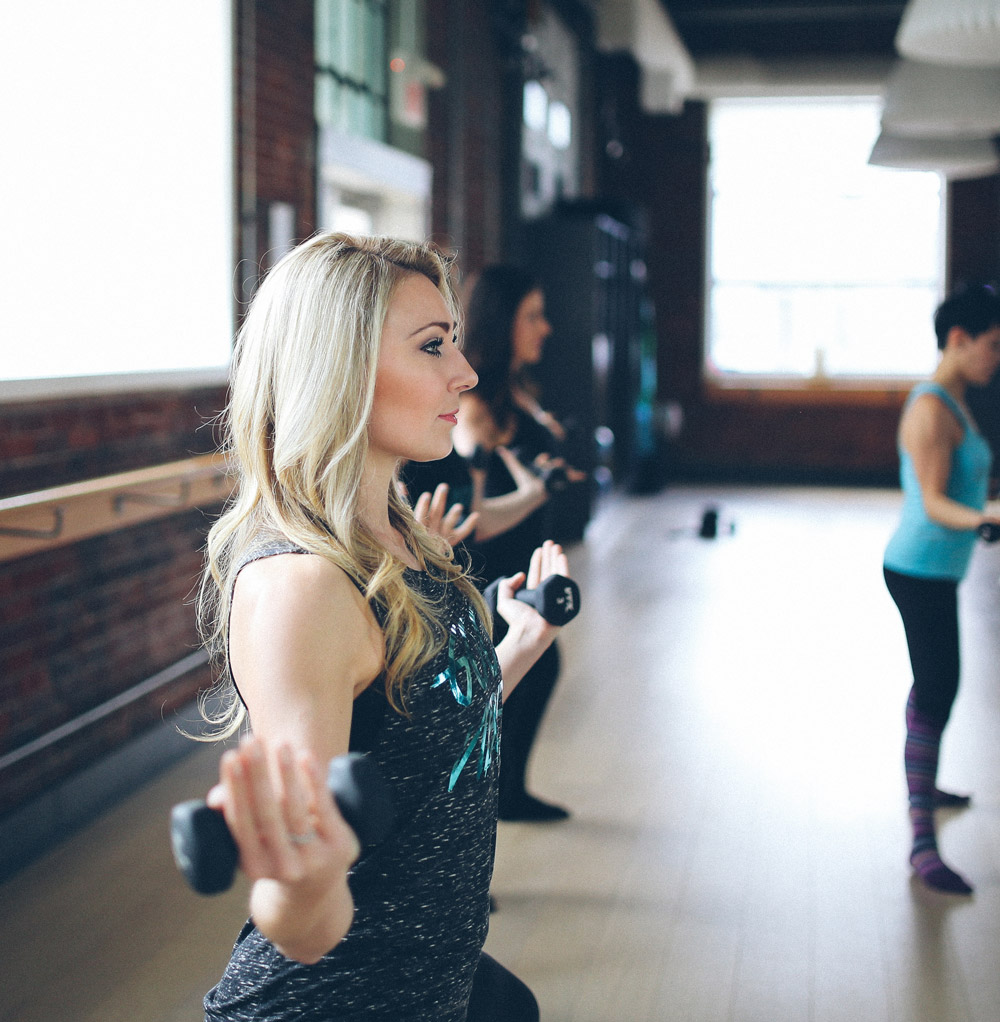 Photograph by Asim Haque
Barre Body Studio in Ramsay.
 Cost per drop-in class: $24
This studio has women lining up at the barre in Ramsay and at a second location off Bow Trail S.W. The lower-impact workout combines elements of ballet, Pilates and resistance training with little bursts of cardio, set to a cranked music system. You'll need grippy "toe socks," sold on site.
 Insider tip
Owner Marlo Brausse says the biggest misconception surrounding barre is that you have to reach ballerina heights. "Lower your heels closer to the ground – that's where you really engage the glute muscles," she advises. For maximal heart-rate boost, check out the signature Blast class.
1202 20 Ave. S.E., 403-720-6635, and 4251 Bow Tr. S.W., 403-727-6482, barrebodystudio.com, @barrebodystudio
---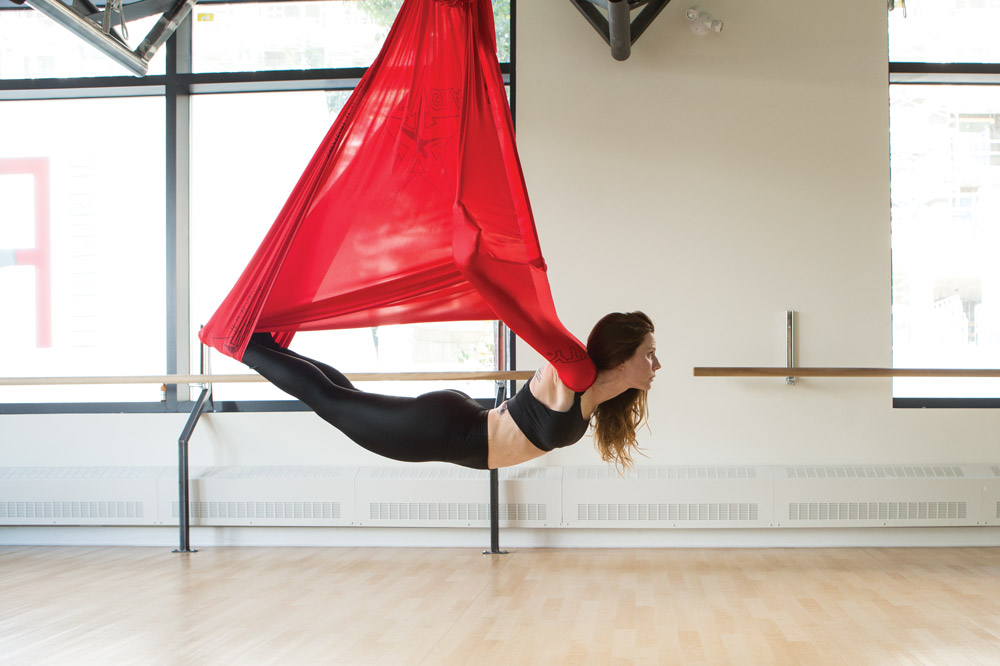 photograph by Libertee Muzyka Photography
AntiGravity aerial fitness at Fit Republic.
 Cost per drop-in class: $20
Targeted to fitness fanatics who love to mix things up, this airy, polished studio in Bridgeland offers a bit of everything: rowing, TRX (suspension training), kickboxing, cycling, high-intensity interval training, barre and yoga. But its signature is the AntiGravity classes, which the studio first introduced to Calgary. AntiGravity practitioners dangle in large silk hammocks suspended from the ceiling and perform moves from yoga, Pilates and barre. The classes are good for strengthening the core and stretching out tight backs and muscles.
 Insider tip
For athletes who hate stretching, AntiGravity classes are a good way to massage out tight spots.
989 McPherson Rd. N.E, 403-991-6468, fitrepublic.ca, @fitrepublicyyc 
---
 Cost per drop-in class: $36 (first class, $18)
Word has it Lagree has cult status among fitness enthusiasts in L.A. Relatively new to the YYC fitness scene, Lagree is a 45-minute, muscle-shaking, core-burning workout performed on an M3S Megaformer – a moving platform manipulated by a system of springs, straps and pulleys. You'll need grippy socks here, too.
 Insider tip
For a gentler intro to Lagree, check out the Full Body Light class or splurge on a private or a semi-private lesson.
5123 Elbow Dr. S.W., 403-719-9111, lagreeyyc.com, @lagreeyyc
---
 Cost per drop-in class: $18
This popular Mission studio is Calgary's indoor cycling hot spot. Riders tap it back and sprint it out under disco balls while booming playlists spur them on. They're big on the idea of "oneness," as in one community, riding together, and that friendly atmosphere extends off the bike, too. Owner Elmira Barry says she knows of more than one couple that met at One Cycle and went on to marry.
 Insider tip
Your first class? Nab a bike in the middle or back row. Copy the folks in the front. Be sure to sign up in advance. Classes fill up quickly.
2115 4 St. S.W., 403-244-4484, one-cycle.com, @onecyclespin
---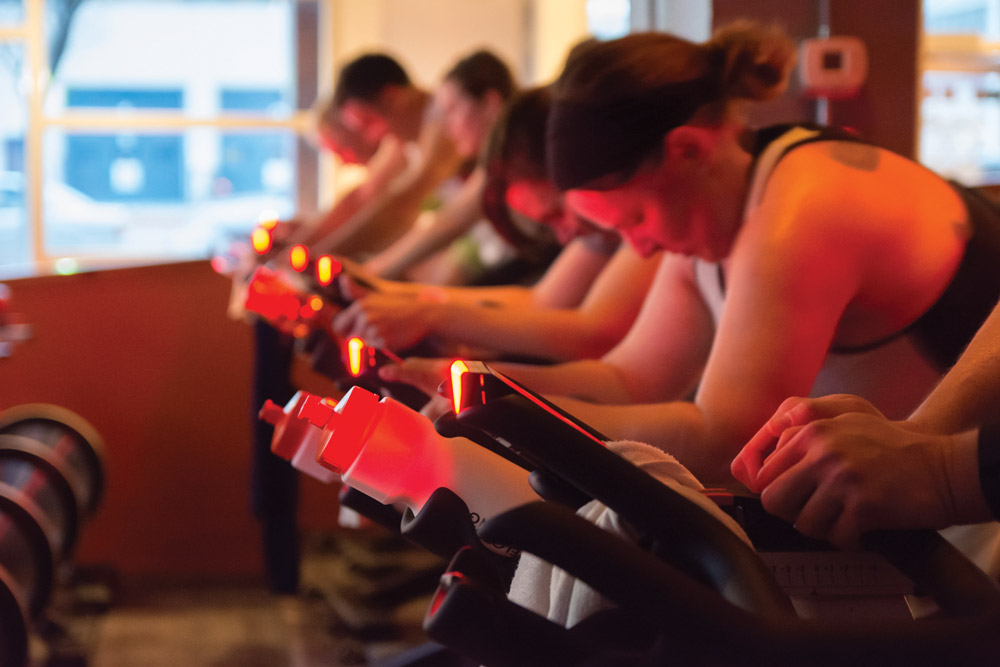 photograph by Sean Alzetta
 Cost per drop-in class: $19
An indoor cycling studio in the Beltline with specialized bikes that track RPMs (revolutions per minute), power output, distance travelled and speed. The instructors are known for smart sequences and tough intervals. You can pretend to compete against the pros in the races playing on the massive screen behind the instructor.
 Insider tip
For a Euro-twist to your workout, check out the Double Dutch class, taught by two hard-core cyclists from the Netherlands. Sometimes, they bring pancakes (or should we say poffertjes) as aprs-spin treats.
109, 1053 10 St. S.W., 403-452-8896, pelotoncycling.ca, @pelotonyyc
---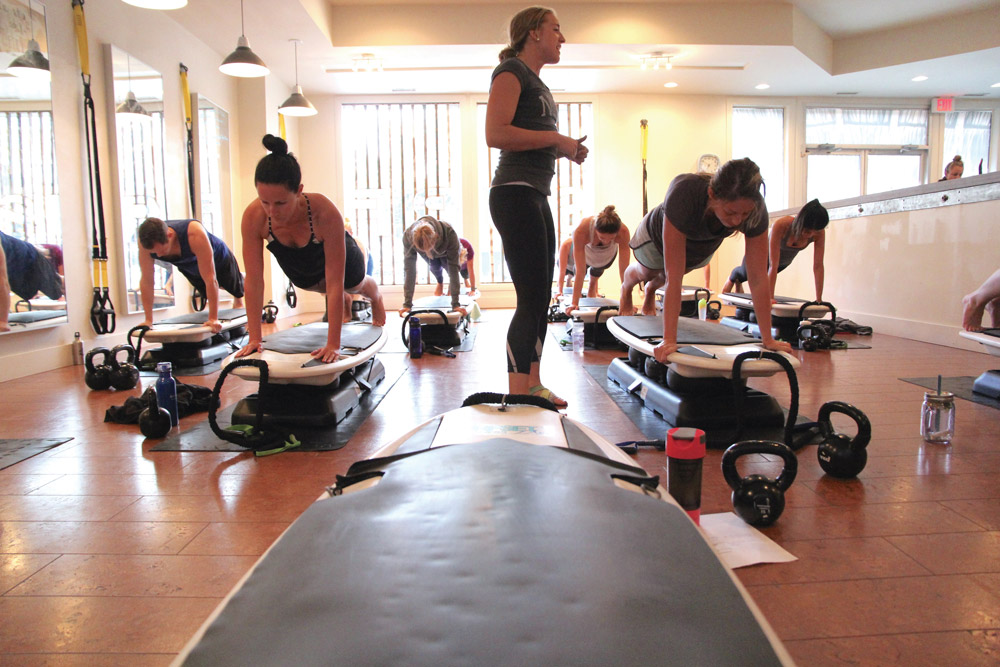 photograph by Leizanne Ting
Participants balance on unstable surfboards for a workout at Studio Revolution Fitness.
 Cost per drop-in class: $20
When local surf enthusiast Mallory Chapman saw a pitch for an indoor exercise surfboard on ABC's Shark Tank, she was sold. She left her job in the justice system and opened Calgary's first SurfSet studio – think surfing, but without water. Participants paddle, pop up and carve on custom-made unstable surfboards. Classes can include yoga, weights and plyometric training (short intervals of intense muscle exertion), all done on the boards.
 Insider tip
If there's a real surfing trip in your future, work on your drops, pops and other basic skills in the Shred classes, offered four times weekly.
313 17 Ave. S.W., 403-719-3488, studiorevolution.ca, @yycstudiorev
---
 Cost per drop-in class: $20 ($15 for students)
17th Avenue S.W. got a lot sweatier in November 2013 when Union opened its doors. The 4,500-square-foot space consists of three studios, with separate rooms for spin, TRX and yoga-barre. The house specialty is hybrid classes – combos like spin-TRX or barre-TRX.
 Insider tip
Try a "dirty double" such as a heart-thumping one-hour spin class, followed by a strength class.
1463 17 Ave. S.W., 403-689-8585, unionathletica.com, @unionathletica
[Correction: This story has been edited from its original printed version to correct the drop-in fee at Peloton Cycling to be $19 and update the company address.]