Calgary's LGBTQ+ community is celebrating Pride the best way the city knows how: at the Stampede. Pride Day Stampede will be hosted for the sixth year at Nashville North on the first Saturday of Stampede, July 7.
Organized by Charles MacMichael, a board Director and Prairies Regional Lead for Pride at Work Canada, the party was known as Gay Day in previous years, but rebranded with the more inclusive title, Pride Day Stampede, for 2018.
"My goal is to have a place for LGBTQ+ members and allies to gather, to be a part of the Stampede… and to support individuals that may not have had the interest, or felt comfortable, being their whole selves at the Stampede, because the Stampede is, of course, a key element of Calgary's sort of social fabric," MacMichael explains. "You really are just going to the Stampede, and you're going on a day where there's going to be a safe space that's recognizing your differences, not as a negative, but as a value."
Before the creation of Pride Day, the gathering was a nameless tradition between MacMichael and a small group of friends consisting of a classic Stampede pancake breakfast followed by a day on the grounds. Pride Day Stampede was started six years ago as Gay Day when a friend of MacMichael, Mitchell Matthews, suggest to him that they extend the tradition to the wider LGBTQ+ community.
"He realized through that experience that he thought that it could be more," says MacMichael about Matthew. "That it would be something that would be enjoyed by more members of the LGBTQ+ community."
In its first year, Pride Day saw an intimate crowd of 40 people; today, MacMichael expects over 1000 LGBTQ+ folks and community allies to mosey on down to the grounds for the party.
"The second year, a friend of mine brought the 'Hello, my name is' name tags, and we ran out, and we had about 80 of them. That was sort of how we started almost counting how many people showed up, because of course it's an [unticketed event]," says MacMichael. "Last year, we had about 800 to 850 people attend and ran out of name tags again, which was great. [This year], we have 1,500 name tags."
Since their introduction, the name tags have become an integral part of Pride Day Stampede. Filled in with any name except your own, the name tags, beyond being a convenient way to count admissions, are a symbolic, "tongue in cheek way" to express community and alliance.
"The name tags really, I think, are the glue that creates the momentum within the group," says MacMichael. "[They're] a fun way to sort of informally recognize without it being too overt that those individuals are a part of the group, and they have chosen to express that they are LGBTQ+ friendly and are sort of a part of a safe space, if you will."
In 2016, MacMichael was nominated for the Stampede's Western Legacy award in the Innovation category for his work on Pride Day Stampede. This nomination inspired him to create the Western Trailblazer Award, an award specific to innovators and activists working within the LGBTQ+ community.
"I thought, well, why don't we give out an award for people that are doing the same kind of thing that I set out to do with this event in other aspects of the Calgary community. So last year, Dave Sibbald, [the President and Chairman of the Board of the Calgary Stampede], and myself were able to go up on stage and award the Western Trailblazer Award, the first annual award for an individual that uses their energy, influence and bravery to make experiences more accessible to the LGBTQ+ community."
The first Western Trailblazer Award was presented to Michael Bell, founder of Calgary's gay men's hockey team, the Calgary Pioneers. Bell was honoured with the award for his work within WinSport to redevelop their policies around hate speech.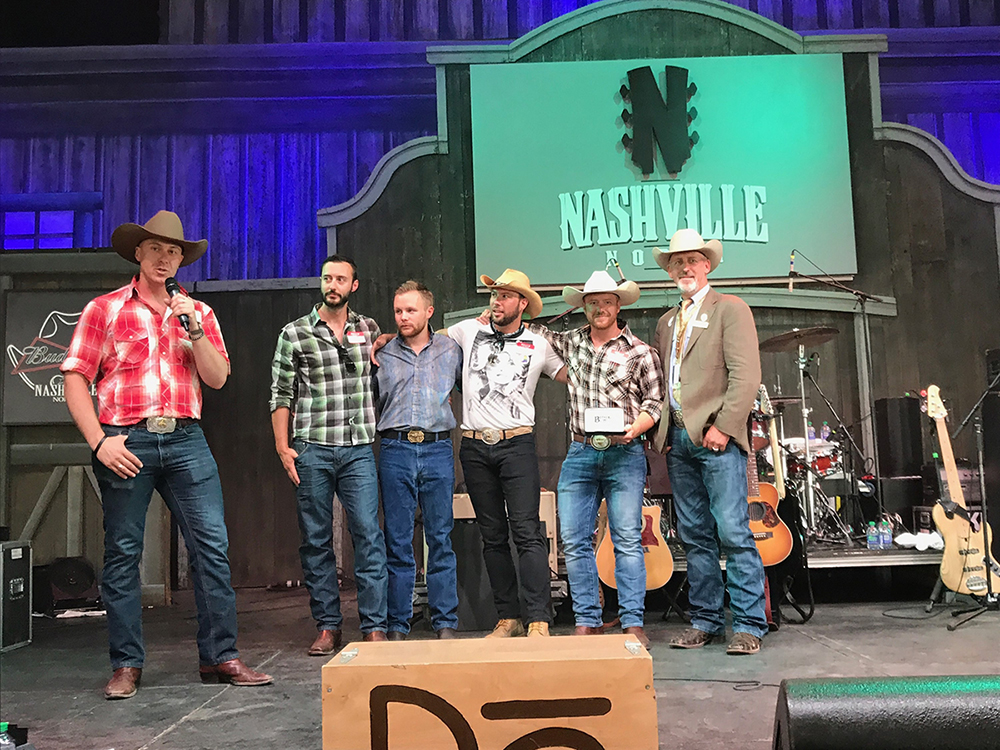 Michael Bell presented with the first Western Trailblazer Award at Gay Day 2017.
The second annual Western Trailblazer Award will be presented at this years Pride Day Stampede. The award presentation will be part of a 30 minute program new to this year's celebration featuring local LGBTQ+ performers.
MacMichael and other Pride Day volunteers will be welcoming all LGBTQ+ members and friends to the party with name tags at Nashville North at 2 p.m. on July 7. There are no tickets or costs associated with the event (aside from Stampede admission) – all you need to participate is your proud, lovely self. For more information, visit the Pride Day Stampede 2018 Facebook page.