Many a Calgarian has set their sights on vacationing in Palm Springs or Phoenix – the arid air and sunny skies seem to suit those of us used to Calgary's dry (albeit much cooler) climate. But American desert destinations aren't so friendly during the summer months when temperatures soar way above what's comfortable, and when the low Canadian dollar keeps many of us firmly on this side of the border.
Luckily, there's an alternative for Calgarians looking for a taste of the desert – and it's only a day's drive away. Osoyoos, located at the southern end of B.C.'s Okanagan Valley is a small town, but, if you factor in the surrounding area (including Okanagan wine country's renowned "Golden Mile," which sits between Osoyoos and nearby Oliver) there's enough to see, eat and do to keep anyone busy for days (if not weeks) on end. With attractions like beautiful Lake Osoyoos and its waterfront and some of Canada's most upscale winery restaurants, Osoyoos' natural assets and man-made wonders make it a perfect alternative to the popular American desert cities.
---
Where to Stay
Resort properties
Before the wine industry started to explode in the South Okanagan, Osoyoos was pretty much just a quiet lake town with a few motels scattered near the waterfront. Over the last decade, the tourism scene has grown profoundly, largely due to the addition of three full-scale resort properties: Spirit Ridge at Nk'Mip Resort, Walnut Beach Resort and Watermark Beach Resort – the latter two located right on the lake, with some of Watermark's townhouse units providing direct walkout access to the beach.
All three of these properties feature a variety of suites with more of a homey apartment feel than a standard hotel room. Watermark also has a concierge service that can hook visitors up with wine tours and recreational activities, some of which have been created specifically for the resort's guests.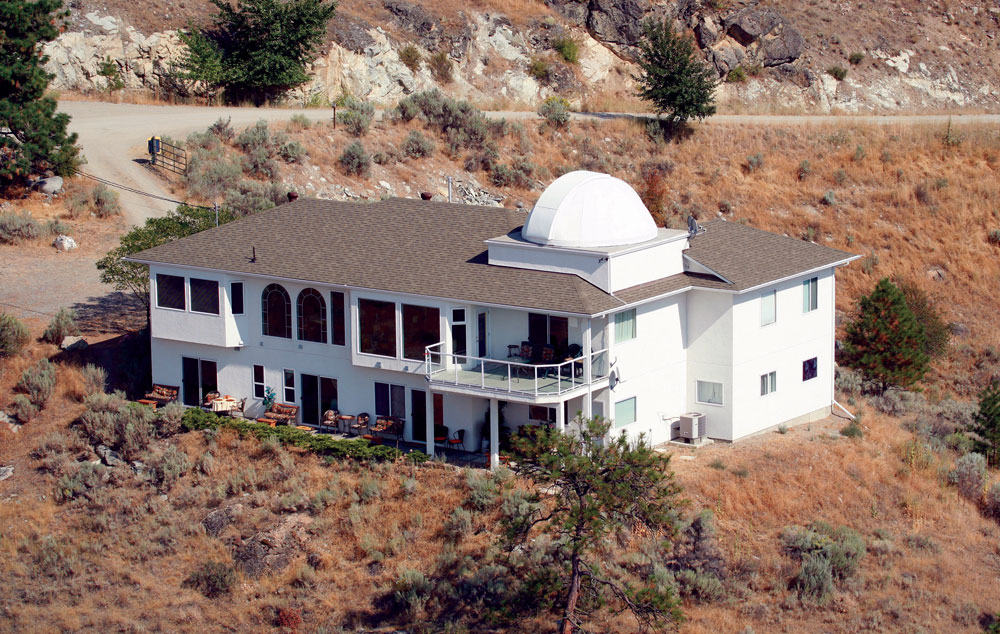 photograph by Jack B. Newton
For something different, consider the Observatory B&B, a charming bed and breakfast owned by Jack Newton, one of the world's most prolific amateur astronomers, and his wife, Alice. Located high above Lake Osoyoos on Anarchist Mountain, the B&B offers a session with Newton and his 16-inch, computer-controlled, professional-grade telescope, both in the evening and in the morning, when you can view the sun through protective H-alpha filters.
---
What to Eat
The wineries in the South Okanagan are plentiful, and some have exceptional restaurants on site. Most focus on local ingredients – a given considering the same land that provides all those grapes also offers a bounty of other produce.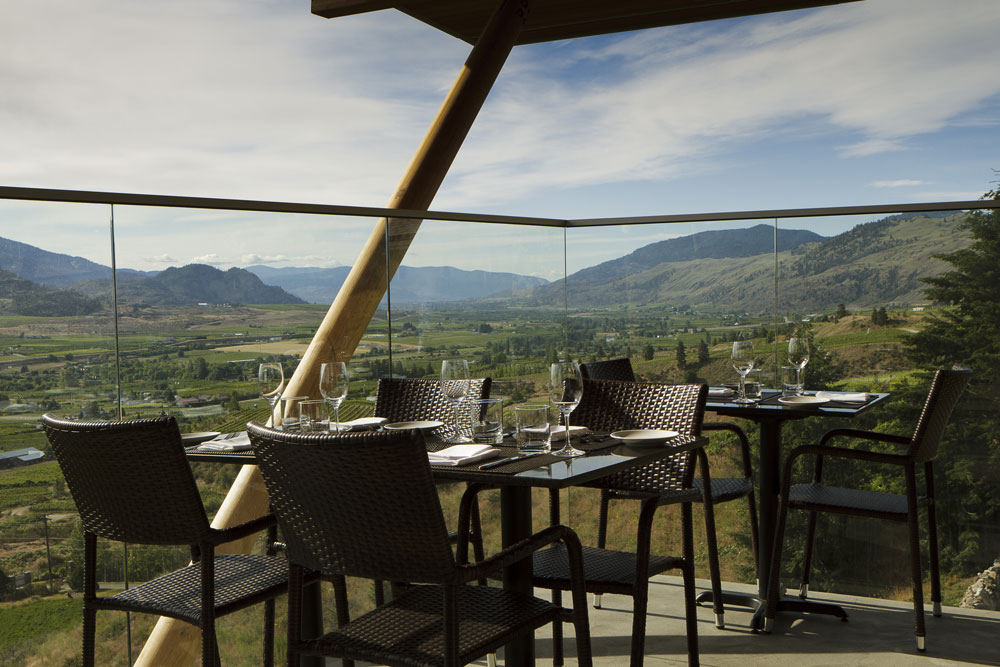 photograph by Chris Stearns
Miradoro at Tinhorn Creek.
Tinhorn Creek's Miradoro restaurant is about a 15-minute drive from Osoyoos and offers one of the most extraordinary views in the region. The food lives up to the setting: executive chef Jeff Van Geest's Mediterranean-influenced seasonal menu pays homage to the Okanagan bounty and features expertly prepared meats. Naturally, the menu pairs perfectly with Tinhorn's wines.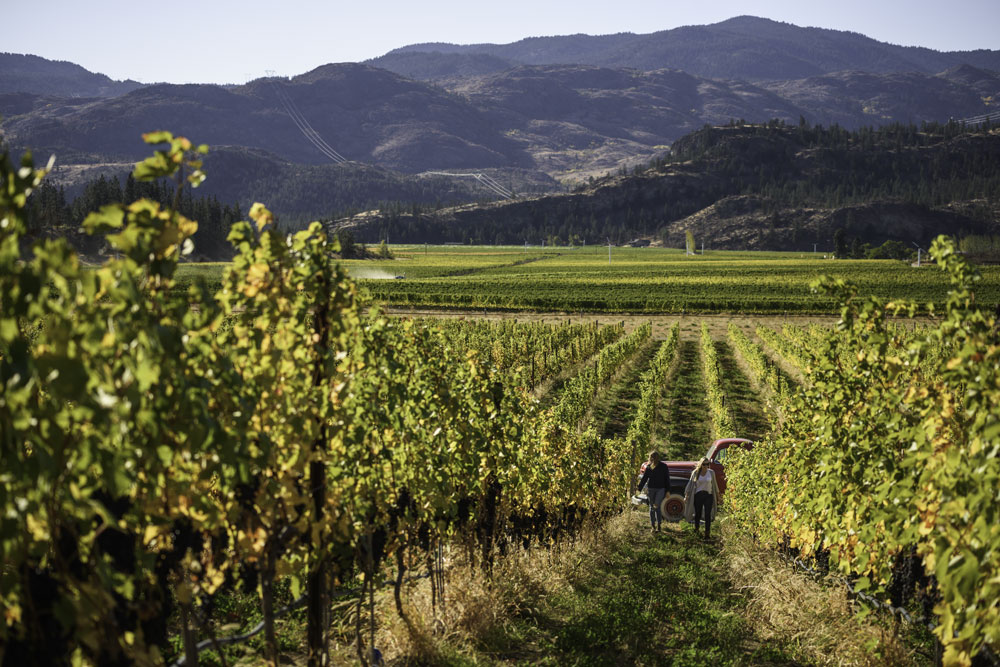 photograph courtesy of Destination BC/Andrew Strain
Covert Farms.
There are also great restaurants at Burrowing Owl and Hester Creek wineries, as well as at the resorts, but one of the biggest joys of the South Okanagan's food scene is the opportunity to take in some culinary agri-tourism. Covert Farms is a working farm that supplies many of the South Okanagan's restaurants with produce and is also home to a small winery. The farm offers tours, during which guests get to ride in the back of matriarch Diana Covert's restored 1952 Mercury truck. The Watermark Resort has also partnered with the farm to create a "signature experience" that includes a foraging session followed by wine and bites served back at the farm's rustic wine lounge.
For another unique culinary experience, Backyard Farm Chef's Table, owned and operated by chef Chris Van Hooydonk, sits on a small orchard on the Golden Mile. Van Hooydonk offers public events, as well as private dining experiences and hands-on cooking classes utilizing locally sourced meat and ingredients and seasonal produce straight from his farm.
---
What to Do
While some visitors will be content to spend their time relaxing on the beach and drinking in the natural beauty of the lake, there is plenty to do in and around Osoyoos, the major categories of recreation being water, golf and wine-touring.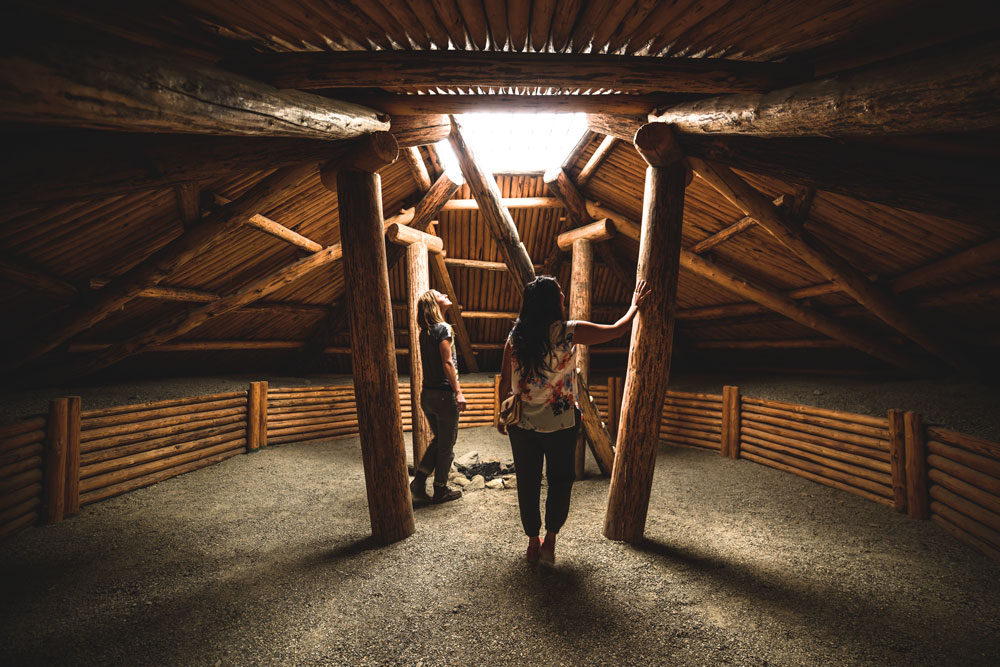 photograph courtesy of Destination BC/Andrew Strain
The lake amenities are obvious – there are plenty of boat rental outfits around or, if you want to learn more about the water and the land, the Osoyoos Indian Band offers fishing and eco tours out of the Nk'Mip Desert Cultural Centre.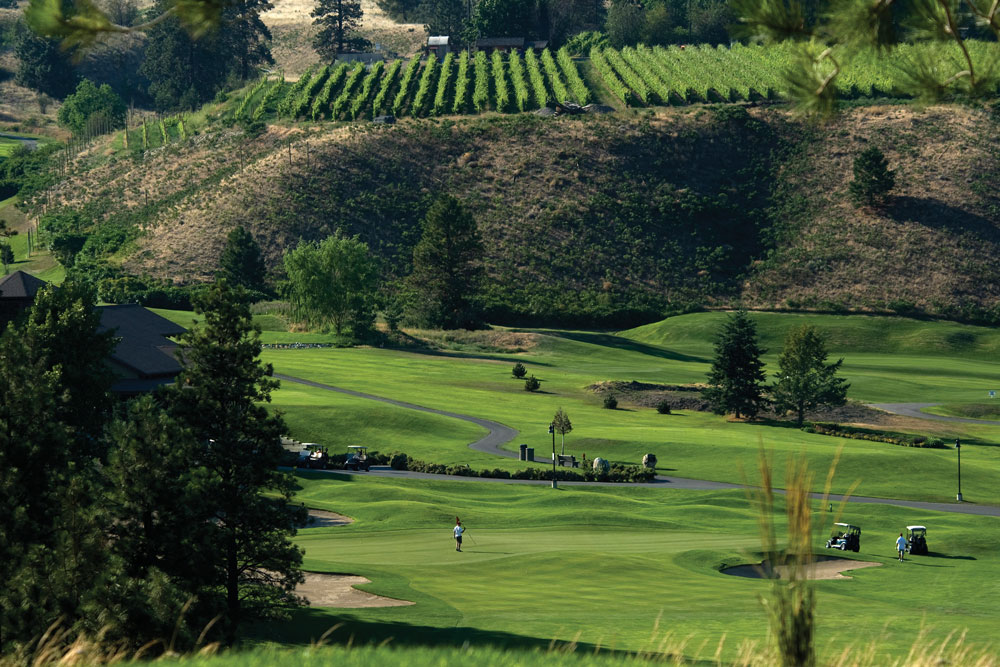 photograph courtesy of fairview mountain golf club
Fairview Mountain Golf Club.
As for golf, there are several courses in the area, with the Fairview Mountain Golf Club, near Oliver, widely regarded as the best of the bunch due to unique changes in elevation, challenges for golfers of all levels and spectacular views.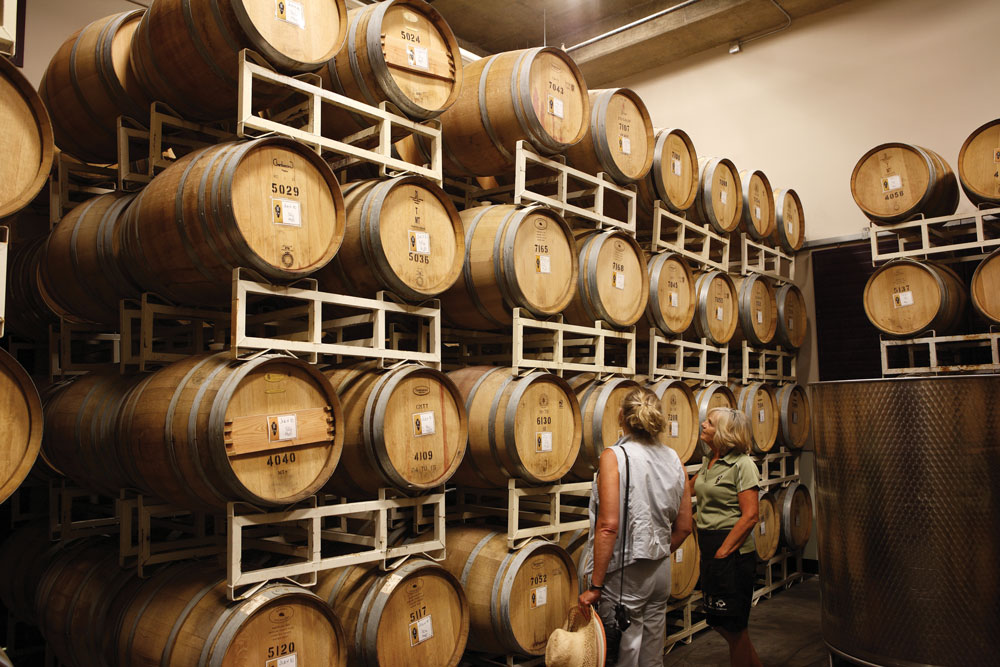 photograph courtesy of Destination Osoyoos
Nk'Mip Cellars.
And then there's the wine touring. The number of vineyards in the Okanagan Valley has exploded over the last decade, but there's been a particular focus in the Golden Mile, which last year became the first area in the Okanagan to receive a sub-appelation designation (official recognition of the area's unique grape-growing conditions and terroir). Visitors can take self-guided wine tours (it's easy to hit dozens of wineries within a very short drive) or arrange a tour with an outfit like Okanagan Wine Country Tours that will not only take care of the driving but can also set up more in-depth tours and meetings with winemakers for a deeper experience.
---
Travel tips from a Calgarian
Food blogger Heather Mitchell and her family have joined friends at the Nk'Mip Campground and RV Park for a week over the past few summers. Mitchell says she was immediately impressed by how much there is to do (and eat) in the Osoyoos area. Part of the draw is the proximity and easy access to Calgary – with a young son in tow, Mitchell likes that she can get there in a single day and that there's plenty to see on the way.
It also helps that there's enough going on in the area that everyone's interests are met: her son can play in the water, she can fulfill her foodie requirements and her husband can pursue some outdoor recreation.
"My husband is a huge cyclist. He'll get up in the morning and do a ride, and then he'll come back and relax and we'll go on a wine tour or to a really nice restaurant," Mitchell says. "The other thing I like to do is to go to little towns like Keremeos [about a half-hour away]. I'll go to Parson's Fruit Stand, where they make their own jam and carry this garlic scape salt. I go and stock up."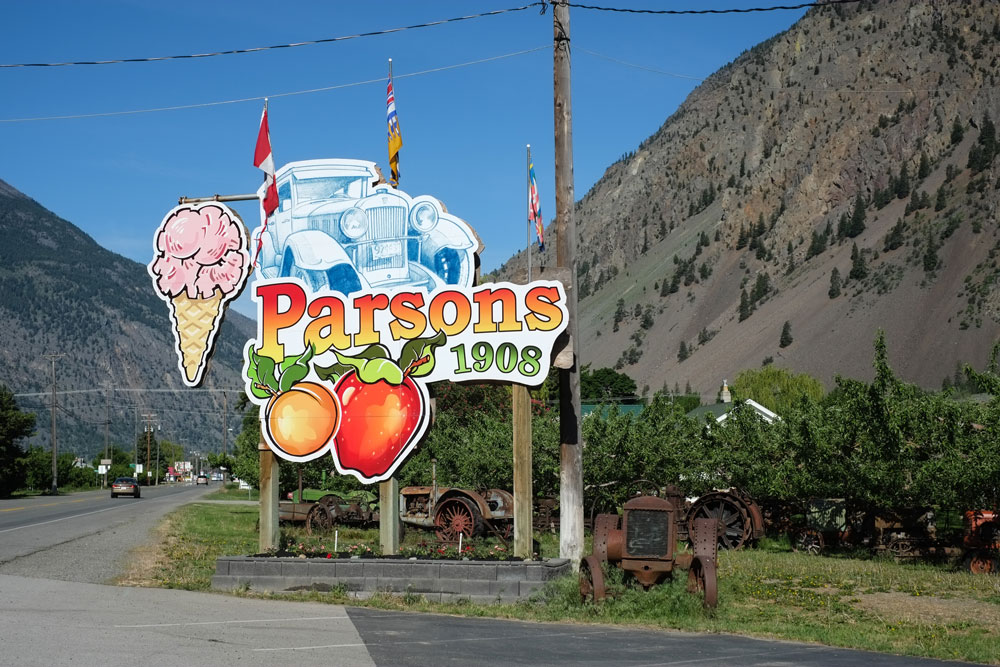 photograph by david niddrie
Parsons Fruit Stand.