Bags? Check. Skis? Check. Passport? Check. Time to hit the open road and embark on a ski adventure that will take you to four resorts in two countries in seven days.
The thrill of the hunt for powder is palpable as the rising sun marks the start of what will be an epic road trip from Calgary, through B.C. and into Montana and Idaho, then back to B.C. and home.
---
Day 1
Calgary to Fernie, B.C.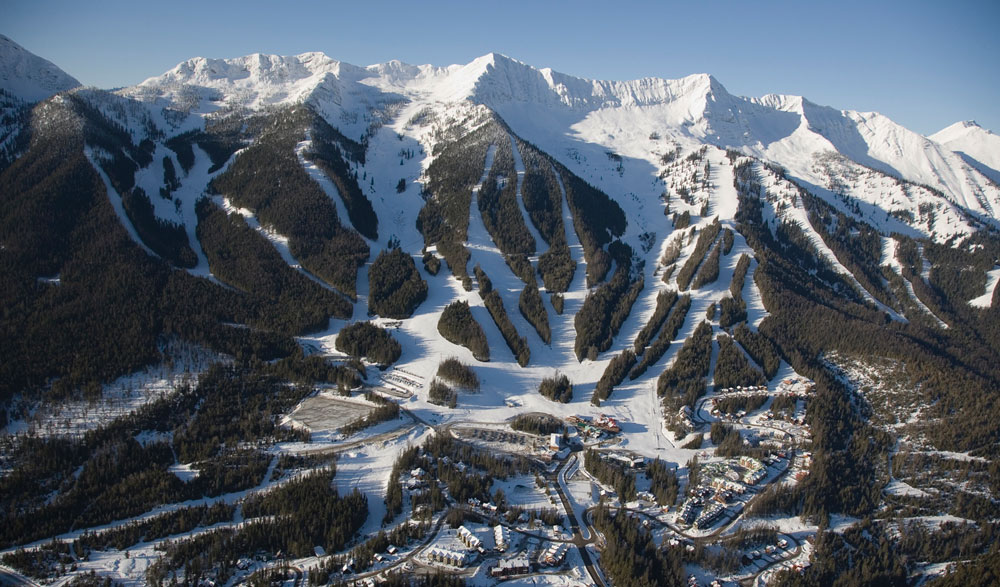 photograph courtesy of Resorts of the Canadian Rockies
Fernie Alpine Resort.
Fernie is roughly three and a half hours from Calgary, so you'll need to wake up early if you have your sights set on a full day of skiing.
Head south via the scenic Cowboy Trail (a.k.a. Highway 22). About 30 minutes in, you'll pass through the town of Black Diamond, where you can pick up a quick java at The Stop Coffee House and Gathering Place. Continue south along the Cowboy Trail before heading west on the Crowsnest Highway (Highway 3) to Fernie.
Located in the East Kootenays, Fernie Alpine Resort has 2,504 acres of terrain and five impressive alpine bowls. With average snowfalls of 11 metres, the snow here is consistently deep, although Fernie is also known to get rain from time to time during the winter, which can quickly make the snow near the bottom of the resort heavy. Advanced skiers should take note that, on new snow days, the resort will open its expert terrain gradually – a result of having to complete thorough avalanche checks before giving
the go-ahead. While this can be frustrating if you're itching to get up to the good stuff, the flipside is that, if you stay alert for opening announcements, you can get fresh tracks throughout the day.
No trip to Fernie is complete without an aprs-ski session at the resort's legendary Griz Bar (named after the area's mythical mascot). The bar shouldn't be confused with the Griz Inn, a ski-in/ski-out lodge right at the base of the ski hill. It's a good place to stay the night, since after aprs beers you don't really want to be driving anywhere. You can also dine at the Inn's Rusty Edge Restaurant, which offers a variety of pizzas such as the Barnyard with beef short rib, caramelized onions and Gruyre cheese.
Fernie is a fun town for bar-hopping, but you'll want to get to bed at a reasonable hour as you have another drive-and-ski day coming up.
---
Day 2 and 3
Whitefish Mountain Resort, Montana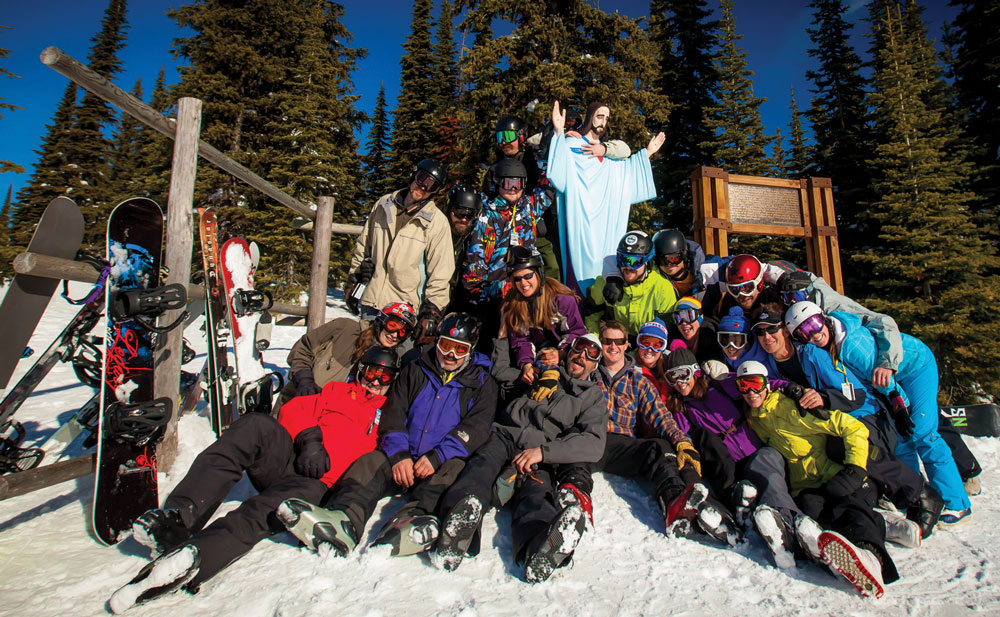 photograph by Green Kat Photography courtesy of Whitefish Mountain Resort
Revellers pose with the statue known as Big Mountain Jesus at Whitefish Mountain Resort.
Before setting out for Whitefish, have breakfast in Fernie at Big Bang Bagels on 2nd Avenue, which serves up authentic Montreal-style bagels and opens daily at 7 a.m.
Located just 175 kilometres from Fernie via US Highway 93 south, you'll be able to get in a full day of skiing at Whitefish Mountain Resort if you get on the road early.
The resort is a 10-minute drive from the town of Whitefish. The slope-side village offers plenty of on-mountain lodging. The resort has more than 3,000 acres of skiable terrain and averages more than 760 centimetres of snowfall per year. If you like steep tree runs, head to Hellroaring Basin, which has stunning views of Glacier National Park. Be careful of the deep tree wells here and heed the warnings not to ski this part of the resort alone. Also worth exploring are the runs off the new Flower Point Triple Chairlift, which opened last year and provides access to 200 acres of terrain on the resort's north side.
Make sure you hit the Bierstube for aprs-ski, which may lead to dancing the night away to live music, before stumbling back to your room next door at Edelweiss Lodge. While the Edelweiss condos wouldn't be described as "luxury," they are clean and comfortable and offer good value (along with proximity to the "Stube"). They also have fireplaces and are just a short walk from the lifts.
The Hellroaring Saloon is another great spot for lunch or aprs-ski. The Saloon occupies the resort's oldest building – a three-storey chalet built in 1949 – and has ski-in/ski-out access.
At some point during your visit, ride up Chair 2 and follow the signs to Ed's Run. There, you will find a quirky surprise, the Big Mountain Jesus. This six-foot statue was erected in 1954 by the Knights of Columbus as a memorial to soldiers who died during the Second World War. These days, you'll find it adorned with hippie sunglasses, ski helmets or Mardi Gras beads. Come to Jesus (and take a selfie, while you're there).
No trip to Whitefish is complete without dinner at Cafe Kandahar, located within the Kandahar Lodge at the resort. This warmly lit, romantic restaurant is consistently fantastic, rivalling Calgary's top restaurants, albeit with significantly lower prices. Order anything with wild forest mushrooms, or treat yourself to the chef's tasting menu, prepared by owner and executive chef Andy Blanton.
---
Day 4
Whitefish, Montana, to Schweitzer Mountain Resort, Idaho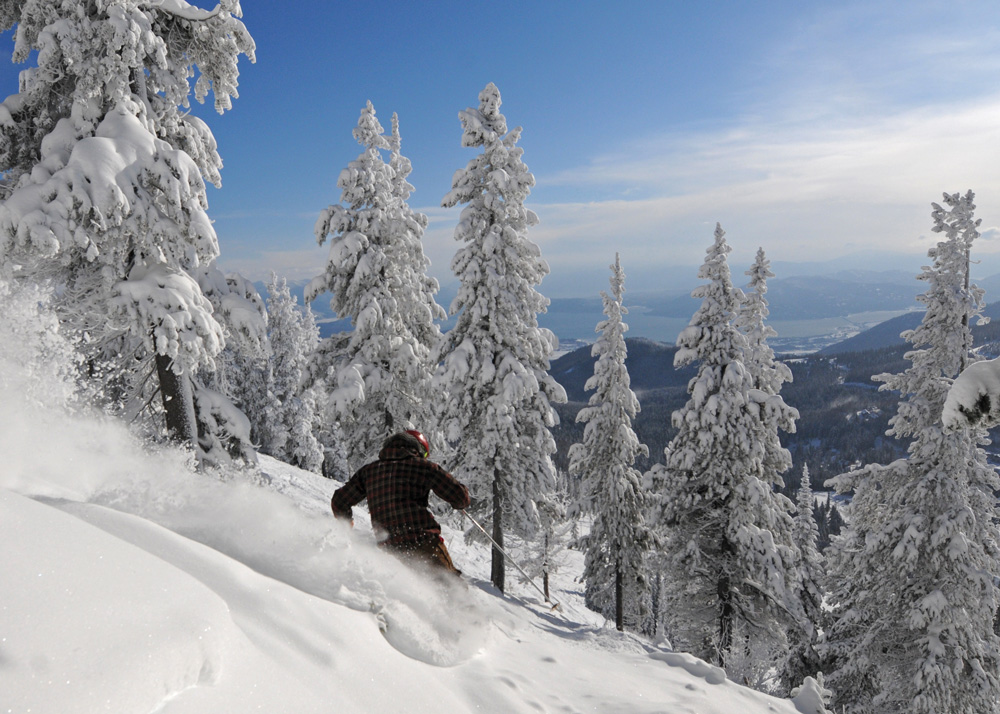 Photograph courtesy of Schweitzer Mountain Resort
Schweitzer Mountain Resort.
Before setting out for Idaho, visit the town of Whitefish, nestled at the foot of Big Mountain just down from the resort. Start the day at Amazing Crepes, where the breakfast crepes are made from scratch and cooked on authentic French cast-iron crepe burners.
From Whitefish, it's a leisurely drive of approximately three hours and 40 minutes to Schweitzer Mountain Resort in Idaho, located just up from the town of Sandpoint. To get to Sandpoint, take US 93 south to Kalispell, then head west on Highway 2.
If you have time, make a stop in Bonners Ferry, located on the Kootenai River approximately 50 km before Sandpoint. In the 1860s, the town formed around a river crossing used by prospectors heading into Canada during the East Kootenays gold rush and its downtown area is rich in history.
Plan to do dinner in Sandpoint on the shores of Lake Pend d'Oreille. Lakeside restaurant Trinity at City Beach serves up local entrees, such as Idaho Ruby Trout, that can be paired with the restaurant's own City Beach Chardonnay from the Sandpoint-based Pend d'Oreille Winery.
After dinner, head up the switchback road from Sandpoint to Schweitzer Mountain Resort (a 15-minute drive) and check into Selkirk Lodge – European-style suites located in the resort's village area, offering ski-in/ski-out access.
---
Day 5
Schweitzer Mountain Resort, Idaho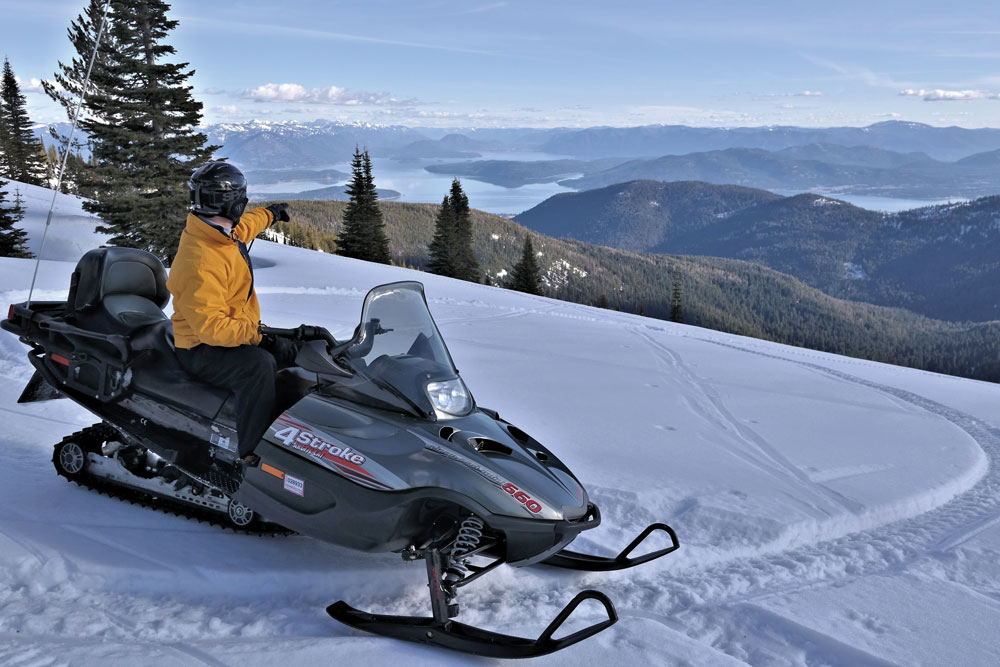 photograph courtesy of Selkirk Powder
Schweitzer Mountain Resort offers guided snowmobile tours of the local backcountry.
Located in the Selkirk Mountain Range, Schweitzer Mountain Resort is part of the "Powder Highway," an area encompassing the south B.C. Kootenays and the northern panhandle of Idaho with a high concentration of resorts and heli- and cat-ski operations. Schweitzer is currently marketing itself to Canadians by offering discounts for Lake Louise Plus Card holders, as well as discounted lift tickets for season pass holders from its sister resort of Whitewater in Nelson, B.C.
Schweitzer is the biggest ski resort in Washington and Idaho, with 2,900 acres of terrain. Start your day by taking in the view from the summit, where, on a clear day, you can see three mountain ranges, three states and two countries. Adventurous skiers should explore the tree runs off the backside of the Snow Ghost chair.
Five days into your trip, if you'd like a break from skiing, the resort offers full-day guided snowmobile tours into the local backcountry.
Schweitzer's European-style resort village contains several dining options. Take note, however, that things generally shut down early – even in Sandpoint, you'll be hard-pressed to find restaurants or bars open after 10 p.m. Make things easy by dining in-house at the Selkirk's Chimney Rock Grill, which offers a range of hearty seafood, steak and pasta entrees, as well as a bar menu of burgers, and other standards like fish and chips or flatiron steak and fries.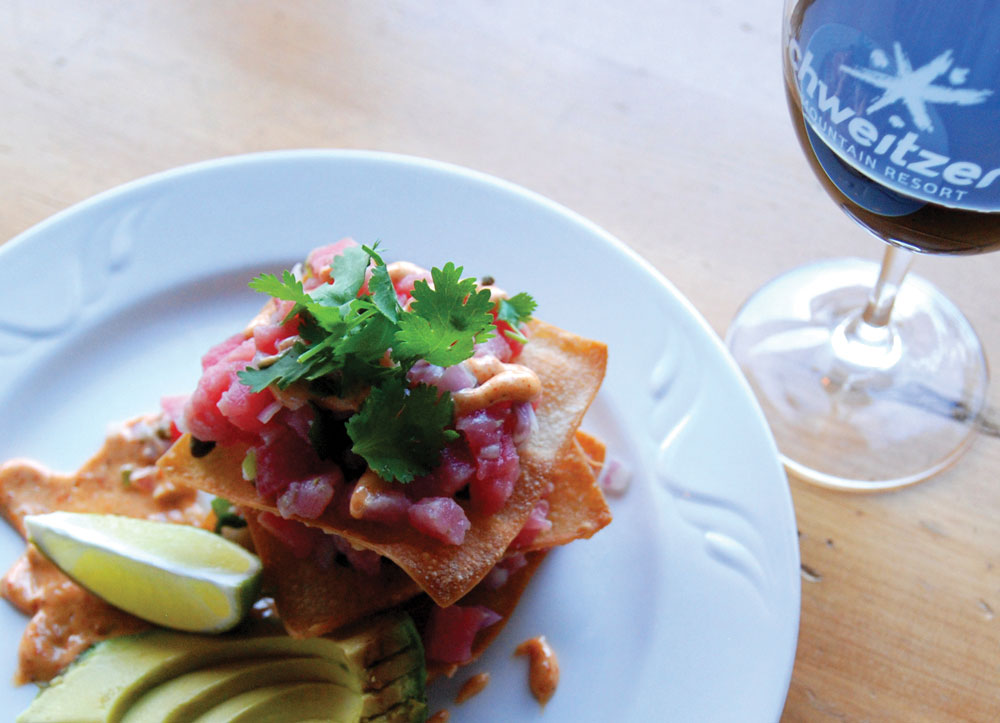 photograph courtesy of Schweitzer Mountain Resort
The Chimney Rock Grill at Schweitzer's Selkirk Lodge.
Cap your stay at Schweitzer by soothing your ski-weary bones with a moonlight soak in Selkirk Lodge's outdoor hot tubs. The tubs overlook the ski hill and, at night, you can see the glow of the snow-grooming machines smoothing things out for the next day.
---
Day 6
Schweitzer Mountain Resort, Idaho, to Panorama Mountain Village, B.C.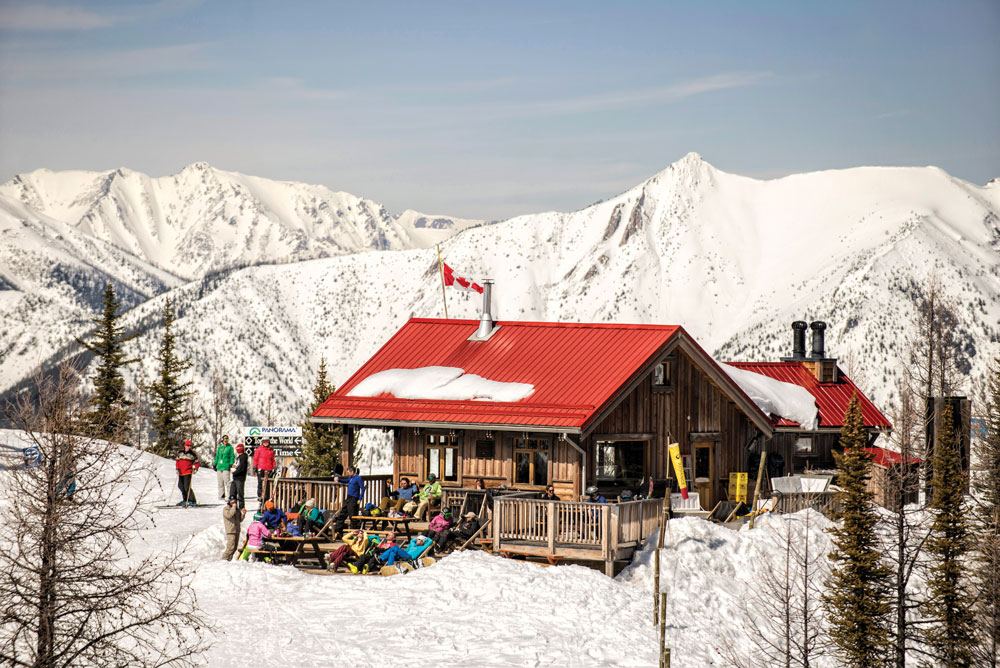 photograph by Kari Medig, courtesy Panorama Mountain Resort
Summit Hut at Panorama.
Sleep in this morning if you like. All that lies before you is the four-and-a-half-hour drive to your last ski destination of Panorama Mountain Village near Invermere, B.C.
From Sandpoint, take US 95 north to cross the U.S.-Canada border, continuing on toward Invermere on B.C. Highway 93. Plan to stop for lunch at the St. Eugene Golf Resort and Casino located just northwest of Cranbrook. Formerly the Kootenay Indian Residential School operated by the Roman Catholic Church, the historic building has been beautifully renovated and repurposed as a resort and casino, co-owned by the local Ktunaxa Nation, the Samson Cree Nation and the Chippewas of Rama First Nation. There are several dining options at St. Eugene, but Fisher Peak Lounge is a good pick for its view of the Purcell Mountains.
Panorama Mountain Village has a wide variety of on-hill accommodations. The Hearthstone Townhomes in the Upper Village offer ski-in/ski-out access, as well as king-size beds and in-room fireplaces. Hearthstone is directly across from the Panorama Springs Pools at the Panorama Springs Lodge, the largest slope-side hot pools in Canada. Your room key from the Hearthstone provides access to the pools, which include one large cold pool, two waterslides, a warm pool, a splash pad, two hot tubs and a sauna. Surrounded by snow, it's a great place to relax and recuperate after six days on the slopes and on the road. Your muscles will thank you.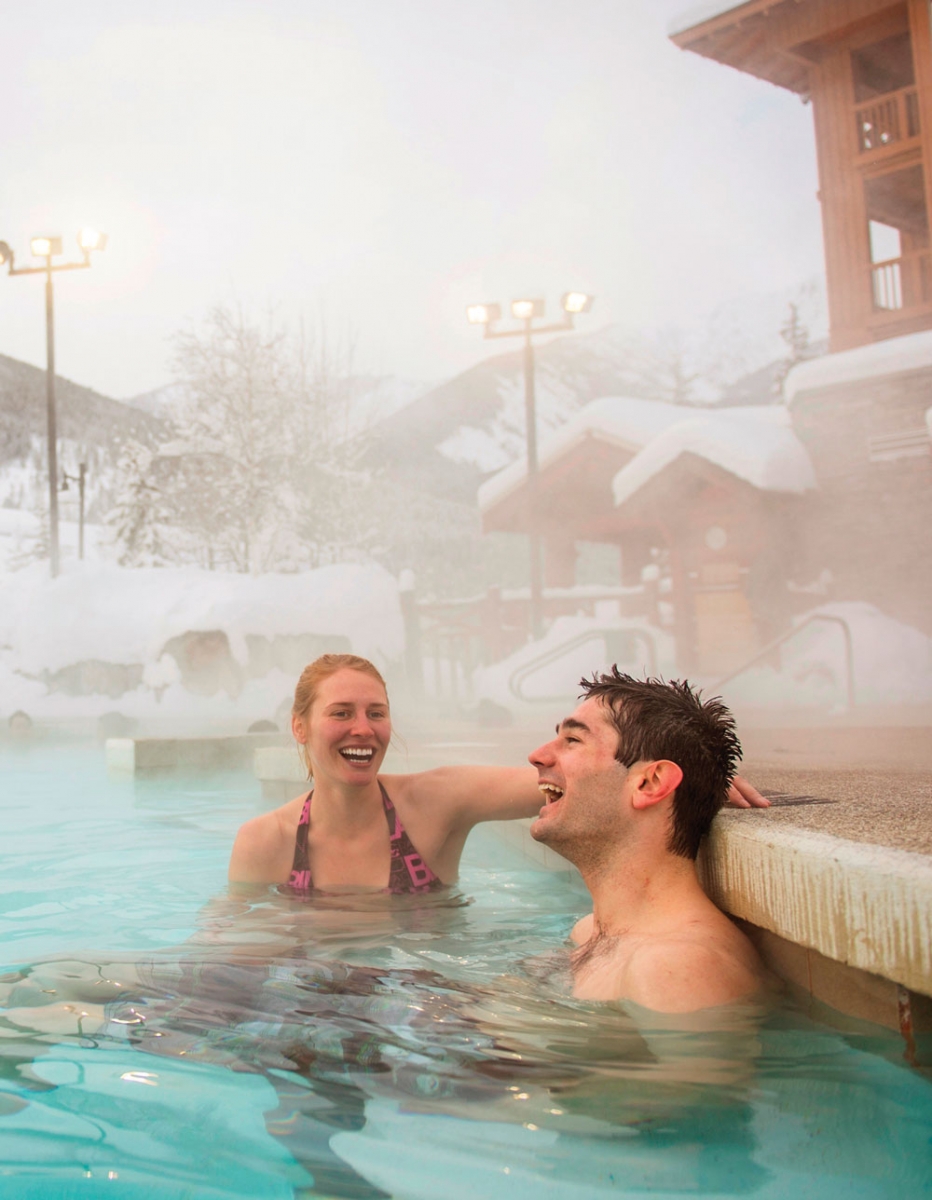 photograph by Kari Medig, courtesy Panorama Mountain Resort
Slope-side hot pools at the Panorama Springs Lodge.
Day 7
Panorama Mountain Village, B.C., to Calgary
Panorama is another Powder Highway resort, with one of the most impressive vertical rises in North America (4,000 feet). It's not surprising that skiers love it for its long descents.
Start your day at Picnic Cafe, which serves up fresh baked goods and locally roasted Kicking Horse Coffee. After breakfast, take the Summit Quad chair to check out the full scope of the terrain – the view from the top of Summit lives up to the name "Panorama," with snow-capped peaks as far as the eyes can see. Experienced powder-seekers will want to explore Taynton Bowl, a former heli-skiing area that offers 700 acres of patrolled terrain, or charge down 200 acres of double-black diamond (most difficult) runs in the Extreme Dream Zone. Wherever you decide to ski, grab lunch at the Summit Hut, located off the Summit Quad chair, an on-mountain chalet known for fabulous fondue and perogies, then warm up by the wood fireplace, or bask in the sun on the patio with a cappuccino.
Best to skip aprs today in order to make tracks back to Calgary – a three-and-a-half-hour drive that starts by heading north on B.C. Highway 93, and connecting with the Trans-Canada Highway at Castle Mountain Junction. If the weather cooperates, you'll be home in time for an aprs-ski-trip glass of wine and a soak in your own bathtub as you plan your next great ski road-trip adventure.