When: April 1
Calgary's City & Country Winery offers a great selection of wine, and you can sample them at its upcoming tasting festival. There will be 15 different wines to try during the two-hour event, including two new releases. Tickets are $55 each.
544 38A Ave. S.E., shop.cityandcountrywinery.com
When: April 1 to 30
The second annual Filipino Restaurant Month in Canada returns this month and eight Calgary restaurants will be offering special prix-fixe menus that showcase the great flavours and ingredients in Filipino cuisine. Grab a bite at one of the participating restaurants, which include Amihan Grill + Bakeshop, Chopstix Filipino Restaurant, Max's Restaurant, Pacific Hut, Rise N' Shine Breakfast Place, Barrio Fiesta, Nan's Noodle House and Paolo's.
Read more: Filipino Restaurant Month Returns to Calgary in April
Shop for locally made jewellery, candles, food, paper products and more at one of the many art and craft markets happening in and around Calgary this spring.
Read more: Spring Art and Craft Markets In and Around Calgary
When: April 4 to 9
Are you a fan of the 1990 film Pretty Woman? If so, don't miss Broadway Across Canada's next production, which brings the popular rom-com to life in musical form for eight Calgary performances.
Southern Alberta Jubilee Auditorium, 1415 14 Ave. N.W., calgary.broadway.com
View this post on Instagram
When: April 6
It's never been easier to immerse yourself in the Calgary art scene thanks to events like Free First Thursdays at Contemporary Calgary. As the event name suggests, guests can visit the gallery for free on the first Thursday evening of each month. You can go on one of the free hourly guided tours or check out the art on your own. Be sure to register in advance.
701 11 St. S.W., 403-770-1350, contemporarycalgary.com
There's a new Japanese dining destination in Kensington. Opt for an appetizer, choose from the wide selection of sushi and small/large rolls, or consider trying the chef's signature dish, sakekasu miso sablefish risotto. You can also put yourself in the chef's knowledgeable hands by ordering the chef's menu (omakase), which is available with limited seating at 5 p.m. and 7 p.m.
100, 1130 Kensington Rd. N.W., satsuki.ca
When: April 12 to 23
One Yellow Rabbit returns this month with the world premiere of a musical called Nightingale Alley. The production promises to be a unique theatre experience with its lyrics that are 200+ years old and drawn from 19th-century underground poets and minstrels.
Big Secret Theatre, oyr.org
Looking for a way to support local businesses right now? Cast your vote to help determine the winner of the Readers' Choice Award for the 2023 Made in Alberta Awards. Every eligible vote will be entered to win a Made in Alberta Awards Tote Bag Prize Package ($142 value). Voting ends on April 21, 2023.
View this post on Instagram
The teams behind Burwood Distillery and Vaycay Brew Co have come together to open "a collaborative spirit lounge and taproom." Along with beers and cocktails from each company, guests can snack on handmade pasta, pizza, sandwiches, chicken wings and share plates like garlicky spiced prawns and bourbon crab dip.
2566 Flanders Ave. S.W., 825-540-8335, @verandayyc
When: April 14 to 29
The Shakespeare Company is taking on one of history and literature's most famous kings this month. Richard lll promises plenty of drama and tragedy as it tells the story of a would-be king willing to do just about anything to ascend the throne.
The Studio at Vertigo Theatre, 161, 115 9 Ave. S.E., shakespearecompany.com
When: April 20 to 30
The Calgary Underground Film Festival is back (and celebrating its 20th anniversary) this month with a full lineup of films and events. Watch for the list of films to be released on March 29.
When: April 21
Don't miss the chance to see what Bragg Creek's food scene has to offer at this evening event. Taste of Bragg Creek will feature more than 25 local restaurants, caterers and businesses that you can get samples from. Purchase some tasting tickets ($2) and start snacking.
Bragg Creek Community Centre, 23 White Avenue, tasteofbraggcreek.ca
View this post on Instagram
When: April 21 and 22
Part of the TD Amplify Cabaret series, Earth: Mothership is the third edition of the space-themed variety show hosted by Sargeant X Comrade. Along with visual projections by Mackenzie Bedford and video by Stefan Lewis, this can't-miss show will feature a range of performances by R&B musician Zenon, Walter MacDonald White Bear and Shone Thistle, and violinist James Watson.
Engineered Air Theatre, artscommons.ca
If you love shopping at Hello Vintage in Canmore, you'll be happy to hear that the vintage clothing store now has a new location in Calgary's Inglewood neighbourhood as well. Pop in to browse the aisles for apparel, shoes, hats and more.
1228 9 Ave. S.E., @hellovintage_yyc
When: April 22 and 23
Now in its 36th year, the Calgary Stampede's Aggie Days is a free event that invites guests to learn more about agriculture and farming, see animals up close and check out events like extreme cowboy racing. Aggie Days is open to the public on April 22 and 23 from 10 a.m. to 4 p.m.
Nutrien Western Event Centre, ag.calgarystampede.com
Need a new head shot? Want to get some photo booth shots with your friends? The Portrait has you covered. This new photo studio, which recently opened in Victoria Park, makes it easy to get new self-portraits with its selection of backdrops, props and photo options.
224 14 Ave. S.E., 587-956-7121, theportrait.ca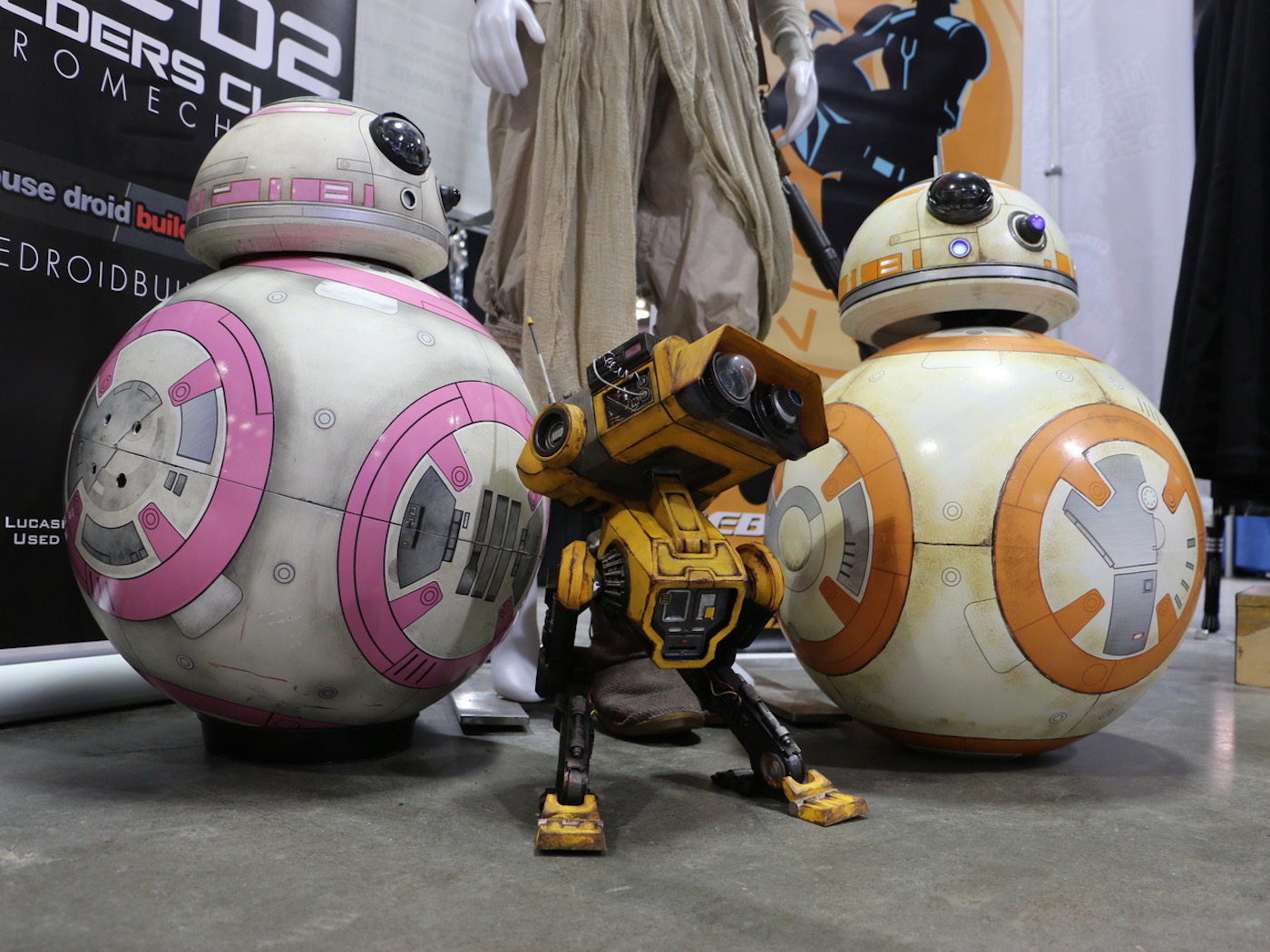 When: April 27 to 30
James McAvoy, Danny Trejo, Christina Ricci, Ryan Colt Levy, Jason Fabok, Thousand Faces Cosplay — these are just some of the celebrities, voice actors, comic creators and cosplayers you can see at this year's Calgary Expo. Now in its 16th year, the comic and entertainment expo promises an exciting mix of panels, retailers, workshops and events like the Pow! Parade of Wonders that happens downtown.
When: On now until fall 2023
Sacred Defenders of the Universe: The Four Sacred Elements is a new digital immersion experience where guests will see four Indigenous superheroes come to life. Step inside and follow the story of Aqueous, Embers, Terra and Aireus as you learn about Indigenous science and languages, the four elements and more.
220 St. George's Dr. N.E., 403-817-6800, sparkscience.ca
The Banquet, which already has a location in the University District, is now also open in Mahogany. The bar offers plenty of food and drinks to fill up your night, but one of the most appealing things about it is the variety of games you can play while you're there. Try your hand at 10-pin bowling, ping pong, darts or arcade games either before or after your meal.
1000, 80 Mahogany Rd. S.E., thebanquetbar.com
When: April 30
Calling all Ted Lasso fans! The Cavalry FC soccer team is starting a new season soon and you can catch them playing on their home turf at Spruce Meadows on April 30. Grab some snacks from the concession area and cheer on the team as they take on Winnipeg's Valour FC.
Atco Field, Spruce Meadows, 18011 Spruce Meadows Way S.W., cavalryfc.canpl.ca