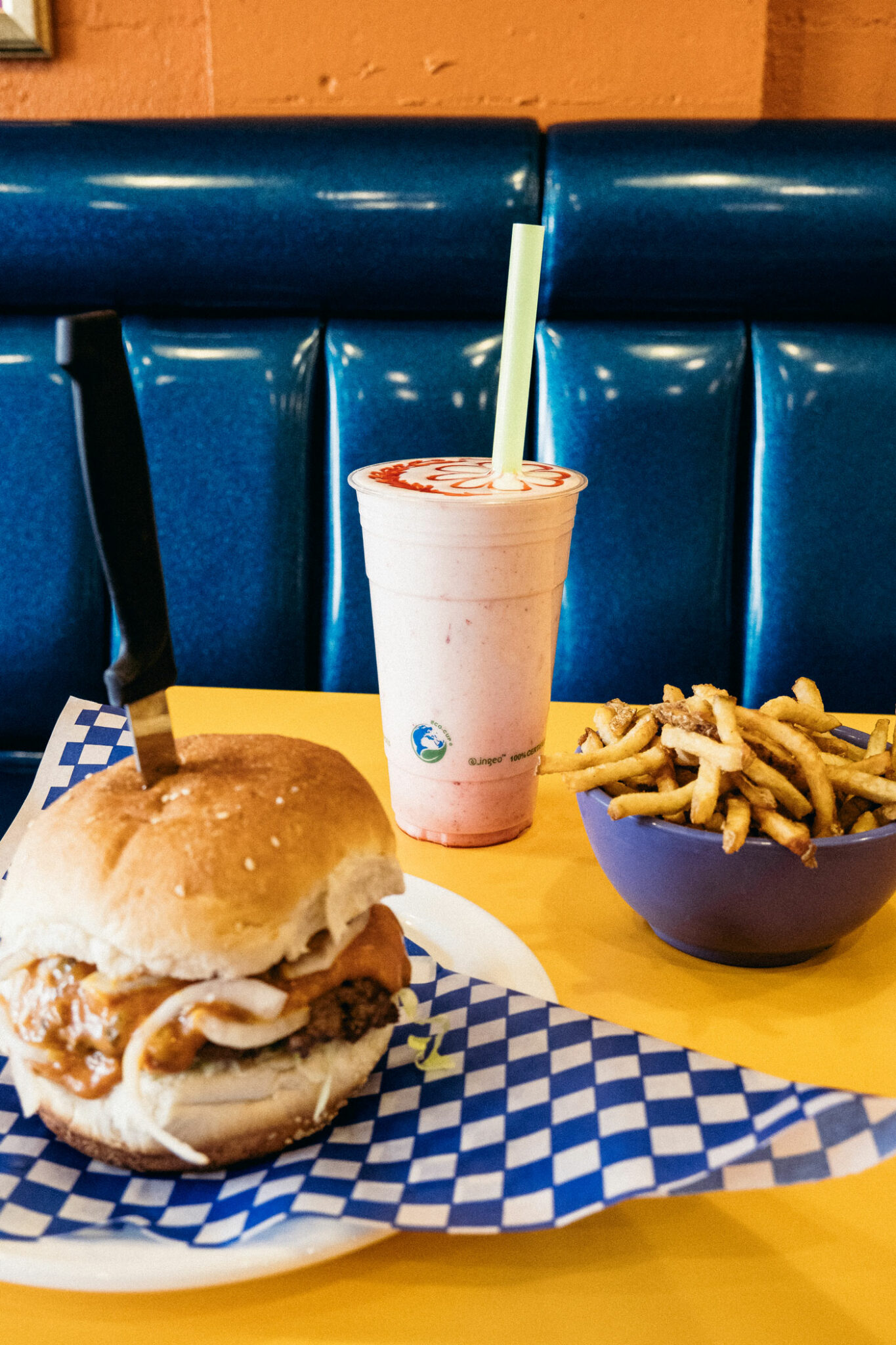 No. 1
This perennial favourite has long been a go-to for Calgary burger-heads, serving up an eclectic selection of whimsical creations topped with things like mac 'n' cheese wedges or hot dogs, and a long list of crazy milkshake flavours. Both locations also have classic arcade games to play while you wait for your order to come up.
908 Edmonton Tr. N.E., 403-230-7070 and 2129 33 Ave. S.W., 403-454-2902, boogiesburgers.com, @boogiesycc
Runners-up
Lil' Empire Burgers serves up delicious house-made hot dogs and burgers made with local beef from sister company Empire Provisions. Be sure to add an order of Dirty Fries to your meal. As an added bonus, each Lil' Empire location shares a space with either Annex Ale Project or Made By Marcus, making it easy to get a beer or an ice cream after your meal.
4323 1 St. S.E. (inside Annex Ale Project), 403-453-8994; and 1105 1 Ave. N.E., 403-455-4007; lilempireburger.com, @lilempireburger
This classic Inglewood diner has been serving burgers, hot dogs, onion rings and soft serve ice cream for decades. Choose from more than two dozen different types of burgers available on their own or in combos, and don't forget to order a Dole Whip in a cup or cone for dessert.
802 12 St. S.E., 403-265-5198, inglewooddrivein.com, @inglewooddrivein
At Iyycburg's two locations in Sundance and Sage Hill, the burgers are customizable and can be topped with things like homemade hot sauce, a fried egg or a samosa. Add a milkshake and a side of onion rings or butter chicken poutine to complete your meal.
19 Sunmills Dr. S.E., 403-287-0011; and 220, 129 Sage Valley, Sage Hill Common N.W., 825-407-8620;
iyycburg.com, @iyycburg
Right in the heart of 17 Ave. S.W., Clive Burger is all about local, from the beef it uses to the beers and craft sodas it serves. The burgers come with your choice of toppings, but the eatery's famous Clive Sauce is a must-try for your burger or fries.
736 17 Ave. S.W., 403-229-9224, cliveburger.com, @cliveburger