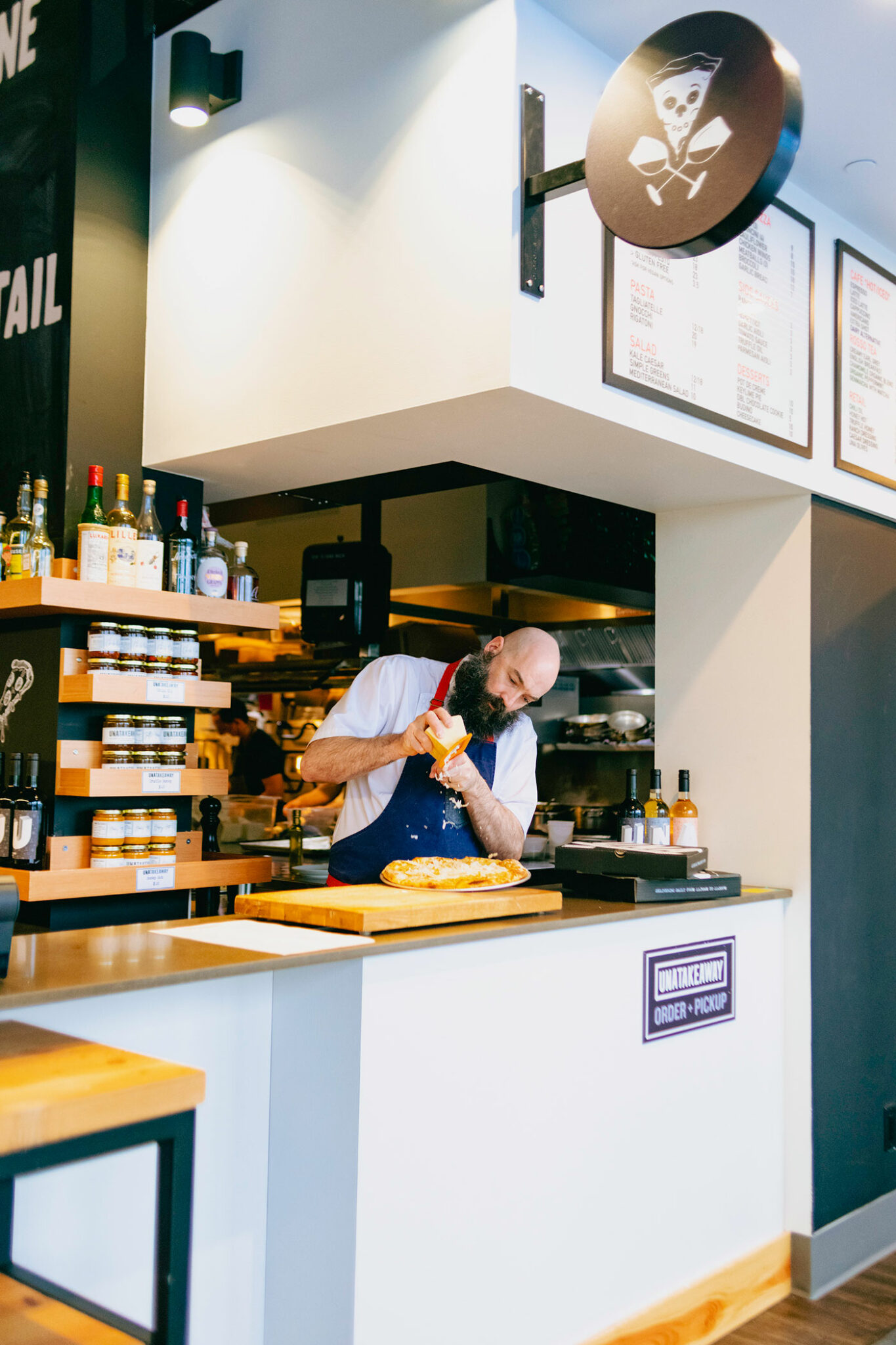 No. 1
Since it opened more than a decade ago, Una Pizza + Wine on 17th Avenue S.W. has become a home-grown success. It's consistently packed, night after night, with patrons enjoying delicious pizza, pasta and other dishes in a convivial atmosphere. So, it's no surprise, really, that other corners of the city wanted a piece. There are now four Unas: West Springs, Bridgeland and a location in Banff, along with the 17th Avenue S.W. location (six if you count Saskatoon and the Una Takeaway counter next to the original). And the expansion hasn't gone unnoticed, as this year, for the first time, Avenue readers recognized Una Pizza + Wine as their favourite restaurant chain. It's an honour Una can add to its perennial Best Pizzeria placing, which it also claimed this year.
Three Calgary locations, plus one Banff location, unapizzeria.com, @unacalgary, @unabanff
Runners-up
With the first location opening in Calgary in 2009, OEB Breakfast quickly became one of the top places for high-quality breakfast. OEB uses fresh, seasonal ingredients in all its dishes, which range from morning classics to inventive options like the French toast trifle or the 10 breakfast poutines that come smothered in brown butter hollandaise.
Four Calgary locations, eatoeb.com, @oeb_breakfast
Cactus Club Cafe offers a casual fine-dining atmosphere with an emphasis on approachable fresh food and great cocktails. The menu offers something for everyone with options like a crispy tofu bowl, Szechuan chicken lettuce wraps, the spicy ahi sushi roll or the butternut squash ravioli with prawns, not to mention cocktails like the classic frozen peach bellini.
Three Calgary locations, cactusclubcafe.com, @cactusclubcafe
National is a go-to for those looking for a night on the town. Along with a huge rotating list of local and imported beers, the local chain offers a great casual food menu featuring pizzas, burgers and other elevated pub fare. Head to the 8th Avenue location for a great rooftop patio experience or visit the 10th Avenue location for a few rounds of bowling below the restaurant.
Four Calgary locations, ntnl.ca, @ntnl10, @ntnl17, @ntnl8, @ntnlwesthills
Kinjo's six Calgary locations offer delicious Japanese food in a casual, comfortable environment. The menu features authentic Japanese dishes like tempura, chicken karaage and takoyaki, not to mention a huge range of sushi and sashimi offerings.
Six Calgary locations, kinjosushiandgrill.com, @kinjo_sushi
Jerusalem Shawarma serves classic Mediterranean flavours at 10 locations around the city. The menu features plates, wraps, poutines, salads and rice bowls with your choice of donair, shawarma, falafel, kababs and more. Don't forget to order some baklava for dessert.
Ten Calgary locations, jerusalem-shawarma.ca, @jerusalemshawarma
This well-known chain offers a wide variety of tempting dishes and cocktails in an elevated atmosphere. The steak and sushi combo, Chicken Hunan Kung Pao and ahi tuna poke bowl are just some of the dishes you may want to try on your next night out. If you can, try to stop by one of the eight Calgary locations during the chain's popular happy hour.
Eight Calgary locations, earls.ca, @earlsrestaurant
The Keg is a go-to restaurant for steak fans. The popular, Canadian-owned chain is known for its consistent quality steaks with sides like the always-tasty, twice-baked potato. Be sure to end your meal with the popular Billy Miner pie featuring mocha ice cream, hot fudge, caramel, almonds and a chocolate crust.
Five Calgary locations, kegsteakhouse.com, @thekegsteakhouse