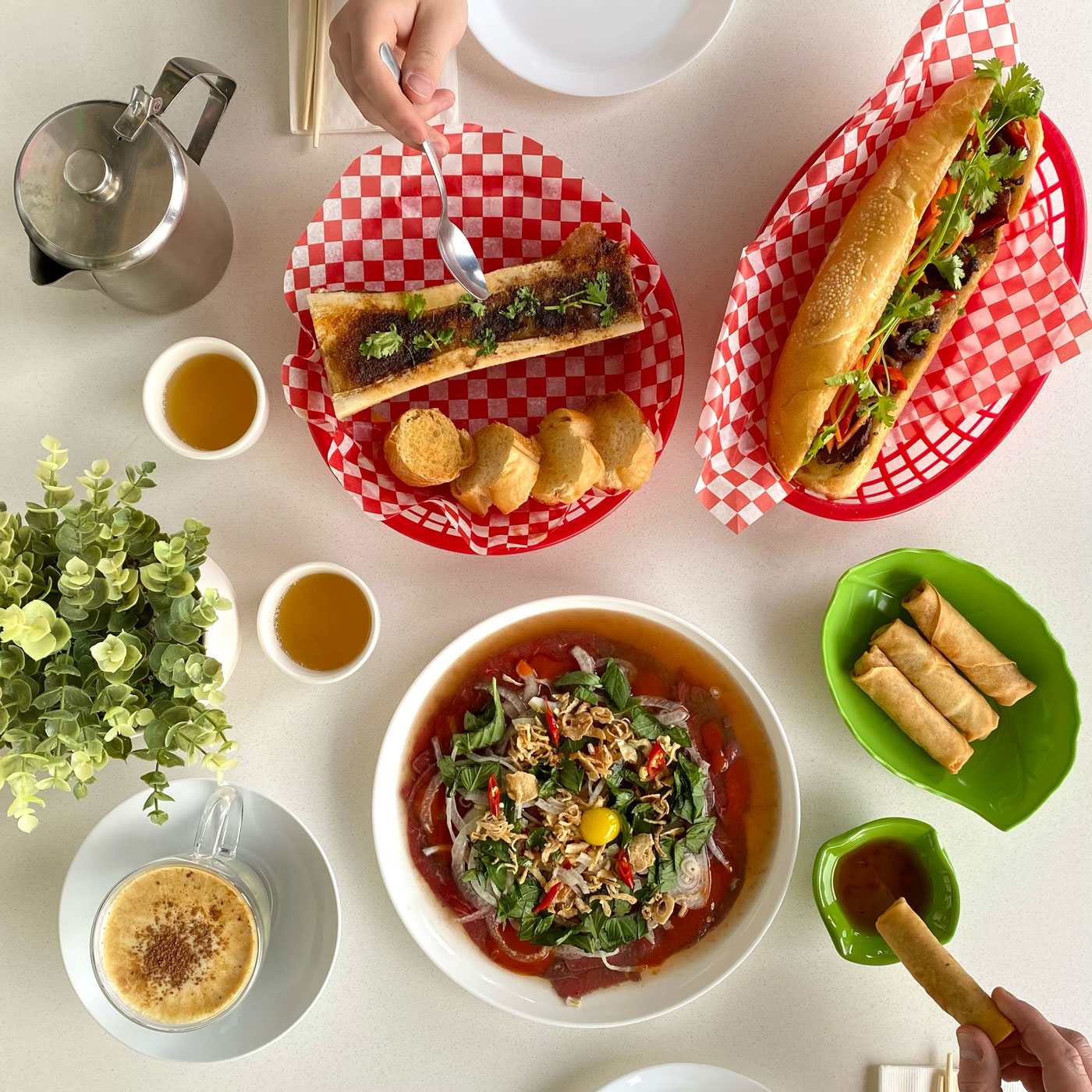 Located in Forest Lawn, this family-run restaurant has been a neighbourhood staple since 2008. A love of food and cultural tradition is at the heart of what Pho Dau Bo stands for, and guests get to experience that as they dine here. A flavourful menu, bustling atmosphere and friendly staff make this a prime destination for anyone seeking camaraderie and a great bowl of pho.
4909 17 Ave. S.E., 403-272-5160, phodaubovietnamese.com, @phodaubo
This subterranean eatery can be a bit hard to find — look for the "You are Here" sign down the steps — but once you do find it, you won't want to leave. The tropical Vietnamese restaurant buzzes with energy and offers a cozy atmosphere for snacking on caramelized pork belly skewers, Vietnamese subs and the refreshing mango salad. And it wouldn't be a trip to Paper Lantern if you didn't try one of the creative cocktails like the pandan pain killer or banana old fashioned.
115 2 Ave. S.E., 403-457-7765, paperlantern.ca, @paperlanternyyc
The menu at this modern, downtown restaurant fuses elements from Chinese, Korean and Vietnamese cuisines. Be sure to order at least one of the char siu sesame doughnuts, plus dishes like the chili lime nuoc cham chicken wings and and pot au pho. The portion sizes are generous here, so the dynamic flavours are best enjoyed when shared amongst family and friends.
815 8 Ave. S.W., 403-475-1899, purekitchenbar.com, @purekitchenbar
With four locations in Calgary, you won't have to travel far to get your fill of Golden Bell's Vietnamese cuisine. The restaurant's famous satay peanut noodle soup is a must-try, plus there's a delicious variety of spring rolls, vermicelli, stir-fries and more to satisfy your cravings.
Four Calgary locations, goldenbell.ca, @goldenbellrestaurant
In 1987, the Du-Huynh family opened the first Oriental Phoenix restaurant. Specializing in traditional southern Vietnamese recipes, the restaurant makes its own sauces in-house and offers an expansive menu that includes rice vermicelli dishes, soups, stir-fried noodles and more.
104 58 Ave. S.E., 403-253-8189, orientalphoenix.net
After opening its doors in 2010, this family-run restaurant transitioned to an entirely vegan menu in 2014, which included creating its own house-made tofu. And in 2020, Tamarind was able to expand to a full sit-down restaurant, which is where guests can now fill up on delicious Vietnamese crepes, noodle soups and more.
908 12 Ave. S.W., 403-262-6644, tamarindyyc.ca