You've eaten a lot over the holidays and not really done a lot of exercise. That's all going to change come 2017, though. If you need some workout inspiration, we've got you covered.
Here, we compiled all the individuals we profiled in our Workout column this year. If you remember them all and are feeling confident, take quiz. Or, scroll down past the quiz and learn more about each of the inspiring, active Calgarians. We've paired a photograph of each individual with a snippet from the original article – click on the links to read to full articles, all written by Christina Frangou.
---
Five years after sustaining a spinal-cord injury in a big-mountain ski contest, the local skier's competitive drive is as strong as ever, as she pursues a spot on the national team with the goal of one day representing Canada at the Paralympic Winter Games. Today she maximizes her time water-skiing, mountain biking (she lies on her stomach on a specially built bike and steers with her arms), rowing, sailing, hiking, rock climbing and what she calls "aggressive tobogganing."
From Avenue's February 2016 issue.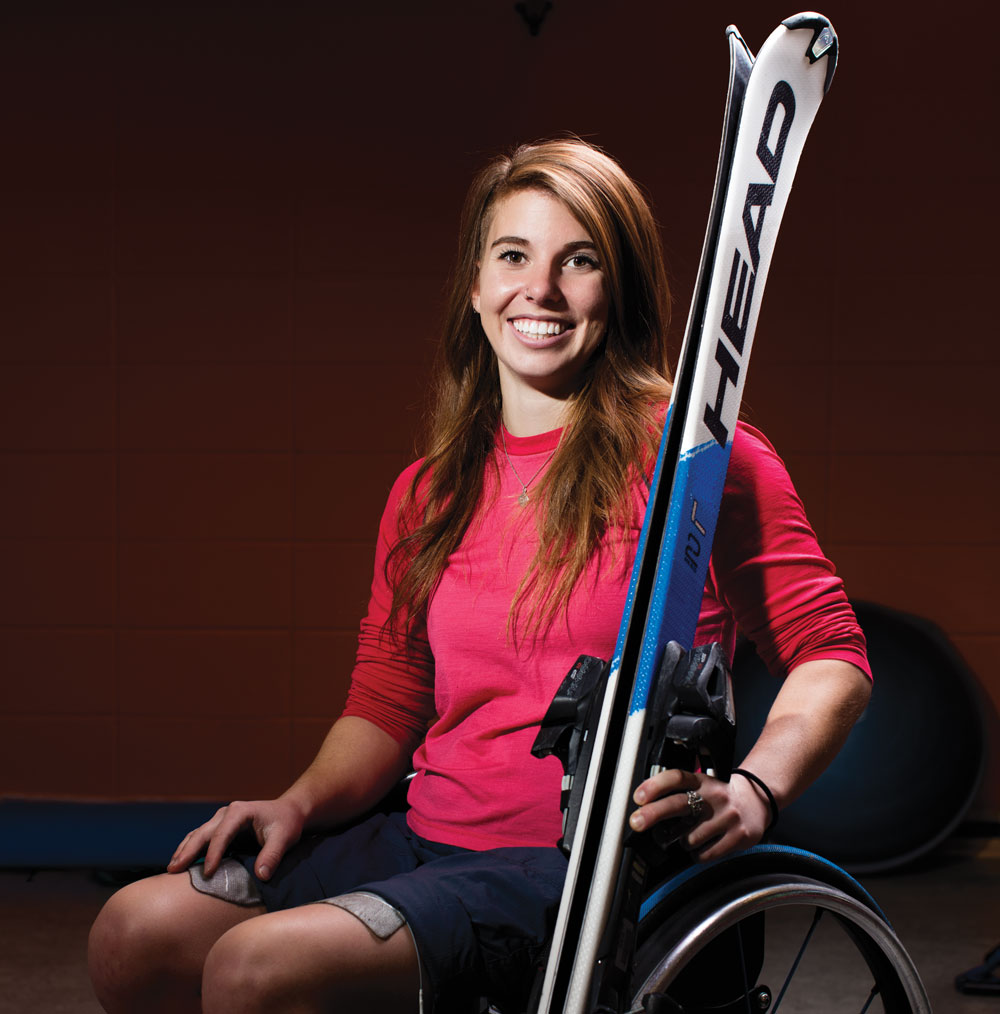 The outdoor adventure photographer puts his gear and his body to the test to capture elite ice climbers in action. Skupinski relies on a combination of climbing skills, careful planning and heavy lifting to get through a shoot. He generally carries one camera and three lenses, a belay seat, climbing gear and extra ropes that are heavily soaked by melted snow and ice by the day's end.
From Avenue's March 2016 issue.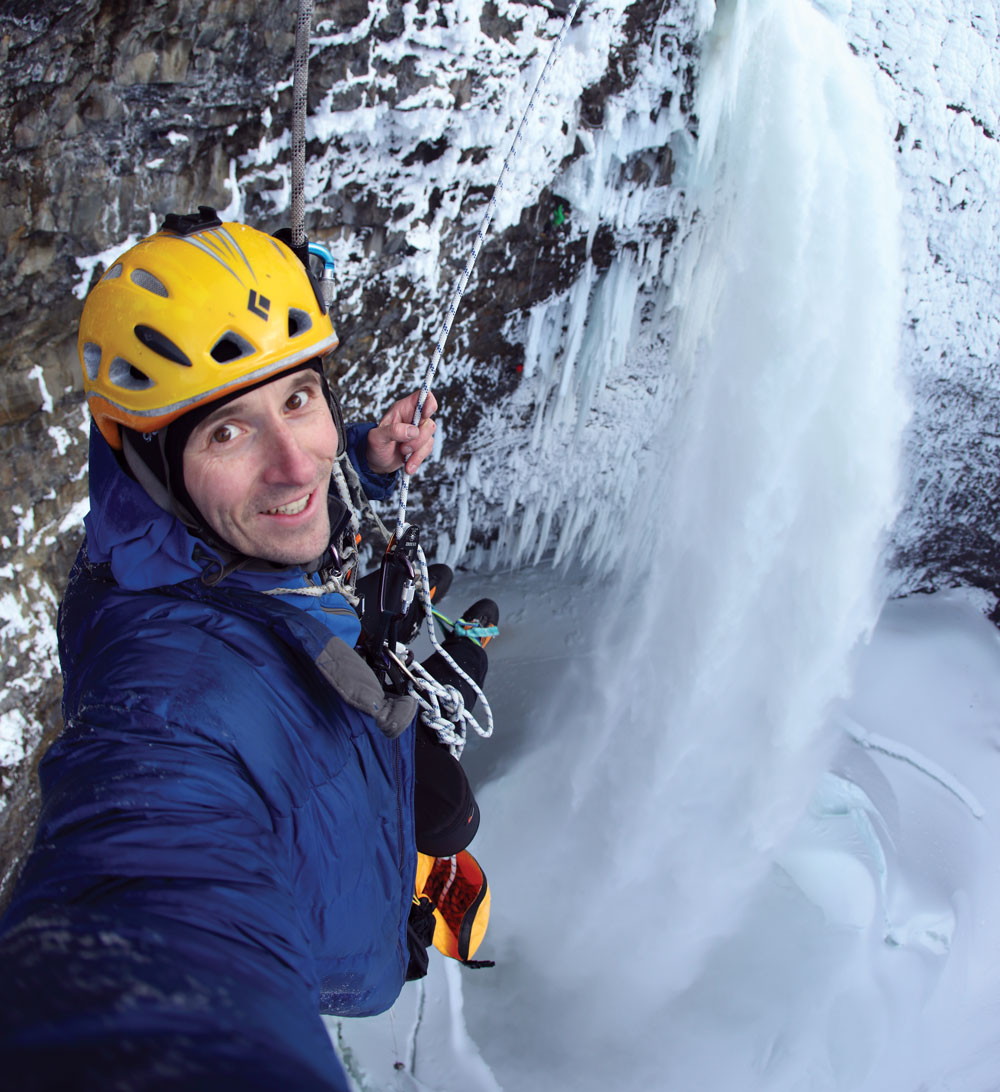 A selfie by Wiktor Skupinski taken while photographing climbers at Helmcken Falls, B.C.
Aussant is the co-captain of Calgary's AllStars roller derby team. Off the track, Aussant focuses on high-intensity training, running through body-weight exercises like burpees and squat jumps. On track, her practices involve a muscle-searing series of conditioning and endurance exercises designed to help skaters get through a game – things like sprints, leg raises, planks – or, as Aussant puts it, "Anything that can make you sweat and make you feel like you want to puke."
From Avenue's April 2016 issue.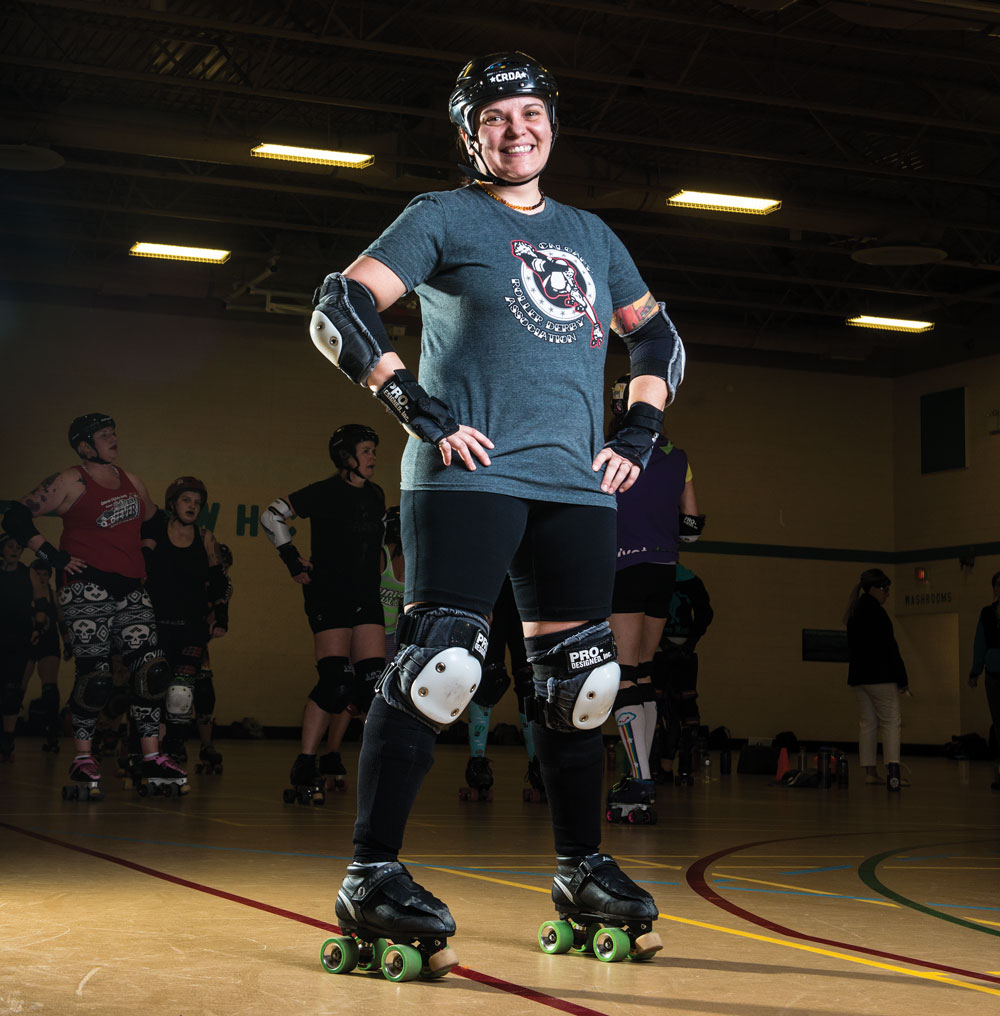 Christianne Aussant and her teammates in the background performing exercises.
The retired NHL goaltender and current Hockey Night in Canada broadcaster leaves the rink behind and gets out to the mountains whenever he can.
"I'm definitely an outdoors kind of guy. I like the solitude of going out in really remote places where the likelihood of running into somebody else is pretty slim. I don't know why, but there's something that really attracts me to that kind of trail." – Kelly Hrudey
From Avenue's May 2016 issue.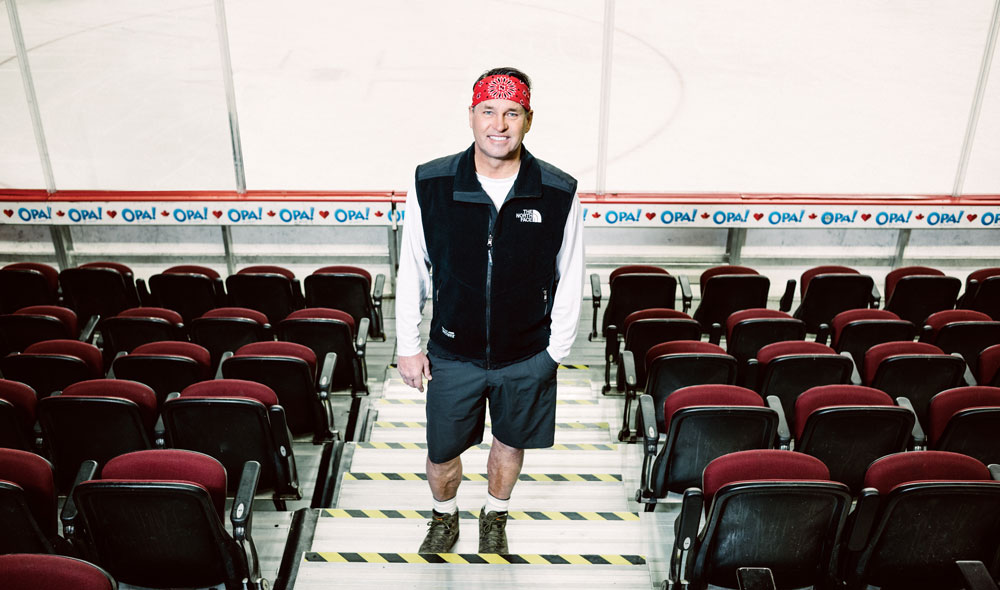 Micallef is the Calgary-based entrepreneur and CEO of Gabriella's Kitchen who competes in bodybuilding competitions. The once-or-twice-a-day gym-goer placed second last spring in the Grand Masters class of the BC Amateur BodyBuilding Association's regional fitness competition.
From Avenue's June 2016 issue.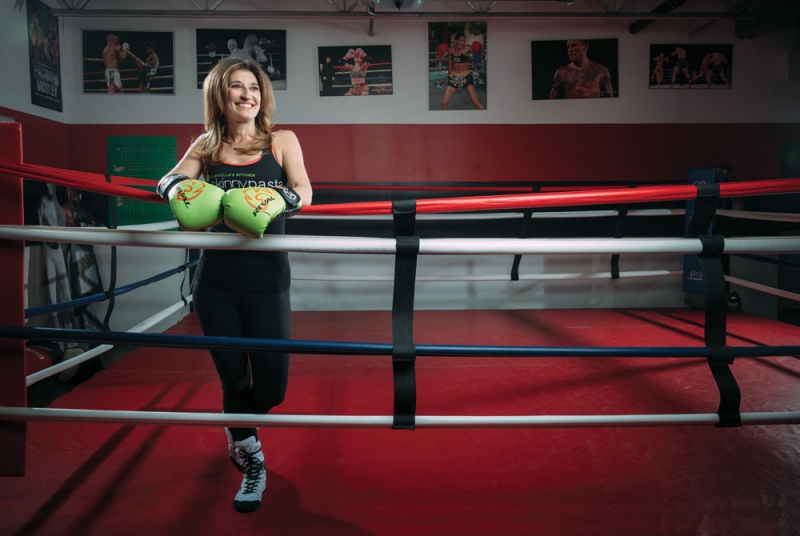 In 2015, Coppens became a nationally ranked Ironman triathlete. Most days, she does some combination of swimming, running and biking, with two days of strength work a week. Her rest days are about "active rest," with a short bike ride or a yoga class.
From Avenue's July 2016 issue.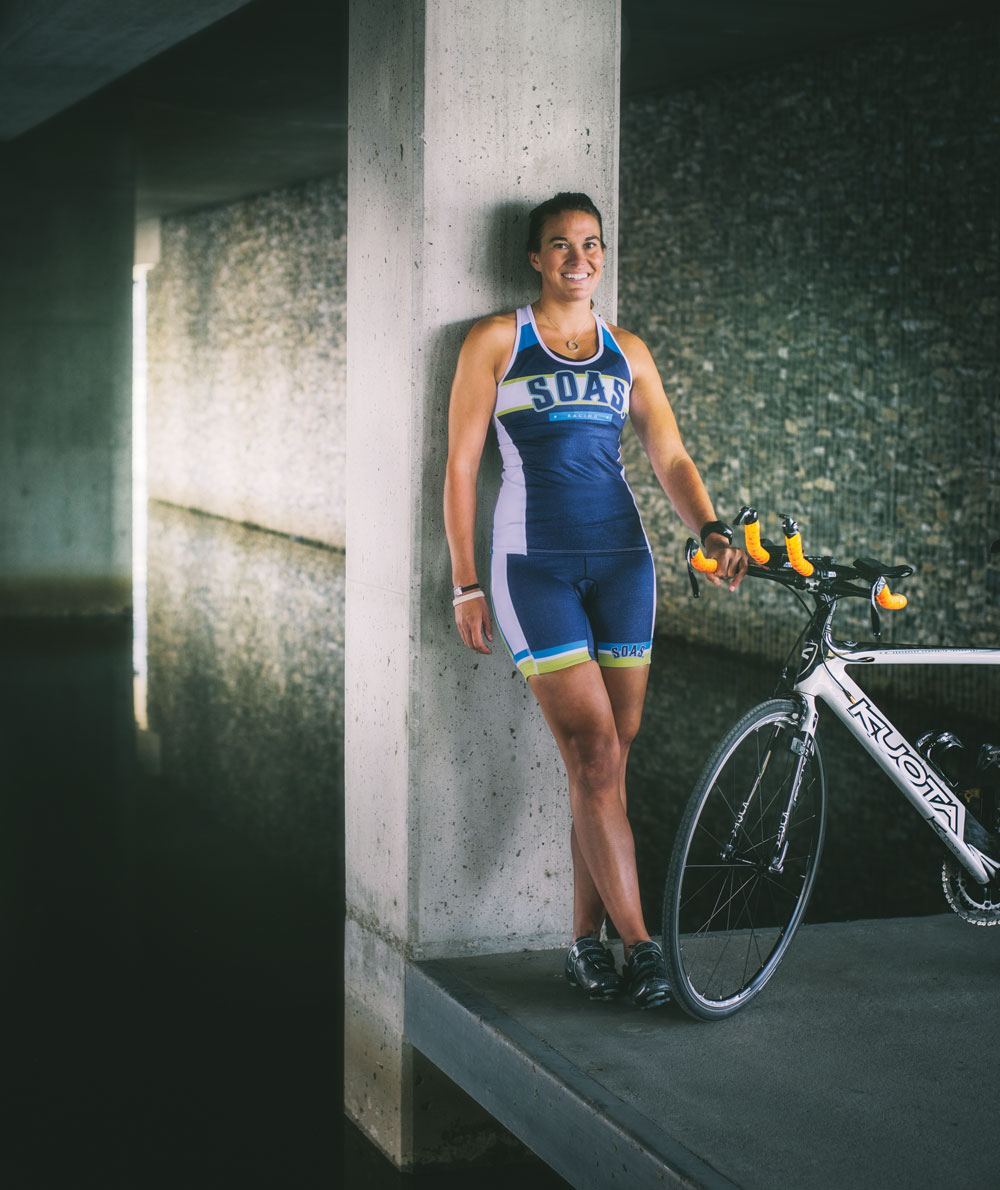 Ultra-marathon running (any race distance longer than the standard marathon distance of 42.2 km) transformed MacNairn after a serious injury. These days, he generally runs every day, sometimes twice daily, aiming to achieve goals of duration rather than distance. He prefers trail running in the mountains, often picking his way across dicey terrain alone.
From Avenue's August 2016 issue.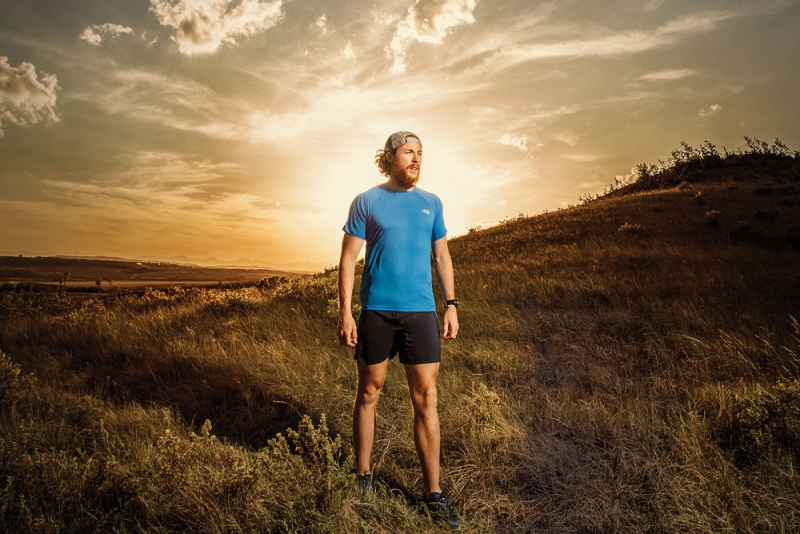 Pronyshyn is a local actor and director of the Y Stage youth theatre series who keeps his body and mind strong with mixed martial arts. He has his sights set on attaining a purple belt in jiu-jitsu and, one day, a black belt, but right now his family and his theatre career come first.
From Avenue's September 2016 issue.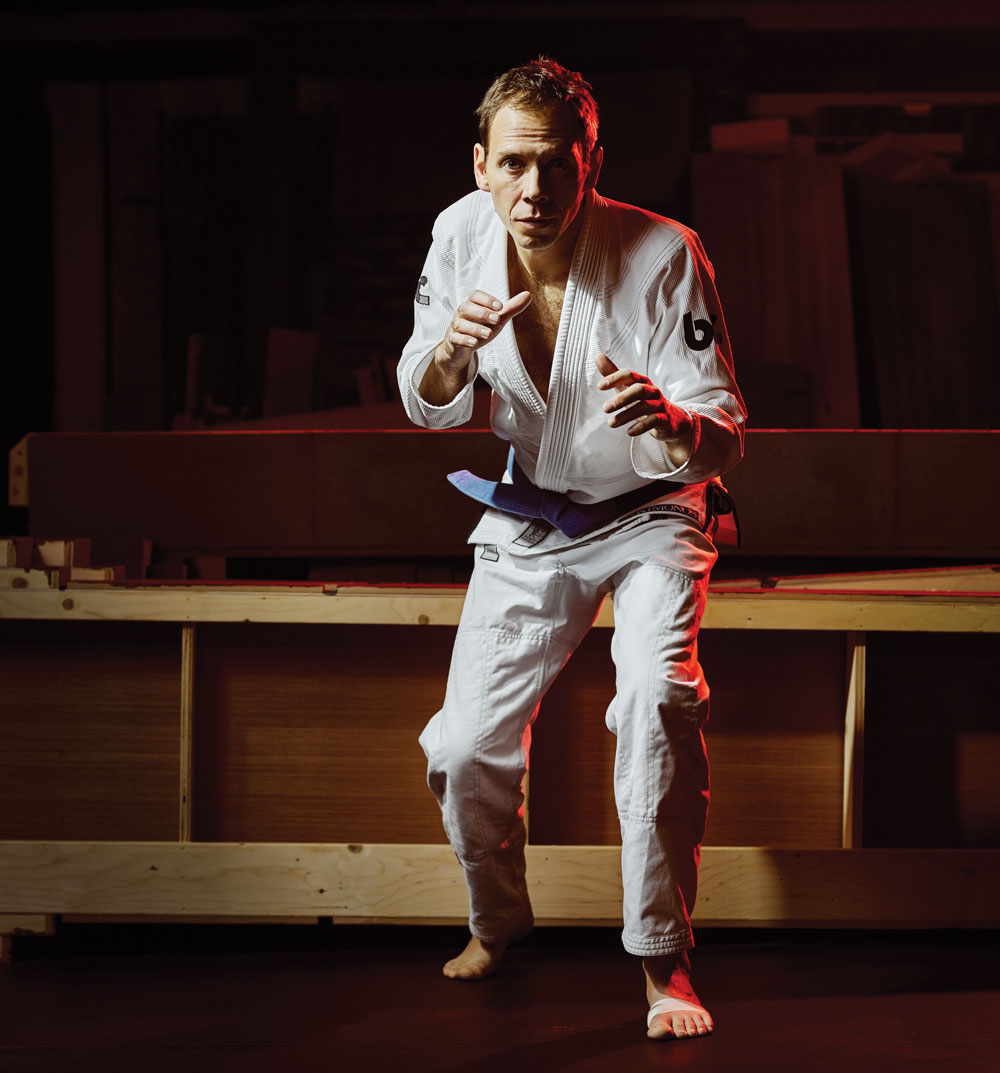 Sharon Wood was the first North American woman to summit Mount Everest. Today, she is still an avid climber who teaches at Canmore's Elevation Place. She also runs mountaineering courses for women, leads guided hikes and Nordic skis.
From Avenue's October 2016 issue.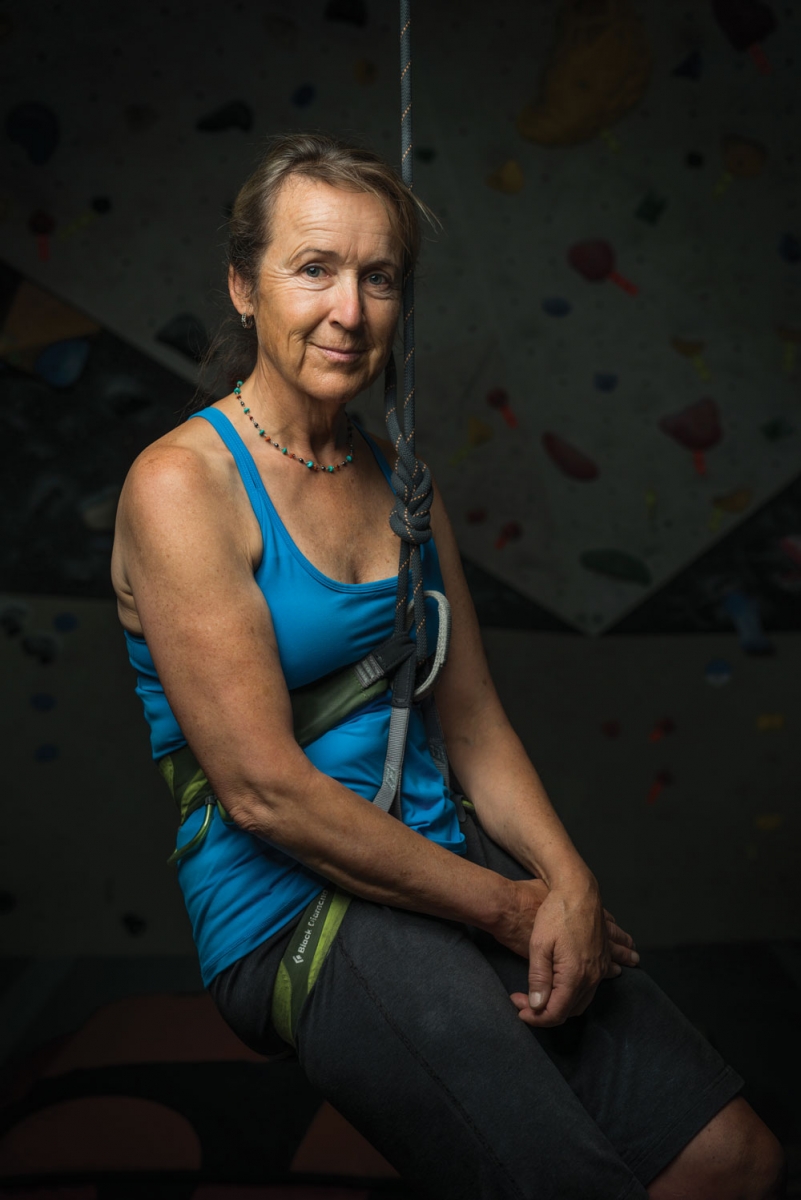 The Calgary adventurer broke a world record this past summer for his solo row across the Atlantic, just one of the many feats of endurance he has achieved. He has also cycled from the Arctic Ocean to the Yukon during the winter, climbed and skied down Iraq's highest peak, competed in six ultramarathons and summited the highest mountains on six of the world's seven continents.
From Avenue's December 2016 issue.