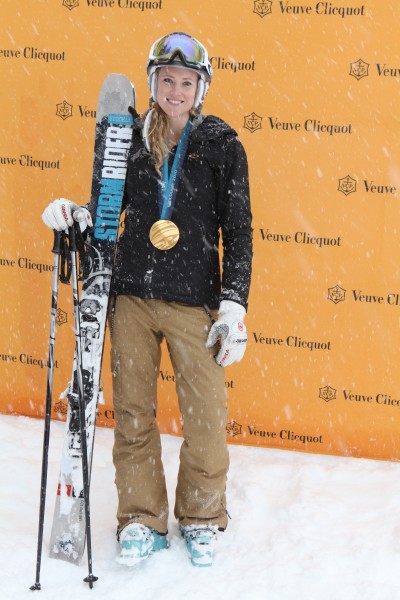 While we may already be dreaming of spring, the blizzard-like weather this weekend reminded us that ski season is still very much underway in Alberta.
This past weekend skiers and boarders, including Canadian Olympic gold medalist Ashleigh McIvor, headed to the Fairmont Jasper Park Lodge for the 2nd annual Clicquot in the Snow in Jasper. The luxury champagne brand Veuve Clicquot sponsored events and activities, including ski lessons at Marmot Basin from McIvor and a giant slalom race.
It was an exciting weekend for McIvor as the Whistler native says it's basically her first time going to a ski resort without the pressure of competition. As much as she enjoys competing she also really enjoys teaching.
"I'm passionate about sharing the joys of my favourite sports with people … I've always been about inviting people to experience the lifestyle that we enjoy so much," she says.
McIvor also teaches lessons at Whistler-Blackcomb as part of its "Ski with an Olympian" program. Below are her secrets for the slopes:
Stay warm
Make sure you have enough clothing on. A good ski jacket can change your life; most people don't realize it's possible to be warm, the whole time. And always go in for hot chocolate whenever you need a break.
Own good boots
You should always be on the balls of your feet while you're skiing. This is why it's so important to have great-fitting ski boots. Skiers who don't want to invest in all of the gear should buy their own ski boots and rent skis.
Keep control of your upper body
Make sure your upper body stays relatively quiet, keeping your arms out in front of you, shoulders facing where you want to go and reaching for your pole plant with a flick of your wrist. Planting your pole in the snow at the start of every turn helps you develop a rhythm.
Extend your body between turns
Your skis need to flex to perform well. If you extend in between turns, you will have more force to come down on your skis with in the turns.
Keep your weight forward
Your weight should transfer from centered on top of your skis to forward pressing into your boots, and back to centre. Never put your weight toward the back of your skis. Instead of thinking about keeping your weight forward by moving your shoulders forward, think about moving your hips forward.