Jolane Houle, Blackfoot from Kainai, is waiting at the alley entrance of The Grand theatre for me to arrive. It's a rainy night and she's wearing a long pink sweater. Tonight is the dress rehearsal for playwright and director Tara Beagan's The Ministry of Grace. A freelance costume designer, Houle works closely with Making Treaty 7, the Indigenous theatre company presenting the show as part of its residency at the Grand. Tonight's dress rehearsal will be the first time Houle will see her vision come to life on stage. She also knows that she'll have more work to do based on what she sees.
Houle is the sole costume designer for this show, designing, sewing and finding costumes for all four characters herself. She's no stranger to hard work: Houle picked up her sewing skills from her mother and grandmother — her first inspirations. Her formal education includes a Bachelor of Fine Arts from the University of Lethbridge and a diploma in fashion design from Lethbridge College. Along with Making Treaty 7, she has worked with several theatre production companies, including New West Theatre (Lethbridge), Stage West Dinner Theatre and Alberta Theatre Projects, as well as numerous TV and film productions, including The Revenant, Lost in Space and Wind River: The Next Chapter.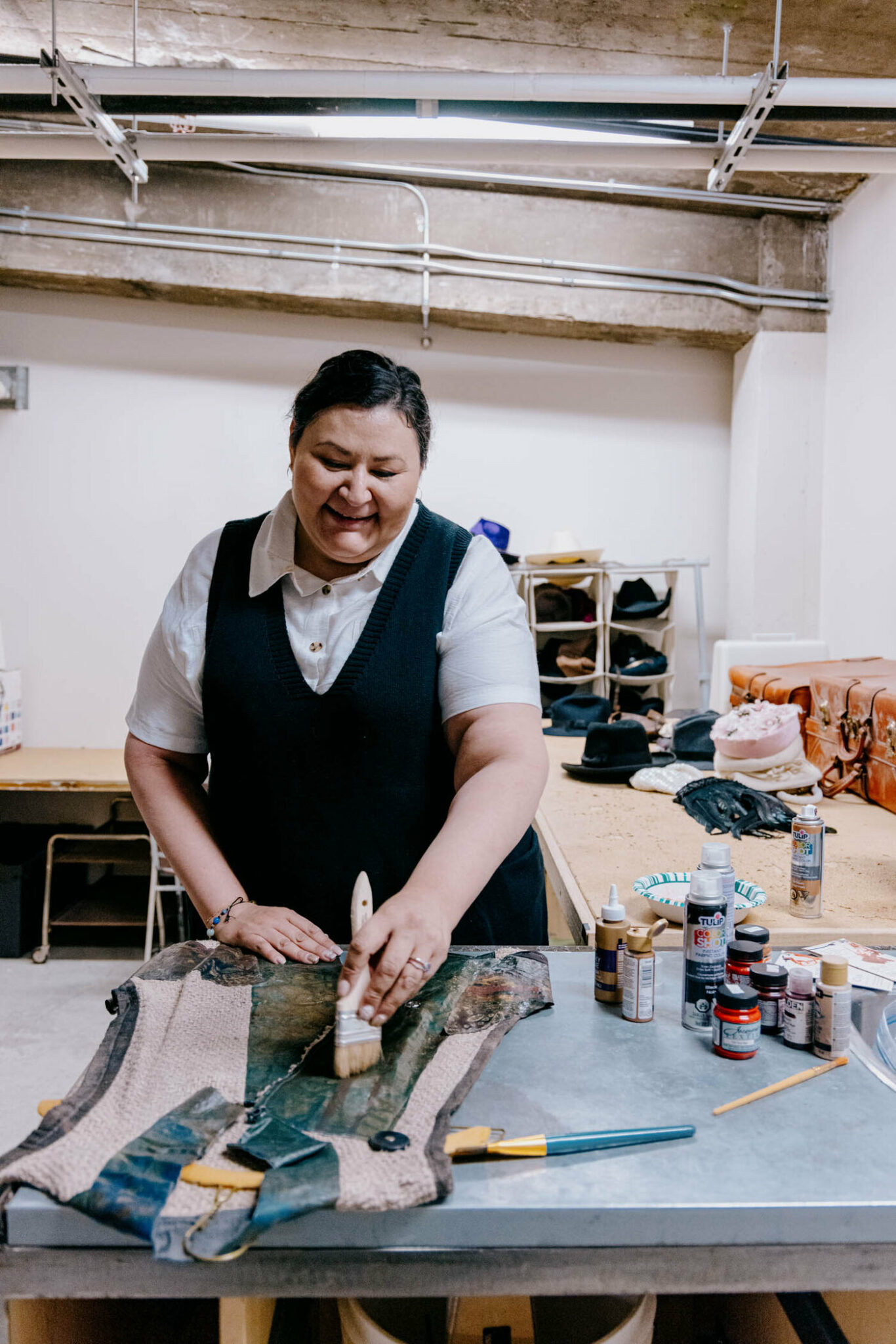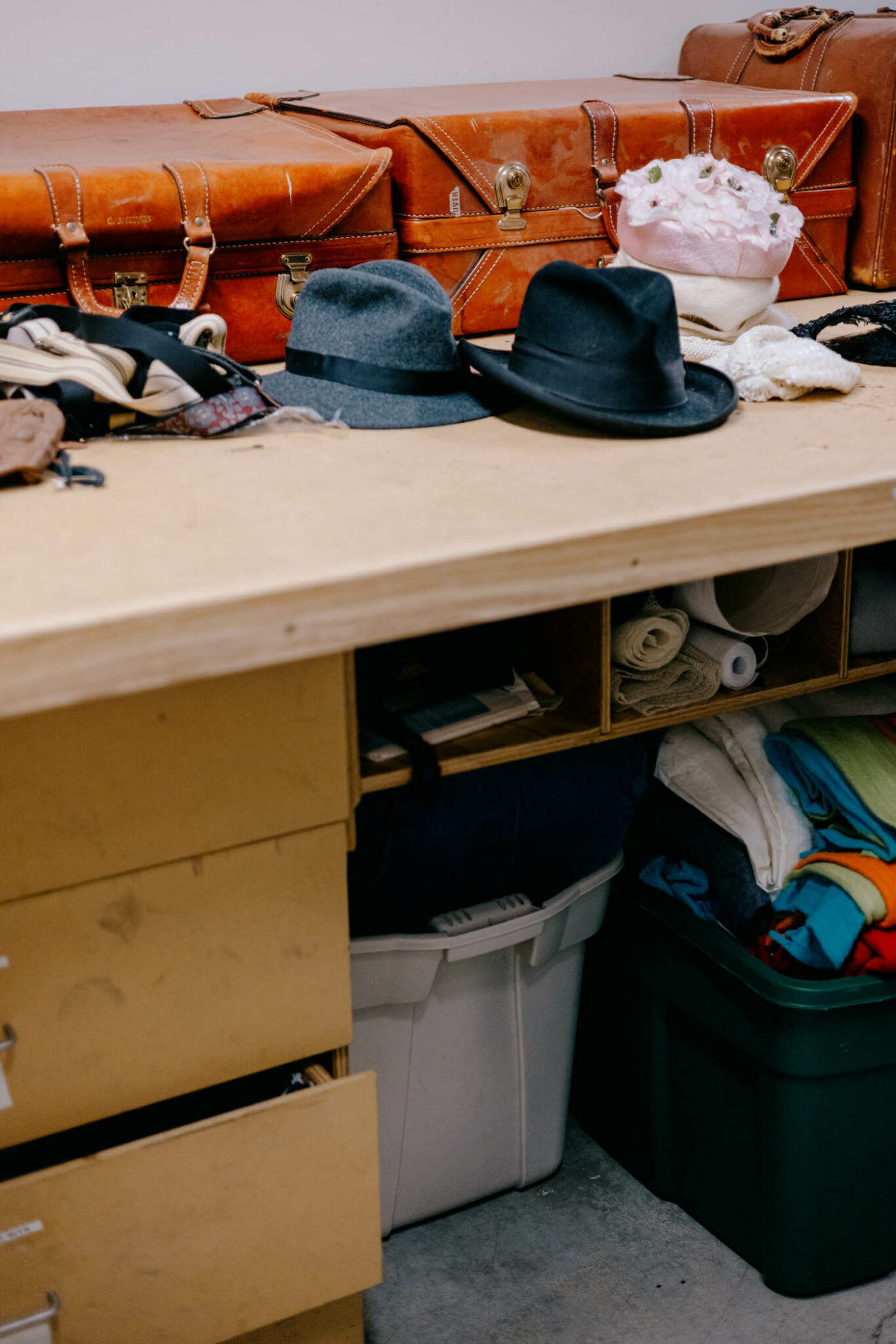 As a visual storyteller, Houle wants the audience to know each character just by looking at them. One way she achieves this is by drawing on her deep understanding of colour theory. "Colour makes a difference with how you want to portray someone," she says. "Think Disney: to portray 'evil', they'll use darker shades of purple, green or even black. To portray 'good', they'll use florals and more light and airy colours."
The Ministry of Grace takes place in the 1950s Southern California desert, so Houle and Beagan decided together on a muted palette of browns, pinks and yellows for the actors. Houle turns to Pinterest for inspiration, creating boards for every project. She often sources items from The Costume Collective, a local business that designs and rents unique costume items to those in the performance, film and TV industries.
Every piece of clothing is chosen and prepared with intention. If a garment is too neat and clean, Houle manipulates it to look lived-in using acrylic paint and a powder of rottenstone mixed with beeswax. As we talk, she is washing shirts with Earl Grey tea bags — clothing that is pure white shines too brightly under stage lights and takes attention away from the story.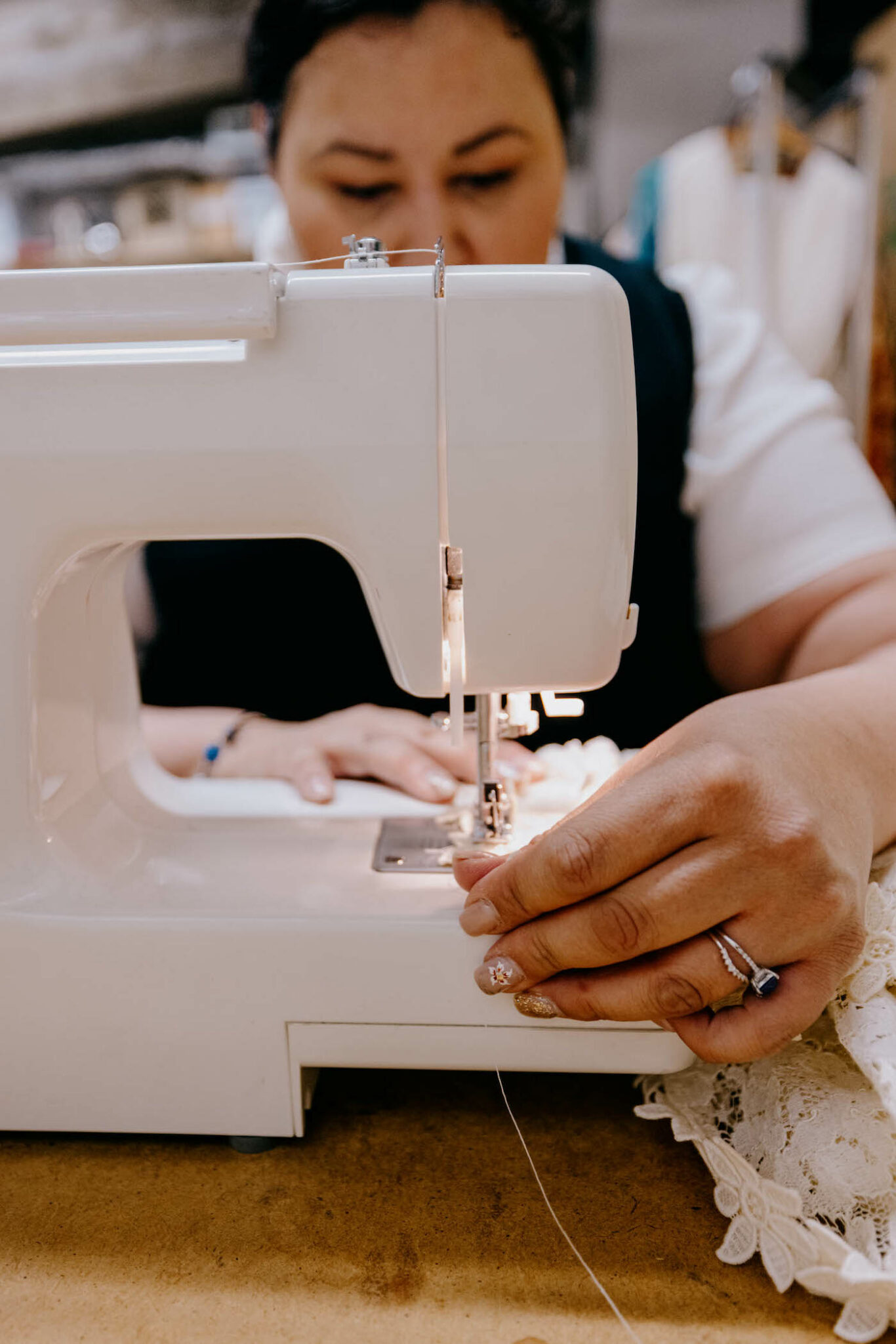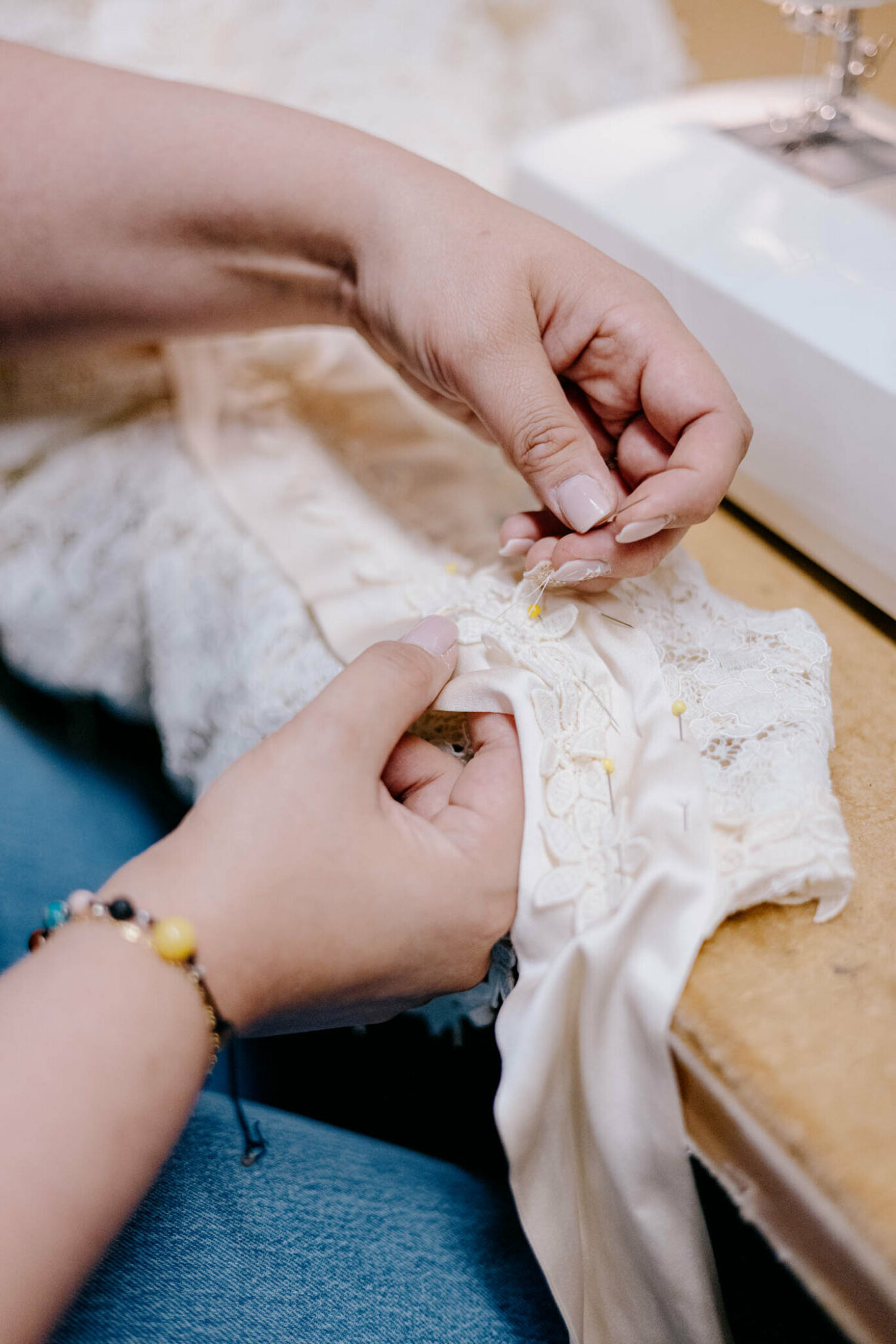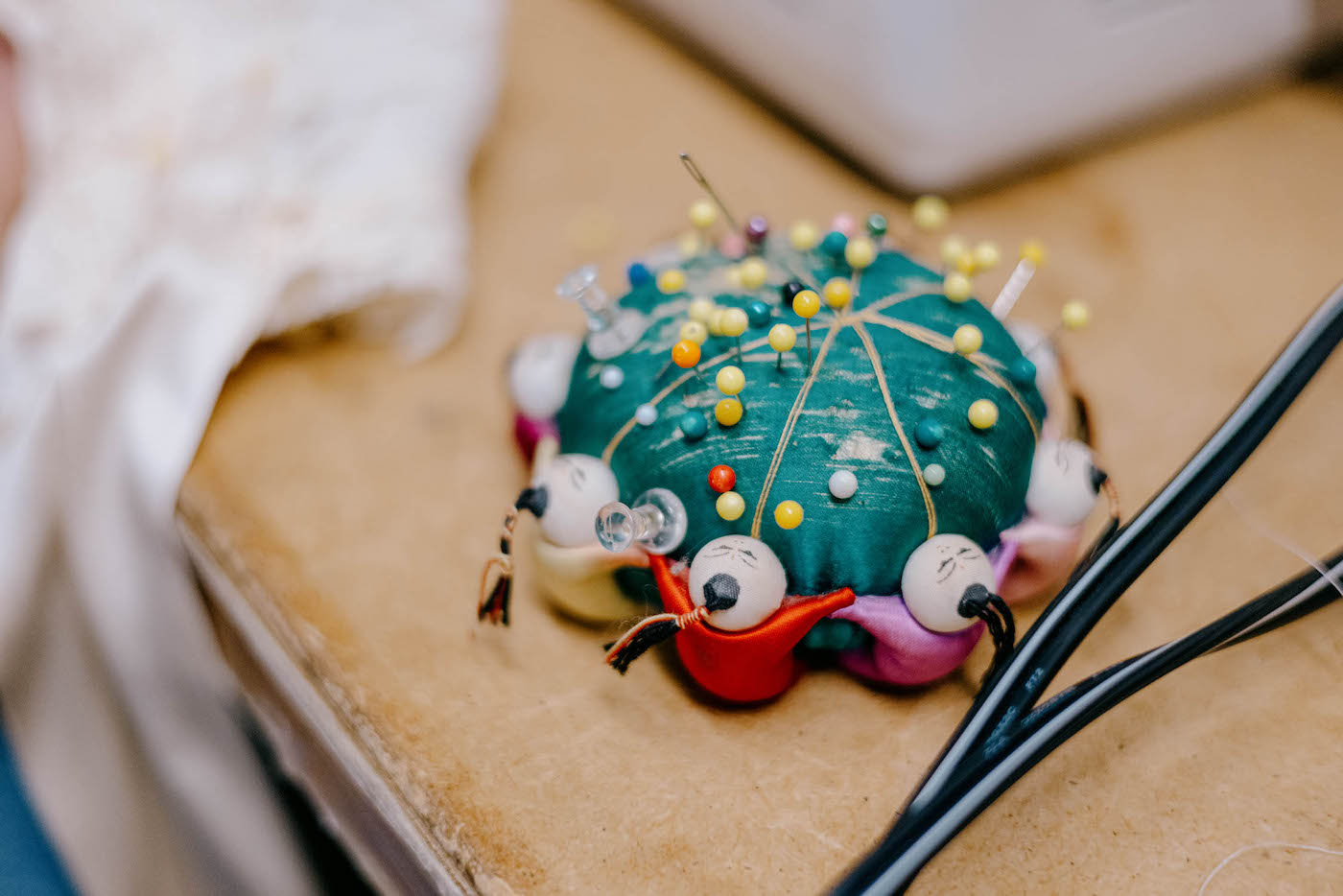 As the actors arrive, they greet Houle and she knows it's almost time for dress rehearsal to begin. She explains each costume to the assistant stage manager and puts all the pieces in each actor's dressing room. Though she says she's "not a hair person," Houle does the actors' hair for the dress rehearsal — the actors in this particular show will do their own hair and makeup on performance nights. As Houle curls the lead actor's hair, her soft voice and calming presence creates a feeling of warmth in the room.
Like a mother getting her children dressed and ready for school, Houle ensures all the actors have their costume pieces on correctly before going on stage. Not a shirt untucked, a shoe untied or a stray hair out of place for her stage children.
As the actors take their places, Houle and I take a seat and watch the rehearsal. While I'm observing the acting, Houle observes the clothes, making notes on her phone: hairspray; shine shoes; bigger hairnet; more sweat/dirt at neckline; dress change too slow — add clasps… "Theatre is something I stumbled upon and it feeds a part of my soul," she says. "As an Indigenous person, we're storytellers. I may not be a writer, but my creativity comes through visual storytelling."