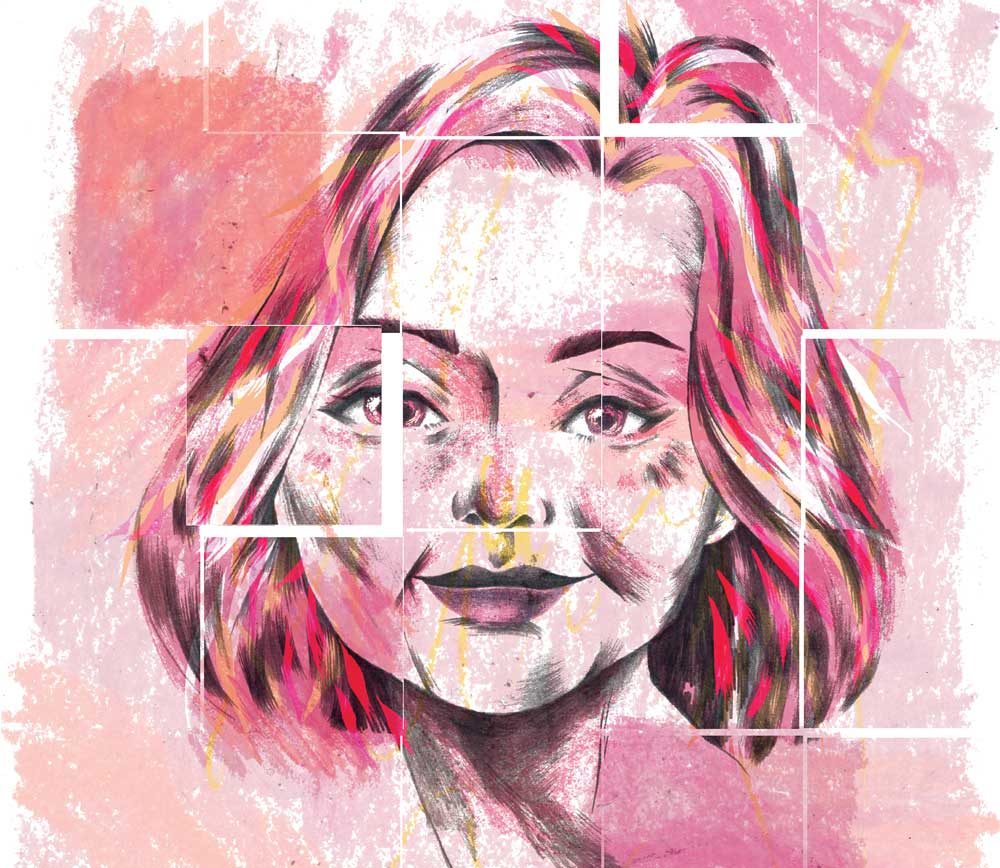 On an October night in 2015, Sharon Shewchuk lay in an isolation room in the hospital, begging the nurses to let her go home.
In 2013, Shewchuk had been diagnosed with multiple myeloma, a blood cancer that affects plasma cells. She was warned she would lose her hair while receiving high-dose chemotherapy, but she didn't want to be in a hospital bed watching clumps of hair fall from her head.
Shewchuk wanted to be in control of losing her hair.
"I thought, 'Dammit, if I'm going to lose my hair, I'm going to have a party,'" Shewchuk says. "I wanted my friends to be there at such a traumatic time. I was so tied to my hair."
The next day was to be her head-shaving party and 17 guests would be expecting her.
Shewchuk felt fine, but she was running a high fever and with a compromised immune system, her body wasn't able to fight an infection, which was why she was in isolation.
The morning of the party, a doctor told her she could go home, as long as she was back in the hospital by 8 p.m. that night. Shewchuk quickly texted Colleen McDonald-Sanheim, a hair stylist at Compassionate Beauty oncology boutique and spa, to say the party would go on.
Everything was ready to go at Shewchuk's home. Earlier that week, she had stocked up on chocolate, Crave cupcakes and Champagne. Shewchuk's doctor made her promise she would stick to one small glass of Champagne.
As McDonald-Sanheim shaved her head, Shewchuk looked at the pieces of hair on the floor without the devastation she had been expecting. She even felt comfortable with her friends snapping photos on their phones as she debuted her new look.
"I thought I'd just be a big, blubbering mess, but not at all," Shewchuk says. "It ended up being a nice day."
Shewchuk first saw McDonald-Sanheim in 2013 for thinning hair before she received any active cancer treatment. Doctors couldn't find a reason for the hair loss. She liked having her hair cut in a private room, away from the bustle of a salon. "It's a really nice, comfortable environment where nobody judges you," Shewchuk says. "Nobody looks at me and goes, 'Oh, her hair's so thin, I wonder what's wrong with her?'"
Shewchuk says she's grateful that she had already been familiar with Compassionate Beauty by the time she was experiencing cancer-related hair loss.
"It takes away some of the fear," she says. "When you get that cancer diagnosis, it's shocking. Your mind goes to a million places. I was so worried about losing my hair. If I didn't know where to go, I think I would have been out of control."
Many women going through cancer treatment, find it hard to maintain self-esteem. Their bodies change drastically – they may lose their hair, eyebrows and eyelashes and gain weight. Many of the women Colleen McDonald-Sanheim sees at Compassionate Beauty describe losing their hair as one of the most difficult things they experience after their cancer diagnosis.
"You've lost something that your confidence is rooted in," McDonald-Sanheim says.
McDonald-Sanheim says her job is to help women find their new normal. She says wearing a wig after hair loss is not just a fashion statement for women, it is more like a prosthetic. It helps them feel confident leaving the house. Wearing a wig, they can go to work, the gym and see people without having to tell anyone about their diagnosis. They gain back some control of their lives.
Compassionate Beauty, Calgary's only oncology spa and boutique, provides wig fittings and styling, massages, facials, manicures, pedicures and other spa services for women not comfortable in their regular salon. The company also sells wigs, hats and scarves, post-mastectomy bras, swimsuits and clothing.
Shortly before her head-shaving party, Shewchuk purchased a human hair wig. It looks just like her own hair – shoulder-length and golden-blonde. Many women opt for a realistic wig that allows them to blend in, but it comes at a high price. A quality human-hair wig costs several thousand dollars, and many insurance companies only cover a small percentage (if any) of the cost. (Services like eyebrow and nipple tattooing, a procedure that helps make a reconstructed breast look more realistic, may be considered cosmetic and therefore not covered at all.)
The Canadian Cancer Society lends new and used wigs free of charge, and some women skip wigs altogether. Cancer Chic, a local charity that runs free workshops for women living with cancer on topics including fitness and natural beauty, teaches women about using scarves to cover hair loss. That's what the group's co-founder, Karla Laing, used when she lost her own hair.
Laing co-founded Cancer Chic in 2011 after she and her co-founder Heather Alvas were both diagnosed with cancer. They noticed there weren't programs for Calgary women with cancer to learn the benefits of fitness and other self-care strategies.
"We didn't feel like there was anything targeted to what you can do for yourself, and if there was, it was only for breast-cancer patients, which leaves a lot of women out," Laing says.
In Cancer Chic's workshops, participants receive a swag bag filled with chemical-free makeup, and a makeup artist demonstrates a simple routine that includes how to draw on eyebrows. Laing talks about her own experience with hair loss and how to tie scarves. Participants also learn about the importance of keeping active during and after treatment and how to keep motivated, even when they're fatigued.
Fitness was very important to Laing after she was diagnosed with Hodgkin's lymphoma in 2009. "It helps you reform your identity during treatment and after," Laing says. "After everything I went through, I was looking and feeling very different. I felt like I was floating around in a sea of not knowing who I was."
Michelle Shah, who has attended many of Laing's workshops, says Cancer Chic was her starting point to recovery. At 19 years old, Shah was diagnosed with chronic myeloid leukemia. Her main concern at the time of her diagnosis was living her life as close to normal as possible.
Pushing herself at school and work, she beat back feelings of anxiety and stress with multiple cups of coffee and cigarettes.
Chemotherapy pills made her tired; half the time she skipped taking them.
Health-care professionals chided her whenever she wasn't taking her pills. They urged rest, exercise and healthy eating, but Shah says it was hard to take care of herself when she was so sick.
"I know I need to exercise and eat well, but I'm struggling," Shah says. "I'm depressed. I'm anxious. I feel alone. You need someone to say, 'You can do it. Here are the tools and resources and support to take care of yourself.'"
In 2016, she hit her breaking point. She left school and work, feeling too exhausted to keep up. Her weight plummeted to 90 pounds. Shah felt lost and didn't know how to continue. She needed support. In the spring of 2016, Shah contacted Wellspring Calgary, a community-based support centre. They pointed her to Cancer Chic, which meets in the Wellspring building.
"I didn't even know how to take care of myself," Shah says. "I didn't feel pretty anymore. I didn't feel capable anymore. Everyone has to start somewhere and I started with learning how to take care of myself physically again."
In her first workshop, Shah felt instantly at ease with the community of women from all backgrounds. She loved everything about the workshop, from the giant goody bag that put a smile on her face the minute she walked in the door, to the information on fitness, nutrition and the community of women who were going through similar experiences.
Cancer Chic immediately put her in touch with Thrive Centre at the University of Calgary, a free fitness facility for people living with cancer. Today she's a regular at Thrive, where she works with a trainer. The support from the programs enabled her to start taking care of herself.
Now, a year later, Shah has regained 40 pounds. She's halfway through a degree in behavioural sciences and takes daily chemotherapy pills. And she wants other women to know there is help. Sometimes Shah doesn't feel like going out if she's tired. But she says when Karla Laing calls and invites her to an event like a DIY scented-oil workshop at Neal's Yard Remedies, it's hard to say no.
So, Shah says, she puts on a bit of makeup. She looks through her closet until she finds a cute baggy shirt to pair with skinny jeans, an outfit she learned to put together thanks to a Cancer Chic wardrobe consultant. She feels good. She's excited to see friends she's made through the workshops, friends who know exactly what she's going through.
"Don't get sad," Shah says. "Because there is so much out there and a community you haven't discovered yet that will remind you of your inner strength."
Shewchuk has similarly found a support community. She keeps herself busy. Aside from spending time with her husband, two grown children and her many groups of girlfriends, she regularly attends myeloma support meetings. To stay active, she's on a dragon boat racing team for people living with breast cancer. They train twice a week on the Glenmore Reservoir.
Shewchuk started biweekly chemotherapy treatments again for multiple myeloma in March 2016, a course of treatment that continues to this day.
Shewchuk says her cancer is incurable. It's hard some days, but she says you have to stay positive. "I used to think, 'Why me? Why me? Why me?' But you have to let that all go. I'm a fighter and I'm no quitter, let me tell you. I want to be around. I want to enjoy my life."
Calgary Cancer Survivor Self-Care Services and Programs
Free service that lends out new and used wigs for temporary hair loss while people are living with cancer. Call the Calgary office at 403-205-3966 to make an appointment.
Free workshops for women on inner and outer beauty, physical fitness and survivorship. Participants take home a bag filled with chemical-free makeup.
A variety of services intended to improve the self-image of women undergoing cancer treatment and medical hair loss. Services offered include massage, manicures and pedicures. Wigs, post-mastectomy clothing and other products are for sale.
22 Richard Way S.W., 403-686-6936, compassionatebeauty.com
Semi-permanent eyebrow tattooing after hair loss and areola repigmentation following breast reconstruction after a mastectomy. Clients should consult a doctor before undergoing any type of tattooing.
4411 16 Ave. N.W., 403-288-2769, cinnamongirlclinic.ca
Free programs and resources that support the healing of the body and mind of people living with cancer. Programming includes yoga, nutritional information and courses on finances and returning to work.
1404 Home Rd. N.W., 403-521-5292, wellspringcalgary.ca
University of Calgary's free fitness centre for cancer patients. The gym is monitored by exercise specialists and volunteers who have specific cancer and exercise training.
KNB 186, Faculty of Kinesiology, 2500 University Dr. S.W., 403-210-8482, ucalgary.ca/healthandwellnesslab
[Correction: A previous version of this story included an incorrect address and phone number for Thrive Centre. It has been updated to include the correct location on the University of Calgary's main campus.]