When Studio Bell, home of the National Music Centre, opened last month, swarms of people lined up around the block to get a glimpse at Calgary's shiniest new piece of architecture. NMC's collection has about 2,000 objects spanning 450 years of music technology, and since it can be difficult to appreciate so many pieces when squashed, sardine-like, into the space, here's a recap of a few of the items to check out in NMC's collections.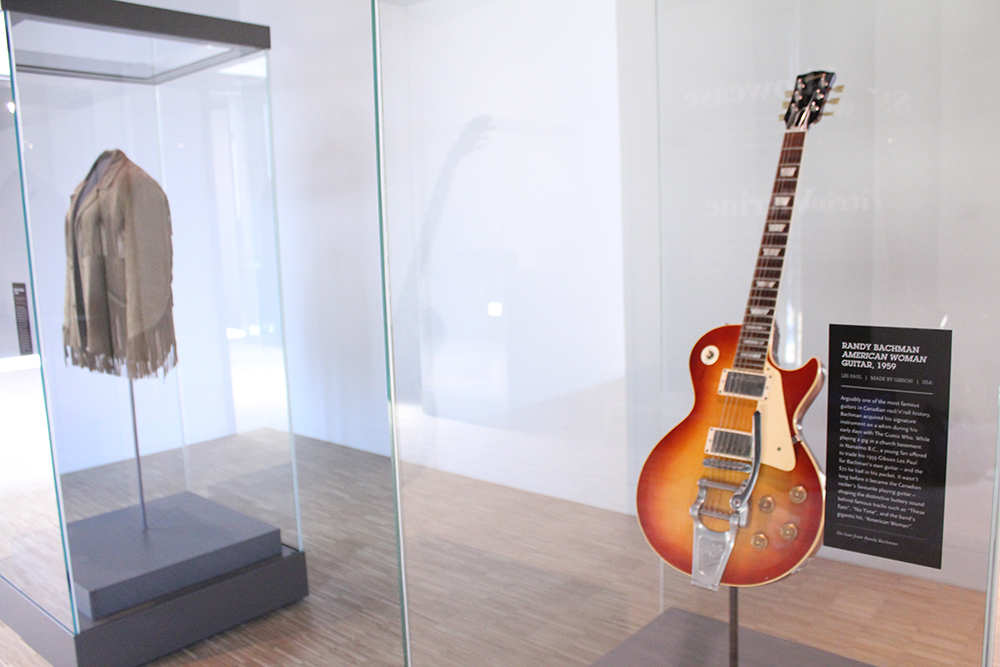 Photo by Andrew Guilbert
A founding member of both The Guess Who and Bachman-Turner Overdrive, Randy Bachman is responsible for some of Canada's greatest rock riffs, including "American Woman," "No Time," "Takin' Care of Business" and more. Before collecting these pieces, they were exhibited at the Rock N' Roll Hall of Fame in Cleveland. Jesse Moffatt, director of collections for the NMC, recalls Bachman being "a bit of a jokester," when Moffatt flew down to Cleveland to receive the 1959 Les Paul from the musician. "He handed it to me, pretended to drop it and I dove in," says Moffatt. "He was demonstrating the 59 Les Paul was quite heavy and always giving him shoulder or back problems.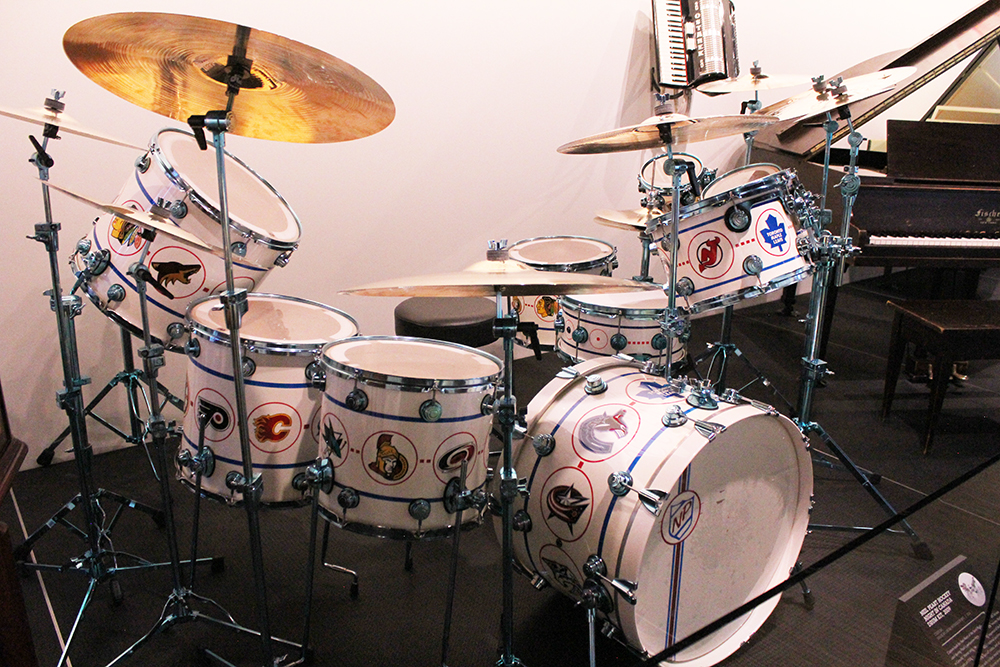 Photo by Andrew Guilbert
This drum kit was custom built for Rush drummer Neil Peart and was first heard in the drummer's version of the Hockey Night in Canada theme song. The kit features all 30 NHL hockey team logos with an ice blue metal finish and was also used during Rush' 40th anniversary tour.
Solar Drones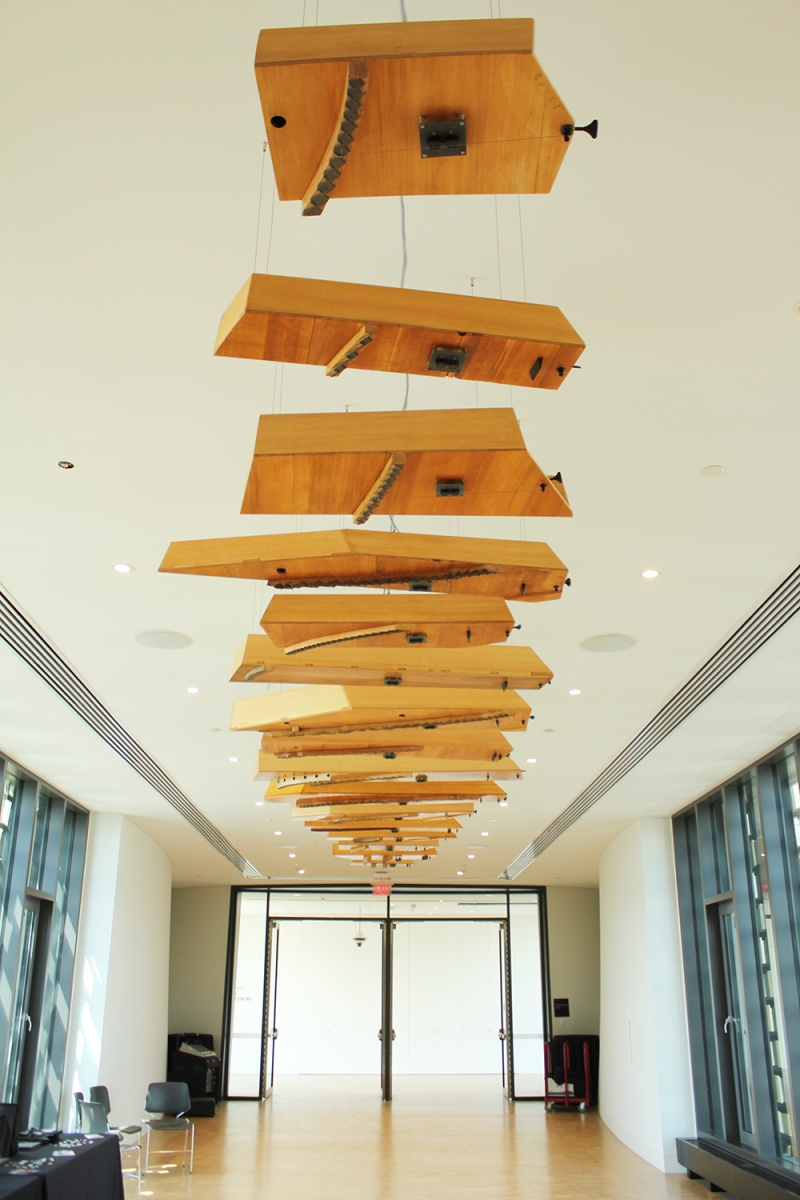 Photo by Andrew Guilbert
These 16 resonating wooden vessels, built from pianos in the NMC's collection that were ruined in the 2013 floods, can be found on the top floor of the centre. Each one has a tuned piano wire and a solar-powered electromagnetic system which rings out a single continuous note. As the light powering each piece fluctuates due to cloud cover and other factors, it will change the electricity sent to the vessels, changing its tone and turning light into sound.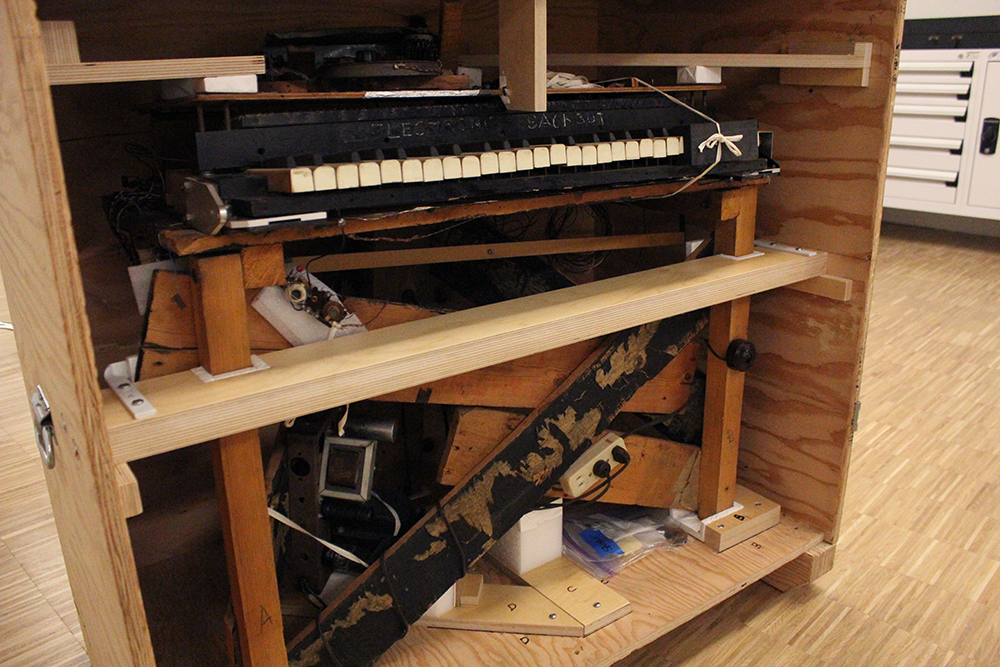 Photo by Andrew Guilbert
Developed by Hugh Le Caine at the National Research Council, the electronic sackbut is one of the earliest polyphonic synthesizers in the world. Robert Moog, the godfather of synthesizers, attributes his work to this instrument, which dates back to the 1920s. "Our goal is to reverse engineer it and build two clones of it," says Moffat. "One would be here for the artists-in-residence to use, and another would go back to Ottawa, where they would have the real instrument and its clone."
The Catwalk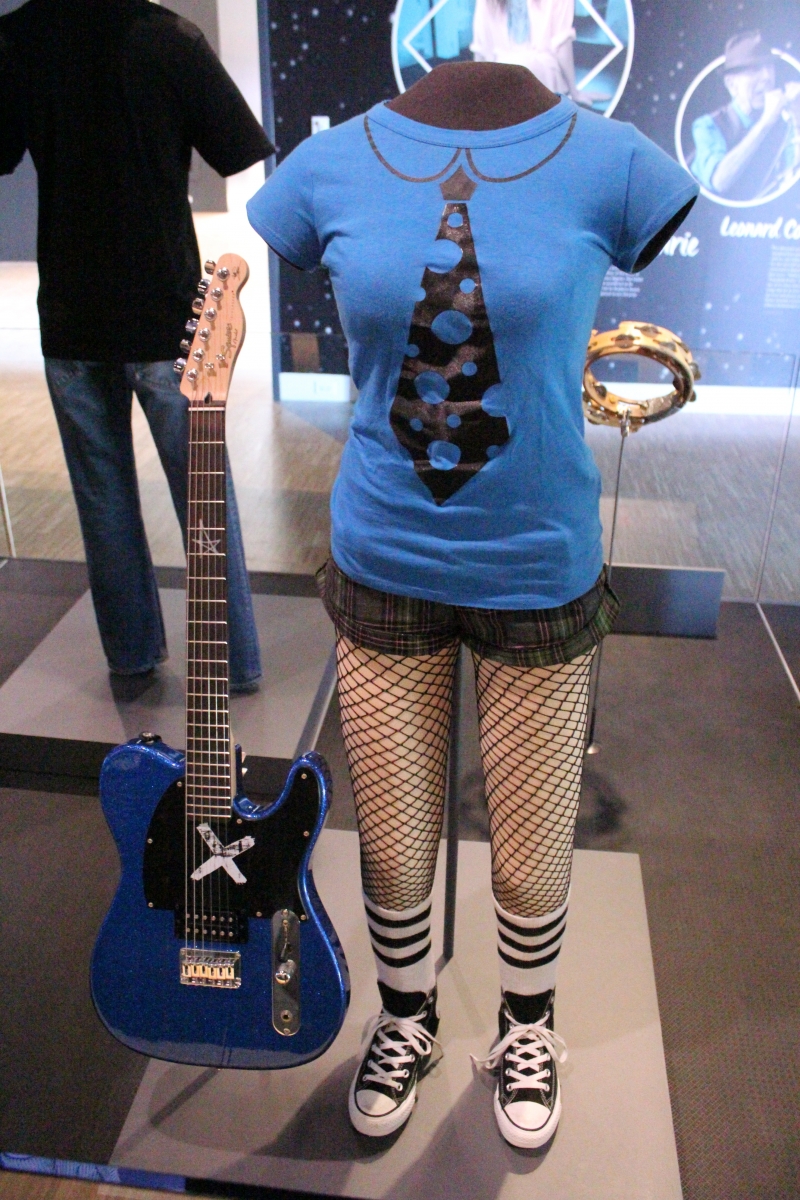 Photo by Andrew Guilbert
The catwalk of the Idols & Icons exhibit is filled with so much music memorabilia it's hard to pick just one item, so we're cheating and including it as a whole. Spanning genres and decades, you can see one of Deadmaus' helmets, Corey Harts' sunglasses, one of Stompin' Tom Connors' stomping boards, the outfit Avril Lavigne's wore in her "Girlfriend" video and more.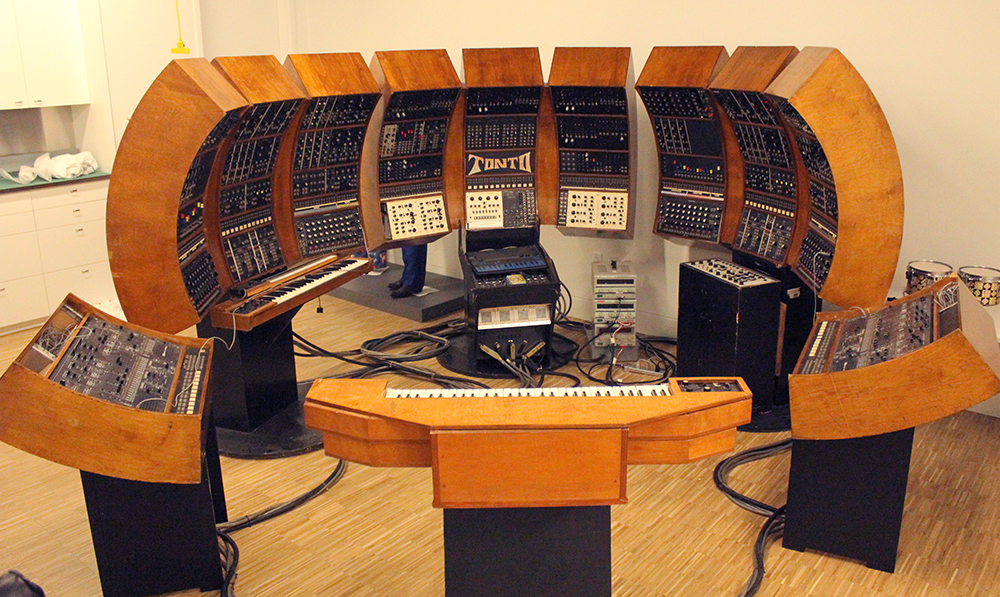 Photo by Andrew Guilbert
First conceived in 1968 by Malcolm Cecil, Tonto (which stands for The Original New Timbral Orchestra) is a custom synthesizer famously known for being used on Stevie Wonder's Innervisions album."There were no presets. You could spend days or weeks creating one sound. There are an infinite amount of possibilities," says Moffat. "We've spent 500 to 600 hours doing a conservative restoration to keep the integrity of the instrument and only replacing what needs to be replaced."
The Kimball Theatre Organ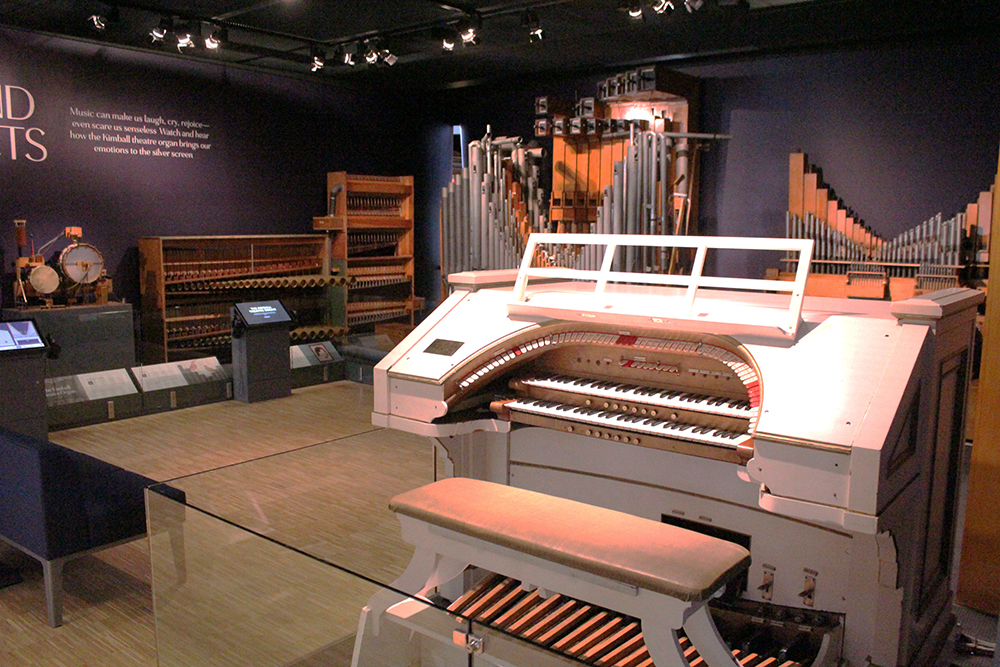 Photo by Andrew Guilbert
We take music in movies and how music can change the sentiment of a scene for granted now. Before audio came with a movie, you would see something like this Kimball organ in the theatres. The instrument dates back to 1924 and has about 5,000 parts, including chimes pipes, glockenspiel, triangles, snares and bird whistles. It is one of only 10 functional theatre organs in the country, and was previously owned by a woman living just outside of Edmonton, who kept it split up between her home and garage.
National Music Centre, 850 4 Street S.E., 403-543-5115, studiobell.ca.