Heima Home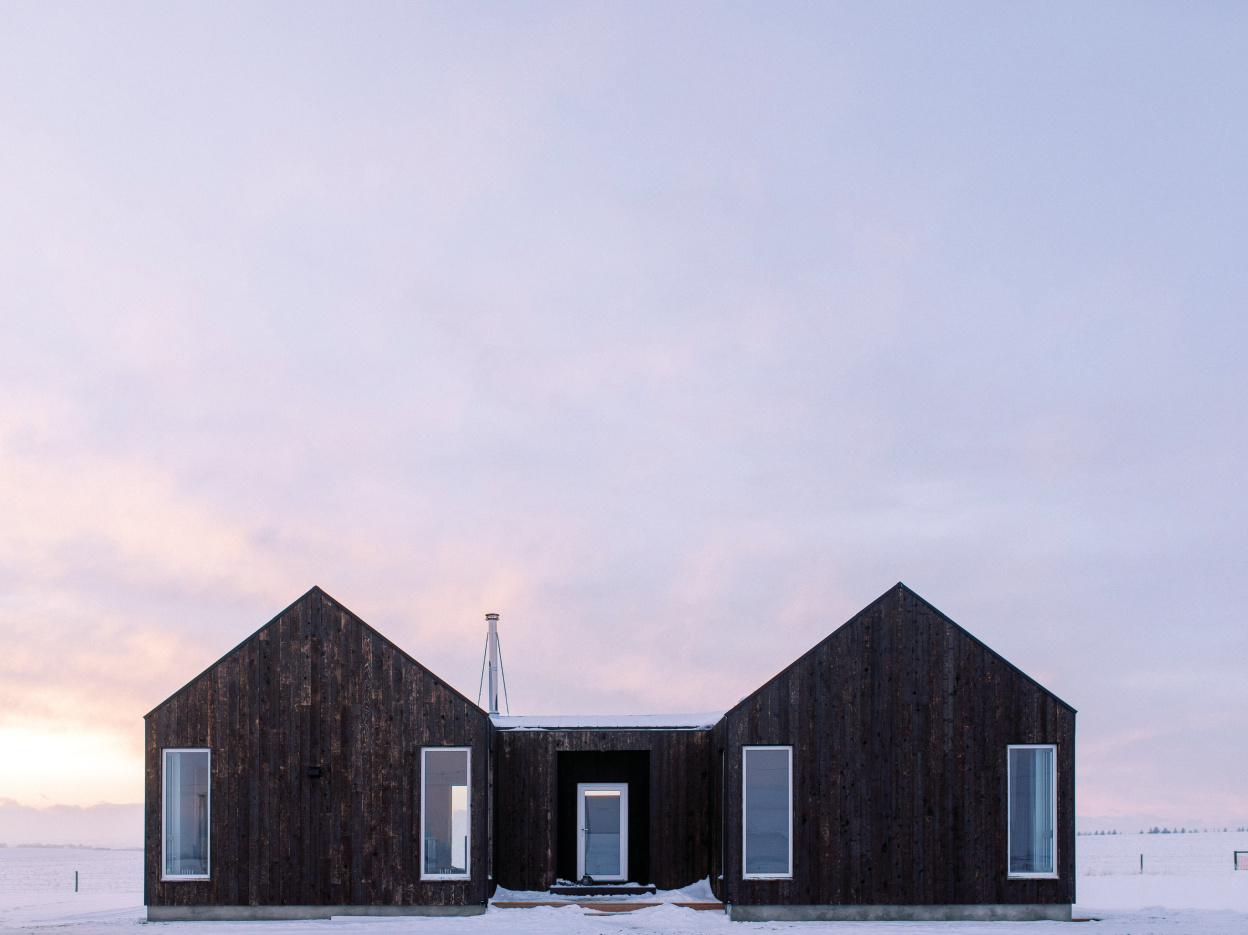 Like many first-time home builders, David and Breanne Heidrich had a strong vision for their modern country home. They envisioned an architectural piece peppered with influences of minimalistic Scandinavian design and the traditional prairie farmhouses seen in the Alberta foothills region. They planned to create a beautiful space for their family to grow up in, while implementing sustainable design methods and cost-saving alternatives.
David and Breanne are full-time wedding photographers and felt that building their own home would allow them to design something beautiful, efficient and spacious for under $500,000. David took on the aesthetic aspects of the project and Breanne handled logistics. Together they designed the home with a family friend who specializes in multi-million dollar French country-style houses and was eager to assist in this unique project.
David grew up in Europe, so he was used to small, well laid-out spaces and wanted to create a similar atmosphere for his family's new home.
"I was in no hurry to buy," says David. "Everyone rents in Europe and I was quite comfortable to rent here in Calgary. But when this opportunity came up to build on some land near Breanne's parents, we decided to go for it. There seems to be a different mindset in Alberta, where people try to get the biggest home for their money. Our motto throughout the entire project was 'smaller but better,' while still being cost-effective."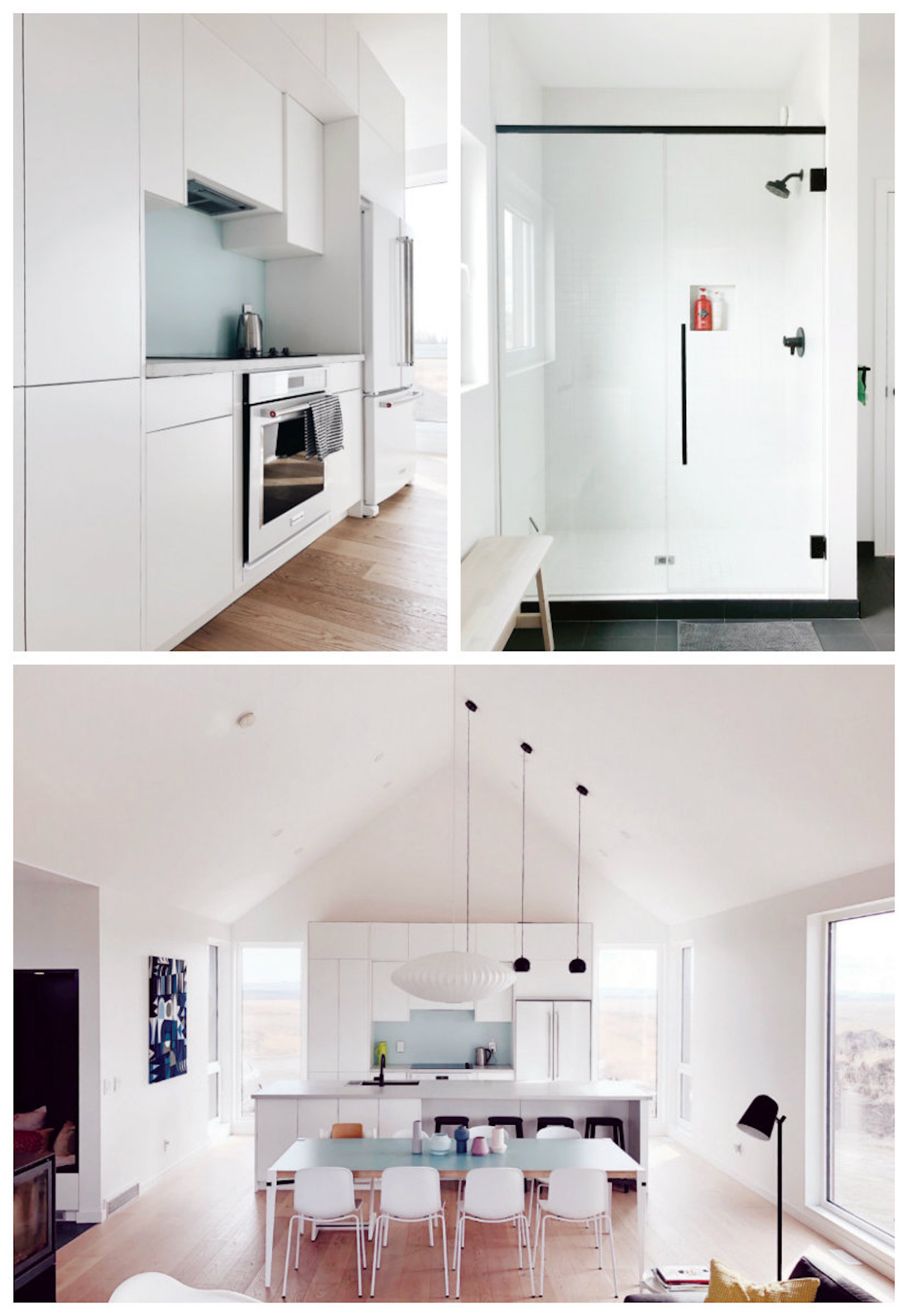 The 1,550-square-foot charred-cedar home makes a bold statement against the monochromatic prairie landscape of their property on the outskirts of Calgary, just east of Okotoks. The double-peaked metal roof stands in stark contrast to the 3.5 acres of farmland surrounding the home."We really thought ahead with all of the design elements we included in the exterior of the home," says David. "We considered the harsh all-season weather conditions that the prairies can endure, so we went with a metal roof. We chose to clad the house in shou sugi ban cedar because it is maintenance-free for around 75 years."
David sourced high-performance windows and doors from Europe that ended up being just as cost-effective as the not-as-high-performance Canadian brands they looked at. Heat-regulating insulated shutters on the exterior keep the home cool without air-conditioning.
The build itself only took around five months, mostly because they chose to go with an insulated concrete forms foundation (ICF), an interlocking modular foundation method. The interior of the home is the antithesis of the dark exterior — pure white walls accented with minimal black detailing, colourful art-work and large windows.
The interior is divided into two wings: one houses the bedrooms and bathrooms and the other is the communal living space with the kitchen, dining room and living room. The basement is also split, with more bedrooms on one side and a large movie and games room on the other.
"Ultimately, we would have loved to build the same home in the inner city, but since the land would have added so much to our overall cost we decided we would rather go for the dream house than the dream location at this time," says David. "We're both very visual people who work from home so we wanted a space that would be very inspiring to us and our two daughters." —K.K.
Passive House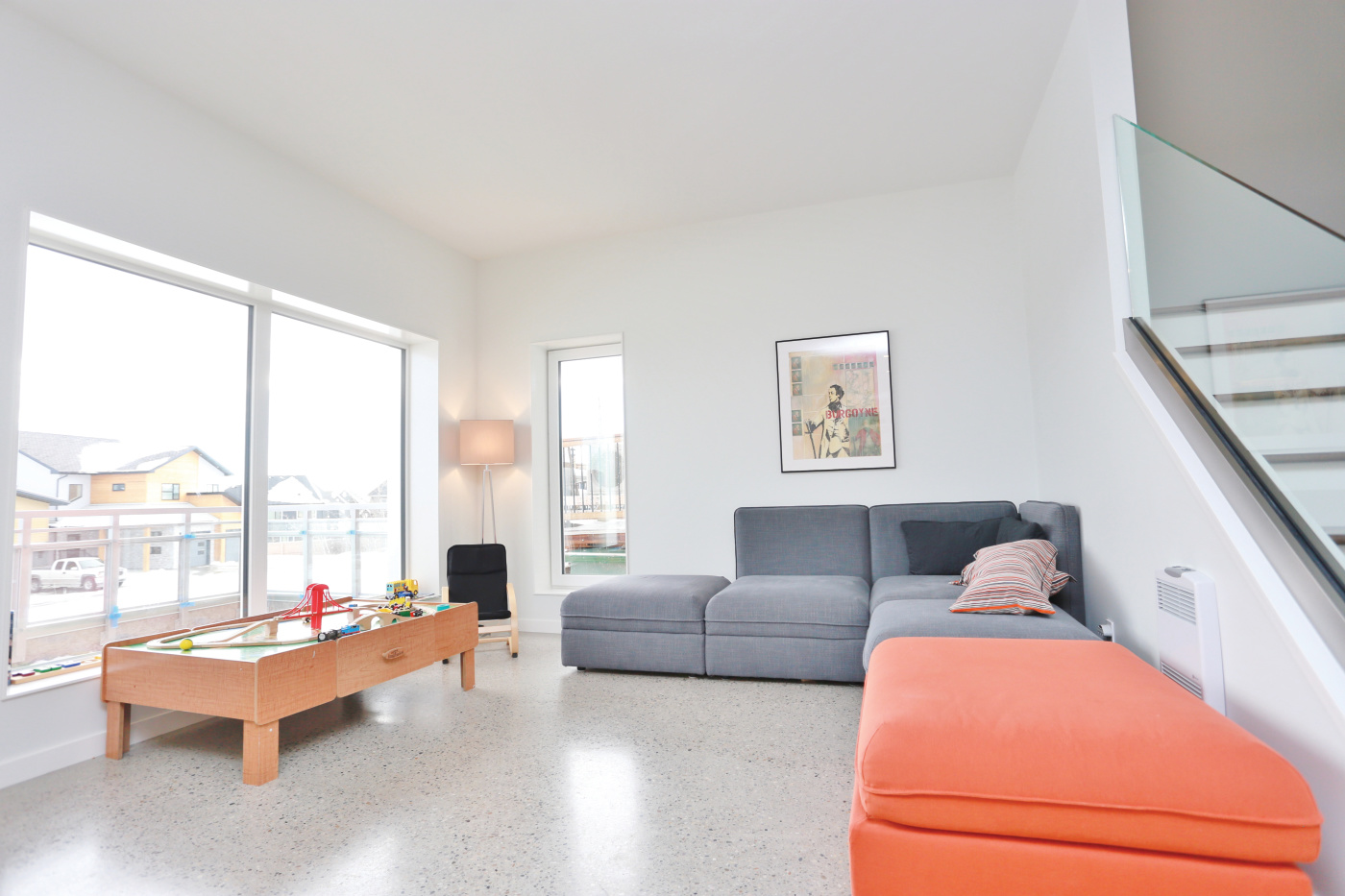 When Ania Kania-Richmond and Kit Richmond started house-hunting, they had one simple request: to find an efficient modern home within their budget. Although it turned out to be quite a challenge to find something that aligned with their core principles of healthy living, sustainability and overall reduction of environmental impact, they were determined to find something that fit the bill.
"As we looked into the idea further, Kit sparked an interest in the idea of a fully sustainable home," says Kania-Richmond. The couple learned about the EchoHaven community within Rocky Ridge in northwest Calgary. A micro-community of about 25 homes, EchoHaven is for homes with minimal environmental footprint, maximum efficiency, solar heating strategies and water conservation initiatives. "When we started looking into it and talked with our builder and the people in EchoHaven, they made us more aware of the options for an energy-efficient house: net zero, fully solar, Passive House and off-the-grid," says Kania-Richmond.
Passive House certification is a voluntary standard for energy efficiency within a home, signifying a reduction in the building's ecological footprint and reduced energy needs for space heating or cooling. For Kania-Richmond and her husband, building a house that pre-emptively reduced energy and used renewables to further offset energy consumption completely aligned with their philosophy.
They were also motivated by the challenge of creating the first certified Passive House in Alberta. "We wanted to build a house that reduced how much energy it required to operate and then we could add renewables as required to further offset standard energy consumption," says Kania-Richmond.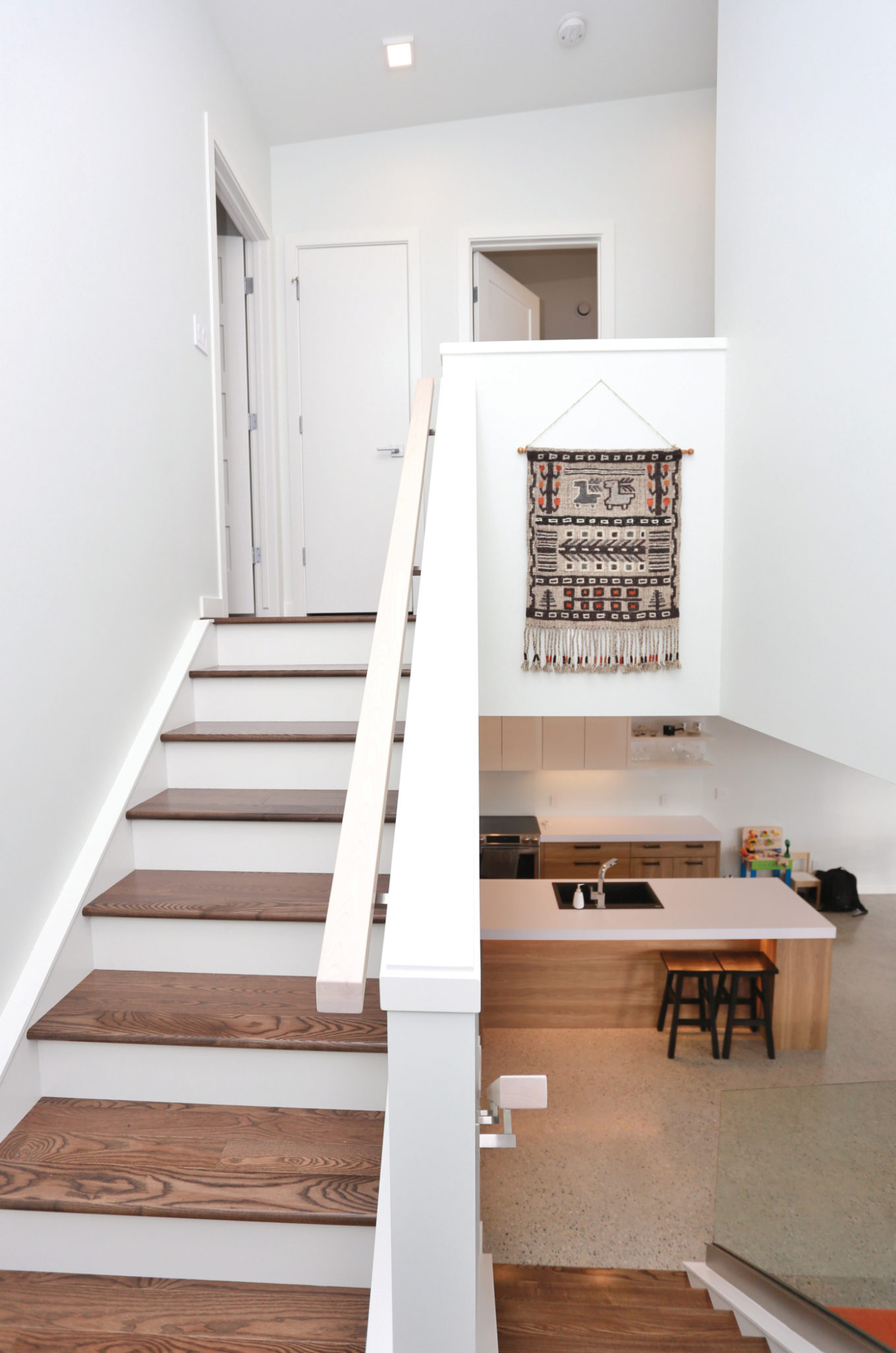 Their Passive House includes features that minimize the need for holes in the building exterior, such as outside venting for the kitchen, bathrooms and dryer. The couple also made simple choices, such as opting for a smaller high-efficiency fridge, other energy-efficient appliances, a condensing dryer, an induction stove and LED lighting throughout. Cement used for the interior flooring also functions as a natural heat sink, storing heat during the day and releasing it slowly through the cooler night.
The home also features extremely thick walls — approximately twice the thickness of standard homes — packed with insulation. These walls make a significant contribution to the high energy-efficiency of the home.
"We also included triple-pane windows and exterior doors as well as large south-facing windows to allow for passive solar access to the interior," says Kania-Richmond. "Although we live within these thick, heavily insulated walls, we feel connected to the exterior environment because of the natural light and direct relationship with the sun in terms of the interior temperatures."
That high degree of insulation and the heat-sink effect has even allowed Ania and Kit to opt out of something most Calgarians couldn't imagine living without — a furnace. With Calgary temperatures known to drop down to -30 C (or colder) in the winter months, Kania-Richmond notes she was worried about keeping the house warm in the depths of winter. However, the couple has been pleasantly surprised to find that even during extreme cold snaps, on a blue-sky day the house maintains a comfortable ambient temperature. Given the high number of sunny days they haven't needed to resort to other heating sources very often.
With sustainability and healthy living front of mind, Kania-Richmond and her husband found a lot to celebrate once they actually started living in the house. The ambient temperatures and consistent natural light had a positive impact on their family's moods and mental states. They also noticed that those ultra-thick walls limited the amount of disruptive external noise, such as the sounds of construction.
"The Passive House reflects a key principle in our family; the recognition of the need to live in a sustainable way and take steps in our lifestyle and daily activities that preserve our environment and connect to that environment," says Kania-Richmond. "We very much want to model for our kids what this means; not just talk about it, but also actively live this principle." —K.K.
SAIT Green Building Technologies Lab and Demonstration Centre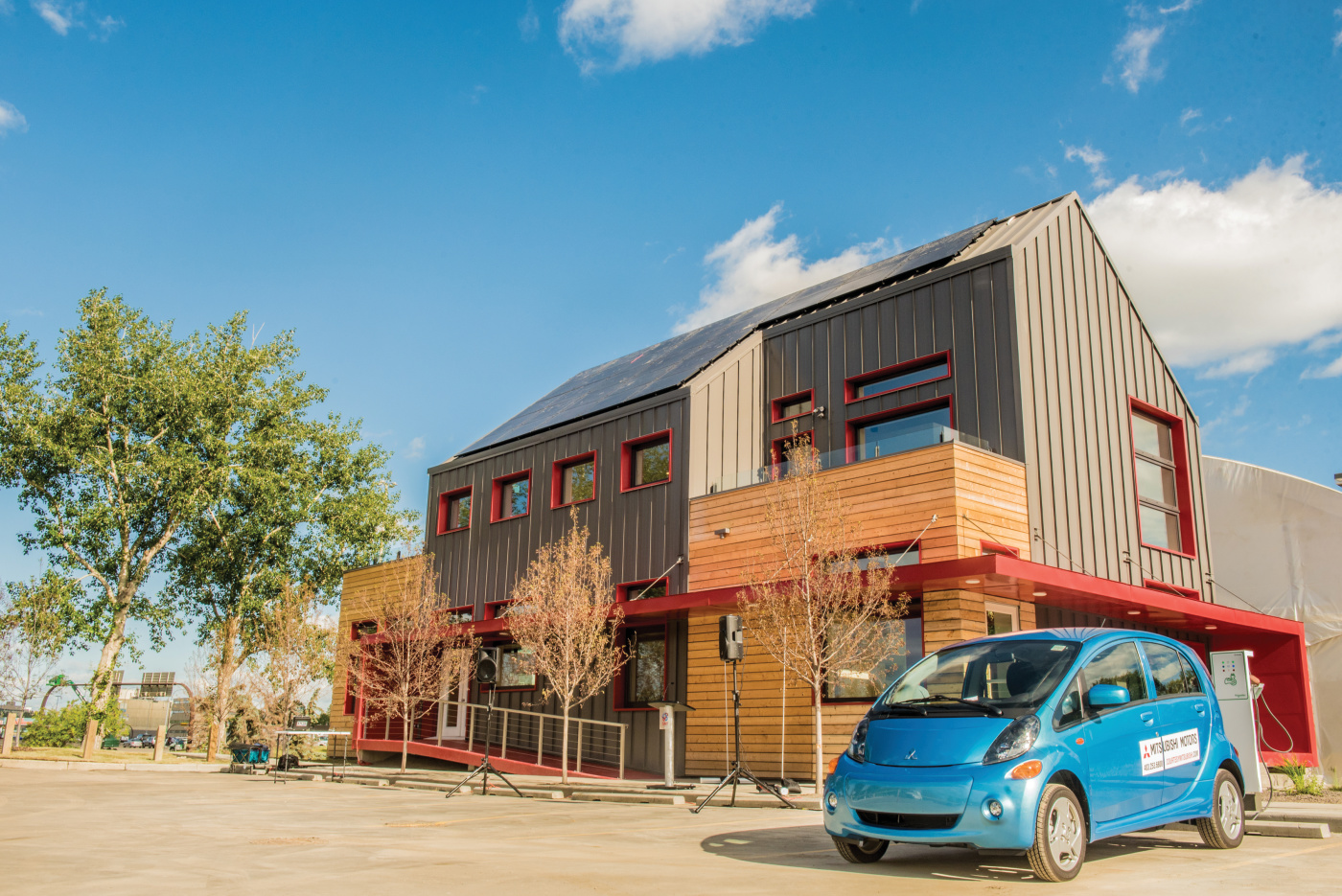 Green building techniques and sustainable design innovation are constantly evolving. Technology and innovation have come a long way, but the boundaries are continually tested and new developments are always on the horizon.
In order to provide a space for Calgary sustainable design innovators to thrive, SAIT opened its Green Building Technologies Lab and Demonstration Centre in 2017, boosting its existing Green Building Technologies (GBT) program, which began in 2008.
Putting SAIT's applied research facility at the forefront of green building innovation in Alberta and Canada, the state-of-the-art lab provides both students and researchers the opportunity to explore new processes and work directly with industry partners. The on-campus research experience allows for hands-on training and industry-based experience and also develops a stronger community with builders, government departments and other innovators in the industry.
The lab and demonstration centre is not only a hub for bold innovation, it's also an example of innovation itself — the facility was the first net-zero commercial building in Calgary, and the 6,350-square-foot lab and demonstration building sets a high standard for energy efficiency and renewable energy solutions.
With specialized workshops, testing areas and a large construction zone, the GBT facility boasts a total of more than 16,800 square feet of research space, and is an essential component for Calgary's future in sustainable innovations.
David Silburn, associate director sustainable operations at SAIT, says the GBT Lab and Demonstration Centre "provides students and industry suppliers, builders, designers and product manufacturers an opportunity to envision, trial, fabricate and test their sustainable building goals." Through its research infrastructure, expertise and grants, the GBT Lab supports industry innovation in energy efficiency and renewable infrastructure, high performance envelopes, water reclamation and cold-climate construction, Silburn notes.
One highlight of the lab is the green roof, which allows for testing water dispersion control and building-energy monitoring. There is also a solar carport, electric vehicle charging bays and living wall comparative test plots, as well as various other test labs.
Solar-power testing is at the forefront for Calgary — with the city logging more than 2,300 hours of sunlight each year it just makes sense to maximize this cost-effective method for homes and commercial buildings.
Making significant strides locally, GBT's commitment to researching and developing new products and systems for sustainability and energy-efficiency have been well-received by interested Calgarians who want to support this growing industry and implement these technologies into their everyday lives. —K.K.
Solar for Jayman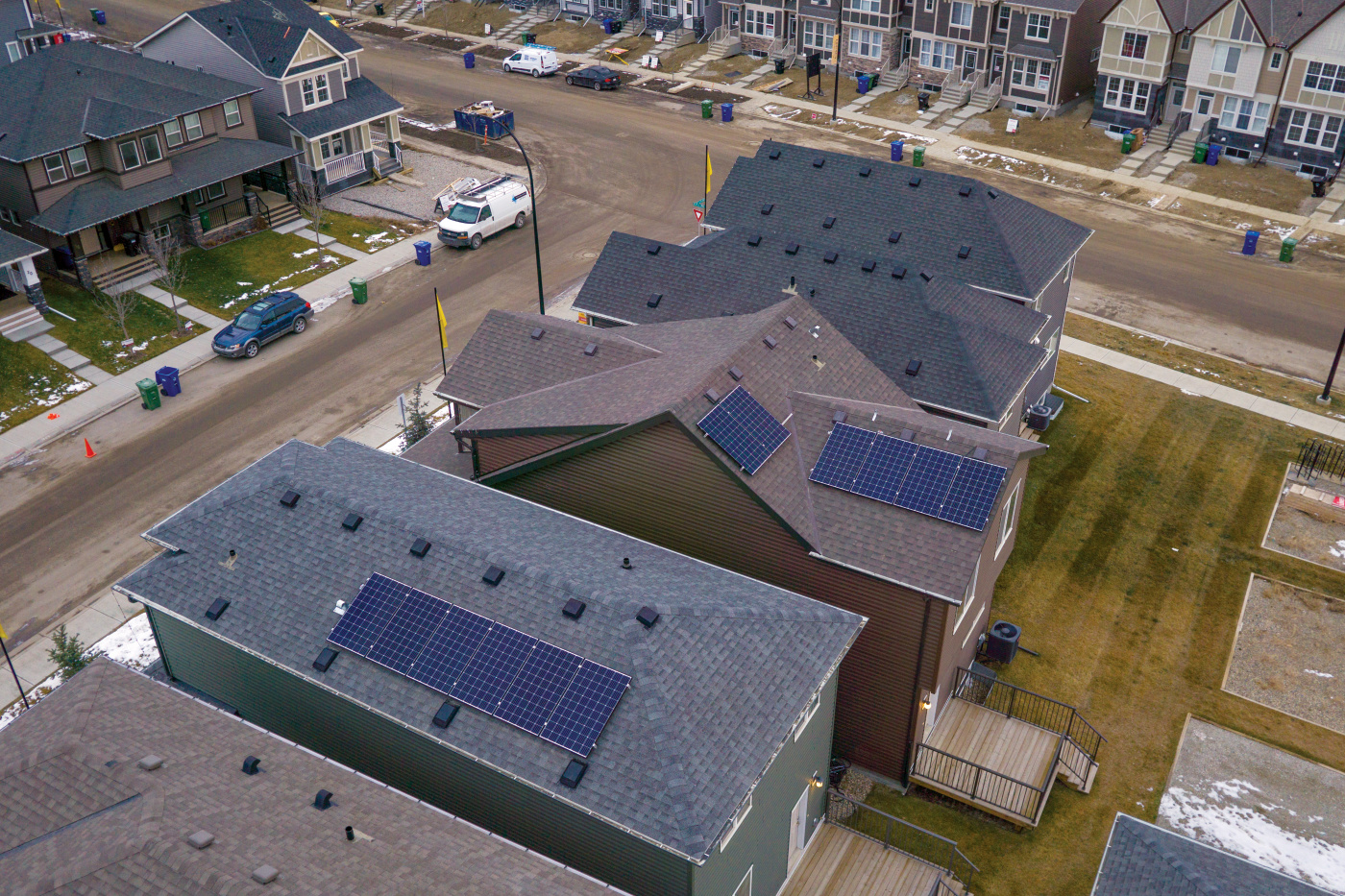 Calgary-based Jayman Built has focused on being not only a high-quality builder but also a leader of sustainable practices in the industry, implementing energy savings, water conservation and sourcing materials locally. "Sustainability has always been a part of what Jayman is," says Dave Desormeaux, president and chief operating officer of Jayman Built.
The company has taken a number of steps to improve the sustainability of its practices, such as recycling more than 37,000 metric tonnes of waste materials from its home builds. Using low-flow fixtures in its homes has also saved approximately three billion litres of water since 2002. The company is also a founding member of Built Green Canada, started in 2005. "Jayman calls all our sustainability initiatives the 'Core Performance' of our homes, placing environmental consideration at the centre of what we do," Desormeaux says.
Last year, Jayman took its biggest sustainability step yet, by including its Standard Solar Panel System in every one of the single-family homes the company built last year in Calgary and Edmonton. The systems, which include solar panels as well as an energy-efficiency upgrade, provide savings of up to $840 a year per household. Jayman is the first home builder in the province to create a program like this. Each new Jayman single-family home has more than $15,600 in energy efficiency upgrades, such as tank-less water heaters, triple-paned windows and heat-recovery ventilation systems, at no additional cost to the customer.
"We believe sustainability should be affordable, which is why we work with select suppliers to ensure our customers receive the highest quality and most environmentally conscious homes at a price that works for them," says Desormeaux.
The company notes that the solar panels alone should save the average household around $200 annually on electricity costs. While the Standard Solar Panels won't cover all the power needs of the home or operate at maximum efficiency all of the time, the initiative makes a significant contribution to each Jayman Built house's energy usage, and will prevent up to 1.2 metric tonnes of carbon from entering the atmosphere each year.
Jayman builds approximately 900 single-family homes across Alberta each year, so this commitment to sustainability will make a change immediately, as well as in the long-term. —K.K.
Shipping Container Comfort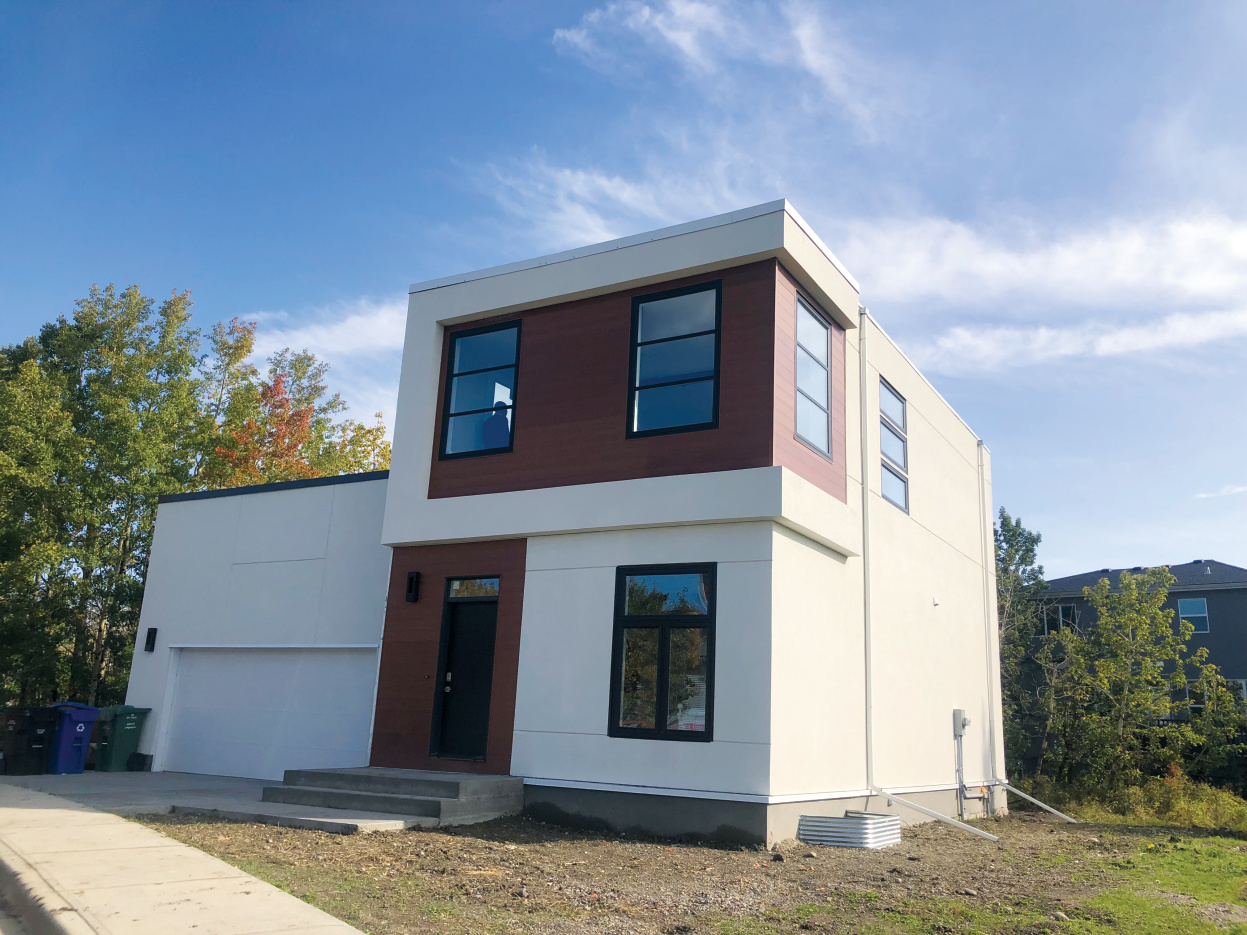 Picture a stack of sea cans en route to a faraway country: is "cozy family home" the first thing that springs to mind? Likely not. But for Jaime Turner and his family, that's exactly what four shipping containers have become. Constructed by Edmonton-based builder Homes by 3Leafs in Rocky Ridge's EchoHaven community, the Turner residence is Calgary's first full-size family home built from shipping containers.
The unique building method is considered environmentally friendly because it reuses containers that would otherwise be discarded, while the steel construction creates a longer-lasting and more energy-efficient home. For Turner and his family, the eco-angle was paramount. "My wife and I were motivated to build our unconventional forever-home to reduce our carbon dependency, lower our utilities costs, generate clean energy for the grid, and be positive role models for our daughter," he says.
Being eco-friendly doesn't trump aesthetics, however — the only signs that this home is constructed from shipping containers are two interior walls that the family chose to leave exposed and the steel beams throughout the space. From the outside, the sea-can house simply looks like a stylish new build — proof that thinking inside a box can yield beautiful results. —R.R.