Nothing burns like the cold, writes author George R.R. Martin in A Game of Thrones. "But only for a while. Then it gets inside you and starts to fill you up, and, after a while you don't have the strength to fight it." His description of how men routinely freeze to death guarding the fictitious Kingdom of the North can easily be applied to feelings around shovelling one's walk on a frigid Calgary morning. Sometimes, he continues, "it's easier just to sit down or go to sleep."
In Calgary, as in many cities around the world with four distinct seasons, winter has traditionally been approached as a time of collective sanctioned discontent. Sure, we might wear our prairie-born hardiness as a point of pride when interacting with tender Vancouverites, but who among us has not felt intense despair, if not rage, when faced with a 10-day forecast 20 degrees on the wrong side of zero?
Arguably, from driving to dressing, most things are harder in winter (skiing, sledding, skating and other snow-sporty things, aside). Sometimes, nothing beats staying in. To that end, Denmark has embraced one of the most enviable approaches to making the season tolerable: their philosophy of hygge — loosely translated to "cozy contentment" — has overtaken North America in recent years, turning "couch-potato" into an elegant, beeswax-candlelit lifestyle choice.
But, is retreating indoors — to living rooms, arenas and concert halls — a fruitful path to happiness six months of the year? As the Grinch might put it, maybe winter, perhaps, means a little bit more. Approached with a dollop of Norwegian friluftsliv ("open-air life") winter can, potentially, be not only tolerable, but delightful outside, too.
Such was the thinking of a group of North American and European urban planners, architects and engineers, who, in 1982, established the Livable Winter Cities Association. Their ideas were subsequently laid out in a book called Livable Winter Cities (no longer in print), published in Edmonton. It claimed that Alberta's capital, like most cities in Western Canada, was built "almost entirely in the 20th century by private and public builders working on their properties, to answer their own needs" — a focus that left our cities "unconnected, spread out and ill-equipped to deal with winter."
In recent years, the push to make communities in northern latitudes more appealing and accessible year-round has gained momentum via organizations like the Winter Cities Institute which, in 2005, took over from Livable Winter Cities to organize idea labs, promote events such as the International Winter Cycling Congress, and otherwise inspire strategy and infrastructure for sustainable cold-weather fun. In 2007, the Toronto-based organization 8 80 Cities followed suit, formalizing the idea that a world-class city must be as accessible, safe and fabulous for an eight-year-old as it is for an 80-year-old.
Decades of exuberant, mass attendance at Carnaval de Québec — the largest winter festival in the western hemisphere — is proof that people are, indeed, willing to line up in the bitter cold if given an affordable and beguiling reason such as a bikini snow bath (bain de neige) and a mug of sweet, rye-spiked wine (possibly not in that order). Another city known for its good cold fun is Winnipeg, home to the Nestaweya River Trail with its architectural Warming Huts, as well as a 20-metre-tall ice-climbing tower and the annual Festival du Voyageur, celebrating its 53rd edition this February. Chicago's Oak Park has heated sidewalks; Tromsø, Norway has ski and kick-sled lanes alongside roadways; and, in Oulu, Finland, they plow snow from pathways before clearing the roadways, making the city a global winter-cycling capital. Over the past decade, Edmonton has also gained traction as a dazzling winter locale; check out this claim from its WinterCity Strategy:
Remember the old days? When it was fashionable to grumble about the cold? When we started the winter season by wondering aloud how soon it would end? Well, Edmonton isn't like that anymore.
Huh? What has changed in Calgary's northerly counterpart, where winter temps routinely dip to sub-30 degrees Celsius? Hint: it's not the weather.
Edmonton's goal to quash winter's "dangerous, dark, lonely and boring" reputation includes adding light, warmth, art, accessibility, affordability and fun to public-space design. The initiative's WinterCity Think Tank, formed in 2012 as part of the WinterCity Strategy, zeroed in on a widespread attitude of hibernation as a major block to good times and is retelling the city's winter story to evoke "feelings of wonder and playfulness… adventure, magic, mystery and humour." The city was already well on its way: Edmonton's perennially well-attended mid-January Deep Freeze: A Byzantine Winter Fete has hit that mark for 15 years with light installations, film shorts and live music — followed in February by a series of outdoor stories by Indigenous Elders, a snow garden and sporting events at the Silver Skate Festival. Edmonton is also investing in improved clearing of snow on roads and pathways, as well as constructing sidewalk ramps that don't collect ice and exploring public-building design that mediates transitions from indoor warmth to outdoor cold.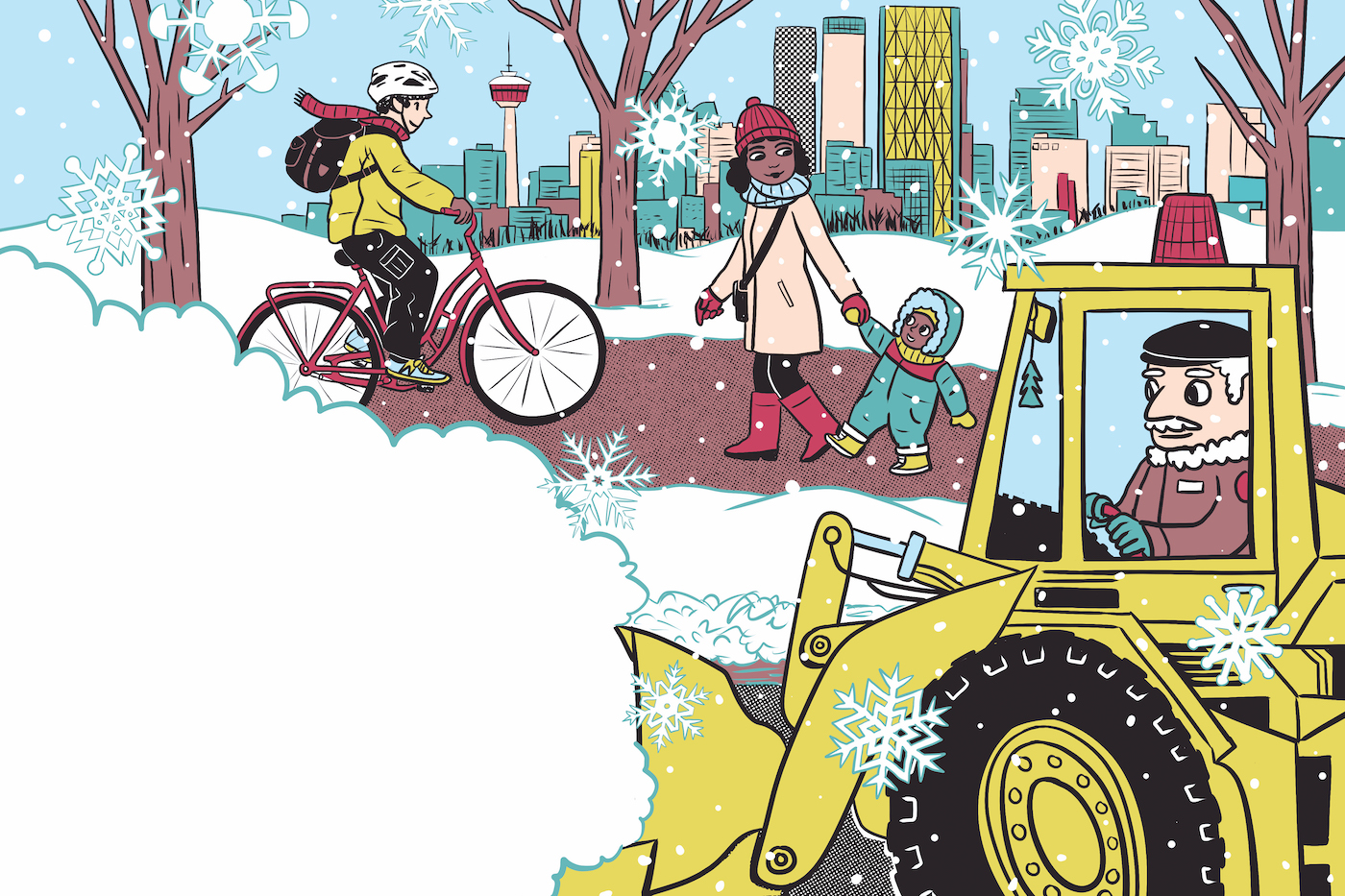 So, where does this leave us? Well, not to be left in a snowbank, the City of Calgary recently kicked off its own Winter City Strategy. A collection of events and planned infrastructure, it's a multi-year plan that aims to spread cultural vibrancy and economy-boosting investment across 12 months, rather than blow it all on summer.
While many civic efforts have been made over the years to spark urban winter fun, Calgary has come late to the official winter city party — tardiness that may be overlooked given our natural state as an attractive frosty metropolis, even without the official paperwork. Indeed, Winnipegger Anders Swanson, secretary of the Winter Cycling Federation, marvels at the thought that Calgary could be perceived as anything less than a winter paradise. "Oh, geez," he says, when I tell him about Calgary's campaign to convince its citizens to celebrate winter. "People love Calgary for its opportunities to play in the snow; that's the perception of Calgary," he says. "And, if Calgary needs to be convinced of that? Then Calgary needs to give its head a shake."
But, with every urban centre from Anchorage to Zurich making a sexier play for winter, Calgary is on the job now, too (we're in sync with our little prairie sibling, Regina, which recently launched its own make-winter-fun-again plan).
Certainly, former city councillor Druh Farrell (currently the NDP candidate for Calgary-Bow in the next provincial election) didn't need convincing. "I'd been working on making Calgary a more appealing winter city for more than a decade," she says. "I knew that communities in the downtown were experiencing high levels of loneliness that worsened during the winter, but I also knew that many Scandinavian countries are able to avoid the seasonal depression we had come to expect here." As well, Farrell says she saw people prospering and having winter fun in Winnipeg and Edmonton where, she says, "they treat winter as an asset."
In 2019, council got to work on a plan that aligns with the growing global zeitgeist to inject more diversity, safety, fun and equity into cities year-round — especially in the downtown core. The plan dovetailed fortuitously with the onset of the pandemic. "What really spurred things along was COVID: there was a sudden sense of urgency to create great public spaces for people to enjoy, to be safe and to combat loneliness throughout the year," says Farrell.
The not-so-catchily named Winter City Strategy rolled out starting most spectacularly with the Chinook Blast festival in February of 2021. In partnership with Tourism Calgary, the inaugural festival included a variety of free outdoor pop-up theatre events, musical performances and art installations. Franca Gualtieri, executive director of Chinook Blast with Tourism Calgary, says audience turnout far exceeded expectations.
"Chinook Blast drew between 60,000 and 80,000 people to downtown events each weekend," she says. Not only that, but the 2021 fest hired upwards of 500 artists, as well as highlighted dozens of local amateur athletes in Olympic Plaza. And, anecdotally speaking, says Gualtieri, "shops, restaurants and sidewalk patios along Stephen Avenue were absolutely packed on Family Day weekend of the festival — it was so much fun to see the downtown come alive like that in winter."
While the 2021 edition of Blast could only offer an abbreviated menu of events due to COVID, the timing of the Winter City rollout proved serendipitous. Sure, the pandemic triggered an uptick in the number of Canadians making trips to the liquor store, but its constraints also drove people outdoors to play in all kinds of weather.
The COVID-times creation of friluftsliv-forward activities as part of the City's plan included a new firepit program, which is an initiative close to Farrell's heart. "A firepit is a place where people can connect and celebrate winter together," she says. For years, Farrell had pushed to have firepits along Stephen Avenue, but was frustrated when they were installed with wide barriers that kept visitors several feet from their warmth and light. "Calgary had a very risk-averse approach to winter — but if you eliminate all risk, you lose the fun." The pandemic spurred the City to remove the barricades from those firepits, and to erect dozens of firepits in city parks, for which they provided wood. The City also facilitated nearly 1,000 permits for gas-powered stoves and firepit bookings.
In January 2022, Alberta's first outdoor accessible community rink — complete with standards for sledge hockey — opened in the northwest neighbourhood of Parkdale. A free, annual FrostFest featuring DJs, ice sculpting, carnival games and food trucks launched in 2021 over two November weekends at parks in southeast and southwest communities. As well, in 2020, Calgary became the first city in Canada to offer rental ice-bikes, giving non-skaters of all ages at Bowness Park the opportunity to glide across the lagoon, and Parks and Rec flooded nearly two kilometres of ice trails that meander through the trees parallel to the Bow River.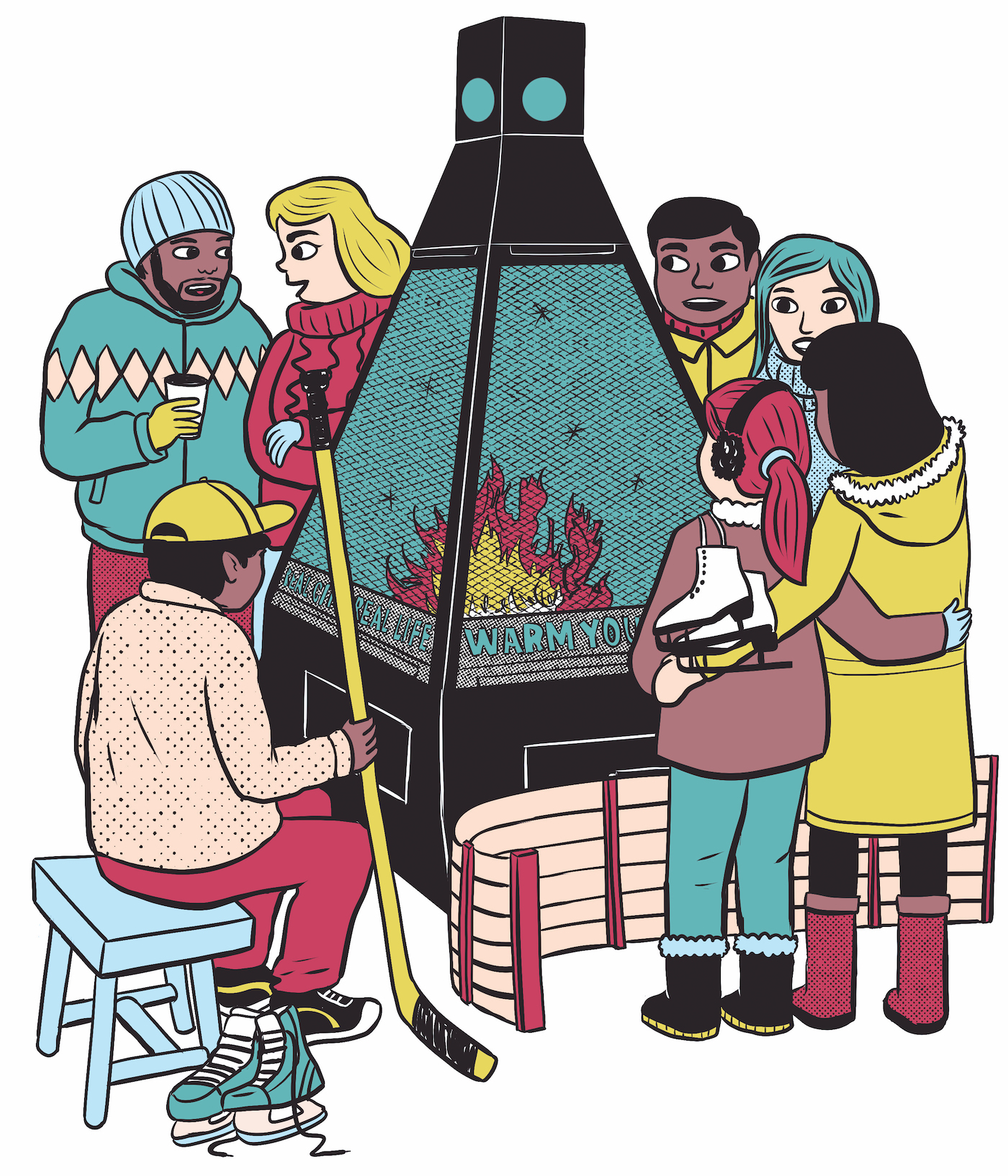 There's more to come. Plans are currently afoot to develop more outdoor winter dining and markets in Calgary, as well as a greater number of warming huts in parks and plazas; to add more free events, transportation and warm outerwear for low-income populations; to build more shelter options for vulnerable populations through agencies such as Calgary Housing Company; to seek out new innovations to heat sidewalks for improved safety; to promote Calgary's Indigenous winter-life history; to create a more diverse array of year-round cultural celebrations; and to provide newcomers access to winter-sport lessons and gear. Certainly, it's enough to make some of us want to retire our well-worn hyggebukser (Danish for comfy oversized couch-pants).
Still, there's work ahead if Calgary is to catch up with the world's most envied cold-weather cities. While the strategy includes plans to increase cycle track accessibility, we lag far behind Finland where the majority of children bike to school year-round, and many places can be reached faster and more safely on bikes than in vehicles. Oulu's 875 km of cycle paths are cleared within three hours of a two-centimetre snowfall; there are plans to speed up Calgary's current promise of a 24-hour sweep. Our own boss of winter cycling — Tom Babin, journalist, YouTuber and author of Frostbike: The Joy, Pain and Numbness of Winter Cycling — would approve.
As Babin writes on his blog, Shifter: "When a city makes it easy to bike in winter, for instance, a large number of people will do it." Where he says he used to shudder at a fresh snowfall, now he looks forward to those days as ideal biking opportunities, "because it means the city will be prettier and the odds of a passing car throwing salty mud onto my face are reduced."
This coming February, the third-annual 
Chinook Blast will include more free outdoor events and more ticketed events over four weeks. In addition to all the music and light displays, expect an Asian night market, an art tour and, yes, a Hygge Hut where "soft lighting, a warm drink" and, above all, "the snuggle vibe" will rule.
Even as the benefits of a more intentional winter city are being tallied, it's unlikely the strategy will entirely melt one of Calgarians' most gratifying winter pastimes — complaining about it. Perhaps, however, the initiative will convince us to seek more joyful opportunities like those described in Finland's beloved fictional series, Moomin. Launching himself into a snowbank, the books' central character, Moomintroll, is surprised to feel the same excitement as he does when he wades into the ocean for a summertime swim. "'So that's winter, too!' he thought. 'You can even like it!'"