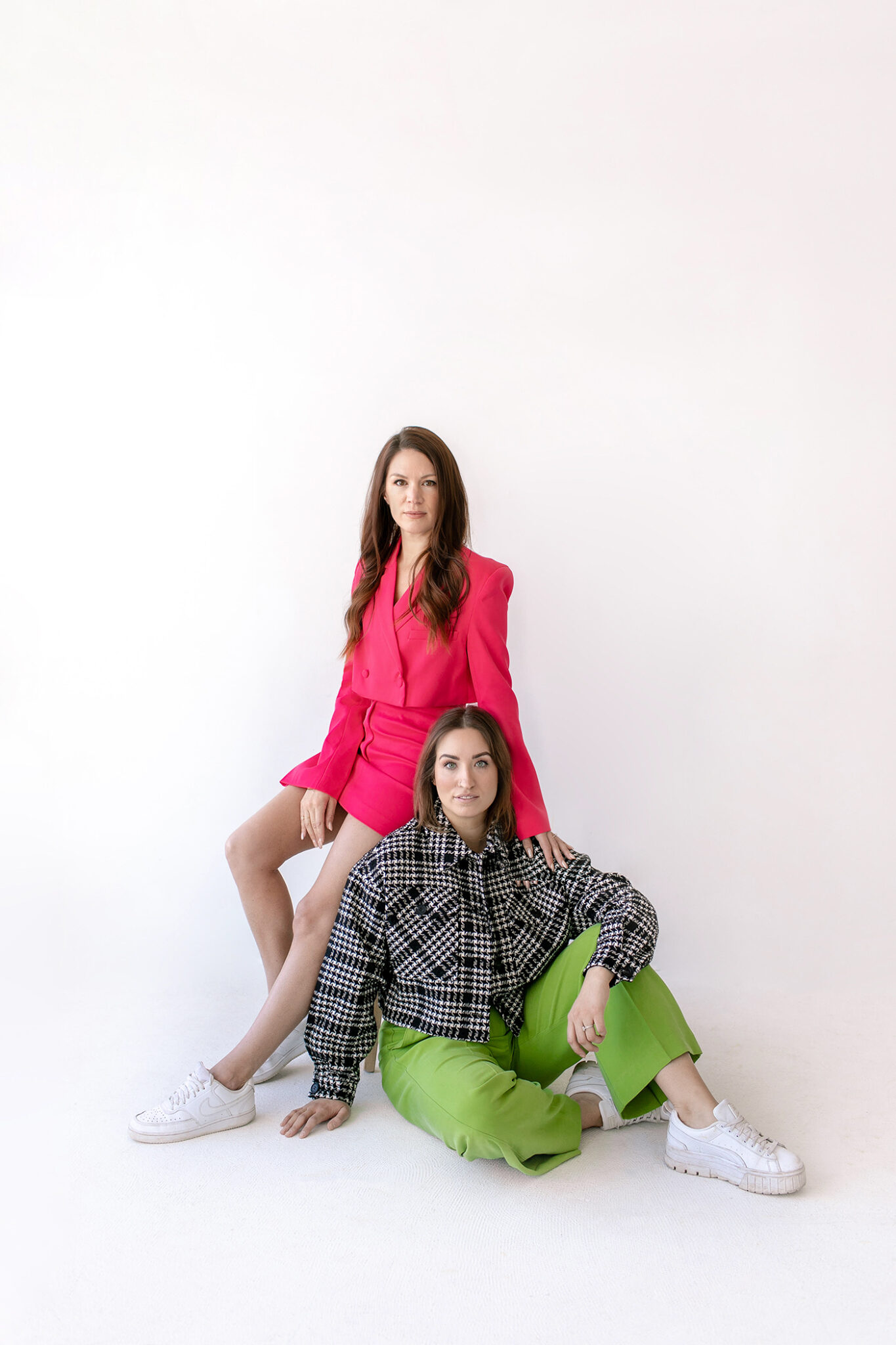 When April Hicke and Marissa McNeelands met as board members for Young Women in Business, they quickly connected over similar issues they'd seen and experienced in their male-dominated tech workplaces — things like a lack of women and diverse talent, salary disparity, getting left out of technical discussions and perennially being the ones asked to plan the team parties. These persistent problems were part of the reason the two had each sought camaraderie outside of their full-time roles, including their board positions.
As Hicke and McNeelands grew the women-centred community they lacked in their workplaces, something larger began to take shape. "People tended to lean on Marissa and I and ask questions; we were coaching women on the side, talking openly about salary and negotiating their worth," says Hicke. "We kind of made a name for ourselves as mentors in that way. And we were like, 'Wait a minute, can we just do this for a living?'"
So, they did: In 2022, Hicke and McNeelands joined forces to create Toast, a talent organization and membership-based collective aimed at increasing gender diversity in tech. By partnering with companies that want to build more diverse and equitable workplaces, especially in the lead up to federally mandated ESG reporting by 2024, Toast is able to place the women in its network into high-quality roles, both full-time and contract, with the compensation to match. "Our mission is to help women get the work they want, for the pay they deserve, with a community that supports them," says McNeelands. Toast has partnered with more than 27 organizations since its launch, including Helcim, AltaML and PurposeMed, with more signing on all the time.
Part of Toast's white-glove job placement formula involves removing bias from the selection process: Toast creates candidate profiles that include highlights around work experience, education and accomplishments, but leave out school and company names, as well as the name, photo and other identifying information of the candidate. "I truly believe that if we're pushing diversity, equity and inclusion into organizations, it has to start in hiring," says Hicke. "We need to remove some of those biases to get the right people in the door that are hired based on their qualifications."
Before signing on partners, Toast vets companies to ensure their values align; currently, that's completed by Hicke, but eventually they'd like to utilize artificial intelligence as part of the 360 review process (McNeelands is currently working towards a Master's of Management in Artificial Intelligence at Queen's University; Hicke is completing her MBA via Royal Roads University). "There are a lot of organizations that have splashy DE&I pages, but they're not great places to work," says Hicke. She and McNeelands envision a future where the gold standard for a top-tier workplace is a partnership with Toast: "Women could look and say, 'Oh, they partner with Toast? Then 100 per cent,'" Hicke says.
In addition to placing women in custom-fit roles at trusted tech organizations, Toast offers a paid monthly membership, which provides admission to regular virtual and in-person events and workshops, as well as access to a dedicated community in Slack, an online messaging platform where members can connect on different topics, share job hunt resources, chat with Toast's in-house legal and HR expert, plan meetups, share experiences and vent. There are currently more than 100 members across the country, and over 3,000 people in Toast's candidate roster.
"We had someone tell us recently that she's gotten more value out of being [a member of] Toast for two days than she did being in another organization for almost two years," says Hicke. "It's been so rewarding, and validating [to tackle] a problem that needs to be solved."