Back in the fall of 2016, in the sunroom of a Calgary hospice, a young mother was punching boxing pads held out by her girlfriends. Sweating and crying, Jessica Janzen Olstad then returned to holding her terminally ill four-month-old son, hoping for a miracle.
The miracle that Janzen Olstad was hoping for didn't come; Lewiston Olstad died that November, just shy of six months old. But those days in the hospice also marked the beginning of Love for Lewiston, a fundraising campaign borne of tragedy that has been taken up by the local fitness community – a community that counts Janzen Olstad, a spin and Lagree instructor, among its own. Now, she believes "the miracle is that our little boy has changed people's lives for the better."
Though her story is a heartbreaking one, Janzen Olstad still wants it told. "You can ask me anything. I'm an open book," she declares. And so she is. Over the course of our interview, she talked freely about Lewiston, but also about her relationship with exercise and how it has changed over six difficult years. She reveals struggles with body image and weight gain, mental health and grief, but also the happiness and stress relief that she has found in physical activity. "Coming out of such dark days, exercise is probably one of the key pieces that really saved my life," she says.
Janzen Olstad arrived in Calgary from Winnipeg in 2006, eager, effusive and, at nearly 200 pounds, keen to lose weight. Ironically, her weight gain had happened while she was managing a fitness club – the long hours she put in meant she rarely had time for exercise herself, and she often catnapped in the facility's turned-off tanning beds. In Calgary, she set about changing her body and became one of the first instructors at the spin studio One Cycle.
Janzen Olstad's openness in person matches the openness she has long displayed on her Instagram account, which has more than 13,000 followers. She first started posting in 2012 – a basic shot of glasses mid-toast. That same year, the first photos of a man nicknamed "Hot Ronnie" also started showing up on Janzen Olstad's Instagram feed. The duo met as co-workers in the head office of Jugo Juice and cycled through an on-again-off-again relationship for months as he struggled to break his addiction to drugs and she dealt with their breakups by immersing herself in exercise.
In the fall of that year, a grinning Janzen Olstad was seen wiggling her fingers to show off an engagement ring while on a trip to New York City. Over the following year she posted pictures of Ronnie and her at the doorway to their new house, then a wedding at her parents' farm in Manitoba. Throughout, other photos show Janzen Olstad teaching spin and Lagree, a muscle-burning workout that combines Pilates, cardio and strength training. At one point, she was teaching between seven and 10 spin and Lagree classes per week.
In 2014 Janzen Olstad announced via Instagram she was pregnant. Around that time, she also began fundraising to support a pair of young siblings, Ishan and Shanaya, both suffering from a disease called Spinal Muscular Atrophy (SMA). Janzen Olstad had previously worked as a caregiver for the siblings. Through her efforts, she was able raise $50,000 for a wheelchair-accessible van for the family and also used the opportunity to educate her followers about SMA, a disorder occurring in approximately one out of every 6,000 births.
Later that year, the Olstads' daughter Swayzie made her first Instagram appearance. Just nine months later, Janzen Olstad announced she was pregnant again with a photo of Swayzie next to a pair of tiny boots shaped like footballs. "[I]s it gonna be crazy having 2 babes a year a part [sic] …. But we do crazy," the caption read.
On May 25, 2016, Lewiston arrived, weighing seven pounds, three ounces. "Health, happy and beyond blessed," Janzen Olstad wrote in her post announcing the birth.
Over the following weeks, Janzen Olstad's Instagram feed showed the family on vacation in Manitoba and figuring out life as a foursome. A smiling Janzen Olstad appeared holding a crying Lewiston, whom she described as having ongoing issues with colic, along with other normal family-life stuff.
But later that summer, the tone changed. There was a black-and-white photo of Ronnie holding Lewiston in a hospital room and a request for prayers while they awaited a diagnosis. In August, Janzen Olstad reported that Lewiston had SMA type 1, the most severe form, with an expected survival of less than a year. It was a rare diagnosis, made rarer still by the incredible coincidence that Janzen Olstad had spent years caring for other kids with the disease.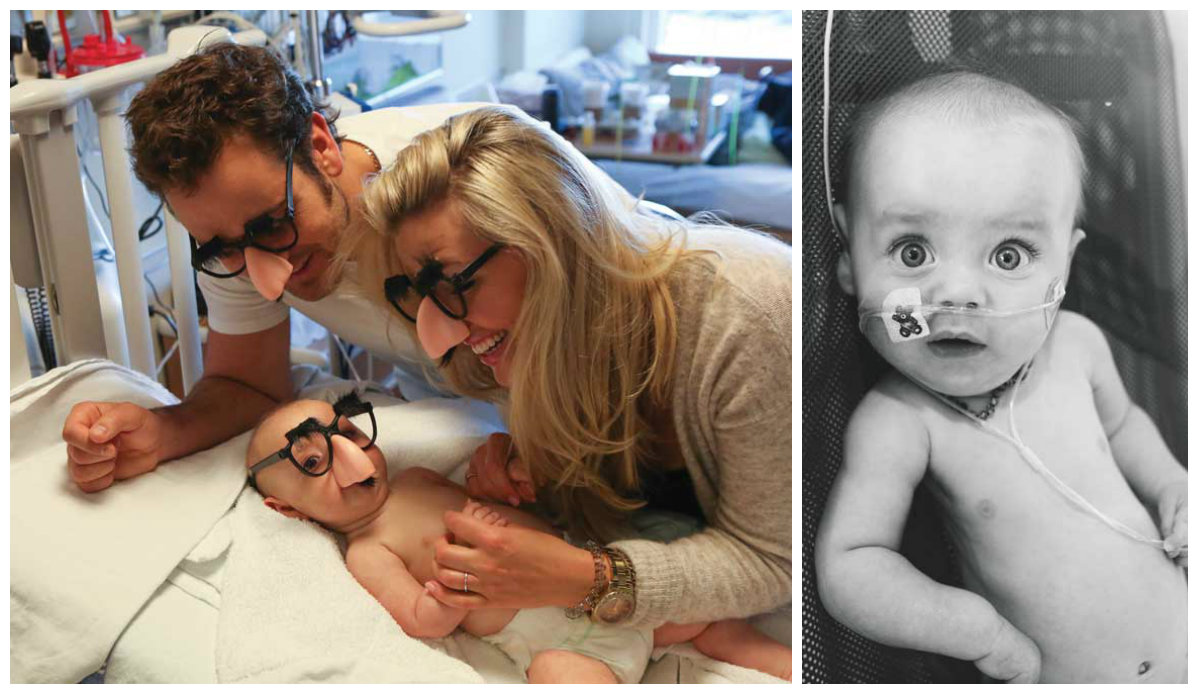 During Lewiston's illness and in the year and a half since he died, the fitness community rallied around Janzen Olstad, holding fundraisers for Lewiston and in his memory. Her desire to give her son the best life possible during his limited time meant there were dance parties and costume parties in the hospital and hospice. She continued to post to Instagram almost daily, including on Nov. 22, 2016 – a black-and-white photo of Lewiston and the words that he had passed away peacefully in her arms after his morning bath.
Janzen Olstad went back to teaching spin two months after Lewiston's death but lacked what she describes as the "oomph and compassion" to be at the head of a class. She took time off and fell into a dark depression. Seven weeks before what would have been Lewiston's first birthday, she decided enough was enough. "We either have a pity party or we have a dance party," she said.
She and Ronnie formally launched Love for Lewiston as a non-profit organization in the spring of 2017 to raise funds for SMA research and the Alberta Children's Hospital Foundation. At their party held to commemorate what would have been Lewiston's first birthday, they raised $42,000, and just over $118,000 by the end of 2017. Janzen Olstad hopes to increase that to $200,000 by the end of 2018.
Exercise continues to be a cornerstone of her life. Janzen Olstad is back to teaching Lagree several times a week and is currently training for the Lewiston Ultra, a 50-kilometre solo and relay trail-running race for the Love for Lewiston Foundation taking place Sept. 29 in B.C.'s Shuswap region. She also fits in the odd barre or boxing class and works out regularly at Bold Athlete. Late last year, she recorded a series of workouts for Fit Radio, an app with guided fitness coaching and DJ music. "People probably don't look at me and think, 'oh, you must be a fitness instructor,'" she says, indicating her curvy body. "But I'm strong, and being confident in what my body can do makes such a difference. That's a message I want to share because I know a lot of women struggle with it."
As with her forthright approach to fitness and body-image, Janzen Olstad believes that being honest about her personal struggles is what has drawn people to her story, and to Lewiston's, so she plans to continue.
The 2018 Love for Lewiston birthday party is on May 25 at Rodney's Oyster House. For more information, go to loveforlewiston.ca