"Some day in the dim and distant future," the Albertan editorialized in 1911, "Calgary's people will seriously regret the absence of the relics of the days gone by, such as the old town hall and the like." Since the 1970s, we've had a process for evaluating heritage buildings and encouraging their preservation. There have been great victories, but every year, part of our city fabric is lost to demolition or fire. Here are a few notable structures that we said goodbye to in 2017.
---
Westbourne Baptist Church
436 13 Ave. S.E.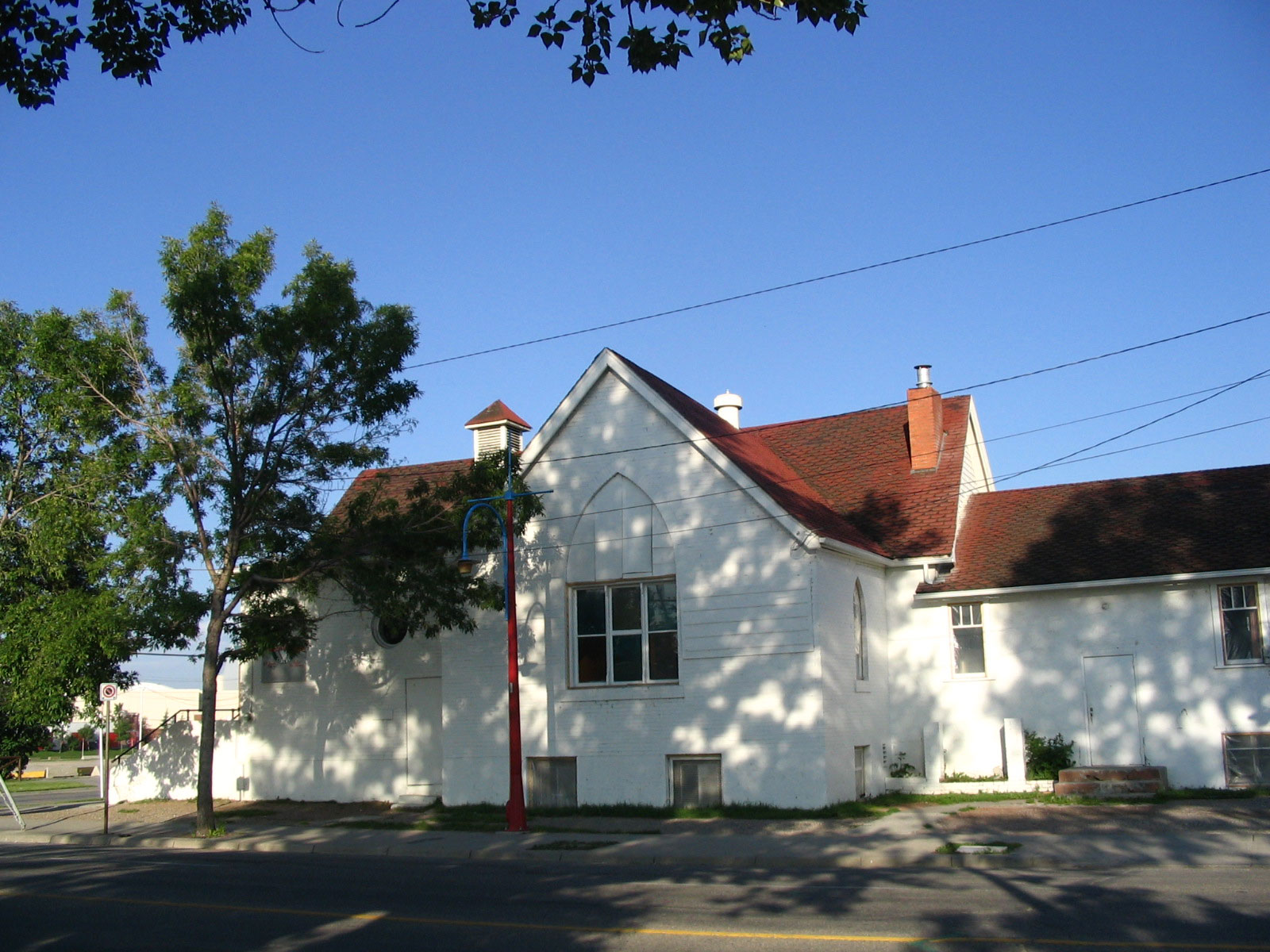 East elevation of the former Westbourne Baptist Church, looking west from Olympic Way S.E., 2006.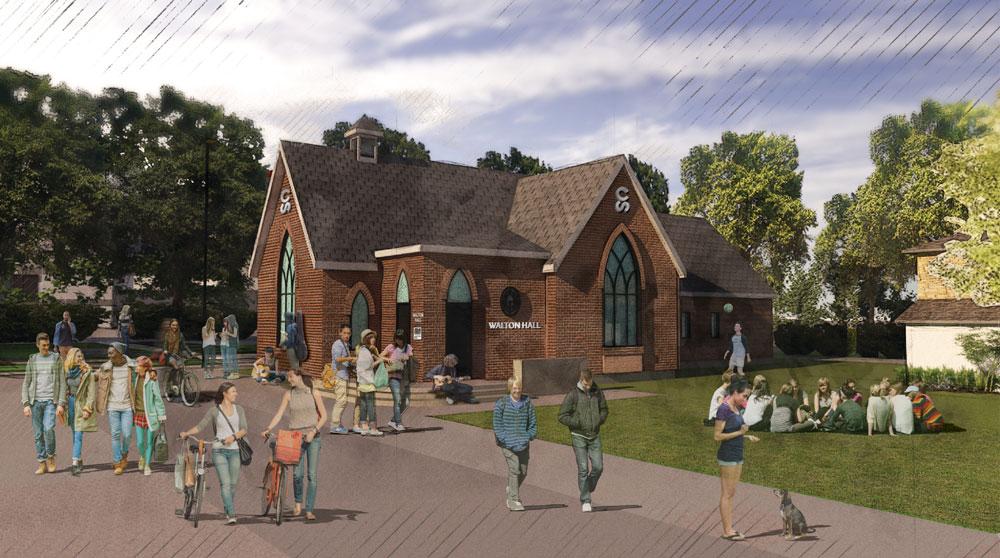 Walton Hall, a replica of the former Westbourne Baptist Church, will open on the Stampede's Youth Campus in late 2018. It will include fabric from the original building.
In 1905, the city's First Baptist congregation built a small frame church for its Victoria Park mission and named it for the London congregation that funded the project. Westbourne Baptist was originally located at the northeast corner of 13 Avenue and what is now Macleod Trail.
In 1911, the congregation sold its lot at a profit and moved the building two blocks east, where it was renovated and clad in brick. School principal William Aberhart began preaching at Westbourne in 1915, and it became the spiritual home of his religious movement and radio ministry.
In 1927, Aberhart moved his operation to the newly-built Calgary Prophetic Bible Institute, and in 1935 his Social Credit party swept to power in Edmonton. Aberhart, followed by his protege and fellow former Westbourne congregant, Ernest C. Manning, governed the province for more than 30 years. The original congregation moved to the northwest in 1967. The old church was left vacant, later housing a Pentecostal congregation and, finally, the Victory Outreach Centre.
The Stampede eventually absorbed the site and proposed moving the church to its nearby Youth Campus for use as a performance venue. Mold and structural problems altered the plan and the church was demolished last June. But its bricks, doors, wainscoting, window frames, and other original fabric will be incorporated into the replica Walton Hall, which will open in late 2018.
---
Jalland Block
602 17 Ave. S.W.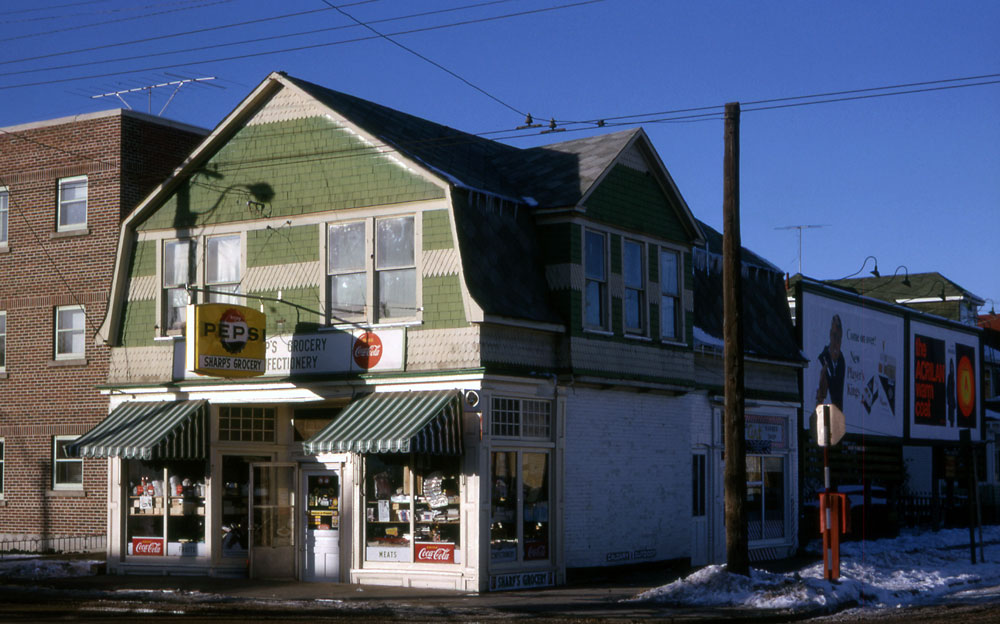 The Jalland Block housed Sharp's Grocery when this photograph was taken on November 17, 1965.
Seventeenth Avenue's status as Calgary's southern boundary was a recent memory when Thomas and Robert Jalland took out a building permit for this two-storey Dutch Colonial Revival-style building in 1907. It housed a grocery and sub-post office in its main storefront, a shoemaker or tailor shop around the side, and apartments upstairs.
A double murder-suicide in the building made headlines in 1912, shortly after residential tenant Mildred Dixon became a private eye. In her second case, she followed Minnie Davis, whose husband John (a ringer for actor Matt Dillon) suspected her of cheating. Dixon quickly sized-up an abusive relationship, broke her cover, and persuaded Minnie to stay with her for safety. John tracked down his wife, entered the apartment, shot the women, and killed himself. He was later identified as bigamist Spencer Holder of Alabama.
In 1974, the entire building became Gold's Studio of Photography, and a generation of married couples and bar mitzvah boys have "Gold" stamped at the corner of their portraits. It later housed the Magic Room salon, She Lingerie, and, finally, Waves Coffee Shop. The building was razed for redevelopment.
---
12 Street Bridge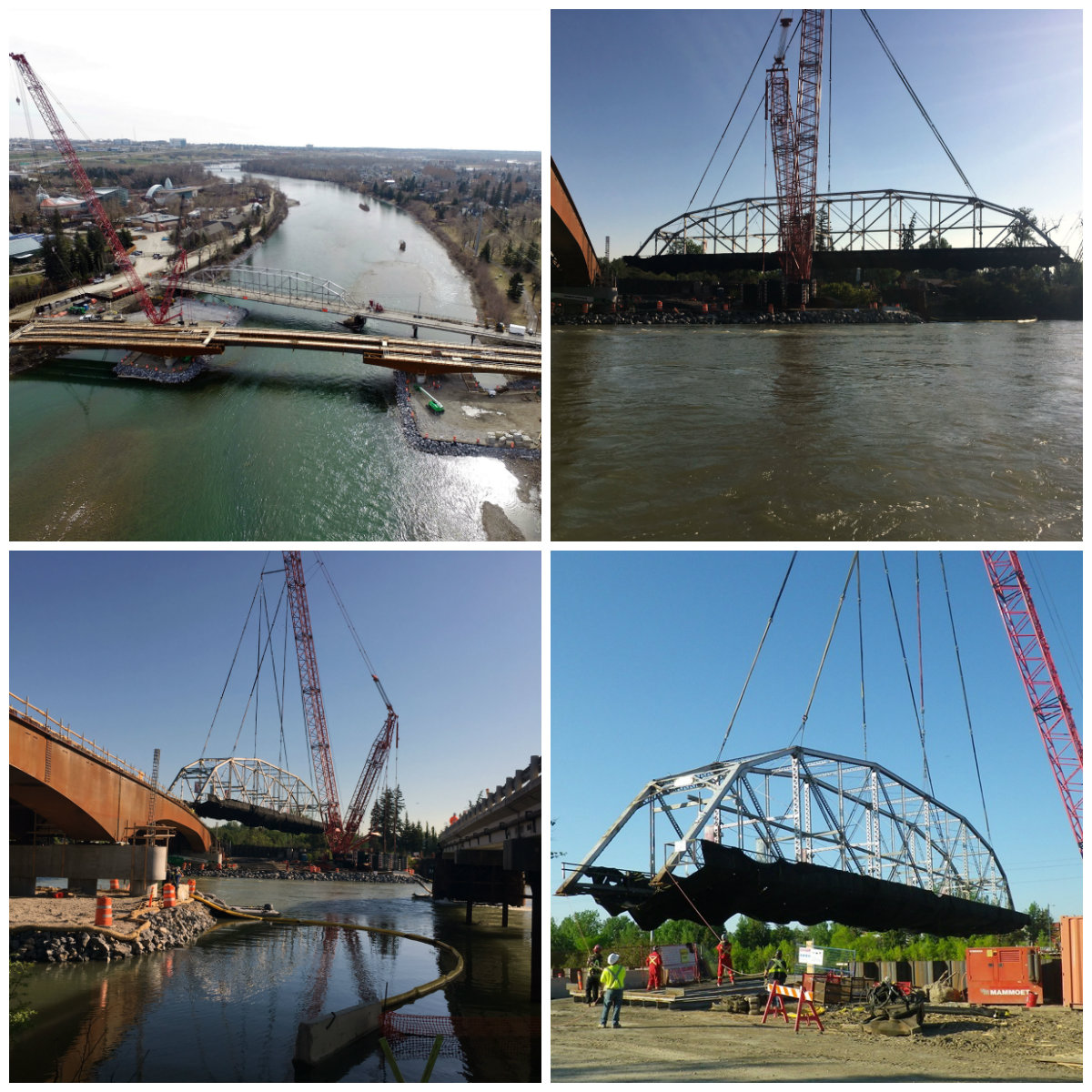 The Bow River formed Calgary's original northern boundary, and the river islands lay outside town limits until Ottawa transferred them to the municipality in 1890. Eight years later, the city built a ferry to St. George's Island, but it was poorly maintained and didn't last long. When the city decided in 1906 to develop the island as a park, it had a bridge designed and called for construction tenders. But the Algoma Steel Company asked for an extension on building the $25,000 Parker-Camelback steel through-truss bridge, and neither the bridge nor its approach were ready by the April 1, 1908 deadline.
Once completed, the bridge served for 109 years as the gateway to the park and, after it opened on the island in 1929, the Calgary Zoo. By 2017, the bridge's declining condition and narrow width diminished its functionality, and a new bridge was built to take its place. True to its history, the 45-minute procedure to lift the old structure from its foundations was twice delayed, finally taking place May 29. Portions have been saved for decorative purposes.
---
Garrett Residence
2138 33 Ave. S.W.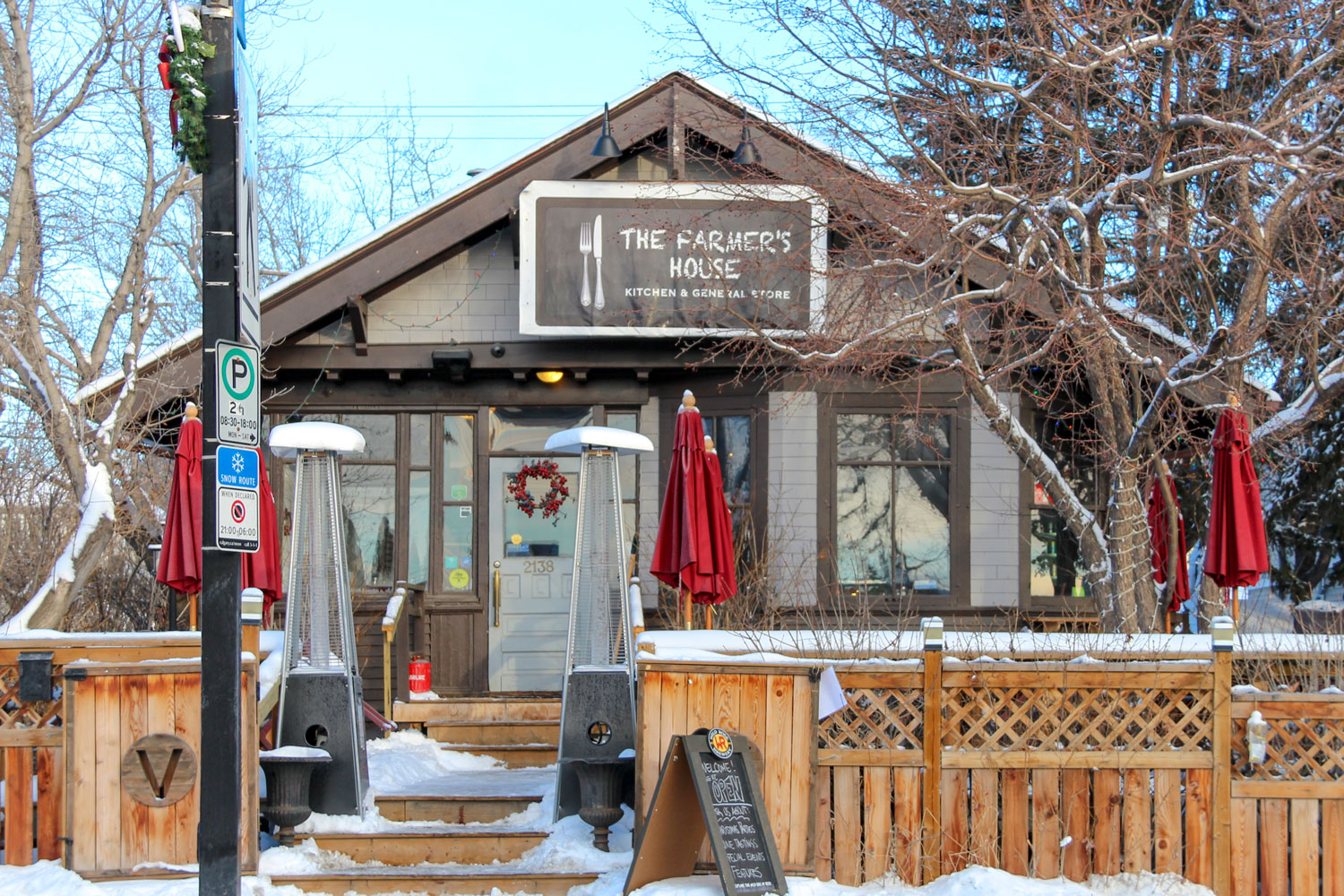 The Farmer's House, December 2015.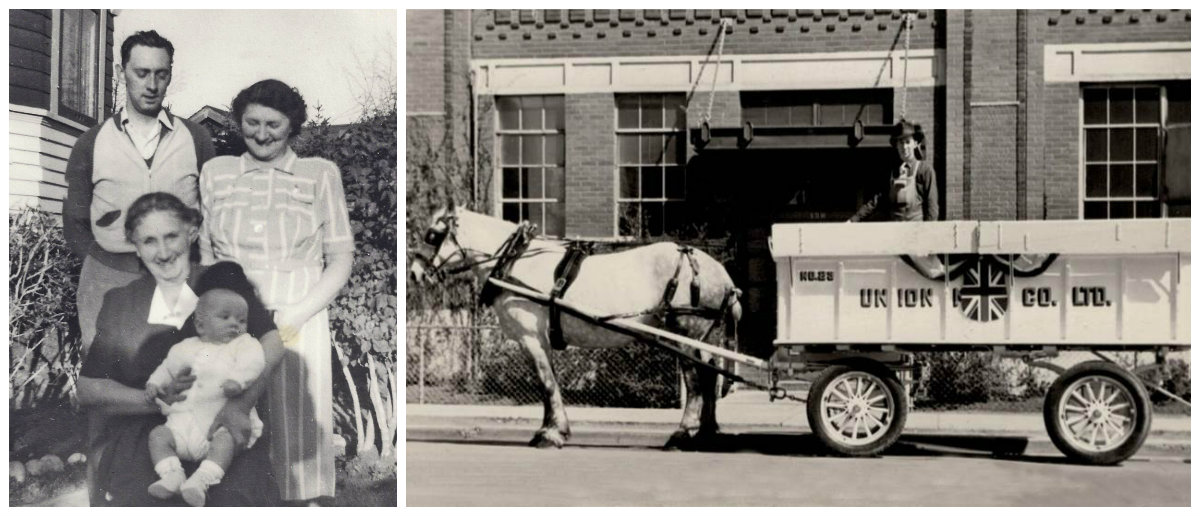 Four generations at the Kelly family home, 1949. Annie Kelly, seated, with her daughter Gertie Fallwell, Gertie's son Victor and Victor's son Stephen (left). Don Fallwell on his uncles' Union Milk wagon, circa 1939 (right).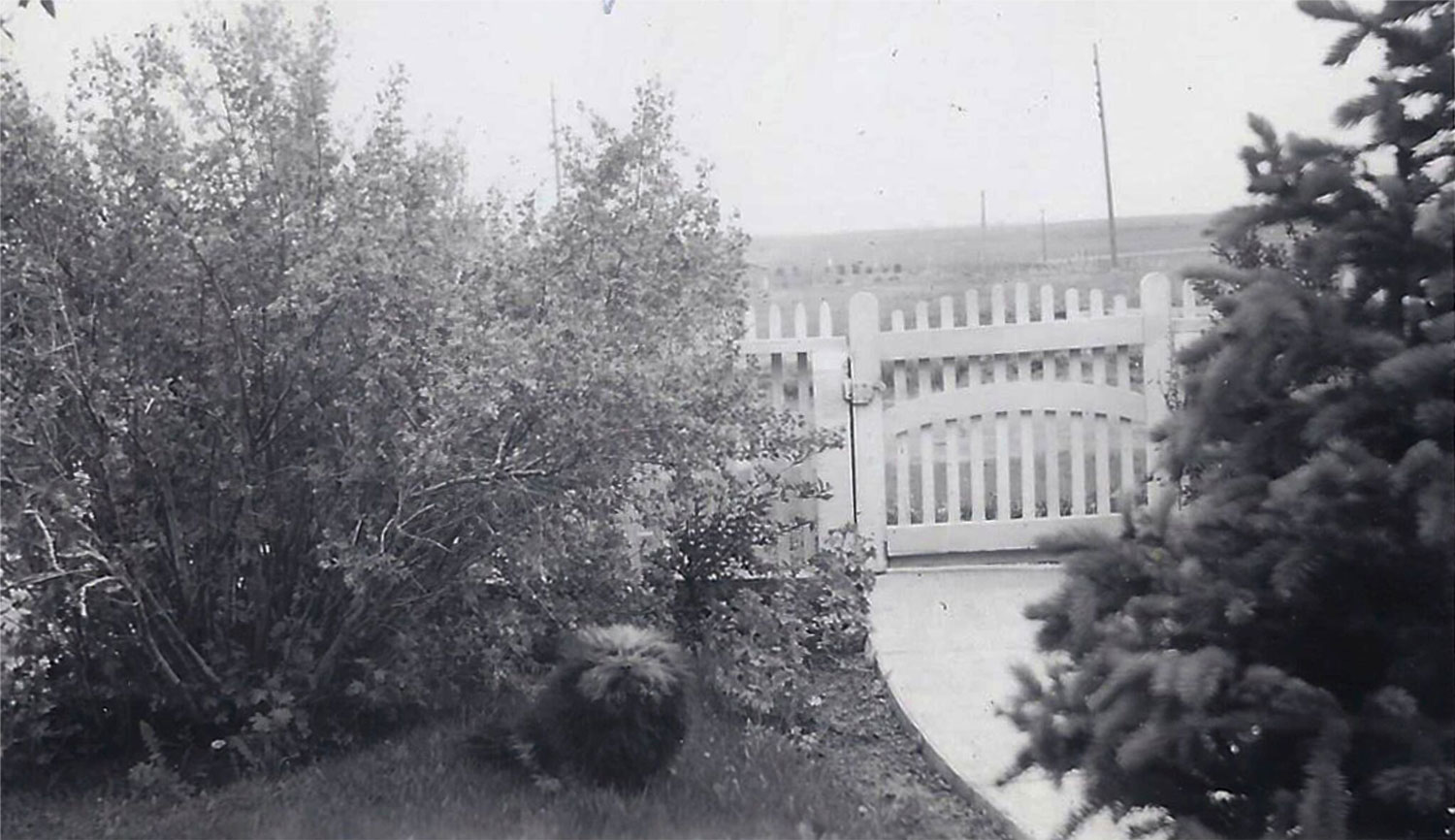 Looking south across the Kellys' front yard (past Babs the dog) toward the future site of Lee's Grocery Store, circa 1940.
Fondly remembered as Kaffa Coffee & Salsa House (from 1992 to 2014) and The Farmer's House restaurant (from 2014 to 2017), this frame dwelling began in 1912 as the residence of Edmund A. Garrett, chief installer for Alberta Government Telephones (now Telus).
In 1918, it became the home of Thomas and Annie Kelly and their six children, who came from the Isle of Man. The Kellys sailed to Canada aboard RMS Virginian, one of the ships that had made wireless contact with the stricken Titanic. Occasionally, visitors to Calgary from the Tsuut'ina Nation stayed overnight before returning to the reserve, and daughter Meg would make them a meal. Sons Bill and Tom Jr. delivered milk in the neighbourhood for the Union Dairy. Area kids were sometimes allowed on the wagon to take the reins, but the horse knew every stop on the route without being told. When the milkman stopped at home for his breakfast, the horse stood outside eating oats from a feedbag. The family kept a beautiful garden on the east side. Meg remained in the house until the 1980s, when it was sold and converted into a dentist's office. It was demolished in September for redevelopment.
---
Shamrock Hotel
1042 21 Ave. S.E.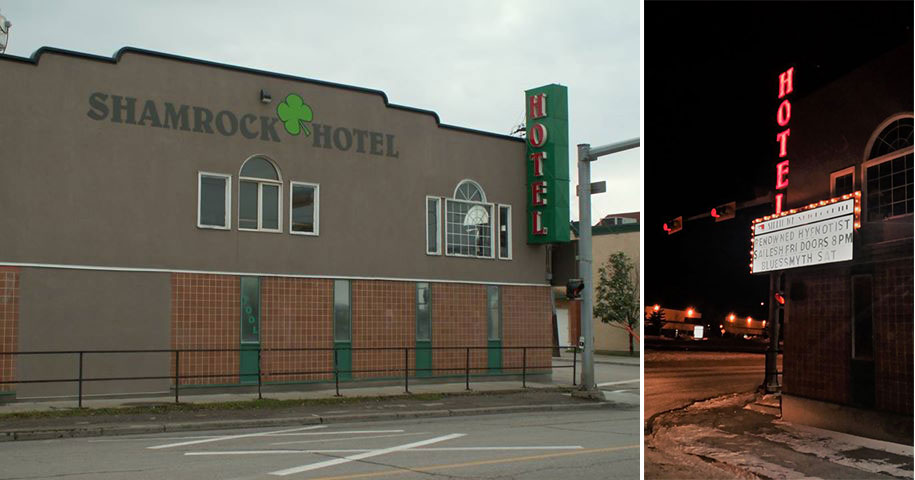 East side of the hotel showing the neon sign, June 2014 (left). Night view showing the neon sign, December 1, 2014 (right).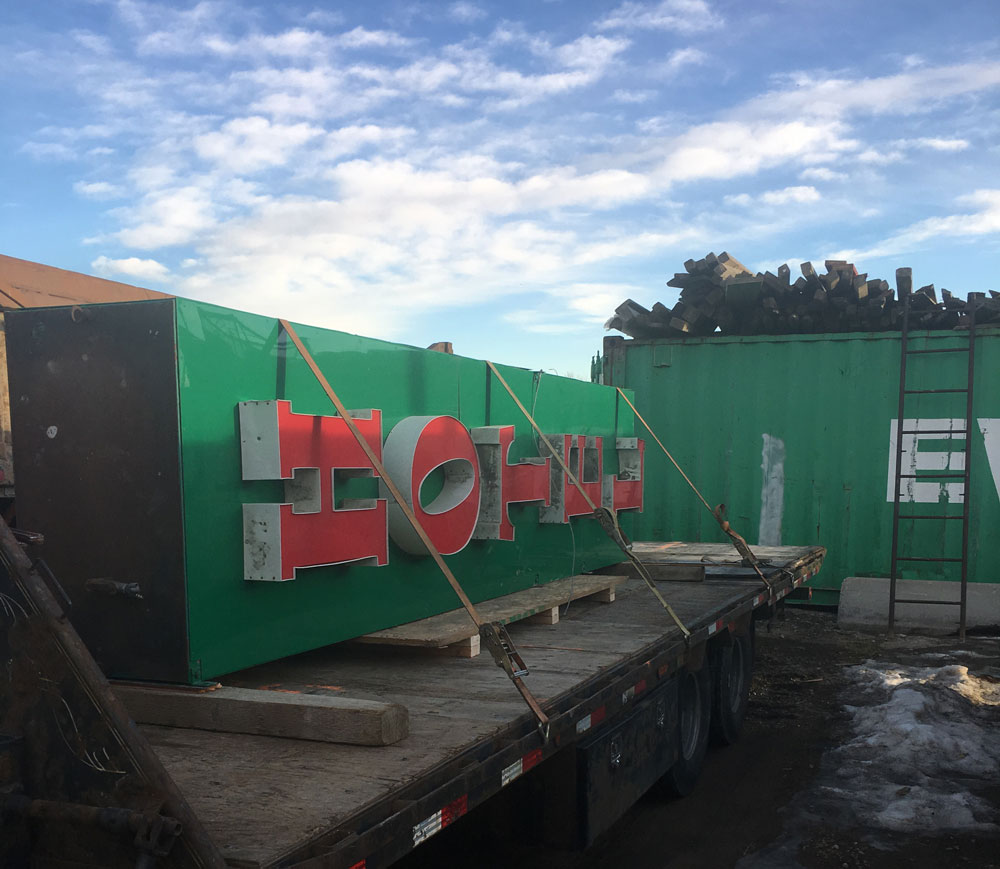 The Shamrock Hotel sign was saved and provided to the community association for safekeeping and future use.
When prohibition ended in 1924, Dublin-born harnessmaker Bill Cummins built the Shamrock Hotel near the massive P. Burns and Company abattoir in Calgary's chief industrial district. He named it either for the symbol of his homeland or for one of the Burns product labels; many of his bar patrons worked for Burns, as Cummins once had himself. Cummins sponsored football, hockey, and lacrosse teams, and each was named the Shamrocks. "There was hardly a kid in East Calgary during Bill Cummins' day that wasn't wearing a Shamrock sweater," one old-timer remarked years later.
The Cummins family operated the hotel for decades after his 1933 death. Stuccoed in 1948 and later renovated, the hotel became unrecognizable from its early appearance. Every year on St. Patrick's Day, the tavern served green beer. In a cosmic coincidence, the hotel was razed last November to make way for an elevated portion of the Green Line, the next addition to Calgary Transit's light rail transit system.
---
Lee's Grocery Store
2139 33 Ave. S.W.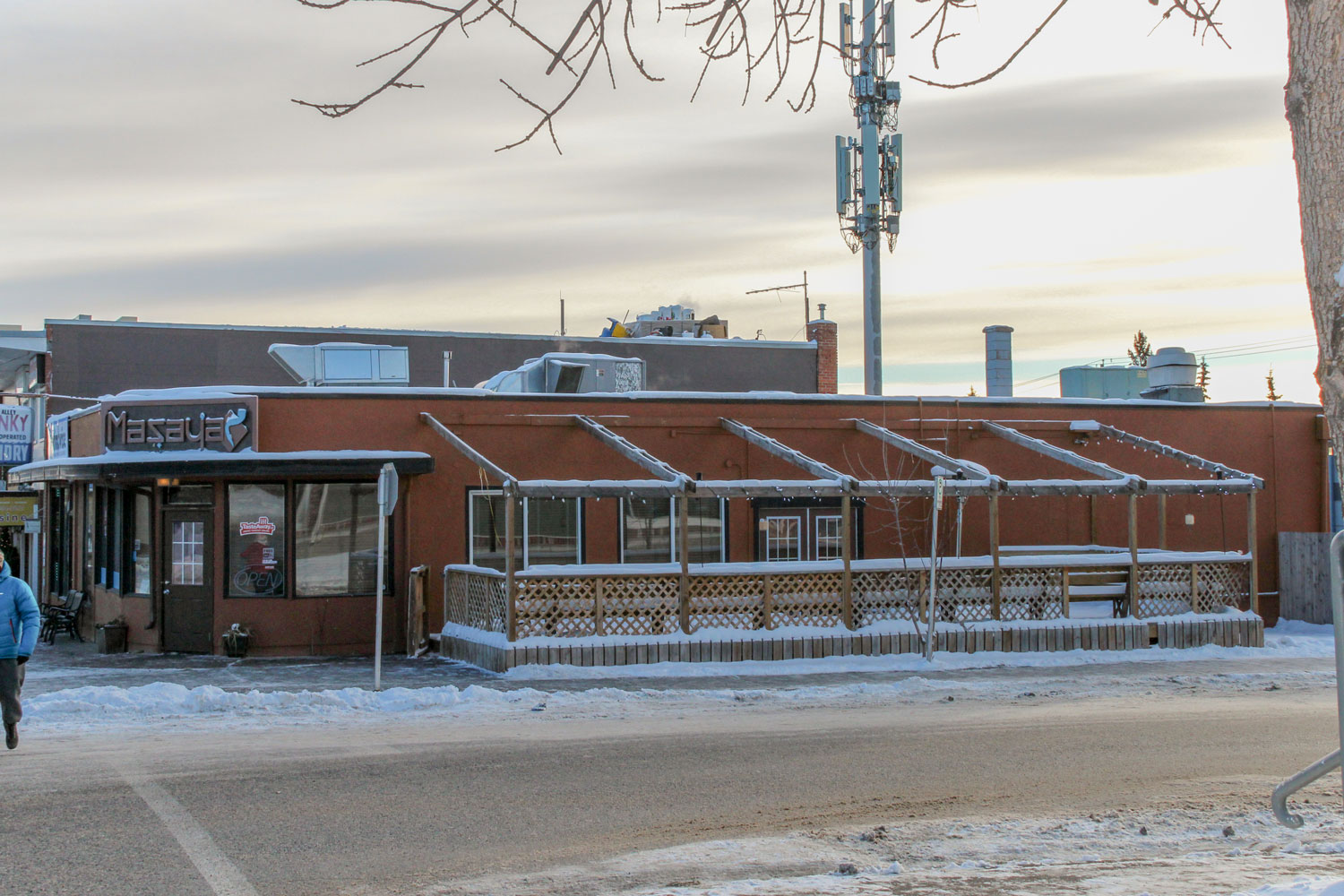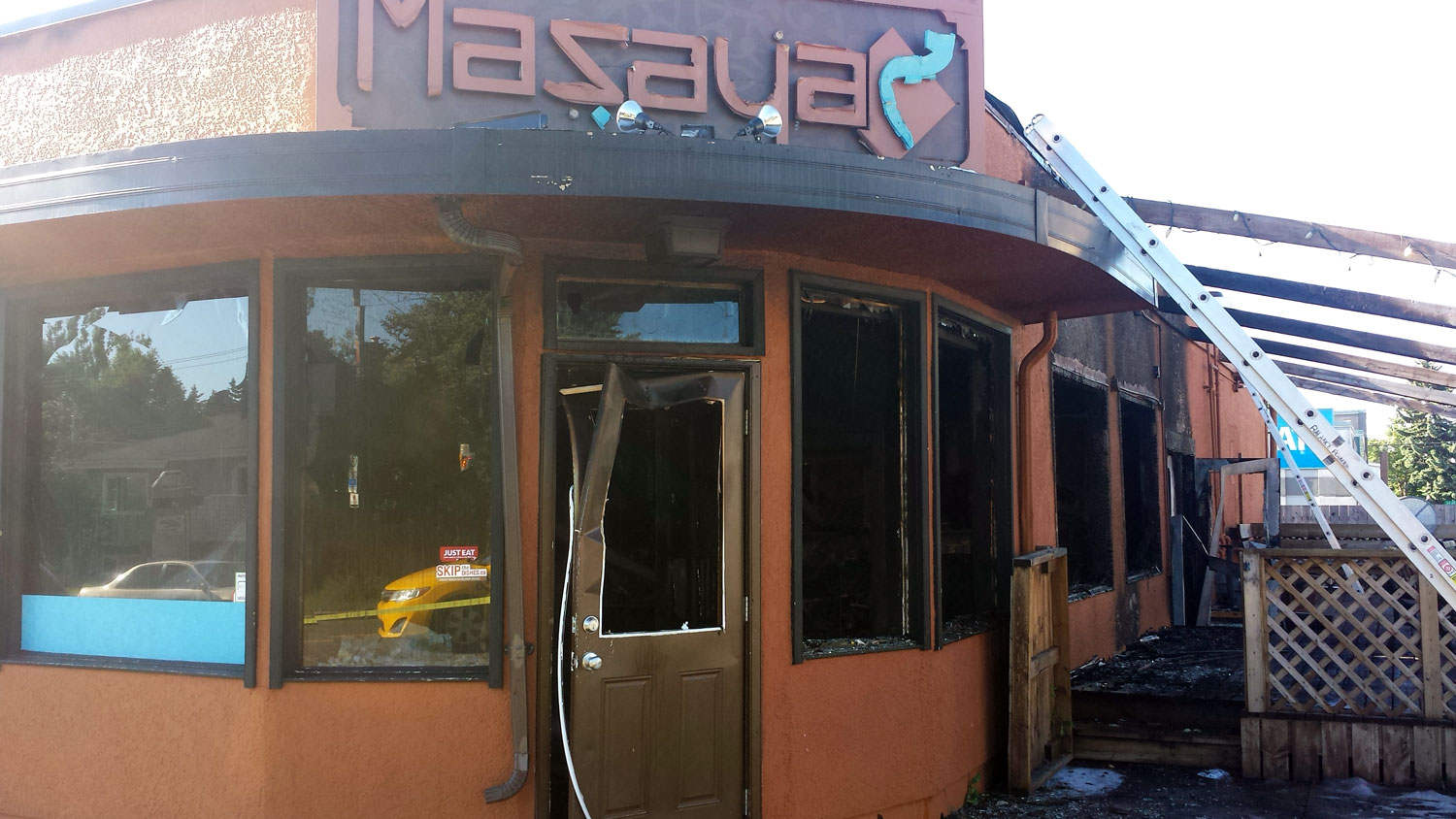 Mazaya Lounge after fire, June 6, 2017.
This small corner building, built for the Sheftel brothers in 1952, was among a new set of structures that defined 33rd Avenue S.W. as South Calgary's commercial strip. Henry Goon-Ming Lee and Marion Kui-Ho Lee bought the building and owned Lee's Grocery, the corner occupant, for decades until he sold it sometime in the 1980s. Charles Ho Lem, scion of a leading Chinese-Canadian family, ran Currie Cleaners in a second storefront, followed by European meat shops, vacuum repairs, and, finally, a print shop. The middle space was always a barber's.
The business district rebranded itself as Marda Loop in 1989, and Lee's Grocery made way for Cafe 21, followed by On 33rd Cafe and then Esquire's Coffee House. In 1998, Cowboys bartender Soren Borch, together with his partner, Lynne Thorimbert, and their friend Marty Park reopened it as the Karma Local Arts lounge, an acoustic venue where musicians like Laurie Matheson, Tom Phillips, Mike Stack, Tim Williams, and even Ian Tyson played. The partners moved on and founded the Ironwood Stage & Grill in Inglewood. Karma continued for a while, eventually being succeeded by a hookah bar. Fire gutted the building on June 6, and it was demolished soon after.
---
Memorial Drive houses
1134 to 1160 Memorial Dr. N.W.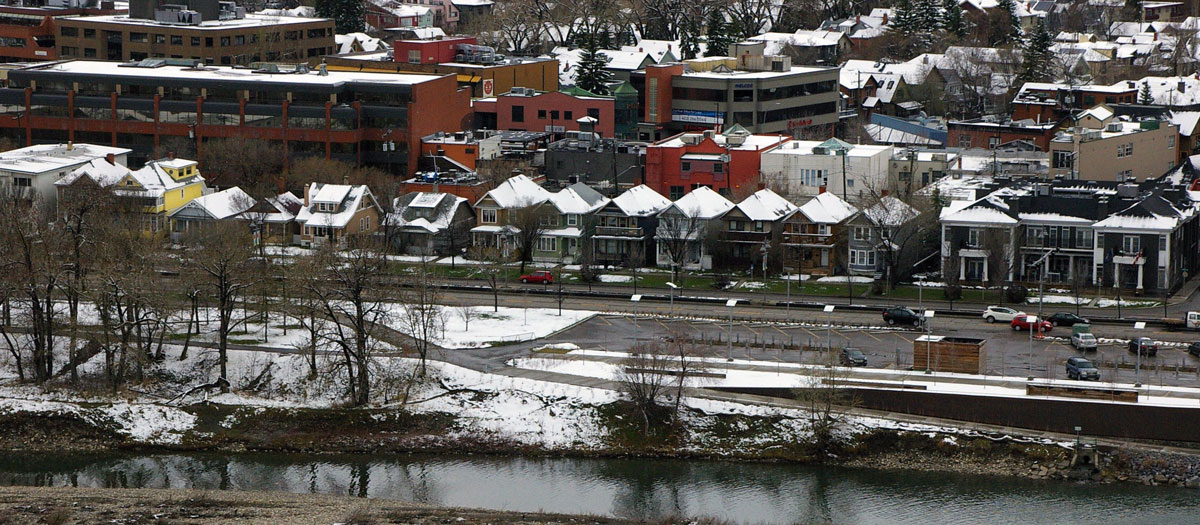 Thirteen contiguous houses along Memorial Drive N.W., shown from across the Bow River, were demolished in 2017. Photographed in May 2014.

1138, 1136 and 1134 Memorial Drive N.W. Photographed in May 14.

1140, 1142 and 1144 Memorial Drive N.W. Photographed in May 14.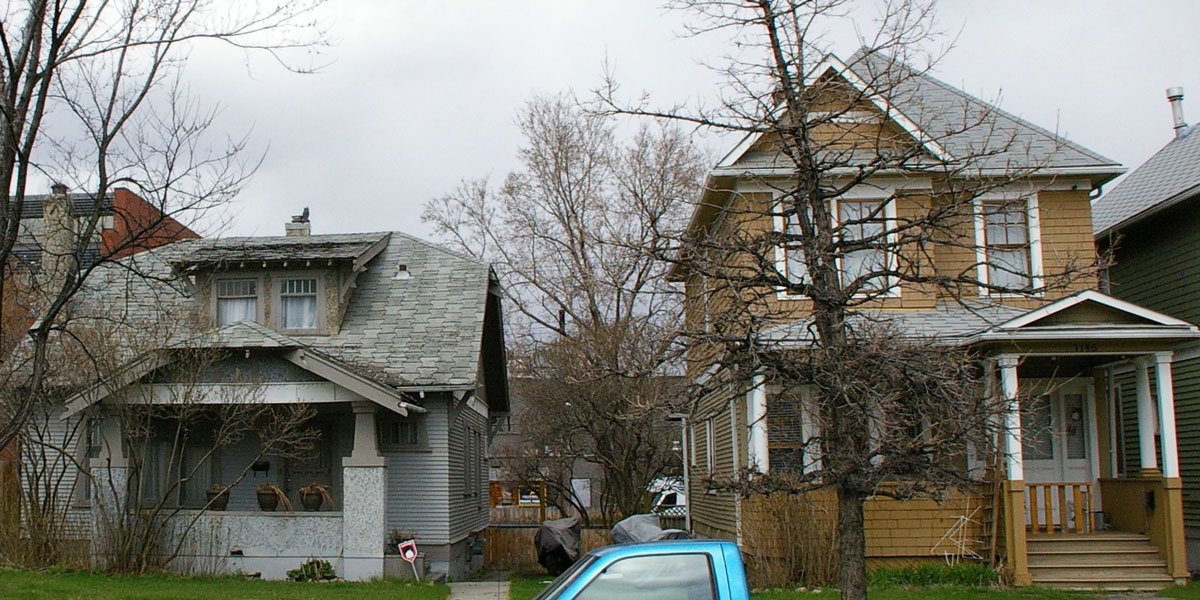 1148 and 1146 Memorial Drive N.W. Photographed in May 14.

1156, 1154 and 1152 Memorial Drive N.W. Photographed in May 2014.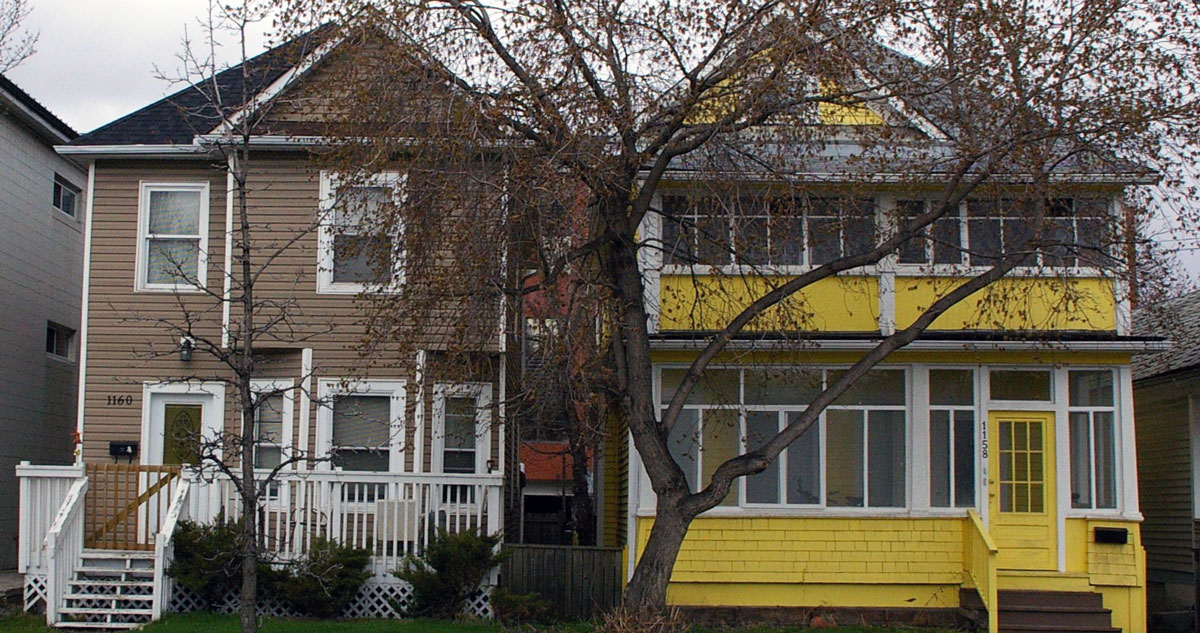 1160 and 1158 Memorial Drive N.W. Photographed in May 2014.
In 1907, the city limits expanded across the Bow River, where Ezra Riley had already subdivided part of his father's farm as Hillhurst. South of Riley's property, along the riverfront road known simply as "Boulevard," the Quick Sale Realty Company (an unintentional metaphor for Calgary's fragile pre-First World War building boom) and other developers built a stretch of 11 working-class houses between 1910 and 1911 on land that had belonged to rancher Byam M. Godsal.
Owner-builders added two more dwellings to this grouping of bungalows and Queen Anne Revival style houses in 1921-22. Notable early occupants included John C. Davis, the bigamist behind the 1912 double murder-suicide in the Jalland Block, and police sergeant William H. Taylor, who might have been the Bill Taylor who was a police officer and heavyweight boxer. This contiguous block of 13 houses was demolished between August 18 and 25 for high-density residential development.