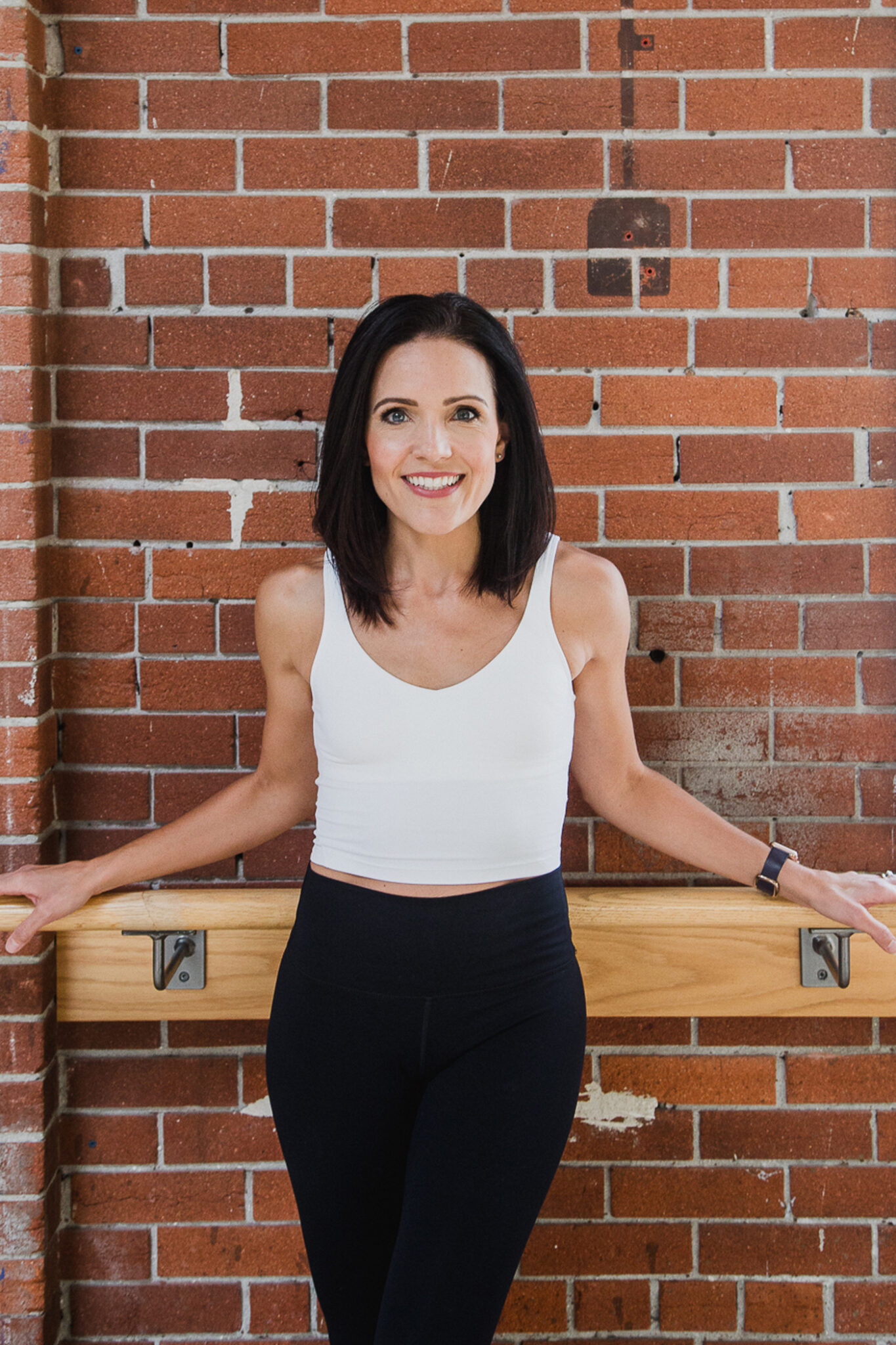 Marlo Brausse is the owner of Barre Body Studio. Recently recognized as a finalist for the Calgary Chamber's Resilient Business Awards, Brausse is passionate about empowering others to make positive changes in their lives. We spoke with her in October to learn more about her journey from working in community corrections to opening her fitness studio.
What did you learn about transformation during your time working in community corrections?
"I went to Mount Royal University and got an applied degree in justice studies. I spent a year volunteering at one of the community corrections offices before I was hired on as a probation officer, spending 10 years in that position with a really vulnerable population. We worked with the population downtown, drop-in centres, counselling agencies and the courthouse. I was young when I went into that position, and naive to a lot of what was going on out there in the bigger world beyond what I knew. So that 10 years was eye-opening. I worked with some amazing people — really strong, resilient, incredible individuals. [I am] definitely passionate about helping others make positive changes in their life.
"I learned during that time that even though help can be available, not everyone wants it until they're ready. We would spend hours working with people, and they were court ordered to go to counselling, to not drink alcohol or use drugs, to not be in certain areas of the city. We spent time trying to coach them on how to make better changes, while monitoring them on these conditions to make sure that they are upholding public safety. And even with this court order, [many were] still not willing to make the change. My first couple years, I was like, 'Ready to go, let's just simply follow these conditions because the next 12 months you're going to be on the right path and you're set to go with all these wonderful supports around you.' When it came down to it, I quickly came to realize that five per cent of people, 10 per cent maybe, were ready and willing to make those big changes in their life. My point is that when we're going through transformation, regardless of how much support we have around us, unless somebody is [ready] to receive it, it's not necessarily going to have an impact."
What inspired you to transition from community corrections to starting your own fitness studio?
"I've loved fitness from a very young age. I ran cross country through elementary school, played softball growing up and fell in love with yoga around the age of 18. While working in the justice system, I found that I needed it as an outlet to get that energy through. I was a participant in yoga for probably six or seven years before I decided to take a leap to become an instructor. I took the instructor training program, and was teaching yoga and other fitness classes as a hobby while working for the government of Alberta, and then decided during my first maternity leave with our daughter (who's now 11) that I wanted to own my own fitness studio.
"It took me a couple of years to finally make that decision to make that full leap. I think that it got to a point where the pain pushes. I couldn't see myself continuing on giving in that capacity for the government job that I had and in the justice system when I started having children. It became really difficult for me to leave my day behind and then transition into being a soft, caring, loving mother at home. And then the next day, having to put that suit of armour back on, to close everything up and go back into helping people and not get emotionally involved or attached to the difficulties that these people were facing day to day. And then come home and do that all over again. So, the pain was pushing and the vision was pulling. And then eventually, I just let go and went for it."
Why barre? How does this form of fitness help people with their own personal transformation?
"At first, I thought I would be opening a yoga studio. Then, I came across barre and absolutely loved the way that barre fitness made me feel. It was this beautiful combination of movement with music and control of my body. I felt really energized after each and every class that I took or I taught. And then seeing that same impact or same energy or lightness that it was bringing to other people's lives was another thing that helped me push and pull into that vision.
"At that time in 2012, there was nothing like that in Calgary. I was introduced to it from a friend that lived in Boston. I started researching and jumped on it right away and started teaching in a community centre, and then eventually transitioned to opening my own facility. It was really important we created a welcoming environment. [People fell] in love with the community aspect of the studio, which then allowed them to let go, just be themselves and be part of the journey that they're taking themselves on. The self-discovery about the power that they're finding in their own bodies and applying that into bigger areas of their lives outside of the studio. Any type of fitness is a gateway for people for transformation and personal growth."
What have you learned so far from the last six months of the pandemic, in terms of pivoting and leading your community?
"I did pivot the exact same day. I decided to close our studio doors, grabbed a tripod and went right to the studio to figure out how we could stay connected with our community. For me, it wasn't even a question. I just went for it. There's so much uncertainty. I didn't even necessarily let my brain go into what ifs and how long and how difficult is this … I just dove right into it. I've learned along the way that the more that I allow my brain to think about all of the things that could go wrong, the more likely I am to just stay stuck in that moment or trying to make that difficult decision. What I've learned and accepted, more and more over the past six months, is that I have no control over what's going on externally around us. What I can do is continue to make steps forward with what I know is right for myself, my family, the community and our team at the Barre Body Studio. None of us have it all figured out. We will continue to make steps, stumbles as we make steps forward, and will take maybe five steps back. But in order to lead, you have to be willing to make those steps and those mistakes, trusting that eventually you'll find the footing and something will work, and you just keep going with what is working and resonating and moving forward. Otherwise, we just stay. The fear pulls us back. We don't allow ourselves to go through that transition and growth regardless of how it looks — perfect, messy, in-between, all of it — unless we're willing to try.
I've definitely made some good progress with the online fitness offering that we have at the studio. We've seen an amazing response to our offering right away and still to this day. Now I'm just learning from it, taking the time to reflect, and learn and grow. To be recognized for those efforts [as a top three finalist at Calgary Chamber's Resilient Business Awards], to stay connected, and help others during this time that none of us have ever experienced before — words can hardly even describe what that means to me."
Is there anything else that you'd like to leave with people?
"What I found really big right now in the community that I work with, is I'm hearing a lot of, 'I need to continue to move. You know, the past six months have been really hard, I haven't been taking care of myself the way that I should. I need to be eating better, sleeping better.' It was a really hard time that we've all just gone through. We're still living in it. So, if I was to leave with anything, I would say continue to take care of yourself. Continue to put self-care at the forefront. Continue to recognize your needs and not push them to the back burner. If you're recognizing the need to make some changes in your life right now, do it now. If we start to implement that new routine and new patterns of self-care and awareness in our lives now, it's going to get us through the next six months of the coldest, hardest months of the year while living in a pandemic."