For more than a year, Randy (who requested his last name be withheld) has been smoking marijuana every day to deal with pain caused by breaking his leg after falling on an ice-covered sidewalk, an injury that required nine pins and a six-inch titanium plate to repair. He has tried painkillers, physiotherapy and exercise, but nothing has worked as well as cannabis. Randy says that if he doesn't smoke marijuana, he is reminded of the injury with every movement of his leg.
But the marijuana he was using until last year wasn't of the medical variety – he simply bought it on the street – and he didn't feel right about that. So, in October 2014, he became one of the first customers of Clinic 420, a medical marijuana clinic in Inglewood that works with patients to determine if they're candidates for using cannabis as a health aid, while helping them through the process of getting it. He's now one of at least 40,000 people in Canada who use medical marijuana.
But that number is expected to increase dramatically because the Marihuana [sic] for Medical Purposes Regulations (MMPR), which came into effect on April 1, 2014, make it easier to access legal pot. Health Canada introduced the MMPR as a result of pressure from the courts to make medical marijuana more accessible. Limiting the number of home growing operations was also a consideration, since, according to the Health Canada website, they had "unintended consequences for public health, safety and security."

Prior to the MMPR, beginning in 2001, medical marijuana prescription holders could grow their own pot, obtain it from designated growers or ask to access Health Canada's supply. Now, a few individuals are still able to continue producing it on a small scale (pending a future trial), but the majority will secure medical cannabis from large licensed producers who must adhere to quality-control standards and security measures while maintaining a strict inventory of their stock.
Rather than applying through Health Canada, now those with supporting medical documents from their physicians and clinics may order the product directly from a licensed producer. Those who need information on the various strains of marijuana and the different ailments each is said to treat can get it through an organization such as Clinic 420.
Marijuana is not dispensed like normal drugs that you would pick up at your pharmacy because it does not have a Drug Identification number (DIN). Drugs that are sold through pharmacists must have a DIN, which they receive after successfully passing through a review process, meeting the requirements of the Food and Drugs Act (FDA). Marijuana has not passed through these requirements, and, therefore, people can only access it by registering directly through a licensed producer.
For Randy, the new process has been smooth, and he's noticed a marked difference in the end product. "It's awesome. I don't feel like I'm doing anything illegal, No. 1, and it's delivered directly to my mailbox by Canada Post. When I get close to running out, I can just call Clinic 420 and they place my order," he says.

Terry Booth, CEO of Aurora Cannabis Inc., a licensed medical marijuana production facility northwest of Calgary that houses up to 30,000 cannabis plants at a time, says that, more importantly, the health risks are now lower for people like Randy. The cannabis produced at the 55,200-square-foot Aurora facility is strictly regulated and protected by 24-hour surveillance. Up to 60 employees dressed in full coveralls, masks and medical bouffant caps keep a record of each plant with its own bar code. A closed-loop air system minimizes the risk of contaminants entering from outside, and the 20 different strains of plants – some are devoid of THC, the part that makes people high – are tested for salmonella, e-coli, heavy metals and microbial infections. Inspectors from Health Canada's Office of Controlled Substances ensure that standards are consistently maintained.
"You don't want somebody picking up a microbial infection because the marijuana wasn't treated right. And, with street pot, the pesticide levels can be very high," says Booth. "When you're [getting it from a] licensed producer, and it's being prescribed by a doctor, it should be subjected to the same testing requirements as any other medicine."
But ensuring the public understands what licensed producers do has been a challenge, Booth admits. His first day as CEO, he pulled onto the job site to discover the neighbours had put chains across the gates. "They thought we were a gang rolling in to [conduct] illicit activity and they worried about the property values going down and whatnot," Booth says.
Likewise, Clinic 420's opening was delayed when the Inglewood Business Revitalization Zone (BRZ) appealed the clinic's request to open the business, which is located under a pub in the area. Along with offering education about different strains of marijuana and their health benefits, the clinic also sells vaporizers, hemp-infused body products and apparel.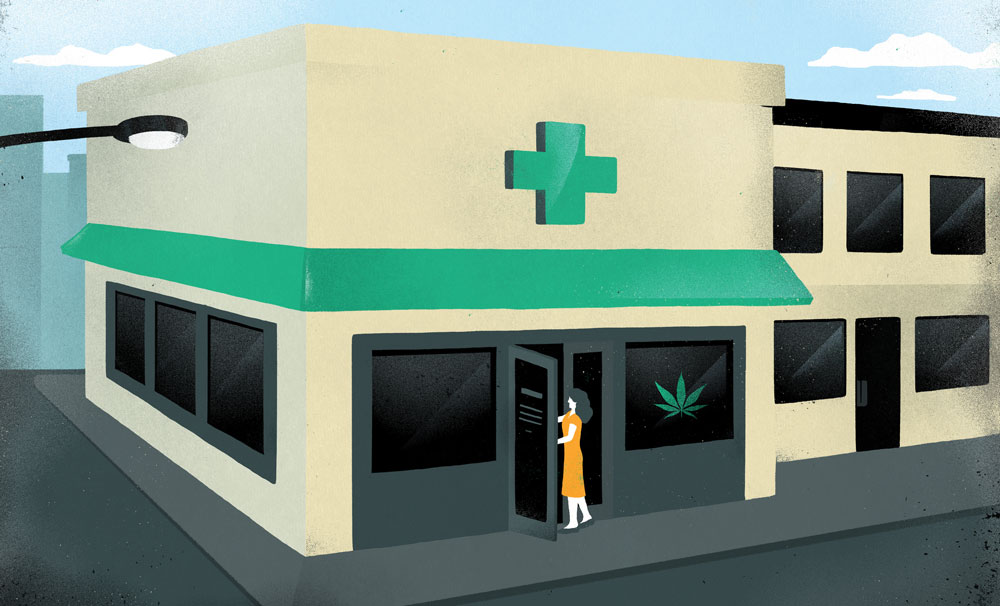 Clinic 420 won the appeal, with a one-year permit with some conditions, but many in the area are still concerned and question why a clinic is in a business setting rather than a hospital setting. But the concerns run deeper – people are worried that things are progressing too quickly with too little knowledge and too little structure. Physicians are now the gatekeepers, but some, according to local health policy expert and gastroenterologist Dr. Guido Van Rosendaal, are not comfortable with this new position. Van Rosendaal, a member of the Inglewood Redevelopment Committee, says he spoke with several health practitioners, "and they all felt uncomfortable prescribing, because they can't be sure they're actually helping their patients."
Some clinics and licensed producers believe marijuana is helpful, not just for reducing pain but also for treating the symptoms of many ailments, including anxiety, depression, insomnia, cancer, AIDS and MS. The College of Family Physicians of Canada (CFPC), however, cautions doctors about some of these uses. The Health Canada website, in its section dealing with marijuana regulation, even goes so far as to have a bolded disclaimer stating: "Dried marijuana is not an approved drug or medicine in Canada. The Government of Canada does not endorse the use of marijuana, but the courts have required reasonable access to a legal source of marijuana when authorized by a healthcare practitioner."
The CFPC in 2014 issued a "preliminary guidance" document giving doctors advice on making the decision whether or not to suggest patients use dried cannabis for chronic pain and anxiety – as a last resort, under strict monitoring and only for certain cases of pain, not for issues of anxiety or insomnia since the college says it can actually exacerbate these issues. The CFPC doesn't endorse the use of the term "medical marijuana," nor of the term "prescription" in this context, preferring "declaration." Meanwhile, Van Rosendaal cites a connection between marijuana use and the aggravation of heart disease, a risk of lung disease (with smoking marijuana) and even the risk of addiction.
"But the biggest problem," says Van Rosendaal, "is [that Health Canada has] created regulations for industry, for the production and distribution, but there is a major deficiency of good-quality information regarding how and when it should be prescribed." He explains that, generally, when Health Canada approves a medication, it has gone through more stringent scientific studies than marijuana ever has. Marijuana has never been approved by Health Canada; rather, its use has been made legal by the courts, and so, in this case, physicians are left to determine what's appropriate as far as dosage and use instead of having guidelines based on medical studies.
The recent Supreme Court decision, which made previously illegal forms of cannabis – including cannabis-infused cookies and brownies, as well as oils and teas – legal as well further exacerbates prescribing doctors' difficulty in understanding dosages and applications. Ideally, Van Rosendaal would like to see more scientific studies happening in conjunction with marijuana prescriptions, like the study currently underway in Quebec; there, all patients are registered, monitored and followed up with to determine how different strains react with different illnesses.
Jeff Mooij, owner of Clinic 420, believes the MMPR rules are actually more stringent than what existed before and will benefit the health of patients. "We've been doing this for over 10 years in Canada; this is just a shift with Health Canada, since they're trying to stop more grow- ops in people's houses," says Mooij.
The appeal of the BRZ, Mooij says, delayed his business for four months. During that time, many people wanted him to help them with their medical marijuana prescriptions. One such client, he says, was in his 70s and suffered from severe pain. According to Mooij, the man passed away the same day his medical marijuana arrived in the mail. "The majority of our patient base is over 50 and looking for an alternative to the nightstand filling up with prescriptions with a large variety of side effects," says Mooij.
And, despite the controversy, Clinic 420's system already contains more than 120 individuals who have documented medical conditions and have previously gone through a medical treatment program – sometimes several – that hasn't worked for them. But even Mooij admits there are many issues surrounding the prescribing of marijuana, and he is concerned about how things are being done in other parts of the country. At his clinic, patients are generally not charged for the services, aside from certain instances where the client does not have a doctor yet and needs help finding one. In fact, Mooij says, some clinics charge as much as $350 in "education fees." Mooij questions the ethics of companies charging their clients.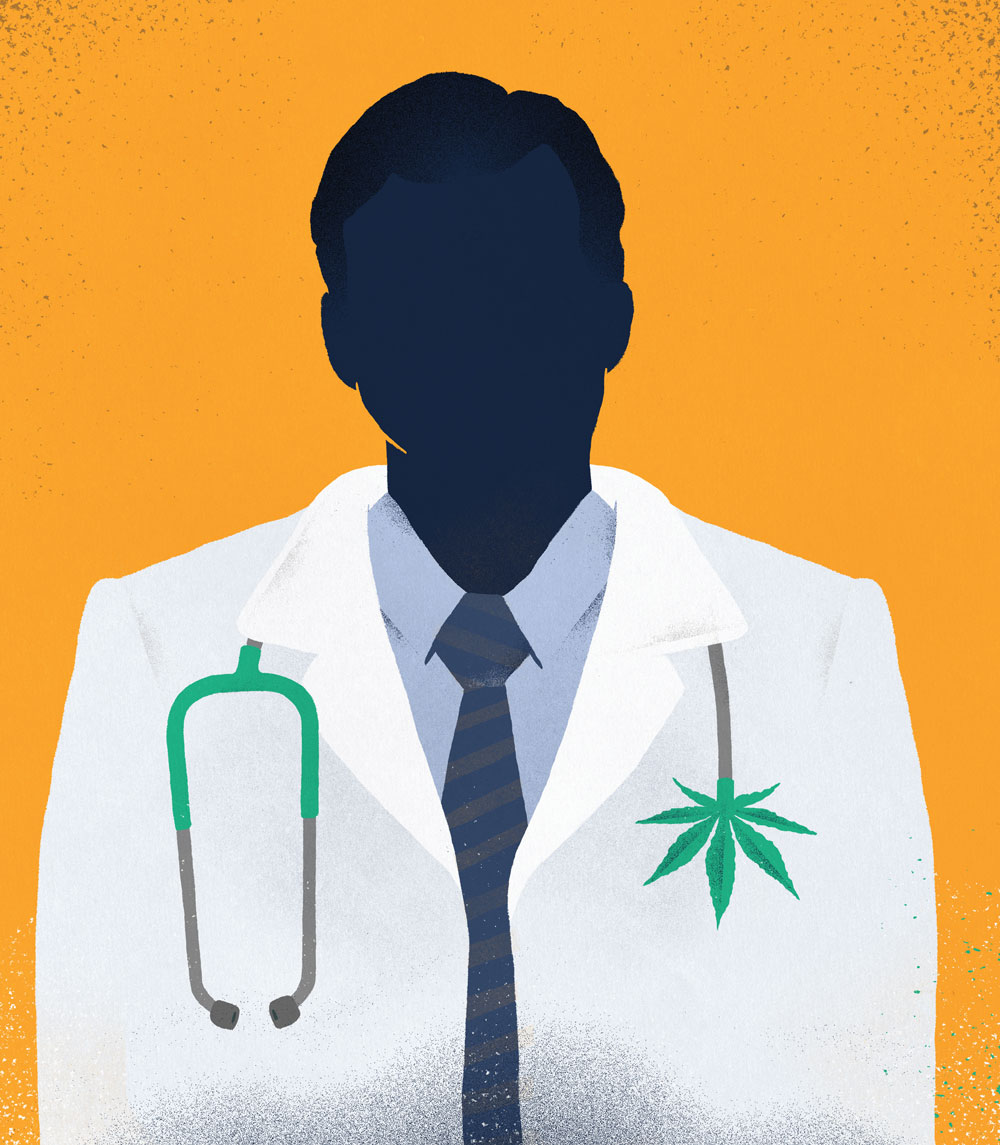 He's also concerned about dispensaries, and the number that are cropping up in other parts of the country, particularly in British Columbia. Dispensaries are different from clinics in that they actually hand out marijuana, going against the rules presented in the MMPR, which states that only licensed producers can distribute medical marijuana. Some believe the dispensaries could be involved with black market marijuana and that there is less control over some of the products they sell.
The concerns Mooij brings up are similar to those of Rebecca O'Brien, executive director of the Inglewood BRZ, who led the charge against the clinic. "Even compassionate care groups are worried about the growing numbers of unregulated dispensaries," says O'Brien. "There is gold in the mountains; there's a fortune to be made."
She also worries that some physicians may be tempted to charge licensed producers or clinics or even patients a fee for referrals. It's an illegal practice, but there's already proof it's happening – in June 2015, the National Post reported that a Nanaimo-based producer had received unsolicited invoices from doctors, clinics and "patient aggregator" services asking for payment for referring patients; the producer in question claims to have been asked for between $50 and $350 – and even a share of the business's revenue in some cases. The producer has refused to pay and Health Canada was investigating the claims. Booth says he finds the practice completely unethical and has no affiliation with it.
Yet, despite the Inglewood BRZ board's concerns about an absence of government oversight, O'Brien says she's not against the use of marijuana in some cases. "There's a manufactured association that the board [has] a sort of puritanical concern about the negative aspects of marijuana," she says. "It's absolutely not the case."
She's just hopeful the pot of gold at the end of the rainbow will be in the form of healthy, pain-free patients, rather than kickbacks for those involved.