Cars or people? The social critic Lewis Mumford posed this question in the mid-20th century. Mumford was on the side of people. "The motor car shapes and forms — mutilates and deforms might be better words — our cities," he said. "Indeed it seems to be the chief architect of our cities."
Parking lots, what he referred to as "these asphalt blights," have long been a necessary by-product of car dominance, he went on. "The right to have access to every building in the city by private motorcar in an age when everyone possesses such a vehicle is the right to destroy the city."
Our current views on parking lots are less fatalistic, however, as evidenced by the creative strategies that allow people use and car use to overlap in parking lots. And car-centric Calgary is at the forefront of these reimagined parkades. The Calgary Parking Authority (CPA) — the City's arm in charge of public parking lots — along with developers and architecture firms, are behind several interesting and engaging new projects that incorporate leisure activities into parking spaces. When was the last time you thought of hosting a birthday or office party in a parking lot?
In the past couple years, the CPA has projected lower parking revenues, and, in pandemic lockdown-impacted 2020, it reported that gross revenue was down $33 million compared to 2019. So, the time seemed right to think of new ways of generating revenue in these lands, while underlining the value they can have to communities, says Reachel Knight, business strategy co-ordinator at CPA.
Park Park, the new iteration of Parking Lot 43 in Inglewood, is a two-year pilot project that started as a competition by the Calgary Municipal Land Corporation and the CPA. "The idea was to spark a conversation, expanding the definition of what a surface parking lot could be," says Park Park's lead landscape architect, Liz Wreford, of Winnipeg-based Public City Architecture.
Her firm's answer was a parking lot that offers layers of experiences. Of the 30 parking stalls in the lot, five were given up for the park design, with 25 revenue-generating parking stalls remaining. The two uses are not strictly delineated, however. As such, Park Park really flips the narrative where cars are dominant and people take second place. "Here, cars are the guests in this pedestrian space," Wreford says.
Park Park's pavement is an explosion of colour and graphic elements. The lot is framed by decorative building-scale scaffolding frames with signage to welcome visitors. "We created a gateway to the park and gave it a presence," Wreford says. The landscape architects also drew inspiration from national park maps that feature easily recognizable icons for things like picnic tables and washrooms. "We took the idea of those icons and translated them into an urban context: What would be useful for us there?" Wreford says. These life-size icons, punched out of wood, framed in steel, suggest the space could be used for street hockey, or skateboarding. Space carved out for bikes is indicated by icons for bike pumps. A picnic table icon folds out into an actual picnic table. There's a phone-charging station, a little library and a bonfire icon that comes with a motion-activated hand warmer. Peer through it and you'll see a parked car. "All of what we did slows cars down," Wreford says. During off-peak hours, Park Park also serves as an event space.
Public City Architecture won the competition for Park Park pre-COVID, but the narrative of their design factors in the kind of changes in urban living that we've seen as a result of the pandemic, specifically a reduction in car usage due to people working from home.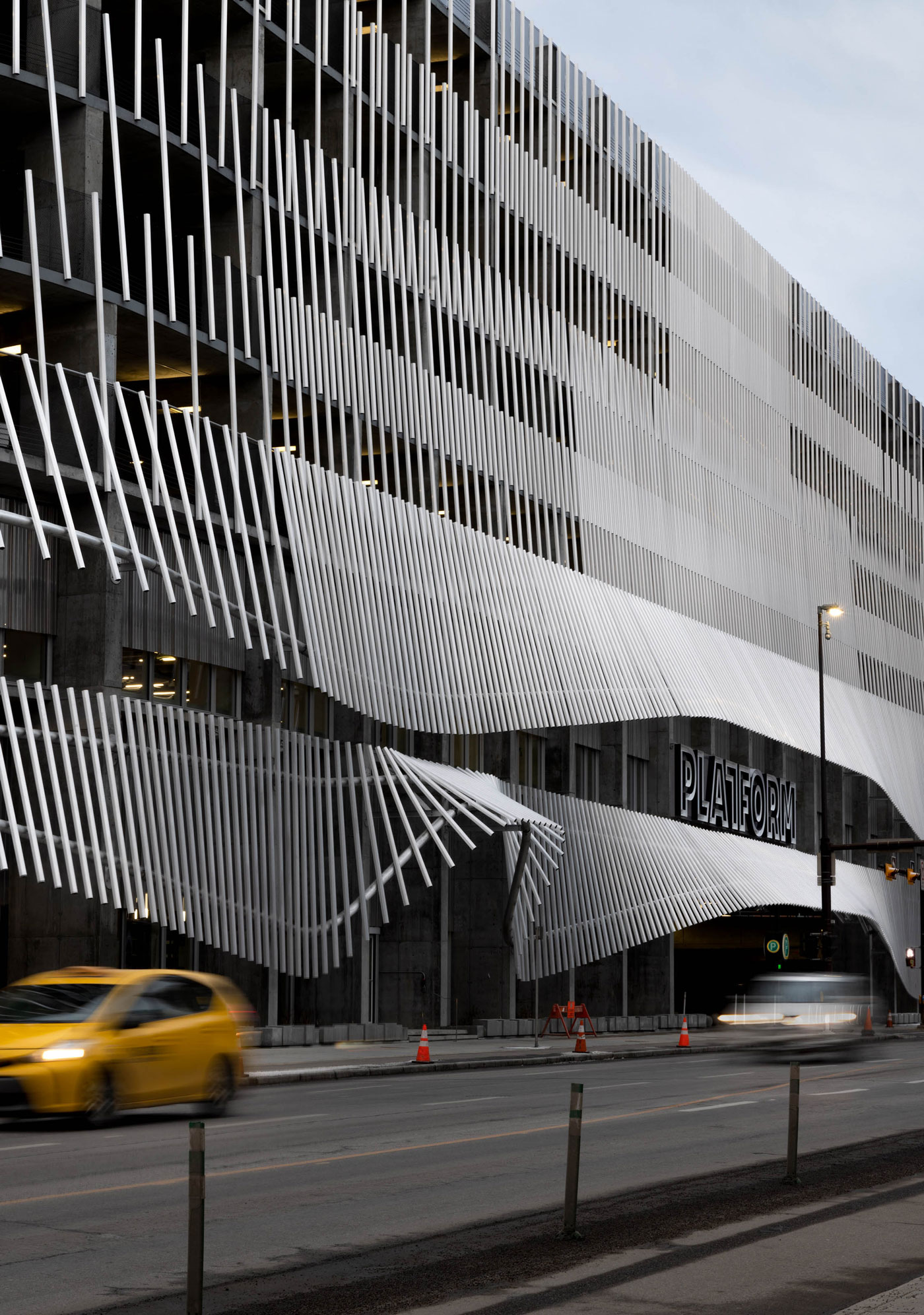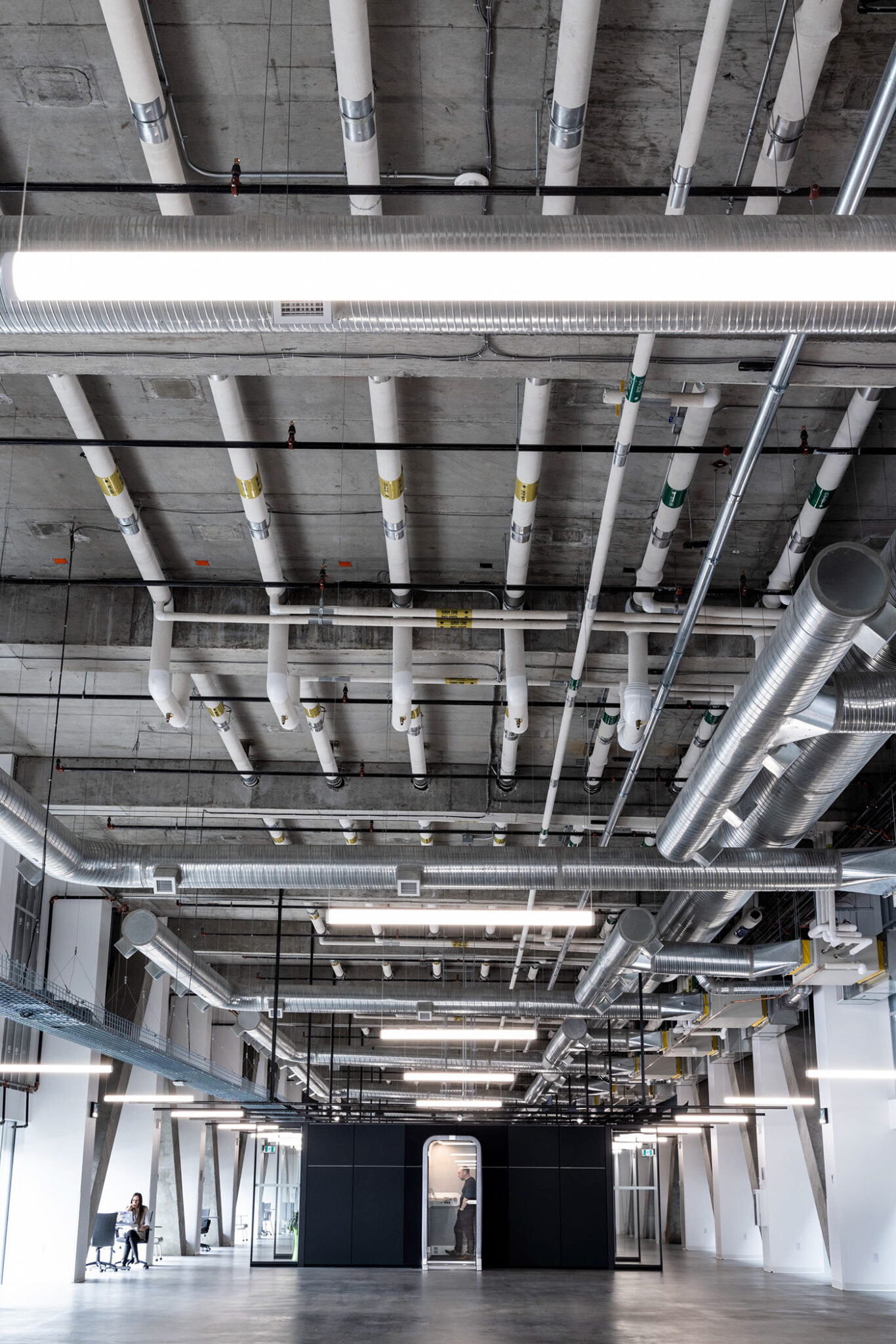 Similarly, Platform, a strikingly beautiful new parkade on a once-desolate part of 9th Avenue S.E., across from Studio Bell and the new Central Library, is not just a place where you go and park your car; it's also a community space and innovation centre. The project was a collaboration between Calgary architecture firm Kasian and Winnipeg firm 5468796 Architecture. Kasian's Katherine Robinson, who was principal in charge of Platform's construction alongside Sasa Radulovic, 5468796's design principal, says the seven-storey parkade "invites people to come and explore the environment," which also comprises a 50,000-square-foot hub for startups.
The design brief was a 500-stall parkade that would also provide activity for and engagement with 9th Avenue and support redevelopment efforts in the adjacent East Village. "The idea was that a parking lot would be more valuable as a building in the community when it has multi-purpose use," Robinson says. The main level includes basketball courts and EV charging stations, as well as a huge bike-parking space, and pedestrian entrances to draw people in. (When asked what safeguards are in place to protect pedestrians, Knight says: "In general, pedestrians and vehicles have always mingled in a parking lot. There's always been an awareness," but adds that, at Platform, a secure fence was put around the basketball court, and, at Park Park, the basketball net only comes down when cars are parked.)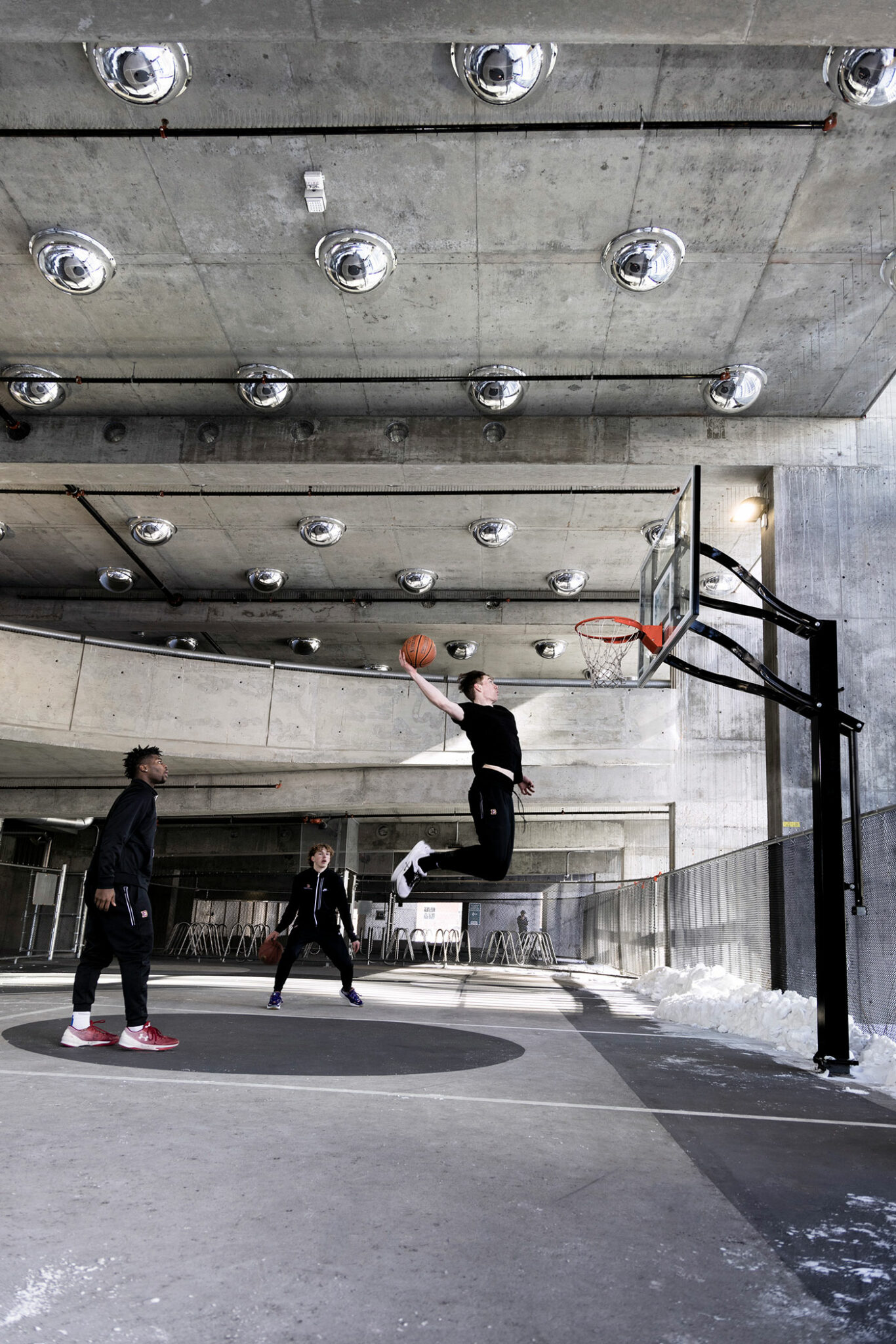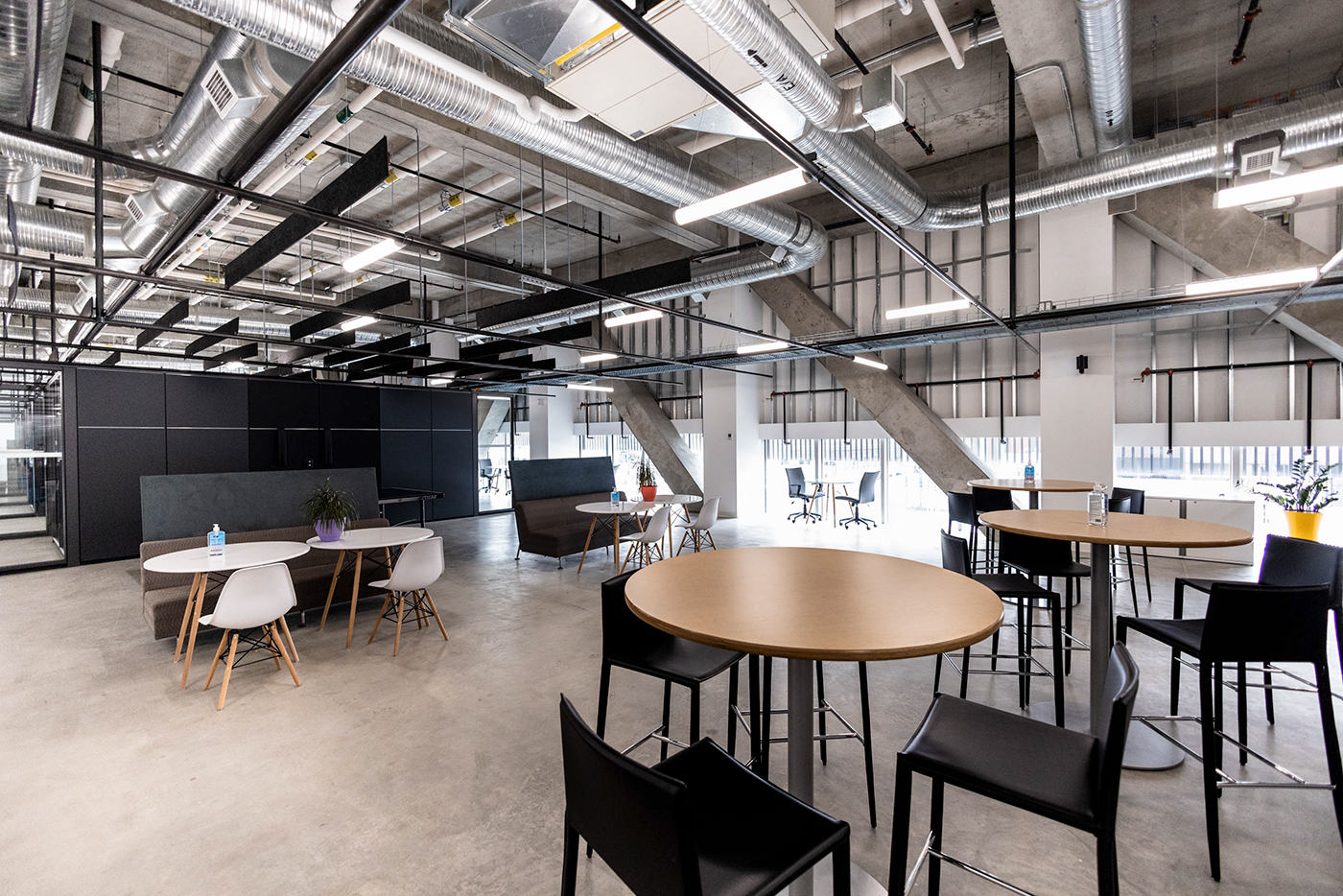 The Platform brief was also to create a "parkade of the future." Like other next-generation parking lot designs, this one imagines a time when more sustainable living will mean using more public transportation, but it also imagines a scenario in which cars themselves have changed: "Our team was quite excited about a future when self-driving vehicles would be the norm, when there would be no need for cars to be parked in one space all day," Robinson says. But Kasian and 5468796's design goes beyond that, as Platform was designed to be phased out of its primary function. Incorporated into the design is the potential to convert the parking lot into residential or office space. A suspended ramp creates a central atrium area for natural light to penetrate the building, and ceilings are one-and-a-half times higher than traditional parkades — a design decision to allow the parkade to be converted into residences. The height also allows for residential ductwork and wiring to be installed.
The Platform project is provocative, even theoretical in its potential to transform its purpose, but, because the architecture is beautiful and thoughtful it gives back, even as a parking lot. "It's not design for design's sake," says Robinson. "There's no waste of material or space. It's very purposeful. All the groundwork is laid in preparation for what it could become. But, even if it never happens, it's a beautiful, thoughtful space."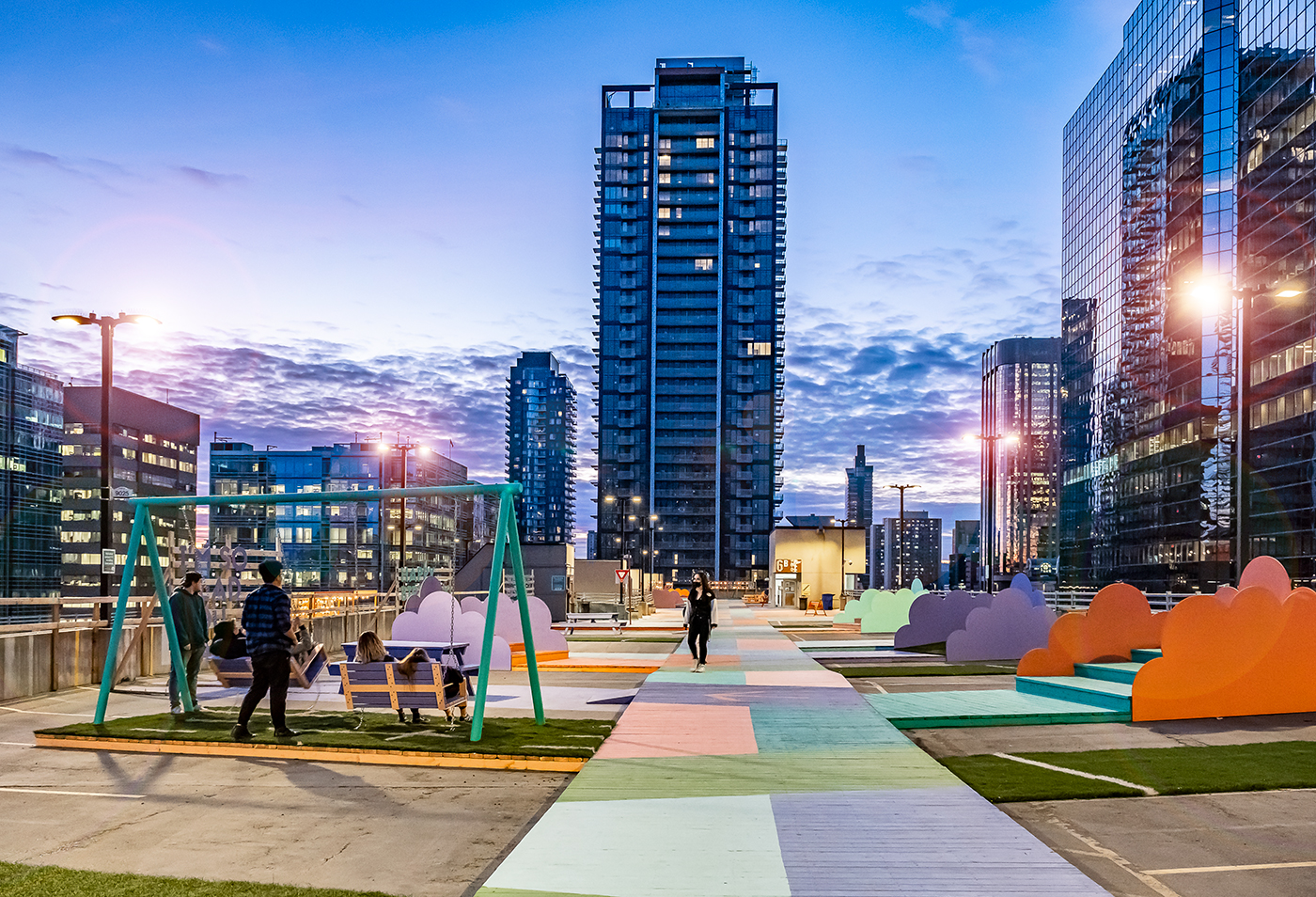 At $80 million, Platform was a big-budget project, but a cheap and cheerful parkade redesign has also popped up in the Beltline. Public City Architecture also worked on High Park, transforming an underused parking structure to respond to the lack of open space in the inner-city community.
The Beltline Neighbourhoods Association approached the landscape architects in early 2020 about turning the top level of a huge parkade at 10th Avenue and 4th Street S.W. into an urban park. (The level was underused and had low demand.) "A lot of young people are moving into condos in the neighbourhood, and the Beltline Neighbourhoods Association wanted to respond to the fact that there were few green spaces and these were always jam-packed," Wreford says.
As with the Park Park project, Public City prefabbed everything and brought it to Calgary. Here, too, supergraphics are key elements in the design, with a long, colourful strip delineating a linear "boardwalk." Off to the sides are little "parklets," each the size of a parking stall, with some covered in AstroTurf or simply painted over. There are picnic tables, see-saws, tetherballs, swinging benches, a small stage, shade structures and graphic signs with feel-good sayings ("we really missed you," "I love you") in this rooftop park with great views of the city.
"The heart of the city should be served chiefly by rapid transit, buses, taxis and above all the human foot," Mumford said in an anguished effort to save our cities.
But, in a car-centric city like Calgary, saying people should just buy fewer cars and favour public transportation is not so simple. (Not until public transit systems are more efficient, in any case.) Transforming our parkades into spaces where people and cars interface is one very positive approach to making a city's core more livable and is very much a made-in-Calgary solution.