In this city, it's not where you come from or how long you've been here that counts, it's what you've done since you arrived – whether that was at birth or last month. Being a Calgarian at heart is a reflection of an accumulation of attitudes, experiences and a bit of swagger. It's a title that's more of a mindset than a birthright. And, while individuality is a defining characteristic – and, therefore, no real Calgarian would truly accept allowing someone else to define what it means to be a Calgarian – we've taken the liberty of setting out our list of the quintessential steps in the rites of passage to becoming Calgarian.
---
Know how to two-step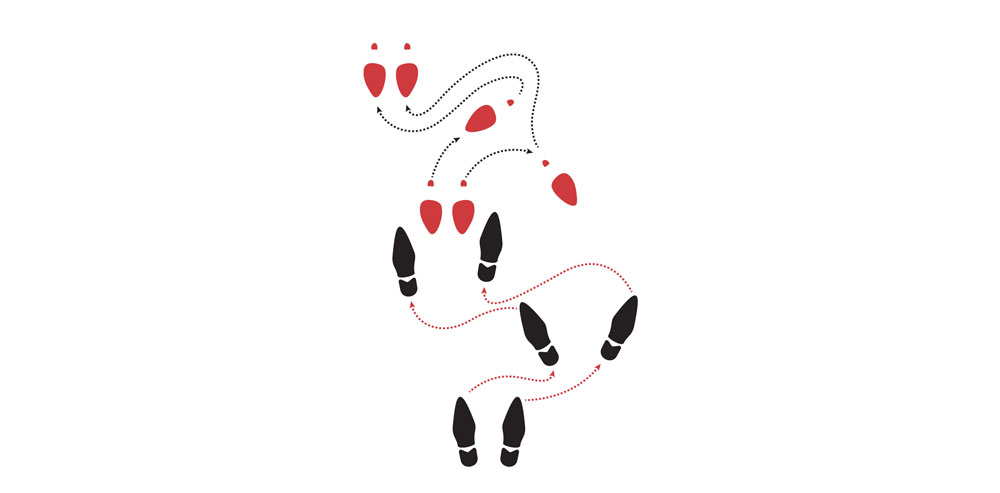 illustration by andrew kolb
The basic Texas two-step is only slightly more complicated than walking or, if you're a woman, walking backwards. If you can count, you can dance – and dance you should if you really want to have fun at Stampede or any of a number of Western-themed events that happen through the year. 
Guys, place your right hand on your partner's left shoulder blade and your left out to the side. Ladies, put your left hand on the front edge of his shoulder and extend your right arm to the side to take his hand. 
Now dance. Just tell your feet, "quick-quick, slow, slow," or "half-step, step, step." Guys always start with the left leg and move forward. Ladies start with the right foot and step back. Don't bounce. You should be light on your feet, gliding along the floor, and you should maintain a strong frame so the leader can lead with confidence and the partner can follow.
 Expert level
Once you've got the basics down, you can hit up YouTube for how to do spins and tricks. And, remember, no matter how fancy you get, the rhythm of the feet never changes. –J.H.
---
Know your white hats
There are white hats at the airport, worn by volunteers who provide local information. There are white hats given out by Tourism Calgary along Stephen Avenue in the lead up to Stampede. And then there are the White Hat Awards – the annual award program that recognizes leaders in the tourism industry who go above and beyond to make visitors in the city feel welcome.
 Expert level
Have one of the first or third white hats bestowed upon you. –K.L.
---
Go to the rodeo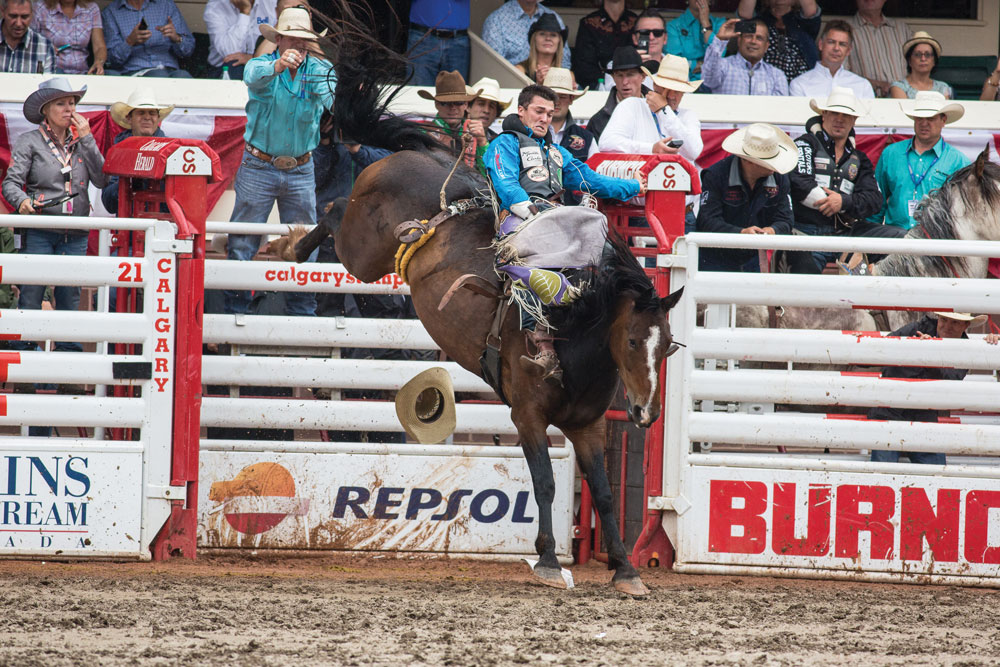 photograph by chris bolin, courtesy of the calgary stampede
You gotta do it once. It can be at the Stampede, of course, but it doesn't have to be – there are rodeos aplenty in the small towns that surround Calgary. Note that you don't have to love it, you don't even have to condone it. But you do have to watch this spectacle that the city's tourism industry and a large part of its reputation is built around at least once.
 Expert level
Be able to explain the scoring to a visitor. –K.L.
---
Go to a pancake breakfast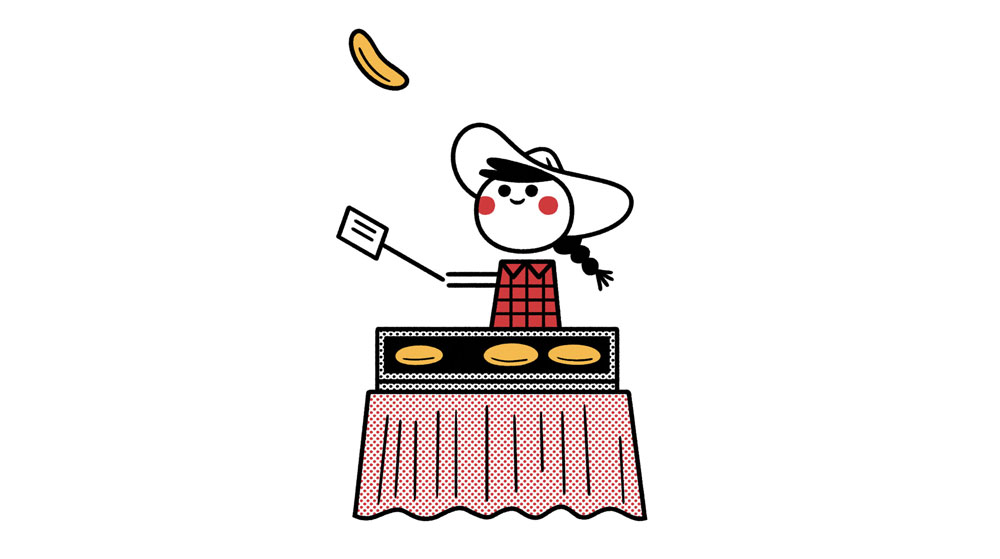 illustration by ANDREW KOLB
Get in line, chat with your neighbour, enjoy the weather (or not; maybe it's one of those days, in which case, revel in your own stubbornness as the line evaporates around you), get your pancake and your fixin's and marvel at the dedication of a whole city putting on pancake breakfasts.
 Expert level
Be a volunteer pancake-flipper. Toil away over a hot grill – hopefully for a charity (only half points if you're volun-told by your office) – and give out pancakes or sausage or just generally help the whole thing run smoothly. –K.L.
---
Know the difference between the Ranchmen's Club and Ranchman's
For 10 days only, the dress code at these two venerable institutions is more or less the same. But, outside of Stampede, The Ranchmen's Club, while now open to female members, sticks (a little less stringently these days) to its founding principles, which include a no-jeans dress code. Established in 1891 as a private social club by seven ranchers, a banker and a lawyer, this private club moved into its current location across from the Lougheed House in the Beltline more than a hundred years ago.
Ranchman's on Macleod Trail, on the other hand, is the home to the annual PBR Bullbustin event and has been the start or end to many a barely remembered bachelor party. While decidedly less formal, it is no less authentic in its way and was featured in a scene from Brokeback Mountain.
 Expert level
Attend functions at both. –K.L.
---
Own formal jeans
There are few events in Calgary that call for dress more formal than formal jeans – not that we're condoning that. They should be a dark wash, not ripped or faded, and should fit in all directions well enough to allow you to two-step should the need arise, but should still be fairly snug.
 Expert level
Buy a pair of high-quality dark-indigo selvedge jeans at a local boutique, and then break them in for true denim domination. –K.L.
---
Know what Treaty 7 is
image courtesy of the glenbow museum
What we now consider Southern Alberta was created in 1877, when representatives from the Blackfoot Confederacy (Siksika, Piikani and Blood), Tsuu T'ina and Stoney aboriginal tribes met with representatives of the British Crown to sign Treaty No. 7.
The impetus for the treaty was the construction of the transcontinental railway, which the Canadian government had promised to complete by 1881 as part of the terms of bringing British Columbia into Confederation (Alberta itself wouldn't join until 1905).
The aboriginal tribes were recognized as rightful occupiers of their hunting grounds, and railway construction could not proceed unless they ceded the lands to the Canadian government. In return, along with other provisions such as cattle and farm equipment, each aboriginal family was given one square mile of land, creating the present day Reserves.
The Treaty was signed at what is now known as Blackfoot Crossing, on the Siksika Reserve east of Calgary.
 Expert level
Know what Making Treaty 7 is. The interdisciplinary performance piece Making Treaty 7 delves into the intangibles of the treaty, exploring the event from a variety of perspectives, but most significantly from aboriginal points of view. Though the production's creative producer Michael Green (co-founder of legendary Calgary theatre ensemble One Yellow Rabbit) and advisor and cast member Narcisse Blood both passed away in a car accident in early 2015, Making Treaty 7 continues as both a theatrical show and a society whose mandate, according to the society's website, includes "cultural literacy, education, historical commemoration, tourism, and a revitalized appreciation for First Nations identity and perspective." –S.A.
---
Have proper snow tires
Last fall, Twitter was all a-twitter after former MLA Thomas Lukaszuk asked Albertans if the province should make winter tires mandatory. The consensus was that, yes, snow tires are a good idea; no, they shouldn't be mandatory. Fine, we don't like the government telling us what to do. Just get snow tires, people! Put them on in October and keep them on until at least April, because the "all-season" tires that you have convinced yourself are good enough have actually been renamed three-season tires because they perform best in temperatures above 7C. If you don't value your own time and safety, at least do your part to respect the thousands of other drivers on the road who will be inconvenienced or injured when that first snow flies and chaos ensues because you're unprepared.
 Expert level
Book an appointment to have your snow tires put on by no later than mid-October. That first snow will fly and everywhere will be too busy. Then there will be a chinook, the snow will melt and it might not seem worth it. So do it now. –J.H.
---
Walk the RiverWalk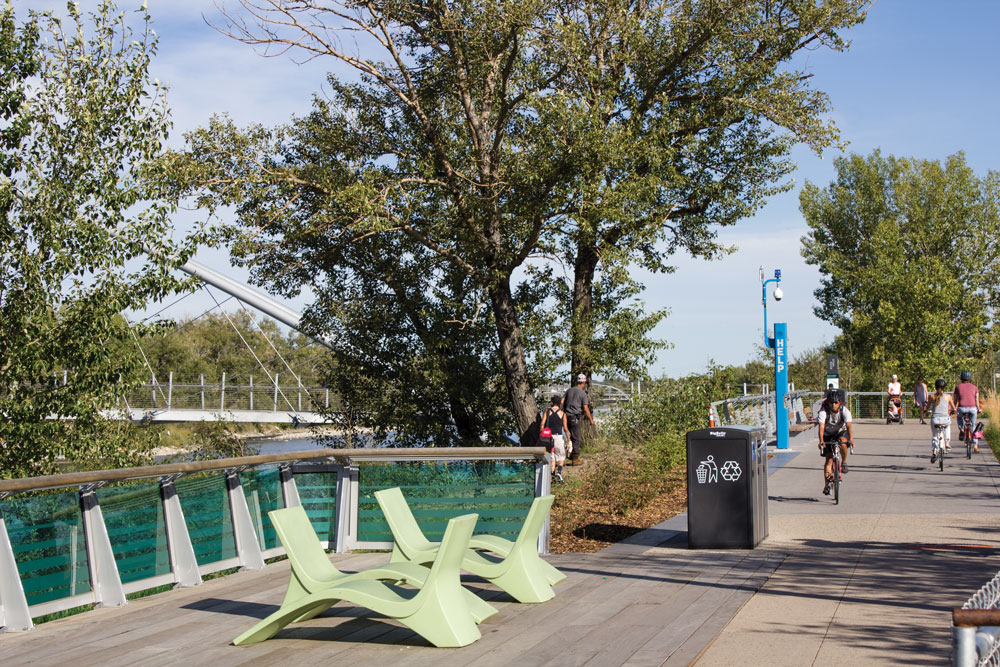 photograph by rebecca middlebrook
Not so long ago, the pathway along the south bank of the Bow River from Centre Street Bridge to Fort Calgary could have topped a list of places to avoid in Calgary (unless you were living what's euphemistically referred to as a "high-risk lifestyle"). But the ambitious plans to revitalize the East Village included the construction of what's now known as the RiverWalk, a wide promenade with separate trails for pedestrians and cyclists, river-observation decks, gorgeous landscaping and a connecting bridge to St. Patrick's Island Park – another former no-go zone that has been recently revitalized. The jewel of the RiverWalk is the refurbished Simmons Building, housing hip local businesses Charbar, Sidewalk Citizen Bakery and Phil & Sebastian Coffee Roasters, and its adjacent plaza, where you'll see everything from food-truck clusters to pop-up opera performances.
 Expert level
If you really want to appreciate the changes to the RiverWalk, recruit as your companion not a newbie urbanite who thinks nothing of taking an evening stroll along this pleasant pathway, but an old-school Calgarian from an outer suburb, who will be flabbergasted at the dramatic changes. –S.A.
---
Know how to talk about the price of a barrel of oil
For better and for worse (and there's been more of the latter lately), the price of oil trickles down into every aspect of life in Calgary, from its real estate and job markets to the crowd at your favourite bar and even the tone and tenor of Stampede festivities. But you don't need to be a commodities trader to learn the language of crude. Just get a handle on what West Texas Intermediate and Western Canadian Select are, how they differ from each other and where they've traded lately, and you'll be a native speaker in no time.
 Expert level
Actually be able to rhyme off the price of a barrel of oil at any given moment. –M.F.
---
Know who the Big Four are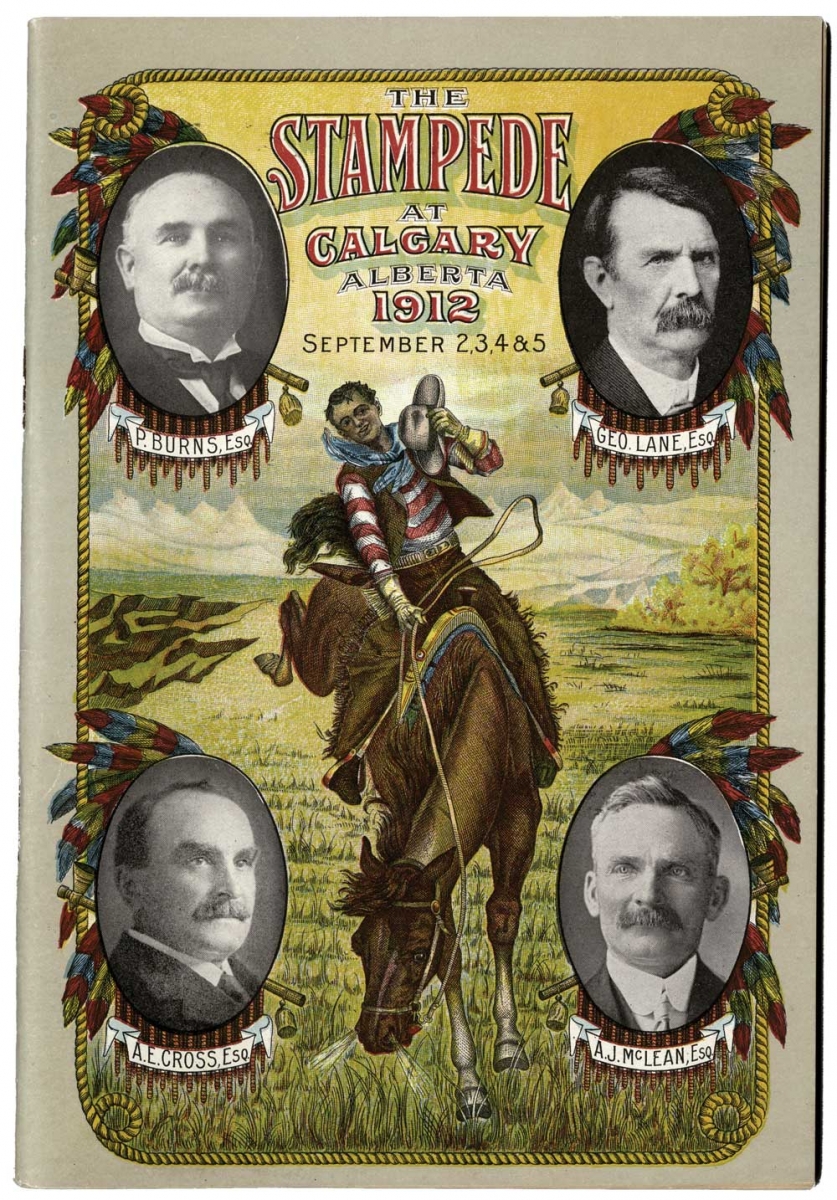 image courtesy of the glenbow museum
It's a term that conjures different meanings in different cities, so knowing your local big four is critical. Here, Big Four means the founders of the Calgary Stampede. Patrick Burns, George Lane, A. E. Cross and A. J. McLean were cattlemen and city builders in the early 1900s. The Big Four Building on the Stampede Grounds is named for them. All four were also involved in politics. –K.L.
Know these 
15 very
Calgarian
names and why bridges, theatres, schools, parks and more are named after them.
Own a basic Stampede wardrobe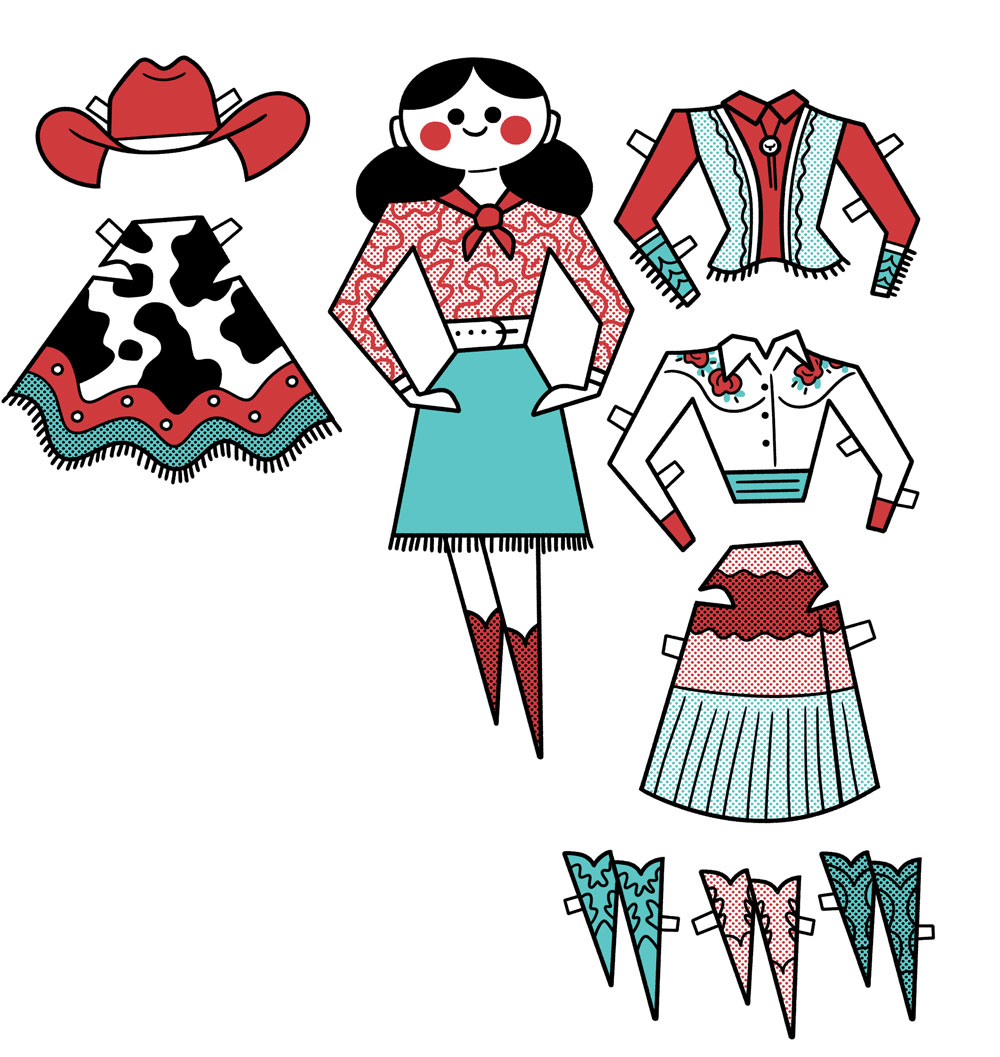 illustration by ANDREW KOLB
You may be all hat most of the time, but a Calgarian needs to have the basics to get through Stampede Week and any Western Formal events during the year. Boots, buckle and Western shirt are a must. A hat's negotiable, based on hairstyle and heat tolerance.
 Expert level
Have a different outfit for each day of Stampede. –K.L.
---
Drink a Caesar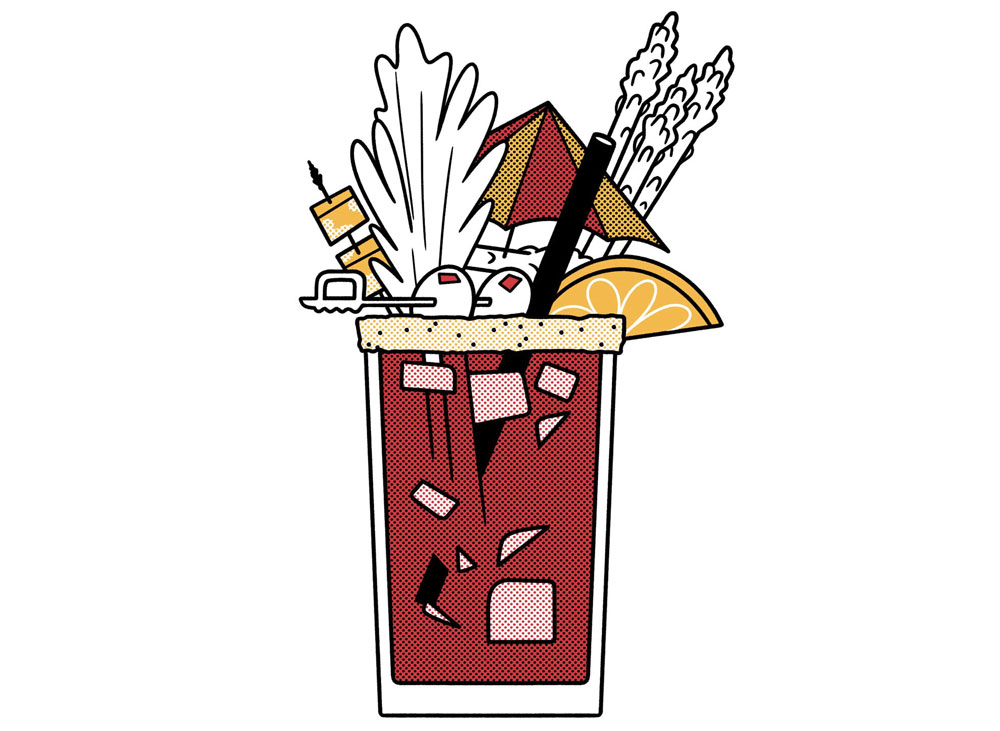 illustration by ANDREW KOLB
Canada's favourite cocktail/hangover cure all-in-one is also one of our city's claims to fame. The Caesar was invented in 1969 by Walter Chell, a bartender at the Calgary Inn, which is now the Westin, to mark the opening of a new Italian restaurant called Marco's.
Inspired by the classic Italian dish spaghetti vongole, Chell (who was of Italian heritage) mashed clams into a mushy texture and mixed them with tomato juice. Coincidentally, that same year Mott's created Clamato juice in California, saving us from decades of gross clam-mashing that would surely have made our hangovers worse.
The classic recipe features Clamato, vodka, Tabasco sauce and Worchestershire sauce, in a glass rimmed with celery salt and garnished with a lime wedge and celery. But, since Calgary bartenders are currently engaged in an all-out war of garnish one-upmanship, there's no telling how yours will come.
 Expert level
Be able to mix your own. –J.H.
---
Know where to watch the Stampede fireworks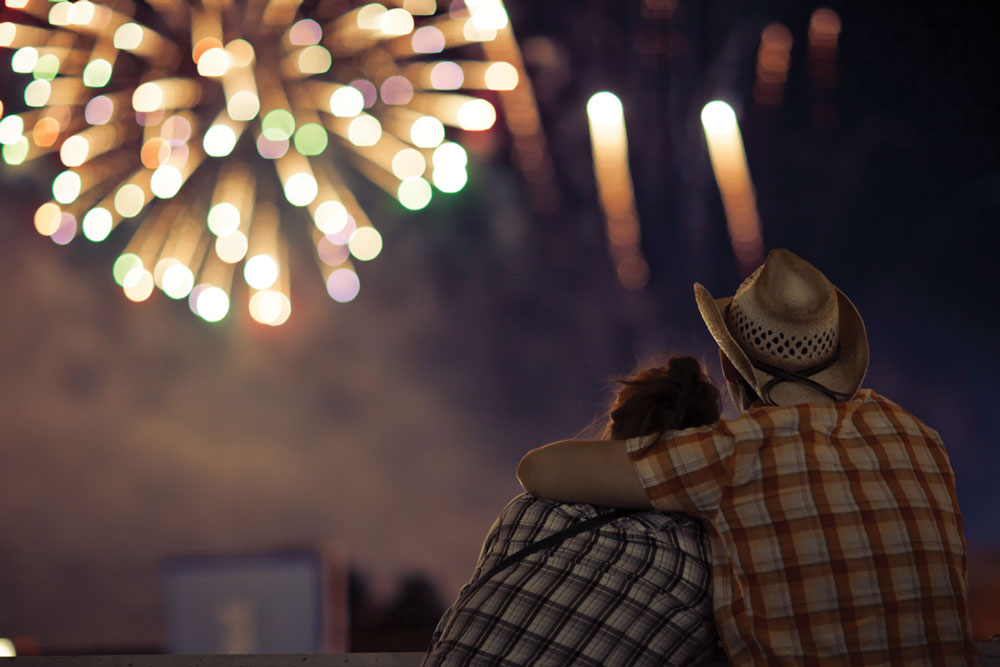 photograph by tye carson, courtesy of the calgary stampede
The best spot, of course, is from your Grandstand seats or from the barns behind the track, but, barring that, know where to get a good view of the Stampede fireworks so you can enjoy them all through the 10-day festival. Scotsman's Hill is a perennial favourite (note that it's an off-leash dog park, so avoid sitting on the grass, if you know what we mean), as are locations along the bluff in Crescent Heights. And the Reader Garden Cafe takes reservations for private cocktail and fireworks viewing parties.
 Expert level
If you live in the inner city, find a spot not too far from your home where you can see enough of the fireworks to make it enjoyable. –K.L.
---
Eat a Vietnamese sub
Calgary restaurants do a lot of things right, but few dishes are done better than the Vietnamese sub. Sure, other cities with sizeable Vietnamese expat communities serve up their version of this sub – named after baguette-style Vietnamese bread, bnh m – but we'd venture to say none are more delicious than the ones we have here at home. While more traditional cold-cut or pt varieties are commonly served up, there's nothing like a saucy beef satay sub piled high with julienned carrots and cucumber, peppers, onions and cilantro to keep you coming back for more.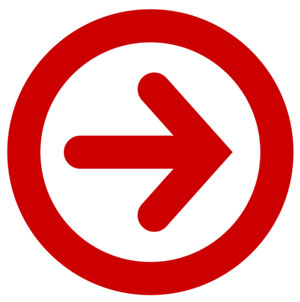 Expert level 
Every quadrant of Calgary is dotted with great Vietnamese restaurant. Try a few subs in your 'hood and then claim bragging rights you've found "the one." –R.Z.
---
Hike Johnston Canyon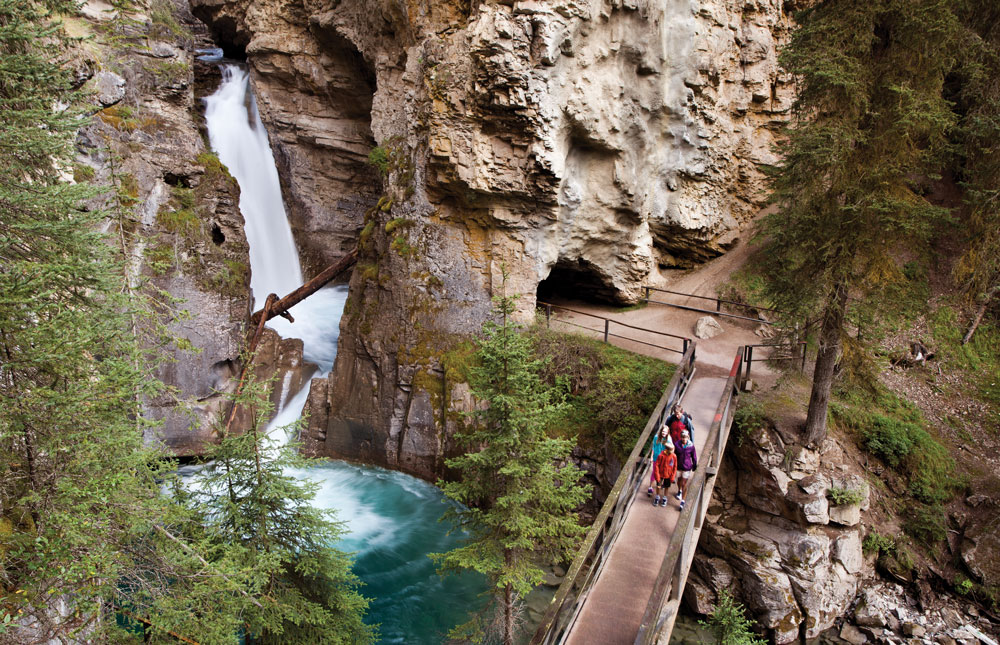 photograph by paul zizka
Just 90 minutes from Calgary, the trail to Lower Johnston Falls is a perfect introduction to the majesty and magnificence of Banff National Park. The one-hour round-trip hike is fairly easy with little elevation gain, making it popular for families and people of almost any fitness level, and the rewards are huge. Catwalks are affixed to the limestone walls of the canyon, allowing access into the depths of the canyon and culminating at a spectacular waterfall – access that would otherwise only be available to climbers.
 Expert level
One of the most interesting times to visit is in late fall, just as the waterfall is beginning to freeze and you can see ice forming along the canyon walls. You'll also experience dramatically fewer crowds than you'd get in the summer at this, Banff's most popular, hiking destination. –J.H.
[Editor's Note: Johnston Canyon will be closed for several weeks in fall 2015 to allow for restoration and infrastructure upgrades.]
---
See a bear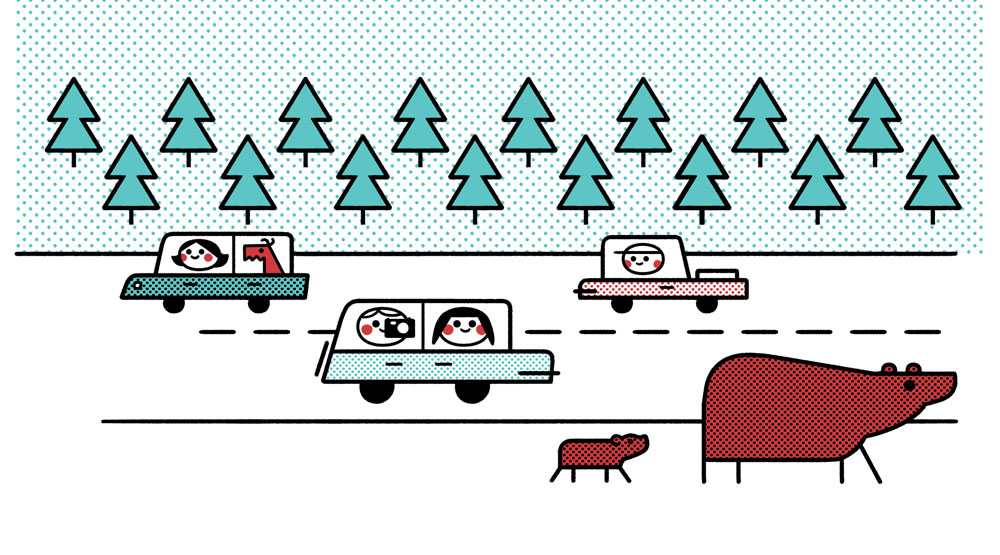 illustration by ANDREW KOLB
If you've lived in Calgary for awhile and spent time in the Rockies, chances are you've seen a bear. If you've been to Waterton Lakes National Park, you've almost certainly seen a bear – perhaps even a grizzly. As far as a wildlife-sighting goes, it doesn't get much better than a momma and her roly-poly cubs, which is why most newcomers have it on their bucket lists. But here's the thing about human-bear encounters: they're really bad for bears. And, on rare occasions, harmful to people.
The best way to protect bears is to minimize human-bear interactions so that bears don't become habituated to humans because, when that happens, they typically have to be relocated (which they don't always survive) or destroyed. Be vigilant about not allowing bears access to non-natural food sources, including garbage. (As the saying goes: "A fed bear is a dead bear.") If you plan on hiking in bear country, educate yourself on all the ways to prevent bear encounters. Finally, the speed limit in Banff National Park is set at 90 km/h to protect the wildlife. Be a good steward – slow down and enjoy the view.
 Expert level
When you see a bear by the road while driving, slow down and – keep going. You'll be doing your part to help the bears forage undisturbed so they can gain enough fat to survive the winter. –J.H.
---
Eat ginger beef
With more than 1.3 billion people in China, you'd think someone there would have thought up ginger beef. But no. It was actually invented in Calgary, and the Silver Inn Restaurant is widely regarded as its creator, so go for the original – the restaurant has been making the dish since 1975 – or order from whoever's closest. It's such an overwhelmingly popular dish, most local Chinese restaurants have it dialled. –J.H.
---
Visit the Mavericks exhibition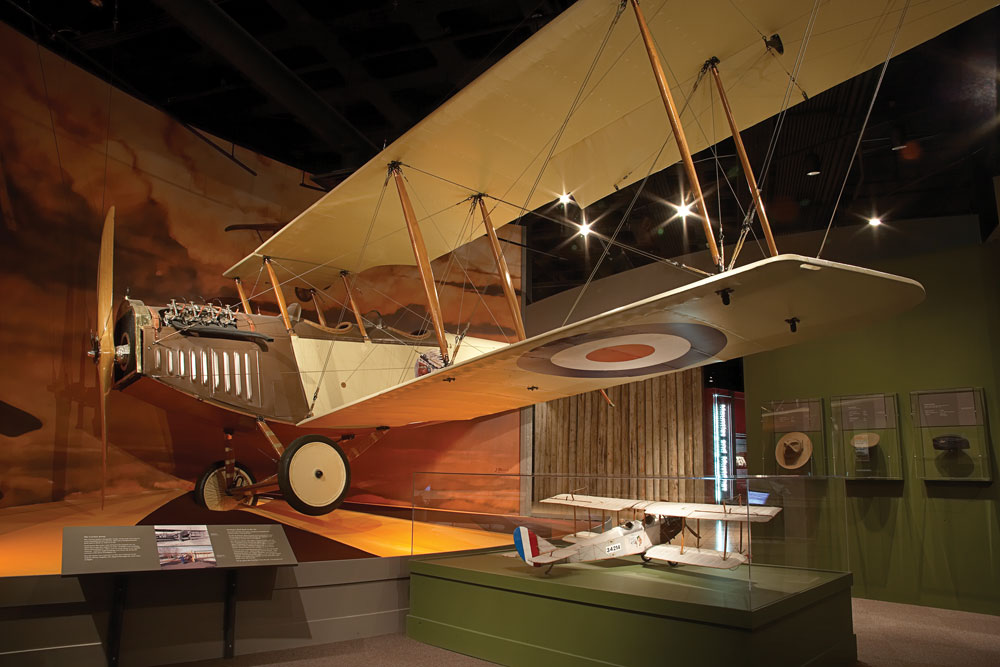 photograph courtesy of the glenbow museum
Calgary's premier museum has dedicated much of its third floor to this permanent exhibit on the "incorrigible" folk who figure both prominently and behind the scenes in the history of Southern Alberta. The exhibit draws inspiration from University of Calgary professor and novelist Aritha van Herk's history of the province, and it maintains her storytelling approach, focusing on a cast of characters that includes explorers, law-upholders, soldiers, shopkeepers, photographers, dancers, mothers, wrestlers and all-round rogues. Take an afternoon to properly peruse the engaging displays and emerge well-versed in Southern Alberta history, spirit and lore.
 Expert level
Read van Herk's book, Mavericks: An Incorrigible History of Alberta. –S.A.
---
Tailgate at a Stampeders game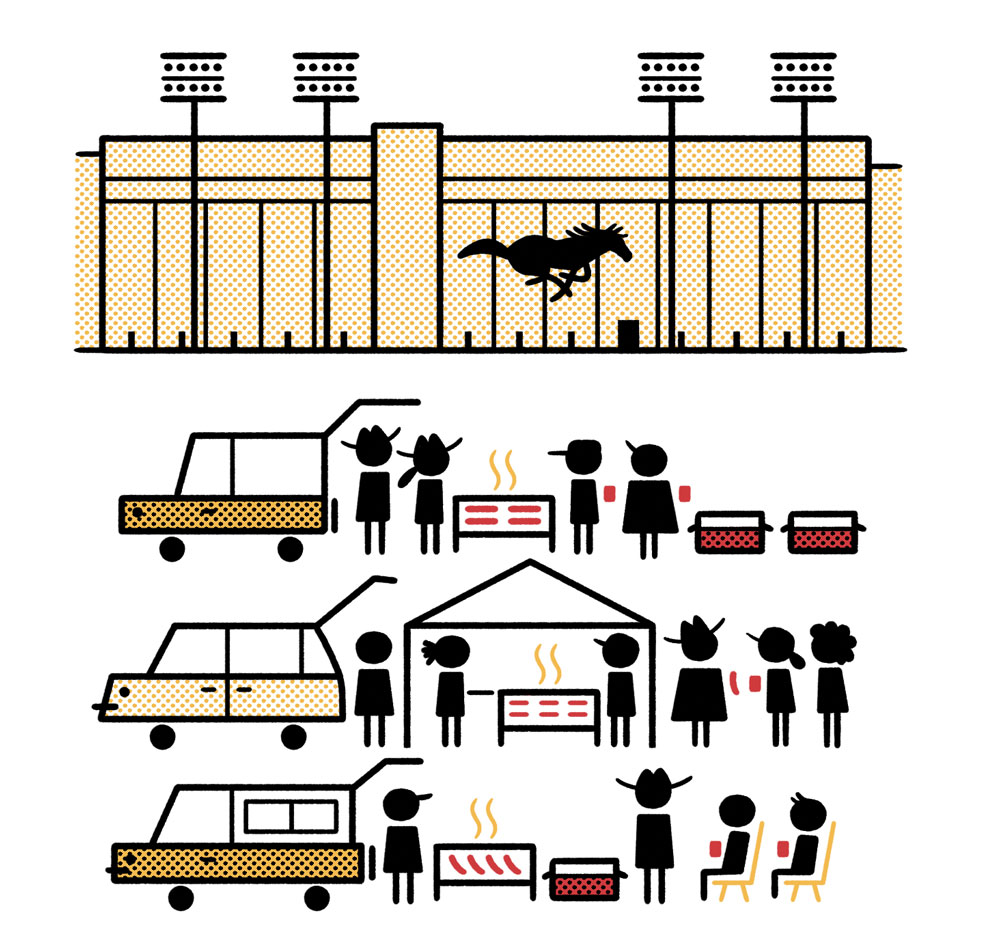 illustration by Andrew Kolb
CFL fans from other cities are often surprised to see the spirit of American-style tailgating alive and well in the McMahon Stadium parking lot. As the Calgary Stampeders website states, tailgating is allowed here.
Stampeders season ticket holders who have parking passes are allowed to set up a tailgate party in their parking stall. Typical set-ups include barbecues and drinks with invited guests, as well as meandering fans partaking in the revelry. The Calgary Police Service is on hand to make sure things stay on friendly footing, and, officially, all fans are reminded that open alcohol is unlawful in the parking lot – but, anecdotally, we've witnessed many cases of calm imbibing.
 Expert level
Host your own tailgate. This involves getting a season pass and eventually getting to the top of the list for a parking pass. It's a commitment. –K.L.
---
Have your own reasons why Calgary is better than wherever else
More egalitarian than Toronto, friendlier than Vancouver, sunnier than just about anywhere in the country, Calgary's a tip-top spot to live. Just ask a Calgarian. Like a committed baseball fan, they'll be able to tell you any number of obscure facts and statistics that prove that Calgary's definitively numero uno. And even when they admit, or even complain, about something going wrong, most will follow with the caveat, "It's getting better." You'll know you've become a Calgarian when you can rattle off any number of reasons why your hometown, adopted or otherwise, is the best spot to be. And, unlike Vancouverites, who are notorious for complaining that their city went to the pits right after they arrived on the scene, ever-optimistic Calgarians are likely to tell you things have been getting better and better since the moment they arrived. –K.L.
---
Have a strongly held opinion
We wouldn't dare to tell a Calgarian what to think on the issue – not that we necessarily hesitate to tell you what we think – but every Calgarian should have a strong opinion on the following: the cycle track, secondary suites, Travelling Light (a.k.a. the big blue ring), the demise of the PCs, oil prices, taxis and dog parks.
 Expert level
Get informed about your topic and back your opinion up with actual facts. And be prepared to change your mind to a new, equally strongly held opinion after you do. –K.L.
---
Admire your city
Calgary is basically shaped like a bowl, with the raised suburban areas ringing the lower river valleys in the inner city. So there are lots of spots to find vantage points to enjoy a great view. Whether you sneak a quick peek on a drive or make looking out across the city the point of a leisurely stroll, be sure to notice the skyline and beauty of the city, the mountains and the rivers from any of the following: SAIT Polytechnic's soccer field, Rosedale Bluff, Sarcee Trail near the exit to 16th Avenue N.W., looking north from Macleod Trail near Union Cemetery, Tom Campbell Hill and Scotsman's Hill. –K.L.