The Tuscany LRT station not only connects the communities of Royal Oak, Rocky Ridge and Tuscany to the rest of Calgary, but also literally bridges the gap between the communities across Crowchild Trail. In a few weeks time, Calgarians will be able to see this connection in a whole new light, thanks to Calgary latest public art installation, "roger that".
Conceived by Bill Pechet and Pechet Studios, an interdisciplinary practice out of Vancouver, "roger that" is a site specific series of displays that will mirror each other across Crowchild trail in the form of two series of four-storey-tall poles, each holding 221 lights. The appearance of these installations will change depending on the position of the viewer and is meant to raise questions of relative positioning and how we view the world.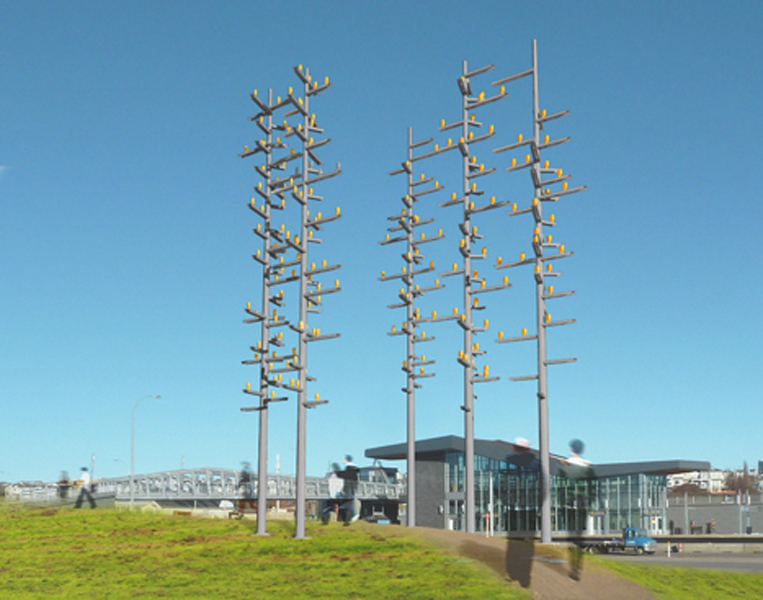 Image courtesy of Pechet Studio.
From up close, the poles seem random, but when viewed at a distance, they will appear to form perfect circles.
"Because people come and go from [the station], we decided to make a piece that would have different appearances depending on where you stand," says Pechet. "We thought wouldn't it be great if there was one place where the world looked just perfect? That's where the idea of a perfect circle came from. If you stand in the middle of the clusters on these poles, which look quite random, and look across Crowchild, you'll see what appears to be a perfect circle."
The name "roger that" is a dual reference to both the term used to signal receipt of messages and signals, as well as a a way to honour the physicist and philosopher Roger Penrose, whose geometry of repeating parallelograms were used to decide positioning of the lights on the poles. Penrose also speculated about the nature of the cosmos and our place in it, which Pechet says, is a nice tie-in to viewing the work with an unobstructed Calgary sky as background at night.
All the materials that make up the installation are re-arranged structures that you'd see on a highway, everything from the galvanized steel poles to the amber lights themselves, though the lights are equipped with special solar batteries built for withstanding Calgary's colder climate.
The project, which cost $750,000 and took a year to put together, will see its first pole raised come early July and will take about four to five weeks to build before both poles are assembled.