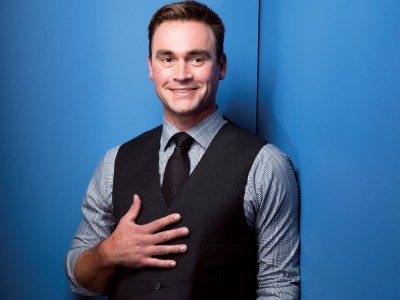 Job Title: Partner and Chief Operating Officer, Concorde Groupe
Age: 39
Brad Morrison makes his living as a sort of culinary clairvoyant, someone who predicts food fashions, restaurant trends and, well, what it takes to keep people happy at the table.
"My mother taught me to be an excellent dinner guest from a young age," he says. "I come prepared with stories. I don't drink too much. I'll eat anything I take. I never put my elbows on the table and I turn my phone off." That attention to dinnertime details has made Morrison a standout ever since he was a student in SAIT Polytechnic's professional cooking program and received his Red Seal certification.
Shortly after graduation, in 1995, he was hired by Victor Choy to cook at the then-new Mercury Lounge. The two became friends and Choy eventually offered Morrison a chance to join the company's executive management team and a partnership. In 2008, Morrison became Concorde Group's chief operating officer, overseeing concept design, branding and operations. "I've kind of grown up with Concorde Group," says Morrison. "The multi-tasking that goes on in a kitchen has been very beneficial in my current role."
The company has grown considerably since those early days. Morrison and Choy, along with Choy's brother Jim, now lead a team of close to 1,000 employees at 15 restaurants including Model Milk, Clive Burger and the Local pubs. And they're opening more all the time: a Double Zero in Chinook Centre, a National at Westhills.
Much of Morrison's inspiration for restaurants and life comes from his travels throughout North America, Asia and Europe. "When I come back from one of those trips, I can't even begin to tell you what kind of focus and clarity I have. It's incredible," he says. "Seeing different cultures, different points of view, I feel very fortunate to have that opportunity."
He and his team also volunteer with local charities: CUPS Calgary, Brown Bagging for Calgary's Kids and more. In 2012, Concorde Group's sponsorships and donations to local charities tallied more than $200,000. Morrison also runs marathons to raise money for leukemia research, and he's on the executive committee of Grow Calgary, a volunteer-run initiative that grows fresh produce and distributes it through the Calgary Food Bank. "I try to live every day to its fullest," he says. "By the end of the day, if I'm exhausted, that's a good day for me."
3 Things About Brad Morrison
Brad Morrison oversees the management of nearly 1,000 people at Concorde Group, including six managing partners, six executive partners and 25 head office staff.
Morrison and his wife, Kelly, frequent the Parker in Palm Springs to relax and rejuvenate.
He has run three marathons, raising $7,500 for leukemia research.