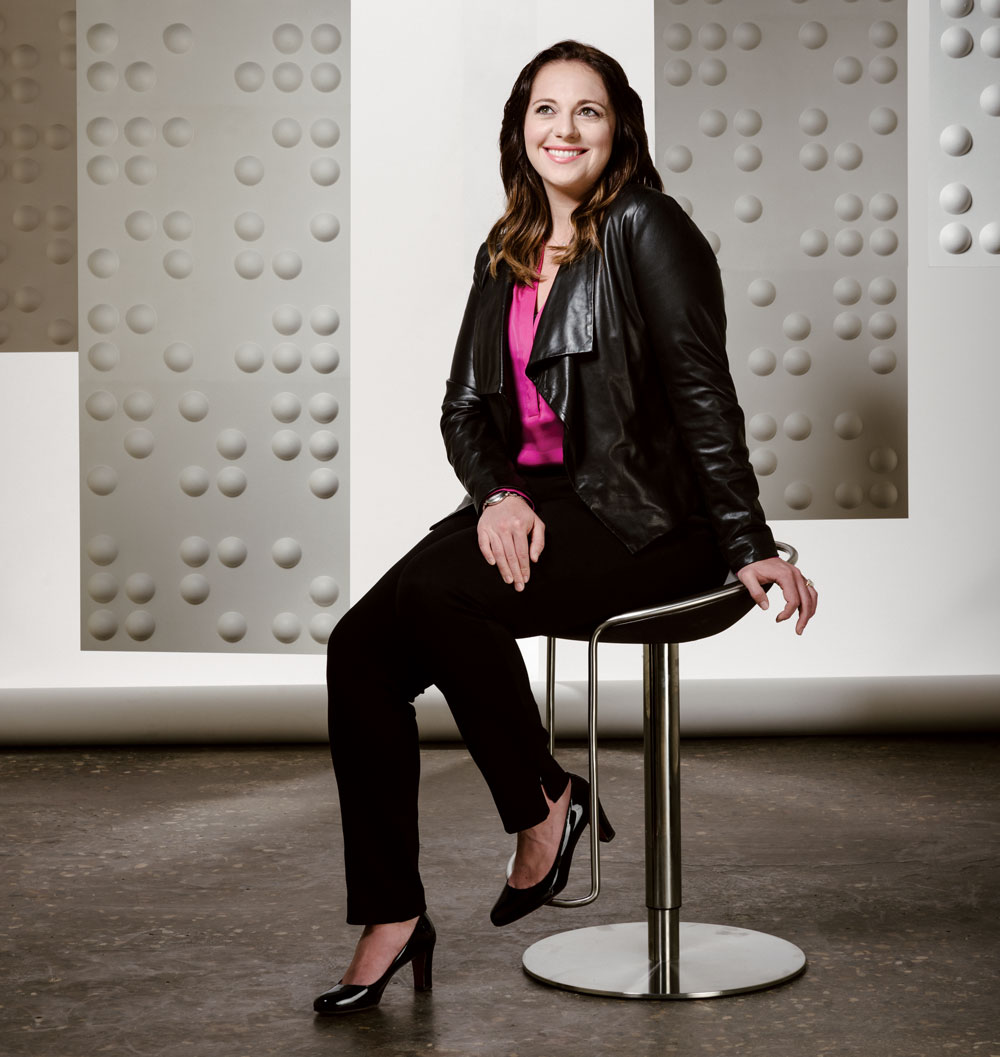 Age: 31
Job title: Senior Advisor, Corporate Social Responsibility, TransCanada Corporation
Why she's a 2014 Top 40:
She uses her financial acumen to explain the value of sustainable business practices, which has made her a valuable commodity at TransCanada Corporation. And she helped found Pivot Calgary, a non-profit that aims to promote engagement and support of the arts among younger professionals.
When Chelsey Ansell finished high school, her family gave her a push out of the nest. It was time, they said, for her to leave Calgary and find new experiences.
Ansell took the advice to heart more than her parents might have expected. "They created a monster," she says, laughing.
Ansell settled back in Calgary eventually, but only after she spent four months of her bachelor of commerce on exchange in Austria, completed a master's degree at the London School of Economics, worked on a fraud investigation in Germany and volunteered as a financial consultant in Tanzania and then in Washington, D.C. At 31, she has travelled to nearly 40 countries.
TransCanada's corporate evaluations group hired Ansell in 2011 to work, in part, on the $12-billion Energy East pipeline, the company's largest project to date. But, true to form, it wasn't long before she was on to something new. She took her first secondment in 2012, helping raise nearly $2.7 million as vice-chair of TransCanada's annual United Way campaign.
Ansell's latest venture is another secondment with the company's corporate social responsibility team. In that role, she works to communicate TransCanada's approach to environmental, social and economic sustainability to the public and company stakeholders.
Her work is setting the tone for TransCanada's young corporate responsibility team, as her expertise in the numbers-heavy world of finance is improving the link between the company's sustainability efforts and its bottom line. This year, Ansell pushed for more hard data and statistics in TransCanada's annual corporate responsibility report. The result, she says, is a clearer picture of the link between financial success and social consciousness.
Ansell is also working on the connection between the support for Calgary's arts community and the city's future success. In 2010, Ansell co-founded Pivot, the Glenbow Museum's young professionals group. Pivot raises the museum's profile among a younger demographic and promotes engagement with Calgary's arts and culture scene through "gallery crawls" and visits to local artists' studios.
"It's about the younger generation wrapping their minds around philanthropy. If we can make [the Glenbow] accessible to the younger generation, that will help strengthen the museum," Ansell says. "From an education perspective, it really shows that we are an international city."
Luckily for Calgary, Ansell is back in the city for the foreseeable future. But she is still always looking for what comes next.
"For me, success is about saying yes to things and seeing where those opportunities take you," she says. "As long as you're moving forward, you're going to get experiences and learn from them." -Madeline Smith