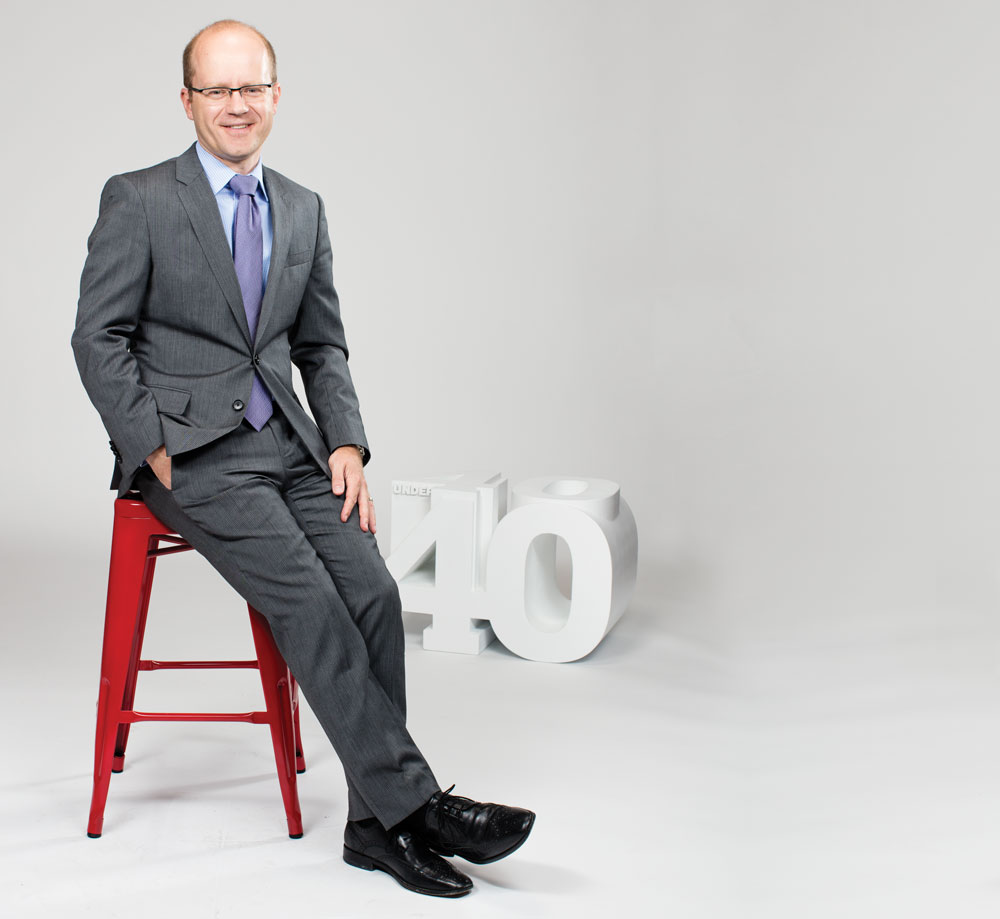 Job title: Associate Professor, Department of Clinical Neurosciences, Cumming School of Medicine, University of Calgary; Director, Calgary ALS and Motor Neuron Disease Clinic
Why he's a 2015 Top 40:
Dr. Lawrence Korngut is an internationally recognized leader in the research and treatment of neuromuscular disease and is a passionate advocate for his patients. His work is so well recognized that he was the only Canadian recipient of ALS research funding from the international Ice Bucket Challenge fundraiser from 2014.
Last year, millions of people around the world dumped buckets of ice water over their heads to raise money for ALS research. If you were one of those people, Dr. Lawrence Korngut thanks you.
Korngut, an associate professor at the University of Calgary and director of Calgary's ALS and Motor Neuron Disease Clinic, is heading a major clinical trial of a drug that could potentially slow or stop progression of amyotrophic lateral sclerosis (ALS, also colloquially known as Lou Gehrig's disease). And his research was the only Canadian project selected to receive ice bucket challenge funding.
"That's the powerful thing about research," says Korngut. "If you can make somebody better through a clinical trial, that effect – if it's real – will remain forever."
Korngut fell in love with neurology in high school after reading a book about the nervous system. After that, he never veered off path – completing medical school and residency at the University of Western Ontario (now Western University), and coming to Calgary in 2007. Early on, he was drawn to neuromuscular diseases like ALS and muscular dystrophy.
For research, it's a specialty rife with opportunity. "I thought that there was a much higher chance that in my career we would see major breakthroughs," Korngut says.
In the six years since he joined the faculty, Korngut, now 39, has led 12 major clinical trials of new treatments for neuromuscular diseases, including one that provided the first evidence that insulin, inhaled through the nose, could help people with nerve damage from Type 1 diabetes. He also founded the Canadian Neuromuscular Disease Registry, which tracks patients across Canada, enabling clinical trials.
He's had disappointments, too, with drugs in clinical trials that, despite expectations, failed. But even eliminating a possible drug moves the research forward in important ways.
Korngut's busy clinical practice motivates him to keep trying. He says it's impossible to walk into the clinic having a bad day and walk out still having a bad day. "It's too inspiring. No matter what's going on in your life, it doesn't compare," he says. "I work with people who uniformly have weakness of their muscles and they are the strongest people I know."
Korngut's secret to success is the tried-and-true adage: maintain work-life balance. He has turned neurology into a family affair, bringing his family on his international trips and getting them involved in fundraising and awareness.
"This is a job that can consume you. It's exciting – you're helping people," Korngut says. "It feels good, but you can't neglect the other side, which is just as important." – Christina Frangou